Han Fei and America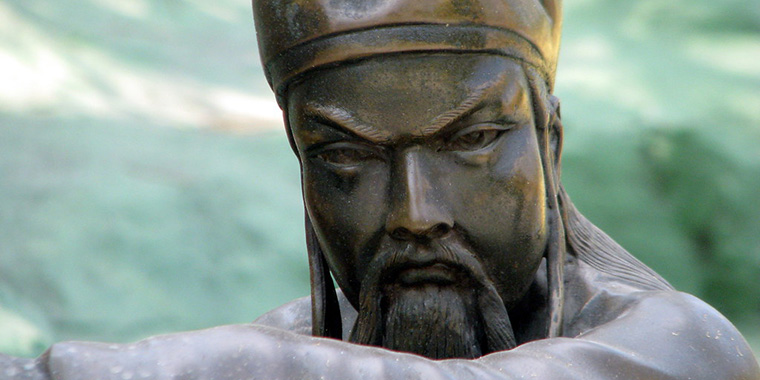 History has always been my passion. The constant interplay of events and personalities, of cultures and catastrophes. Throughout history, one thing never changes: people. The cultures change, the terrain changes, the technology changes, but people are always the same. It's partly why reading on ancient texts, especially those involving culture, theology, and politics, are so fascinating to me. Despite being written hundreds, or even thousands, of years in the past, the ones worth reading still have a lot that they can teach us about human nature, and how people must be approached in order to ensure their ability to thrive. One of the more prominent works is the "Han Feizi", which was the best systematized and most concrete treatise on Chinese Legalist theory. It was rare among works of its time, as it was less concerned with the morality of rule than it was with creating and maintaining a state strong enough to survive the chaos of the Warring States period. While it has points that have been disproven in their effectiveness, and the anachronistic issues one would expect from a book that is over 2,000 years old, it still makes good points about how a state can become strong, and even more, how a state can become weak. Using Han Fei's ideas, in particular his section on the Ten Faults of leadership, we can look at how well America's rulers are leading the country.
But when researching ancient treatises on political theory and philosophy, it is often difficult to make them seem useful in understanding and judging modern governance. The basic idea for so many of the scholars of the time was that they were writing about the method in which a kingdom should be run, and while the kings of the past were not nearly so powerful as popular history would have us believe, the primary issue facing those looking at the philosophies in a modern American context remains that there is not a hereditary position. The texts would almost inevitably talk about the responsibility of the ruler; but how is one to look at a representative democracy, with its numerous checks and balances, separation of powers, and the inherent chaos of electoral politics, in the same manner as the old dictatorships, monarchies, and oligarchies?
The best way to do this is to take the democratic system at its word, and accept that the people — not the elected officials — are the ruler. Elected officials, due to their inability to hold on to power if the public despises them (at least in a functional democratic system), are not to be judged as kings and princes, but as ministers to the people. It is the people who bear the onerous responsibility of ruling, and who must be judged according to the standard of a ruler. Therefore, it is the American people's electoral decisions that must be used as the best measure of their abilities to rule.
To practice petty loyalty, and thereby betray a greater loyalty
Han Fei made the case that you could betray someone by staying loyal to them in ways that allowed them to indulge self-destructive habits. Unfortunately, America's populace is very prone to such activities. The most obvious issues that we face are in regards to public health. In regards to both vaccines and masks, we refuse to force people to use them, as we are worried that it will infringe on their freedom, despite the health risks to themselves, and to the society around them. Allowing abstract notions of individual choice to allow someone to hurt themselves is a difficult issue. But to allow them to hurt those around them with those choices is unconscionable. The petty loyalty of choice for the individual is given preference over the greater loyalty of the health of all those around the person who refuses the vaccine or mask.
To fix your eye on petty gain and thereby lose a larger one
When speaking of losing a larger gain, Han Fei was not suggesting that opportunities would be lost in the future. Rather, that greed in the moment can jeopardize larger gains already won, and which are often necessary for a successful state to function. Unfortunately, on this front, the American voters also do quite poorly. The United States squanders many of our greatest achievements in the name of short-term gain. Perhaps the most obvious of these is our crumbling national infrastructure. We continue to funnel money away from maintaining, and updating, our roads, public transit, and power grids, in order to keep taxes lower and preserve a few jobs in dying sectors like coal production. Even worse, every administration piles more and more debt on the country, especially over the last 20 years, each successive administration working to outspend the other, and taxes continue to be cut. Each year, the United States loses a bit more ground in maintaining itself, and while none of these issues can destroy us quickly, they can greatly exacerbate a crisis going forward.
To behave in a base and willful manner and show no courtesy to the other feudal lords, thus bringing about your own downfall
America's electorate need not be concerned about palace intrigue, but the fact remains that the interactions between states remain vitally important. Treating other states with respect helps keep them from being insulted, and hoping for a chance to exact revenge, even if just in a small way. But the American electorate seems to take a perverse glee in acting in a high handed and insulting manner with our allies, as well as neutral states, taking any disagreement by them as a betrayal. Alliances are easy to maintain when both sides gain advantage, but an ally who feels disrespected will cease to be one the moment it is presented with an opportunity for greater, or even equivalent gain. But we refuse to acknowledge this fact as a people, and sow the seeds of our own diplomatic destruction.
To give no ear to government affairs but only to long for the sound of music, thereby plunging yourself into distress
Han Fei was not concerned solely with music in this fault, but with what it represented when taken to obsession: hedonism and stimulations, to the exclusion of all other passions. Unfortunately, as a people, we are also inclined to such activities, but this is only to be expected. He goes through the fall of Duke Ping, the example of this fault. Ping asks for ever more opulent music, while the great musician who is playing begs him not to order the songs to be played. Each is more difficult to resist than the last, starting with music that only the wise and learned could withstand, ending with things that nobody is equipped to handle. The wise and learned are rare; otherwise there would be no need to comment on those traits as laudable. But while the traits to handle stronger temptations are rare, the temptations themselves are not. America is awash in them, with many people becoming addicts of substances or behaviors, and in the worst cases, destroying their lives with them. But how many people, when presented with the option to indulge in these earthly delights, would decline them? It is very safe to say that the American people have this fault.
To be greedy, perverse, and too fond of profit, thereby opening the way to the destruction of the state and your own demise
When speaking of greed, Han Fei was referring to the sort of overreaching greed at the expense of others that can lead to coalitions being built against a nation that, faced alone, would not be defeated. But while it would be incorrect to state that the US has not allowed greed to cloud its judgment and create enemies unnecessarily, the fact remains that those decisions were not made with the enthusiastic support of the electorate. In fact, the majority of the electorate really didn't know anything about them. So this fault has been narrowly avoided by the American people.
To become infatuated with women musicians, and disregard state affairs, thereby inviting the disaster of national destruction
This lesson is much less about music, and more a continuation of the fourth point: not allowing yourself to become so enmeshed in decadence and distraction that the state is neglected and left open to destruction. And seeing as the American people are far more concerned with their creature comforts than governance, it remains a valid point against their ability to govern effectively.
To leave the palace for distant travels, despising the remonstrances of your ministers, which leads to great peril for yourself
This fault is, in the modern era, an anachronism. Not only do modern communications allow us to stay up to date on all news, but the American people can not truly vacate the country in the way a single ruler, or even a government, can. Therefore, it is not worth taking this fault into consideration.
To fail to heed your loyal ministers when you are at fault, insisting upon having your own way, which will in time destroy your good reputation and make you a laughingstock of others
The key to understanding American politics is to realize that the elected officials are ministers, not rulers. It is the people who select them, and the people who are responsible for their actions. It is, more than anything, the people's responsibility to find good ministers, and heed their advice. But the people despise good officials. A good official will not promise impossibilities, but instead present realistic options with the proper tradeoffs. The American people, as we have seen time and again, do not want solutions. They do not want realism. They want people to promise them everything they want, and they want that promise to come with the assurance that they will not have to give up anything to get it. But when honest and competent ministers are unwilling to do so, only dishonest and incompetent ministers remain. And while they can not administer the state effectively, they do not need to. Their objective is to plunder the state while lying to the people, their sovereign, about the effectiveness of their administration, and the people are unwilling, or unable, to confirm that the claims of these officials are true. In this way, not only have the American people become a laughingstock, but their unwillingness to listen to anything other than the honeyed words of disloyal and corrupt officials has done, and continues to do, great harm to the country.
To take no account of internal strength but solely to rely upon your allies abroad, which places the state in grave danger of dismemberment
The American people have managed to successfully avoid this pitfall, not by keeping the country strong, but by a combination of working hard not to alienate our allies, and relying on our greatest national advantage for defense: the Pacific and Atlantic Oceans. While the United States is weakening by the day, and our allies are becoming increasingly distant, the sheer immensity and logistical difficulty of invading the United States keeps us safe.
To ignore the demands of courtesy, though your state is small, and fail to learn from the remonstrances of your ministers, acts which lead to the downfall of your line
This is another issue that the American people have avoided, not due to any strength of character, but simply due to the fact that they are anything but a weak state. While the United States may be on the decline, and it seems to show casual discourtesy to every nation it can, the geography makes the United States extremely hard to threaten. Its wealth and population make it an extremely powerful state, even in decline.
The overall judgement of Han Fei towards the American people as ruler would not be good. The few faults that they do not have are more due to accidents of geography than any competence among the majority of the population. If the American voters are to become rulers worthy of a great power, they will need to begin to take governance seriously, and begin to repair the country, while replacing their disloyal and incompetent elected officials.
But as there does not seem to be any enthusiasm among the American people for doing so, it is hard to be optimistic about it happening soon.