Student Suspended For Taking Popular Photograph
Two Georgia high school students have been suspended after posting photos of crowded hallways from the first days of their new school year. North Paulding High School returned to full capacity despite both the national coronavirus pandemic and local ongoing outbreaks. The students each received weeklong, out-of-school suspensions for photographs similar to the following:
This is the first day of school in Paulding County, Georgia. pic.twitter.com/fzdidaAABM

— 🇯🇲Black🇭🇹Aziz🇳🇬aNANsi🇹🇹 (@Freeyourmindkid) August 4, 2020
The school suspended both students claiming that the students had violated relevant rules about phone use at school, social media use, and posting photos of minors without consent. The school also threatened any other students who posted similar images. The audio at that link makes clear that the issue is any effort to expose the school's total inability to substantively manage the threat:
"Anything that's going on social media that's negative or alike without permission, photography, that's video of anything, there will be consequences."
That threat makes it clear that the school suspended both students because the reaction to these photographs was one of horror, given the degree to which what this photograph captures is the opposite of an effective attempt to substantively address coronavirus.
The school has come under intense criticism after it and the county's administration announced that there was no way to enforce a mask mandate in the school and that masking was a personal choice that the school could not dictate.
Despite recommendations from CDC health officials, the district has called mask-wearing a "personal choice" and said that social distancing "will not be possible to enforce" in "most cases." While the school provided teachers with face shields and masks, and encouraged staff and students to wear them, they are not required and not all teachers have chosen to use them.
Brian Otott, Paulding's Superintendent, sent a letter to parents insisting that the photo was being taken out of context, while also admitting that it did look bad. But it is not clear what context was missing from a photo showing unmasked students crammed together in a hallway. Otott also insisted that the school cannot mandate masks and insists that masking is a personal choice.
The school does have a dress code. It includes guidance on the types of pants, skirts, shirts, and shoes that can and cannot be worn.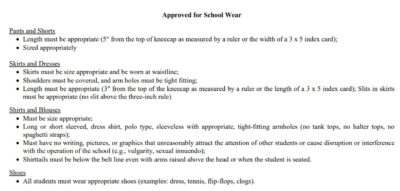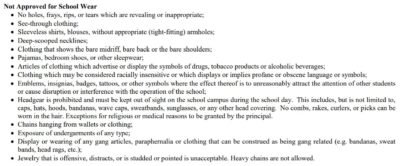 The school has offered no explanation as to why it can tell students what to wear to school, but not tell them to wear masks. But the dress code's existence, much like the announced threat, suggest the school's power appears to be very situational.
Meanwhile, in the most predictable rejoinder imaginable, the school's football team is having a coronavirus outbreak after resuming workouts.