A Binge Of Cinematic History Chapter 2: The Birth Of Hollywood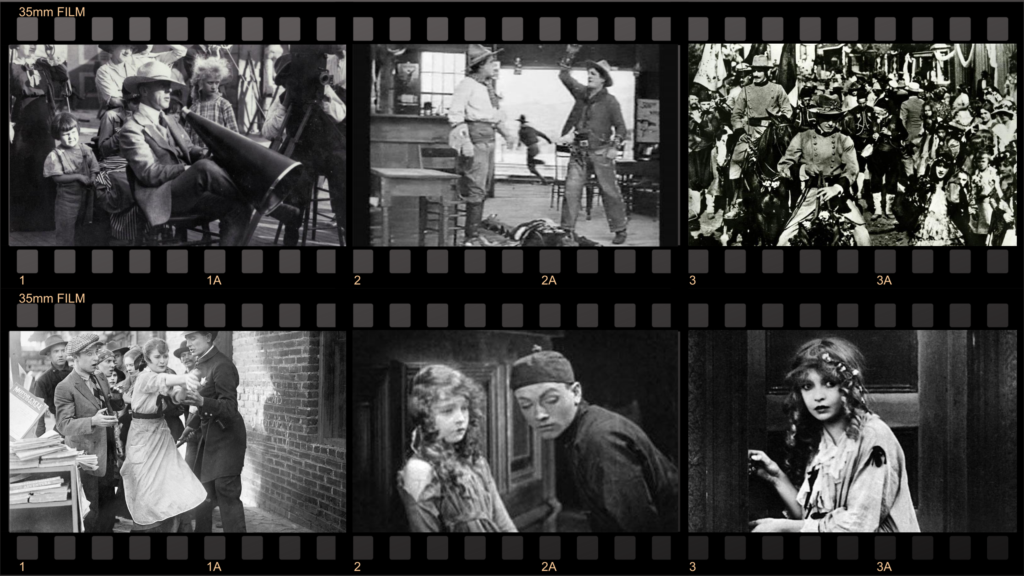 "Like Writing History with Lightning"
– U.S President Woodrow Wilson (Reportedly) after watching THE BIRTH OF A NATION
Prior Reading
Movies I Binged For This Chapter
The Squaw Man (1914)
Birth Of A Nation (1915)
Intolerance (1916)
Broken Blossoms (1919)
Part 1: Hollywood Is Born (1914 To 1920)
Whenever most folks want to take a look back to Hollywood's history they inevitably decide to start with the 1920s and, for reasons I'll get to later on, it's understandable given that was when the industry really began to take off. However, the story of Hollywood and its coming domination in cinema truly begins in 1914 where our last chapter ended – with Cecil B DeMille directing The Squaw Man. Though it was not the first feature length film, it was the first for Hollywood. This film is luckily still with us today and thanks to the public domain can be quickly found with a search on YouTube — it's a short 70+ minute feature. DeMille would go on to helm two remakes of the movie during his career, but none of the versions are necessarily what one might call a classic even for those dedicated enough to look back at films from such an early age in cinema. DeMille's future contributions were key, but his highlights would come later on in the 1920s and when he experienced a personal renaissance towards the end of his career decades down the line.
Still the 1914 version kicked things off and suddenly film makers, new movie companies, and businessmen began to coalesce around the small suburban area to film movies. Thomas Edison saw the profits he could make and attempted to claim copyright of the films being made, given they were using his technology, even going as far as to use hired goons to attack film sets. But he ultimately couldn't win the legal battle and stepped away from the modern gold rush that was taking place in the Hollywood valley.
If one director shaped 1910s cinema, it was arguably D.W Griffith. Griffith's experimentation with film-making techniques and how to present a narrative through film were instrumental in shaping Hollywood movie making. Though he was known to over-inflate his accomplishments and was sensitive to criticism, he nevertheless is a key director in cinema's history. In 1915 he pulled off arguably the first successful epic in the industry with the incredibly badly aged and yet influential The Birth Of A Nation, a film adaptation of a racist book exploring racial divisions and the rise of the KKK during reconstruction that then U.S President Woodrow Wilson raved about – well reportedly. While Wilson's racism is fact, there's actually some debate as to whether Thomas Dixon fabricated this quote to help the film's marketing. The movie itself was arguably the first feature length blockbuster and racist overtones aside it is considered a must watch for any cinema student. The movie actually had a sequel released the next year (not directed by Griffith), but is considered a lost film. Criticism of the racism in the movie actually got to Griffith, who truly believed he was telling history and during re-releases of the movie he'd personally get involved in editing the film to attempt to make it more palatable in his mind. In a reaction to the criticism (not in changing his mind but in claiming he was a victim) he'd back his next project at such lengths he reportedly was financially ruined for the rest of his life because of it.
This next project was a better aged epic that came the following year after that with Intolerance, a movie with a narrative about love versus intolerance that was set through the ages and told through four different stories that made the AFI's choice for best films of the past century. One story in the film involved Babylon and a set for this scene that was a mile long was constructed for the movie. This set up one of the most jaw dropping scenes in movies when we get a good look at the giant Babylon set – unfortunately that set sat unused for three years before being demolished.  However, the film had much more moderate success compared to his 1915 epic. It was so expensive, so experimental, and so ambitious that Griffith would never get close to making something as epic again. He'd still be a key figure for the remaining decade but as the 1920s came and went his status as THE director in Hollywood would fade. Still, I'd make the case that Griffith and his films would have likely easily won Academy Awards had they existed back in the 1910s and a few of his films are definitely on my watch list for this project.
But it wasn't just directors emerging in this new hot spot for movie making, this Hollywood. Previous actors and actresses who hid their participation in film began to use it as star making vehicles. Lillian Gish may have been the biggest star of them all at this time, and every movie maker realized in time that star power could sell certain films. Gish would actually go on to live into her late nineties and watched Hollywood become the massive industry it came to be, passing in 1993. The slow but sure rise of Hollywood matched perfectly with the rise of the movie theaters and Nickelodeons, and movies were becoming popular enough for Broadway and vaudeville to start to worry about them as real competition. In time they'd be surpassed.
Part 2: A Binge Of Pre-1920s Films (2020)
Like with the last Chapter, I chose to binge four films from this era of cinema. I started with the first ever feature length movie in Hollywood history with The Squaw Man, never seen before by me and of course of incredibly important historical significance. As I wrote in my Letterboxd review, I was pleasantly surprised to see some interesting double exposure techniques used in the film which worked well to convey some story beats. Unsurprisingly, proper depiction of Native Americans is lacking. The movie had me hooked during the first two thirds though – a wronged hero, forbidden love, a journey out West, a detestable villain. But the film's final act loses me, becoming a tragic tale in which the Native American characters are treated like throwaway material just to have some melodramatic climax that left a sour taste in mouth. It is available for free through the public domain and it deserves to be. It's a must watch for film historians and we should feel blessed it has survived the century – even if it ends up a mediocre film overall. I'd grade this one with a C-.
I then followed that up with Griffith's two major classics from the time, first with The Birth Of A Nation and then with Intolerance. I have never seen the latter, but I vaguely remember the former which I watched in shock at how racist it was way back in the pre-woke and cancel culture days of my time in High School. And yet even watching it now it's even more offensive than I remember, or others have noted. Again writing about the film on Letterboxd I wrote that this film is an essential building block of cinema, incredibly influential, and classes can be taught on how this movie introduced the blockbuster, the epic story, the soundtrack, and in so many ways showed what an experience Cinema could be. Unfortunately, whatever racist things you've heard about this movie are not going to prepare you for just how racist it really is. Half-way in is where it really gets bad. Stereotypes of blacks, blackface, vilification of equality, and even lionizing of the KKK. The issues with context with a movie like a Gone With The Wind look downright woke in comparison to this. This movie is a very uncomfortable watch and I cannot recommend anyone give it a second of their day unless you're really interested in seeing a key film in Cinema history. This is both an incredible accomplishment and a great stain in the existence of film. I'd grade this first Griffith epic a D.
However, I found A LOT more to like in the latter epic, Intolerance. Again in Letterboxd I wrote that even by the standards of today it is nuts that Griffith pulled this off. This is an epic masterpiece that lived up to the hype for me, an amazing film that takes us through the ages and sets up a thrilling climax. For Griffith to follow up the cringe of his last film with something that speaks to the heart like this is jaw dropping; it is equally unfortunate this is the lesser known film of those two and that it reportedly financially ruined him. This is without a shadow of the doubt the best film I've seen from the pre-2020 age of Cinema. I understand some have walked away feeling confused by this one, but I came away considering this an absolute master class in epic film making and watching something like this for the first time really makes me feel confident about doing this project. I will say, though, that the movie is so ambitious that I can understand why audiences seem more conflicted over it compared to the rave reviews critics at large give it. I grade this an easy A+ for me.
And finally, I made the decision to check out Broken Blossoms, another Griffith film from the era that is widely critically praised and shows how far Hollywood had to go before proper presentation of Asian characters would come. On Letterboxd I explained that I feel extremely conflicted about this one. On one hand this film is arguably a must watch for film historians, as it touches on the earliest of portrayals of Asians in Hollywood – plus it was arguably a precursor to Noir. Not to mention Lillian Gish gives an incredible performance, and for having yellow face it does pull off a sympathetic portrayal of Asian immigrants. That said, the movie's melodrama was over the top for me, and the final act just left me wanting. Ultimately this film is a fine enough watch on the free platforms that it's available on, but I wouldn't pay if I had to. An important film for Hollywood history, some great performances, but for me a mediocre narrative. I grade this one a C-.
Even though I came away less than enthused about most of these, I'm happy to have watched them for the sake of understanding an era of Cinema that many skip over to start with the silent twenties and I discovered a new film to love in Intolerance. If you can get past some badly aged content, I think these are worth watching for anyone interested in the history of film and perhaps you'll enjoy them more than I did.
Part 3: A New American Past Time Emerges (1914 To 1920)
Hollywood's birth and meteoric rise in the 1910s of course attracted major attention. By the end of the decade what had been a quick little trip while taking a break had transformed into a full-blown experience, with feature length films ranging from an hour to three-hours-plus epics. Some even used serialized films, dividing each movie as parts of a bigger story and ending each one with a cliffhanger and a warning that movie watchers must come back next week to see what happens. An early deviation of what would become television episodes decades later. I should point out that some of these serials are actually still with us to this day, and some are considered must watches – but I'll have to skip out on them during this binge given I don't have time to pause for ten plus hours of one movie. But the federal government also took notice and major movie producers took note of making sure to lobby for no censorship. Censorship would come but not for another two decades.
By the start of 1920, Hollywood and the movies in general were about to explode in popularity, becoming a regular past time. Thus, would come the silent era of the 1920s which would end in the introduction of sound and a system of awarding studios, film makers, and actors/actresses. And with a little less lost films for the 1920s and more watchable classics, it's the twenties that arguably really began the first big boom of cinema. Now this project goes from a few highlights from the pre-1920s to a serious consideration of some of the most important movies of the last century in cinema. I better get some buckets of popcorn because I have a lot of movies to watch from the twenties. This binge of cinema history is about to get really serious and really time consuming…