The Time Mike Squandered Three Wishes Granted By A Crone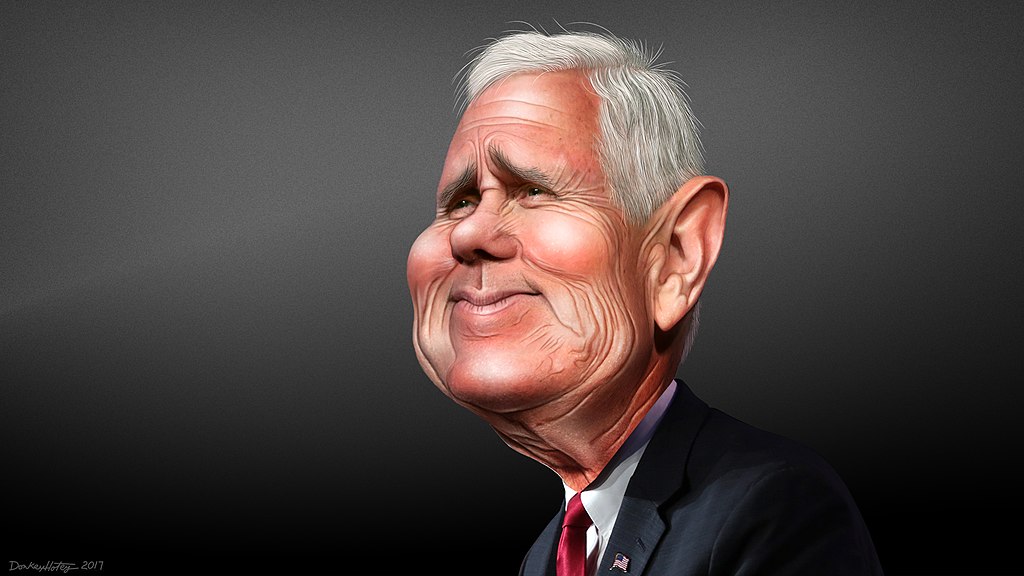 This caricature of Mike Pence was adapted from a Creative Commons licensed photos from Gage Skidmore's Flickr photo stream
The following story is meant to be humorous, and is not intended to represent the real-life Mike Pence. As far as we know he can not, in fact, whistle loudly without using his fingers.
---
My great friend Michael Pence has many admirable qualities, but patience and thoughtfulness when granted three wishes by an old crone in a German forest is not among them. It's a great story—as unfortunate as it is—so unfasten the topmost button of your pants and prepare for a belly-laugher.
It all began on a tour of small-town America, as it so often does. I have little memory of what town we were in, but the ample meat display I will remember and cherish to my last breath.
"Bryan," Mike said as we studied the counter resplendent with meats and cheeses. "I've always held that you can best judge a town by its delicatessen; and you can best judge a delicatessen by its selection of that undisputed king of cold cuts, ham."
"Do you tell me so, Michael?"
"I do indeed," he said with a confident smile.
"But what if it's a kosher or halal delicatessen, what then?"
"Why, then let the corned beef be your guide, Bryan!"
"And what," I asked. "In theory, would one do if one found oneself—due to the beautifully variegated quilt that is American culture—in a delicatessen owned and operated by a half-Jewish, half-Hindu couple? What then, Michael?"
"The kosher dill pickle will never steer you wrong, my friend."
So true, it was, and I told him so. Never a Lithuanian Half-Sour have I had that I would not use as a culinary lodestone.
"Let's take a tour of the hams, shall we, Bryan?"
I looked hungrily at the rows of hams, hams of every shape and flavor. So rapt was I that Mike needed to get my attention with a friendly tap on the arm. He held a canned ham before him.
"What is your assessment of this selection?"
"Well," I took a breath to steady my nerves. "Ensconced in a disgusting jelly, it is best thought of as a food to stave off starvation or as improvised ordinance for use in a catapult or trebuchet."
"I see your education at Le Cordon Bleu taught you well," he said. "Let's take a look at the more palatable options, shall we? Here we have a honey ham. It advertises that it is made with Wildflower Honey, but that's just clever marketing."
"Naturally," I said. "Calling it Wildflower Honey is just another way of saying you've no idea what your men the bees were fed on."
"Exactly," he said. "Here we have a Virginia Ham—also known as a Country Ham—of which the people of the great state of Virginia are understandably proud. Salty, smokey. A delight on any sandwich it may encounter."
"That is," I said, tasing a sample. "A fine ham."
"Here," he said. "Taste this. A fine Italian Prosciutto. From Parma, I believe."
It was delightful, and I told him so.
"We are missing, of course, the Spanish Jamón," I said.
"Not so much a cold cut to my mind, more an appetizing tapa, I think you'd agree?" Mike said. "Allow me to introduce to you the Black Forest Ham."
"Well," I said, chewing. "This is an absolute delight."
Here the man behind the counter got Mike's attention with a conspiratorial wink and nod.
"Sir," he said, glancing to ensure that we were the only meat-seekers privy to the discussion. "Have you ever had Black Forest Ham that came from the actual Black Forest region of Germany?"
We shook our heads quickly and were led through a series of locked doors into a meat cooler in the Employees Only area of the delicatessen. He showed us a ham on a proud table.
"What do you detect?" the deli hand asked.
"Your palate is superior to mine, Bryan," Mike said. "Training tells."
I wafted and whiffed and snoffted and sniffed the ham carefully. I closed my eyes and chewed, immersing myself in the expansive universe of flavor provided by your man the ham.
"Garlic there is, especially," I suggested. "Black pepper and coriander, too. But I think there is a lovely embrace of the juniper. There: I said it. How did I do, garçon?"
"Excellently!" the deli-hand said.
"Bryan," Mike ejaculated, chewing the meat. "I had no idea that the Black Forest Hams of Germany had such intricacy, such depth of flavor!"
Needless to say, we were bound for the Baden-Württemberg region of Germany forthwith.
Before you could say, "Wie sind wir hierher gekommen" we found ourselves deep in the harsh, heavily forested borderlands of old upon the South German Scarplands looking out upon the plain of the Upper Rhine.
We—he looking like a swiss hiker, myself in my usual Harris Tweeds—traced an ever-fading track into the darkest part of the wood. Shadows waved menacingly. I swear I could hear the howl of the wolf and the tread of the bear in the forest all about me.
I saw something on the ground.
"Michael," I said. "It looks like there's a pile of goldfish crackers on the ground. Whatever do you think it means?"
"I've heard tales of children leaving themselves a trail they can retrace as they head into some dangerous, fell wood. Such a wood is this. And see here!" he pointed to a continuing line of crackers along the path, "A trail!"
"Theseus," said I, "was something of an asshole, if I'm to be honest."
"Nevertheless, I think we may be following such a track."
We followed the trail deeper into the wood. Trees creeped upon us; owls cried. I was encouraged when the trail went from the Cheddar flavored goldfish crackers to the inarguably superior Parmesan expression.
"What," I said, "do you think we shall find at the end of this trail of woe, Michael?"
"Likely," he said, "a crone who tempts children into the deep forest to throw them into an oven, or so I'm told."
Eventually, we came to the edge of a clearing, with a hovel at its center. The goldfish crackers had thinned out long ago; I hoped they'd been followed back to civilization by tired children. I knocked on the stout oaken door.
It happened in a flash: the door opened, a face appeared and Mike had reached in and grabbed the threadbare woolen hood belonging to the face, dragging it into the clearing.
It was a crone, indeed. She eyed us suspiciously.
"Well, gentlemen," she said, her voice like a creaky door. "I suppose I'll have to be granting you three wishes."
"Is that each," I asked. "Or all together?"
"Sadly for you, matey, they all go to your friend here who actually captured me," she poked me in the chest with a laugh. "Standard Genie Rules apply, of course."
Mike let go of her hood.
She was flippant; I immediately wondered if the rules were hard and fast, or up to the granter. I still don't have an answer to that question.
"Well sir," Mike said with a laugh. "I feel completely unprepared. I supposed I'd like a sandwich—no, make that two; delicious sandwiches, one for my friend here—made from that delightful ham native to these forests."
Her eyes widened, questioningly, but she did not comment. A man who thought so infrequently of his own wants was bound to foul up an opportunity such as this.
"Granted!" she shouted.
A brown paper bag appeared before us.
"I question your instincts here, Michael," I said.
"Do you dispute that a sandwich made by another is superior to any made by yourself?"
"Well, no," I said. "This is an immutable law of nature."
I confirmed the contents of the brown bag.
"Would you believe she was thoughtful enough to include napkins and your men the little packets of mustard and mayo, Michael?" I said. "But let me advise you on the next of your wishes."
"Haha! No, Bryan," said he. "I know of just the thing for my second wish. But, Crone, I want to know that you understand exactly what I am talking about here. You know how some people can whistle very loudly by using two fingers in their mouth."
"Of course," she said, somewhat confused.
"Do you know how some people can whistle the same bright, clear tone by just breathing over their contorted tongue?"
"Yes."
"That ability is my wish!"
"To whistle loudly."
"In just the manner described, yes."
She sighed.
"Granted!"
"Satan's wooly socks, Michael," I said. "This won't do, you've squandered away two perfectly good wishes and I won't let you do the same to a third."
"Now stop right there, boyo," the Crone said. "You haven't tried the sandwich yet."
Michael let out a piercing whistle.
"Well I'll be a monkey's uncle, and if need be, sturdy father figure," Mike mused, mostly to himself. "But isn't that the sweetest, cleanest whistle you ever heard?"
"Yes," I said. "Entirely devoid of spittle, Michael. Now listen here—"
"—- Now that's enough of your Now Listen Here-ing, Mister," the Crone interjected. "You leave the man to his last wish."
I folded my arms in indignation and leaned against a tree.
Mike scratched his chin, ruminating upon this vital, final choice. A bird chattered in the tree above me. I briefly considered that it pooping on my head might be the most fitting end to this misadventure.
Mike nodded in satisfaction; an idea had come upon him.
"I assume I can't wish that you'd give up on trying to lure children to your hovel in order to bake them into pies?"
"Nope, sorry, hombre," she said. "When you've got a brand, you stick to your brand."
"Then I'd like a cool and refreshing sweet tea."
"Saints preserve us, Michael!" I shouted.
And then it hit me, warm and goopy down the back of my neck and into my shirt: I'd been shat upon.
In fairness to the crone, the sandwich was delicious.
Some time I should tell you about the time Mike argued in court the difference between a pond and a lake.