Saturday Morning Gaming: The Turn-Based vs. Real Time Debate and Missionforce Cyberstorm
Back in the 90's, one of the big debates was over Real Time Strategy vs. Turn Based. A lot of this was due to the limitations of the medium. If two people wanted to play a game at once, for example, you either had to do the "one person uses the keyboard/the other person uses the joystick" thing or the "one person uses the left half of the keyboard, the other person uses the right half" thing.
Which, let's face it, kinda sucked.
Turn-based, on the other hand, allowed for Hot Seat. Take your turn. Take your time. Think about what you were going to do next. The big problem there was that there was no asymmetric information, really. You couldn't, for example, make a particularly sneaky build that relied on stealth or something. Even if you both agreed to go to the kitchen for 5 minutes to let the other guy build in peace, you still came back and watched the other person do his turn. So he couldn't sneak around behind you or something.
I mean, lan parties were a thing but they were unwieldy and in the days before ubiquitous internet the monitors were CRTs. So if you had a big old 13″ monitor, that puppy weighed 20 pounds and was the size of a 13″ CRT. Given that your PC itself was the size of a small refrigerator, getting together and doing a lan was something that required planning. And, if your household was like mine, the computer wasn't yours. It was your parents. And it wasn't something that was cheap. It was something that cost more than a grand. (I mean, remember Gateway computers? It was HUGE that they came out with a $999 computer!) So, generally, the computer stayed where it was.
So, for the most part, turn-based games were for multi-player and real time strategy was for lan parties or single player.
Once the internet took off (shortly after Gateway put a $999 computer in everybody's house), suddenly the appeal of turn-based games went kaput. I only get two minutes for my turn? And I have to wait an interminable two minutes for the other guy's turn? This is an injustice!
Well, right before that, a little gem of a game called Missionforce: Cyberstorm came out. This is probably the best turn-based game of the 90's. Yeah. I said it.
Here, check this out. You want to buy a mech (wait, "mech" is probably owned by someone with deep pockets and lawyers and such…)? I mean, you want to buy a Herc? You can buy one already kitted out or you can buy a naked base model: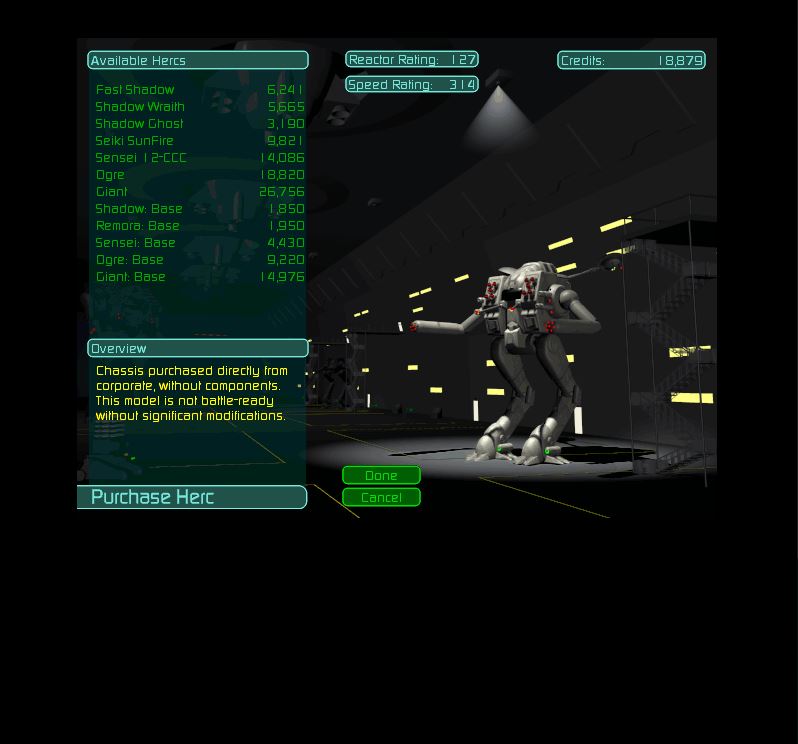 Let's buy a Shadow and check it out.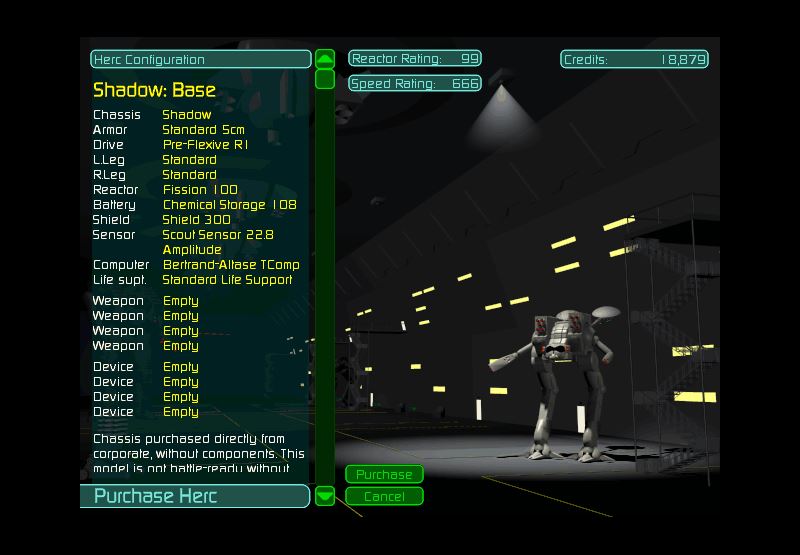 See all of those options? You can modify and upgrade each of those. Want better speed? Upgrade the reactor. Want better shields? Well, they'll slow you down, but you've got a choice of models there. Don't like how you can only see 7 hexes? Upgrade your sensors. Upset that your lasers don't hit as often as you'd like? Upgrade your targeting computer (but the really good ones draw enough power to slow you down so, seriously, upgrade your reactor again).
Now what kind of weapons do you want? Lasers, missiles, machine guns… the former don't use ammo (but don't hit as hard). The latter hit like a truck but if you run out, you're going to need a resupply drone to get more. (Oh, you'll probably want to buy a resupply drone too.) Some of the weapons do really well against shields (but not armor), some do really well against armor but shields effectively block them… there are a handful of weapons that are good against both but they're not GREAT against either. (Oh, you'll probably want to purchase shields too.)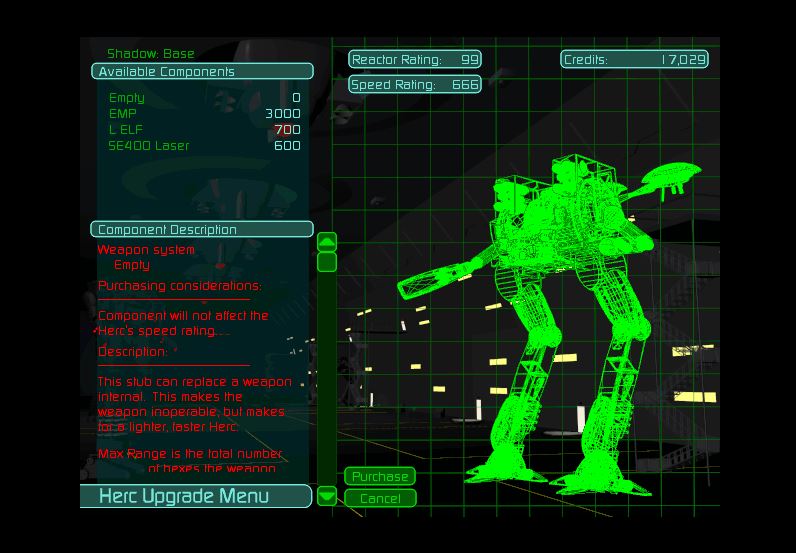 And, as the game progresses, you'll discover more and more tech and have more and more options to build more and more kinds of builds.
And you'll want small mechs, I mean, "hercs" to do your scouting and heavy hercs to hit hard.
"What about pilots, though?"
I'm glad you asked. You have a medvat with all kinds of pilots floating in there. Pull one out and install it in a herc!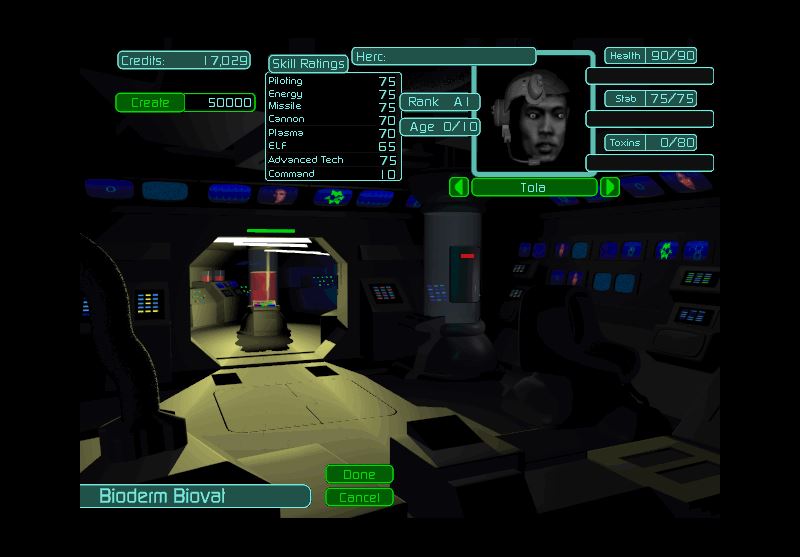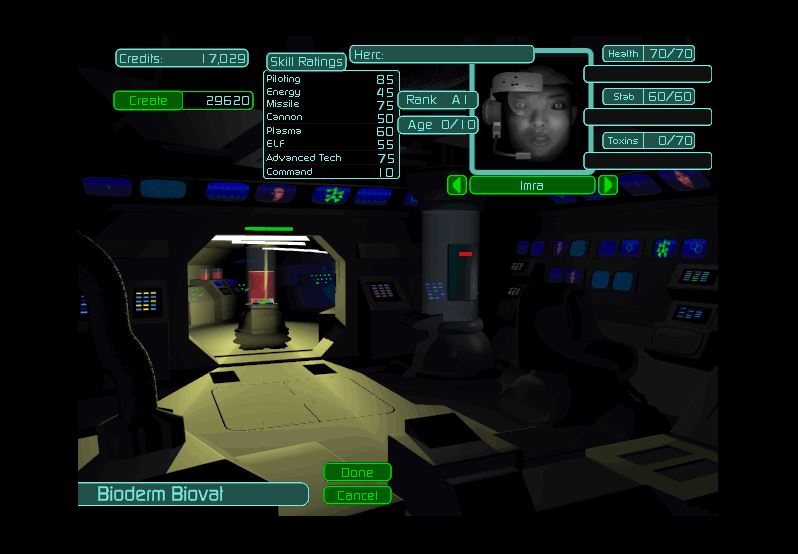 And some of them are good at energy weapons, some of them are good at missiles, some of them are good at piloting… and some of them… well, some of them are inexpensive.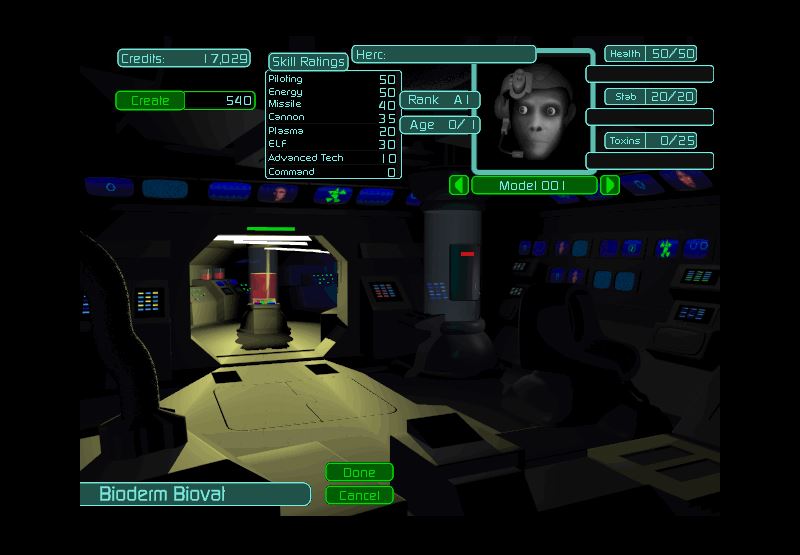 And they take damage or need therapy or require some detox after you shoot them full of goofballs to give them a boost or some relaxation drugs to help them be less freaked out.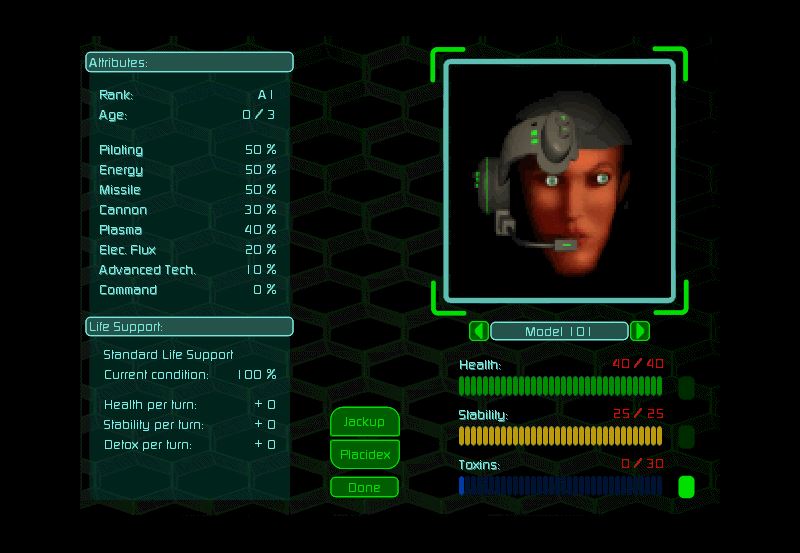 And so now you've got your herc and you've installed your pilot. Let's go on a mission!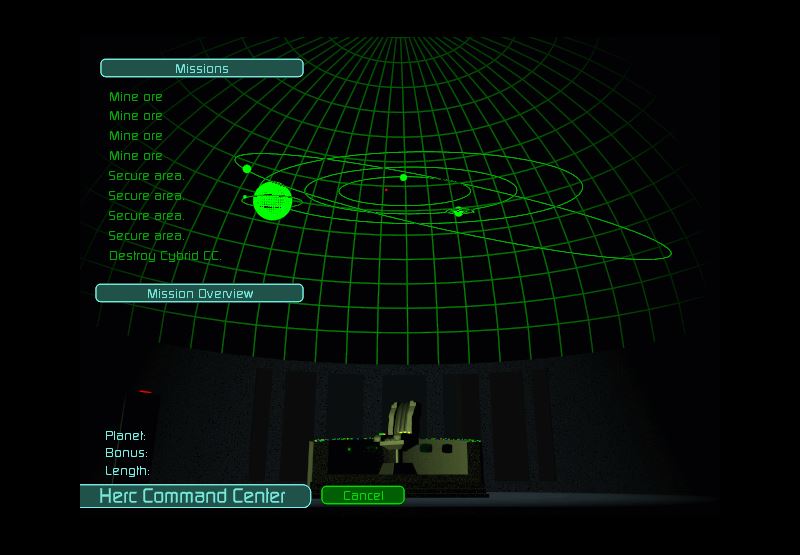 Pick your poison. You need cash? You probably want to mine ore with your moneymakers (think about upgrading your ore extractors). You have enough cash and it's time to get back to the main mission? Well, you'll want to secure some areas. And then back to base to rehabilitate your pilots and repair your hercs.
Different planets have different things going on. Some of them are quite nice: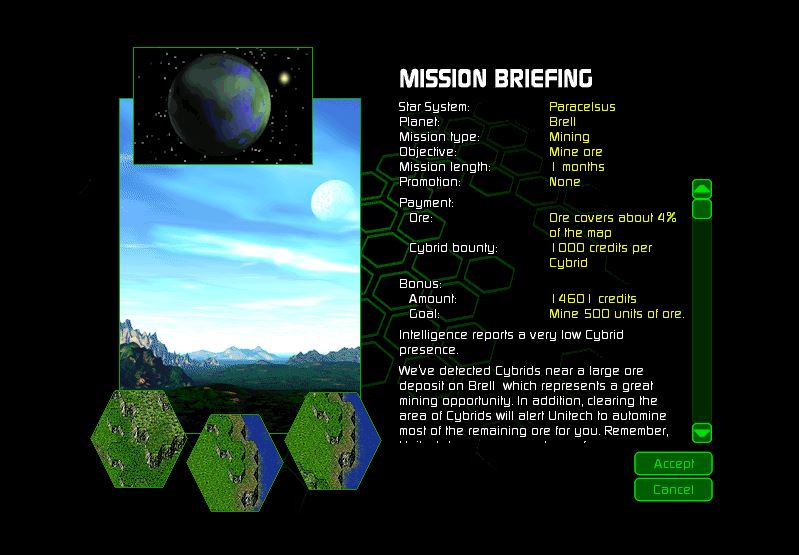 Others are merely nice places to visit: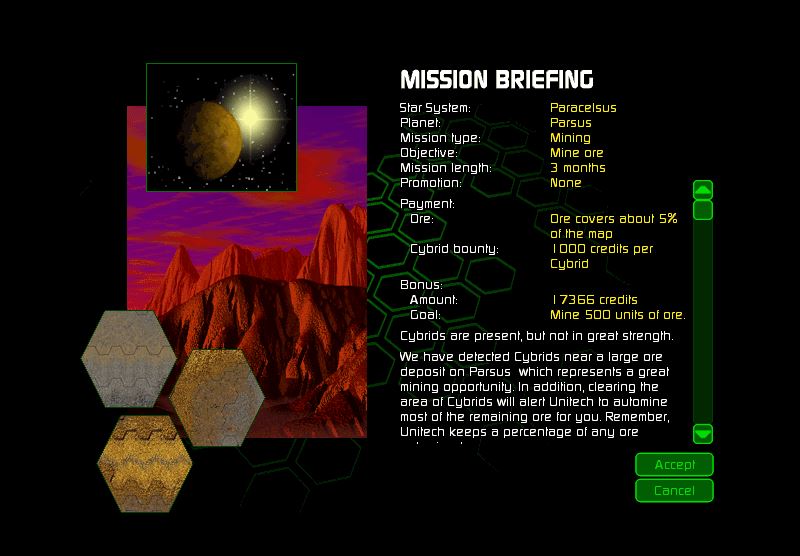 And then, once you pick your mission and get in a fight, you find yourself with yet another wealth of options. Here, check this out: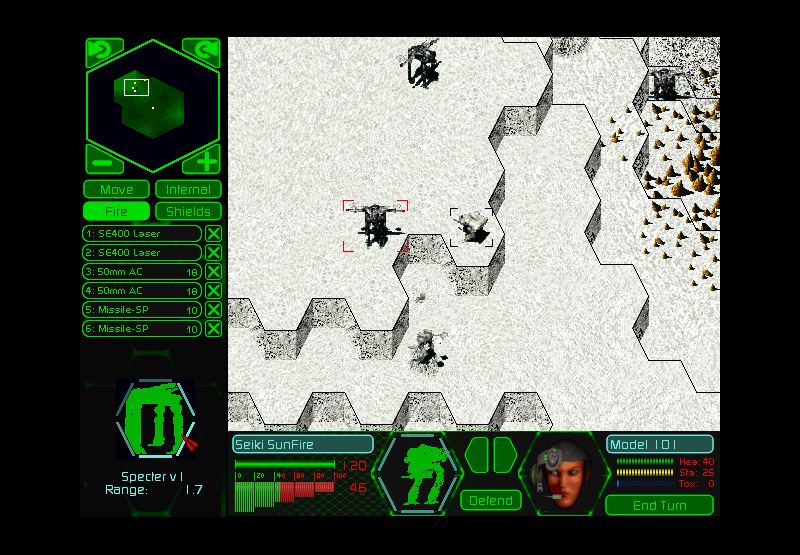 You pick which weapon you want to fire but you have to deal with the other guy's shields which, you can see, he strengthened in the front. So, if you manage to get behind him, you can shoot him in the butt where his shields aren't as strong. Or, if you've got awesome weapons, you can take his shields down and then start pounding his armor.
Be careful, though. After it's your turn, it's his turn.
This game is, seriously, awesome. And you can get it from Gog for a mere six bucks.
If you love piloted robot fighting and you thought that Mechwarrior was the only game in town, you need to check this gem of a game out. You'll be delighted by it and surprised at how deep the gameplay is.
(Oh, and avoid the sequel. They tried to ride the wave of real time strategy and managed to alienate the fans they'd already picked up while, at the same time, making a game that wasn't as good as the other RTS options available.)
So… what are you playing?
(Featured image is the Missionforce: Cyberstorm main menu.)