A Binge Of Cinematic History Chapter 1: The Dawn Of Cinema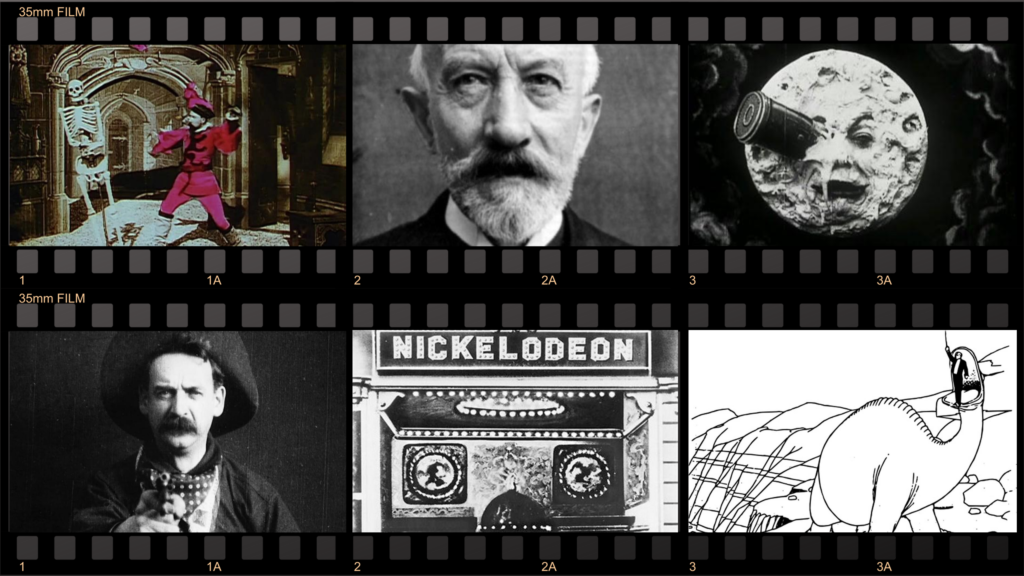 "If you've ever wondered where your dreams come from, you look around… this is where they're made."
– Georges Méliès, From the film HUGO
Prior Reading
Movies I Binged For This Chapter
The Haunted Castle (1896)
A Trip To The Moon (1902)
The Great Train Robbery (1903)
Gertie The Dinosaur (1914)
Part 1: "Let's Go To The Movies" (1894 To 1914)
The motion picture was born in 1878, the motion picture camera followed in the early 1890s, and by 1894 the public was getting a look at film for the first time ever. Up until 1900 the motion picture was something to behold as exhibitions for arcades, fairs, museums, or even vaudeville. But in 1900 the Lumiere Brothers premiered the concept of projecting a film onto a big screen at the Paris world's fair. This eventually led to entrepreneurs realizing they could offer a screening of films for a small price. Thus, the movie theater was born. Little by little they sprung up and became commonplace in communities and taking a quick break for a small fee to check out news reels or short movies started to become a past time with some.
From the twenty-year period of 1894 to 1914, cinema was a wild west of experimentation and trial and error. Movie companies began to form, looking to make money off whatever they could film and had to fight off attempts by Thomas Edison himself who wanted to claim ownership of any film produced. They found Broadway actors and actresses and used them for their films – though at this time actors and actresses actually looked down on the medium of film and participated under promise of anonymity and only because they needed money in between stage productions. This period is what I like to call "The Dawn Of Cinema" or the pre-Hollywood years. And amazingly at over a hundred years old there's some short films from this time that have stuck with us.
Arguably the first big director in film history was a French magician turned film maker Georges Méliès, who was behind the first ever horror film and who produced a film that lead to arguably the first classic image in all film – a rocket propelling onto the face of the moon. Elsewhere, arguably the first big blockbuster in America was a short about a train robbery and a short film about one cartoonist's bet that he could make a Dinosaur come to life was a major milestone for animated films to come. These are the four films I decided to binge for this period in cinema.
Now there are other key films from the time such as Little Nemo shorts and Méliès himself made various films that pushed the boundaries of cinema at the time and can still be seen to this day in public media forums. Not to mention that some feature length films were produced in the second decade of this period – though many have been lost since. However, I chose these four because I feel like they are the first classics that have stuck around in the consciousness of film history…
Part 2: Watching Cinema's First Classics (2020)
Thanks to the power of YouTube and the public domain I was able to start with Méliès' The Haunted Castle from 1896 (Also known as The Devil's Castle), a three minute short about a man fending off all sorts of supernatural foes in a castle. I've written a tad about the movie before when I wrote about the history of horror cinema last year, but never actually sat down to watch it for myself. I had to get used to watching something that was considered a movie watching experience at the time be only three minutes long and I was taken aback on how mediocre the preservation looked, but hey, we're talking about a movie that came out while McKinley was still asking to become president. Overall the lack of title cards and the quick pacing made it hard to follow what was going on, and while I try to keep in mind the context of the times, I couldn't help but feel disappointed and as if I had gotten nothing for my viewing experience. I'd grade this film a D honestly; you might wanna skip this one unless you're really hurting to see cinematic history.
I had a completely different experience with my next two watches, 1902's A Trip To The Moon and 1903's The Great Train Robbery. while these films too had so/so preservation, a lack of title cards, and were short (though much longer than just three minutes at over ten minutes each), I found each to be a pretty enjoyable experience. The former was a fun ride and looking at the amazing visual effects for the time was an interesting look back at old cinema. The film's surreal and fantastical set designs also helped a lot to make the movie enjoyable. The latter was almost as good as watching a modern western, and in some ways the movie is a gangster film as well given most of it is told through the perspective of the villains. I walked away from both feeling that had my local theater offered a limited run of these movies on the big screen, I'd actually want to see them for myself to see what it looks like on a bigger canvas. I'd grade both of these a B-. If you're really curious in checking out these two classics I'd recommend it.
But the final film I watched for the period, 1914's Gertie The Dinosaur, in which a cartoonist makes a Dinosaur come to life on screen as part of a dinner bet, was okay at best. It's interesting to go back and watch something that must have been magic at the time — Gertie's moving animation on screen is really a tease into the future of full-blown feature length animated movies — but it's also very repetitive in the creature's actions and you can spot the limits of the time. Overall, this was one that is easily forgettable even while not being as confusing as the horror short had been. I'd give this one a C-. If you're bored and really curious to see what animated movies could do in 1914, then put this on your YouTube.
Part 3: The Nickelodeon Creates Moguls (1900 To 1914)
In America, early movie theaters began to spring up in 1900, but they really began to take off in 1905 when Nickelodeons were conceived. For just a nickel you could stop for a quick showing of a short film and yes, concessions such as peanuts were offered at most locations. Owners of these movie houses included names like Meyer, Goldfish, Laemmle, and a few brothers who were named Warner. Immigrants themselves, these theater owners found great success in screening films. In time they'd all become interested in getting involved with actually making the movies themselves. Much in the way a reader becomes a writer, they figured they could produce and fund their own films and make even bigger profits. These men would all become future moguls for major film studios and arguably the founding fathers of modern American cinema.
Meanwhile, film was starting to see a new era emerge as feature length productions started to become more commonplace. Two men would end up defining this era for the movies, as the next big directors in film history. One was a failed actor of stage named David Wark Griffith, commonly referred to as just D.W Griffith. He was hired on to make a quick buck directing short movies and what was supposed to be a gig more than a job turned eventually into a profession for him. The other was a struggling play writer, Cecil B. Demille.
Goldfish, who had taken up the name Goldwyn, teamed with the Lasky brothers to create a new movie company – the Lasky Feature Play Company. They hired Demille to shoot their first ever feature length movie, The Squaw Man. For production, they picked out a nice spot near Los Angeles and next to a little-known suburb called Hollywood. The movie these men were about to make would launch an era of films that would see one town's name define the art of American cinema and arguably still does to this day. It was time for Hollywood to start making movies and up next, I want to watch those 1914-1920 era of young Hollywood's films.
In the next chapter I'm starting to look at some feature length silent films — Including the first major Hollywood picture, an epic that ended up becoming a racist stain on the industry, a story told through the ages, and an early depiction of Asians in film that showed how far Hollywood was from proper representation.