Saturday Spins: Ryan Bingham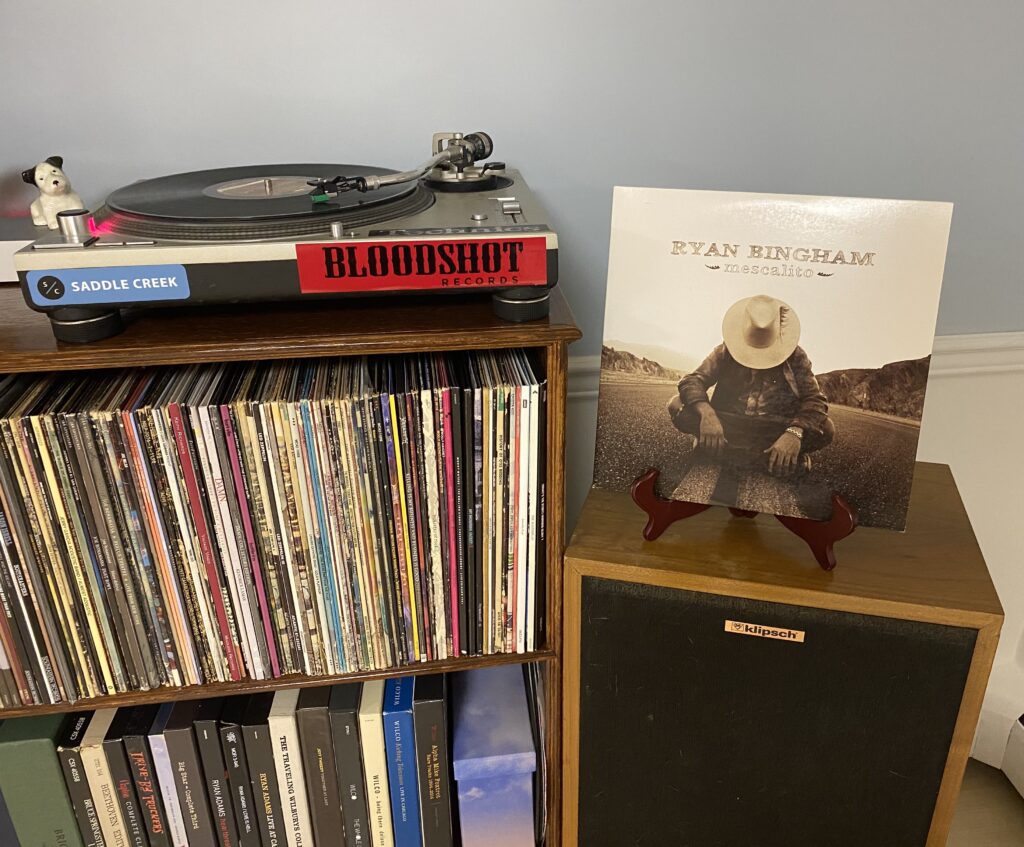 The randomizer was consulted to pick this week's spin, and hoo boy it did not disappoint. Last week I covered a band that has recently burst onto the scene, and I feel as though I did God's work by introducing them to some that had never heard about them. Not that I am some sort of music industry insider, I do lawyer stuff by day and listen to copious amounts of music also by day.1 This week's artist is another one of those that I own every vinyl release by because I am a completist weirdo. He puts the "ana" in "Americana" though.2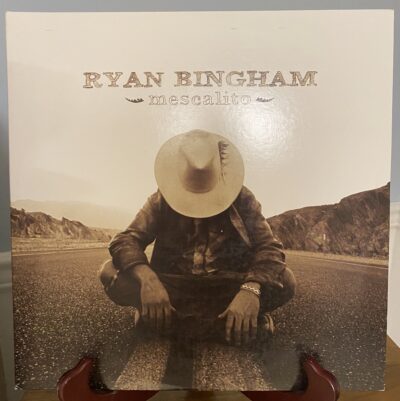 Ryan Bingham
Mescalito
2007
Commentary
The Discogs Randomizer spit out Bingham's first official3 and official vinyl release, which gives me the opportunity to introduce the guy and tell you a fun story about one of his concerts I attended with my then fiance now wife. Some of you may have seen the Academy Award winning film Crazy Heart and remember it not only for its story, but for it's KILLER soundtrack. That was Bingham's big break, not only is he in the film, but he wrote the Academy Award winning song "The Weary Kind" for it.4
With as much talent and as many accolades that Bingham has garnered, you would think he was some silver spoon-stuffed weirdo that attended Berklee or some shit,5 however, Bingham grew up in west Texas and he kind of drifted about working on the rodeo circuit starting in his late teens, all while writing and performing music. Eventually he formed The Dead Horses with a friend and was discovered by Black Crowes guitarist, Marc Ford. The rest, as they say, is history.
In 2012 me and my then-fiance went to see Bingham at the now closed Altar Bar in the Strip District of Pittsburgh. Bingham was playing songs from his recently released album, Tomorrowland, one of which, "I Heard 'Em Say," was a song that he described as deeply personal about a lynching, you could hear a pin drop in the venue, which was not a very large one. It brings me no joy to report that racist shitheads also enjoy music, and one of them audibly shouted, "Fuck Obama." It may sound like pearl clutching, but I prefer my concerts to be sans racism from dumb hillbillies.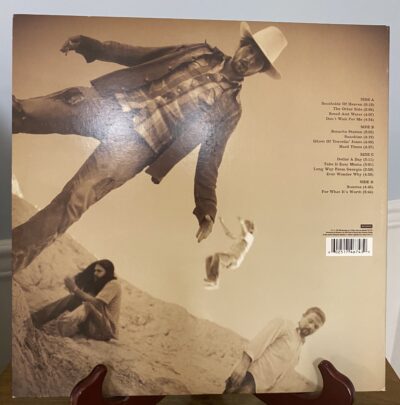 As far as debuts go, Mescalito is fantastic. I mean this as sincerely as possible, there are no bad songs on this album, I have played it front and back over and over because it is that good. Bingham sounds like if Tom Waits' vocal chords and Steve Earle's songwriting somehow reproduced. There are till people that listen to mainstream country music when Ryan Bingham exists, and that is a problem that I am trying to personally remedy.
The artwork is pretty utilitarian, pictures of the band in sepia tones somewhere in west Texas and/or New Mexico, sadly there be no colored wax here either, but the music is phenomenal. It is wild to me that critics slept on this one back in 07.
Track by Track
Since this album is chock full of great songs, I am inclined to yet again use my much loved "Nipper Scale" to rate each song.
1. Southside of Heaven
The first track on this album was written over several years of Bingham bouncing around Texas workin' the rodeo circuit. It is an extremely well-written song, and the personal nature of it makes it even more interesting. 5/5 Nippers
[youtube https://www.youtube.com/watch?v=jHnSj9Ls6pU]
2. Other Side
A very short song, with a big country rock sound. With an excellent resonator/slide solo. 3.5/5 Nippers
3. Bread and Water
Do you like slide guitar, Sonny Landreth, Duane Allman, et. al.? This song has a riff that will blow you away right off the bat. Most of the slide guitar on this particular album was played by Marc Ford, but I have seen Bingham play it live, and he is very talented. This song will make you want to get up off the couch and dance. Some may bristle at the racially charged lyrics in this song where Bingham sings, "On down to Louisiana, Whiskey River Landing/Crawfish pie and eat jambalaya with a big ole coon ass smile." In live cuts he has since changed it to "big 'ol Cajun smile." 5/5 Nippers
[youtube https://www.youtube.com/watch?v=eoFwQnHFeYM]
4. Don't Wait for Me
Slowing things down a bit with an acoustic ballad. This song shows off Bingham's vocal range, it is strangely soft here, despite the hard gravelly rasp that is present. There is some nice mandolin under the guitars too. 4/5 Nippers.
5. Boracho Station
A little bit of mariachi-esque guitar work with Bingham blending English and Spanish. Really unexpected, but at the same time fits on a record like this very well. 3.5/5 Nippers.
6. Sunshine
One of the more pure country sounding songs on here. Once again, the slide guitar is back and in a big way, basically filling in an instrumental chorus. Even though it is 13 years old, it still sounds infinitely better than anything coming out of Nashville today. 4/5 Nippers.
[youtube https://www.youtube.com/watch?v=1AA0CJ7qIas]
7. Ghost of Travelin' Jones
One of my favorite songs on the album, and it features a verse from legendary country artist, Terry Allen. To me it is a very Dylanesque song much like "Southside of Heaven." This song is an extremely good example of a folk/alt-country/country rock song if there ever was one. It basically tells a story about a mythical character–I am assuming it was something either Bingham imagined or heard about on the road. 4.5/5 Nippers.
8. Hard Times
Talk about a song for the times we are currently living in. A lot of slide guitar, and that may seem monotonous, but it is a signature sound on this record. This song reminds me of watching a struggling band in a seedy dive bar, which is essentially what Ryan Bingham and his band, the Dead Horses, were doing before being discovered. 3.5/5 Nippers
9. Dollar a Day
Sometimes I think bands reinvent or put their own spin on antiquated songs, this one is basically an updated version of "I've Been Workin' on the Railroad" by John Denver. I will say this, Bingham was way ahead of his time with regards to legalizing marijuana in the USA. 3.5/5 Nippers.
"Man it sure does cost well a whole lot of money
Well to live in the land of the free
Well I think I'll go and plant me a seed
Grow a marijuana money tree"
10. Take it Easy Mama
Another country rock track that you can dance to. I almost get the feeling that a bunch of these songs could have been left on the floor of the cutting room, but they were so well-polished that I am wondering if Bingham was like, "put it on there." Don't get me wrong, this is a good song, and almost seems as though it could have served as a single since it is extremely catchy. 4/5 Nippers.
11. Long Way from Georgia
Another slow, acoustic, storytelling track. It is written from the perspective of an artist drifting from place to place busking to make a little bit of cash here and there. 3/5 Nippers.
12. Ever Wonder Why
This song really shows off Bingham's songwriting talent, it is simply a beautiful song written from the perspective of another down on his luck dude, who dreamed much bigger dreams for his life. 4.5/5 Nippers
Well, everybody's troubled with your hustle and your bustle
Your payment on your house is late
If I ever have a problem like it, I guess I'll be in pretty good shape
You can kiss my ass goodbye
[youtube https://www.youtube.com/watch?v=u3q0kjGrdrE]
13. Sunrise
Of all the tracks on this album, I think this is the one I played the most. Such a well put together song that builds and builds to a crescendo and then breaks back down again at the very end. Just absolutely fantastic songwriting. Have you ever wondered what looking at a sunrise actually sounds like? Well listen to this song. 5/5 Nippers.
14. For What it's Worth
A great coda to a great album. Another very Dylanesque song that shows off Bingham's songwriting chops. Complete with epic percussion at the end of each line. Like a hillbilly 1812 Overture. This song utilizes the so-called "secret" track where minutes of silence give way to another song or a continuation of the previous one. 4/5 Nippers.
This secret song I am assuming is called "The Best in Me" and was more than likely recorded in once take, just Bingham, an acoustic guitar, and a train. At the begging of the song you can hear him remark, "Think I'm in tune/Always gotta be a fucking train."
A friendly reminder that Saturday Spins is now on Instagram, follow for pics of other records and equipment.
---