Sunday Morning! "Death in Venice"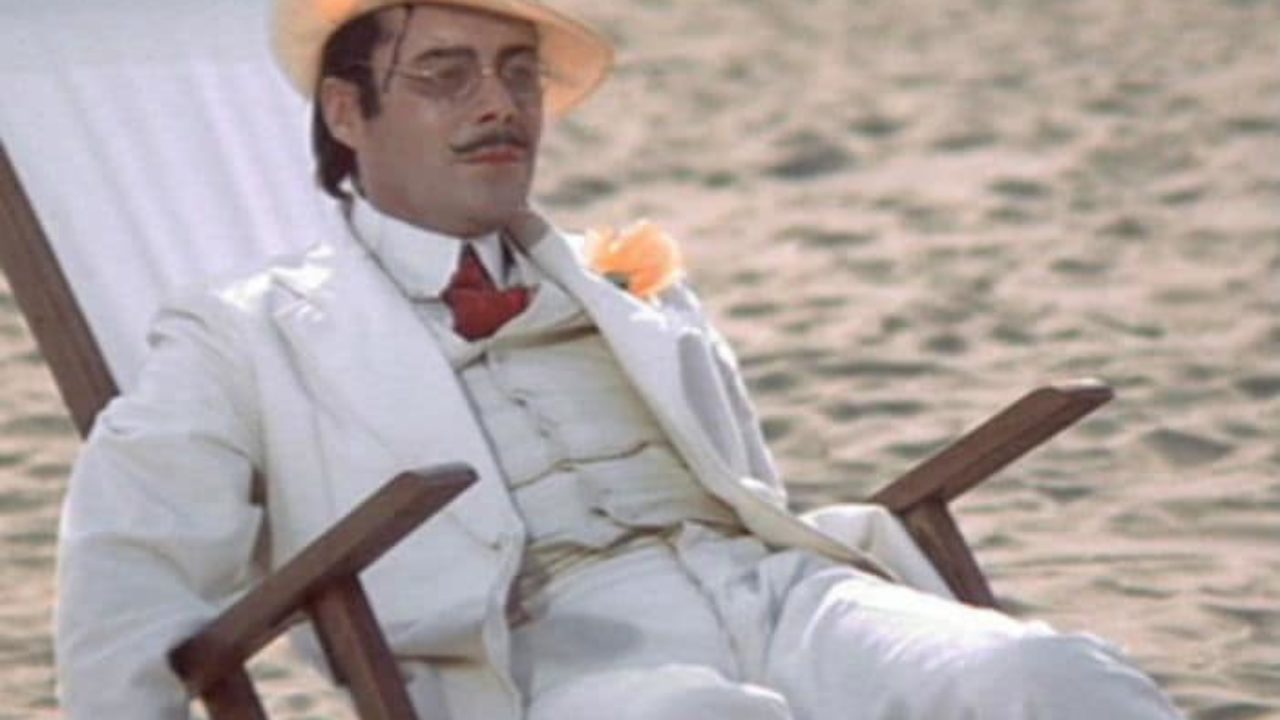 One cannot quarantine desire. It is as much a mortal affliction as disease and hides in the individual body in much the same way. We find it shameful as well, and try to hide its traces because it too seems to run at odds with bourgeois society. Liberated or not, we can't quite seem to reconcile our duties and our biological nature.
This week, I had Death in Venice on my mind (as I mentioned), and so I reread Thomas Mann's novella and watched Lucino Visconti's 1971 film for the first time. I recalled its cholera outbreak in a tourist destination and its emphasis on the deranging effects of beauty. I guess you could say I came for the plague and stayed for the aesthetics.
Mann's novella is about a German writer, Gustav von Aschenbach, whose obsessive focus on formal perfection has brought him national renown-students are taught to imitate his prose- an aristocratic title, and seemingly a life half lived. Rereading, I sensed that he was exhausted, both mentally and morally. Mann goes against the Romantic notion of the artist as somehow elevated above his society; his artist is weakened for art and separated from society thereby. Mann perfectly defined a writer as "someone for whom writing is more difficult than it is for other people." Recently, I talked about The Deeper the Water, the Uglier the Fish, another book about a novelist whose obsessive focus has warped his morals. I think most compulsive scribblers know what it's like to lose one's mind and moral compass a little in writing. After a life spent writing, Aschenbach needs to come up for air.
The writer travels to a resort in Venice to regain his health at a time in which pleasure travel was still treated as a sort of spiritual duty. The sun revives a sort of sensuality in him, even before he spots the "beautiful boy" on vacation with his family, a Polish youth nicknamed Tadzio. The boy, we are told, is perfectly formed and "absolutely beautiful" with an "aura of personal charm." Aschenbach is bewitched and obsessed and will remain so throughout the story, really unto death.
The boy deranges him on a basic aesthetic level: for someone who labors to create artistic perfection, there is something deeply upsetting about beauty that simply is. The novella draws from philosophical notions of the sublime, which tends to deal with things overwhelming and excessive; something of supreme aesthetic beauty cannot be described- which is particularly frightening for a writer- nor fully understood. Beauty is uncanny. As a friend of mine, a somewhat aloof model, once put it: "There's something supernatural about the way I look."
Mann also draws from classical notions of beauty- he mentions Phaedra several times- and the Platonic ideal, in which something beautiful elevates the thoughts towards the pure forms and upwards towards the spiritual realm. The admirer is supposed to admire from afar, which skirts the obvious problems with a story about a pederast. Aschenbach is also a type that was not uncommon in the era before the World Wars: an aesthete fixated on the erotic beauty of boys with a head full of classical quotations justifying that fixation, but unlikely to have ever acted on it, and most commonly married to a woman. Like Socrates, Aschenbach is able to claim this erotic fixation is morally instructive, although Mann's prose keeps an ironic distance from that claim.
Beautiful things or people are under no such obligation to be moral. Beauty is also frightening in the story because it seems to be a law higher than morality. Like Dorian Gray, Tzadio is a little cruel and it matters not a jot. As Mann writes, in lines that could have come from Wilde:
"Almost every artistic nature is born with a revealing connoisseurial tendency that appreciates injustice so long as it results in beauty and that applauds, even worships aristocratic privilege."
Beauty is its own weaponry.
As the writer obsesses on the boy, he decides to stay in Venice and even has his hair died and make-up applied to make himself look younger. Living in their head, the writer is perhaps more susceptible to losing track of time's passing. If you don't feel old, it can be a jolt to realize others consider you so. There is a minor character in the novella who revolts Aschenbach: an old man who cavorts with teenagers. Living in a later society which, to borrow a Camille Paglia line, could be better called regressive than repressive, we have more examples of people who haven't made the transition from childhood to adulthood. The irony is Aschenbach sees it as a supremely creepy trait in another.
The film version cuts out this minor character and Visconti makes the writer into a composer, probably so he can fill the soundtrack with beautiful music, mainly by Gustav Mahler. It has a slower pace as the camera also fixates on beauty- the fourteen year old was played by the unknown Björn Johan Andrésen. The story remains largely the same, but the film feels more languid and dreamlike.
Reality intrudes slowly, the reality of death and decline. There seems to be some sort of illness going around: the city is being sanitized and posters are warning the public against eating mussels or spending too much time outdoors- all euphemisms for something else. Officials offer cheerful denials and the local papers say nothing. As for the papers from home, they "offered up rumors, cited contradictory statistics, quoted official denials and questioned their veracity." Threatened with the loss of their tourist business, Venice keeps spinning optimistic nonsense. But the tourists are growing restless. It's really no wonder this all came to my mind recently.
But, passion welcomes disorder, according to Mann: "It welcomes any relaxation of bourgeois law and order, any chaos and disruptions in the world at large, cherishing the nebulous hope of finding some advantage." The disorder of plague can allow for a loosening of moral standards, a lesson we might also remember from an earlier plague story, The Decameron, set in Florence rather than Venice. As the air grows more antiseptic, Aschenbach falls asleep and dreams of pagan blood orgies. It is a historical irony that the novella was written in 1912, right before Europe's first modern blood orgy.
And mortal reality catches up with Aschenbach: he dies on the beach, while watching the boy. If we didn't know this from the title, it still comes as no surprise. He seems to have died long before.
So, what are YOU reading, watching, pondering, playing, creating, or obsessing over this weekend?