Remembering The Ice Age
Vanilla Ice was trending recently because it is 1990. Wait, no, that was 30 years ago. Dang. Has it been that long since I first checked out the hook while his dj revolved it?
In any event, I always enjoy seeing Mr. Robert Van Winkle making the rounds in the news. It's usually to do with a new reality show or criminal charge, but not this time. This time it was about his big concert he had planned in Austin, Texas for the Fourth of July, which he canceled when someone told him something about a virus going around.
Seeing Mr. Van Winkle takes me back to a simpler time, a time when I was a young, rebellious girl in a sea of New Kids on the Block fans. Sure, I thought Jordan was kind of cute, but their milquetoast repertoire was not for me. I preferred something edgier. Something a little less poppy. A bad boy. Vanilla Ice, with his gravity defying, skunk streaked pompadour was just the thing for my pre-pubescent heart. To this day, I bet I am one of the few people who know the words to more than one Vanilla Ice track.
I had the tape, you see. And I listened to it repeatedly. Even after my little Sony Walkman ate it, and I had to grab a #2 Ticonderoga and wind it back up. I had posters. I bought his unauthorized biography. I think I had a T-shirt. Sadly, I missed out on his movie. Yup yup, the Iceman made a movie. I could probably find the full film on YouTube, but this trailer should tell you all you need to know.
Cool As Ice (1991) Official Trailer - Vanilla Ice, Naomi Campbell Movie HD
Note: the girl he's after is supposedly a high school student. Ice was 24 when the movie was made. That's gross, but what can you expect from a dude who regularly wore white denim shortalls with his own face airbrushed on them?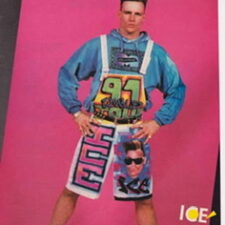 This sartorial choice was unacceptable even in 1991. Or at least it should have been, had I not been blinded by the beauty of his chiseled jaw, perfectly arched eyebrows, and precision-razored stripes shaved into his hair.
I really should have known better. He was widely perceived as a joke and it was not cool to like him. Even my parents tried; they mocked my love for Ice and belittled my taste in music, but I would not be swayed. Not even when Kurt Loder played the beginning strains of Queen and Bowie's "Under Pressure" to compare with the beat of "Ice, Ice, Baby" and the musical thievery of which Ice had been accused was undeniable. I told myself it would be ok; if there was a problem, Ice would solve it.
Solve it he did, by fading out of the picture and into obscurity for several years, only to resurface as a regular on a variety of reality shows for has-beens: Celebrity Boxing (where he sparred with Todd Bridges of Different Strokes fame,) Dancing with the Stars, and the Surreal Life, to name a few. Enough time has passed, though, to move Ice from cringe to nostalgia, and to evoke a smile when those first strains of Ice, Ice Baby start up on a Spotify 90s station.
And though my musical tastes have evolved, I must admit I have not lost my taste for Vanilla. When I hear that song, something grabs a hold of me tightly and I cannot resist belting out the lyrics verbatim with unironic joy, the embarrassment of my family be damned.
Will I ever stop? I don't know.
Word to your mother.