Do All Lives Matter?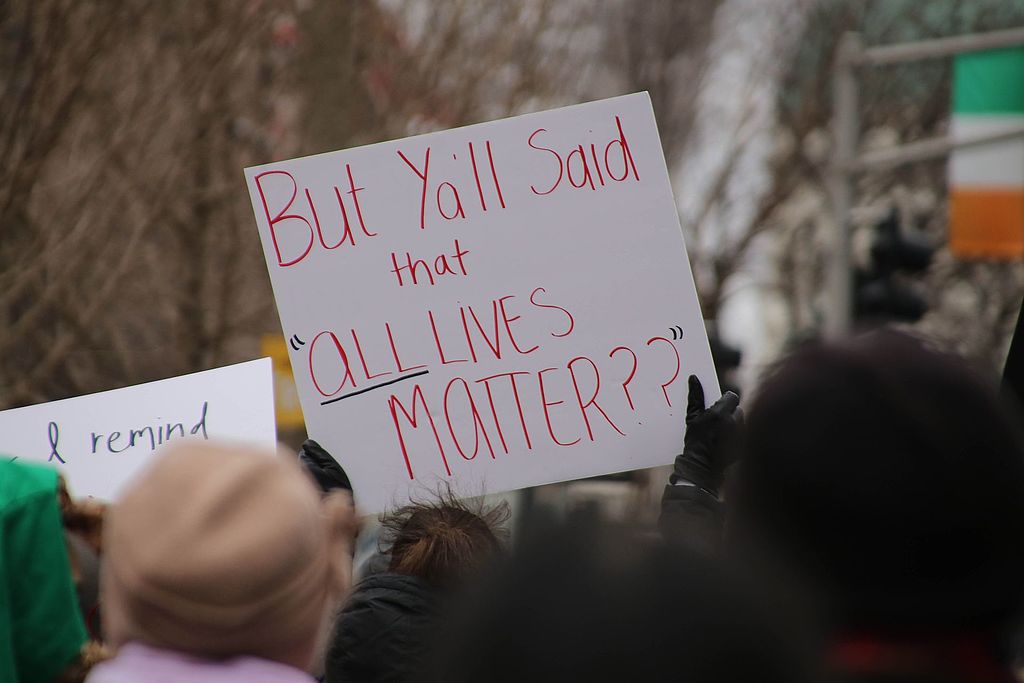 I've previously critiqued Richard Dawkins for saying things that are true, but with the purpose of being a hurtful jerk. I do not think that a statement being true is sufficient to mean that you can go ahead and say it without criticism.
At the same time, a statement being true does do a good bit of the work needed to make it worth verbalizing.
I think this is fundamentally important to the debate over saying the words "Black Lives Matter."
With the exception of some extremely racist people, Black Lives are generally recognized to matter. Nevertheless, something like half the population reject stating this as a fact. They counter with "All Lives Matter" or "Blue Lives Matter."
I use the word "counter" intentionally. No one nods upon hearing "Black Lives Matter" and calmly responds "yes, very true as do all lives" as an expansion and clarification. Instead hearing "Black Lives Matter" compels "All Lives Matter" as a retort. While it is not a logical contradiction since Black lives are a subset of all lives, it is very much a rhetorical contradiction. If someone says, "Black Lives Matter" and someone else says "All Lives Matter" you can be sure they are having an argument and not just expanding on each other's ideas.
One thing I've noticed about the correction of "All Lives Matter" is that it doesn't really seem sufficient if one's goal is purely to inform. There are certainly other lives that matter that are not Black ones. But lives aren't the only thing matter. Love matters. Economic growth matters. Freedom matters. Kindness matters. Why don't people who object to "Black Lives Matter say "Actually, "all lives matter and so do love, economic growth, freedom and kindness"? If the goal is to recognize things that are not black lives that matter, why stop at lives?
Even when the phrase is clarified and expanded to "All lives can't matter until black lives matter," it still doesn't seem to quite escape criticism:
Not until every D1 football program releases a BLM vid featuring its players. My school just did and concluded it by saying "All lives can't matter until black lives matter." My alma mater actually co-signed on devaluing everyone who's not black.
Such objections leave me nearly at a loss to empathize. Even if one believes that there is no disparity in how the lives of people of different races are valued in daily practical life, I don't see why saying all lives can't matter unless each subset matters could be regarded as devaluing those outside of the subset. Even if we reversed it to "All lives can't matter until white lives matter," I don't think this would be devaluing the lives of everyone who is not white. It's still just a claim. And it's true!
I try extremely hard though and muster all my empathic powers, I can come up with something.
Maybe the force of "All Lives Matter" is believed to be strong enough that any deviation from it is regarded as a weakening of it. That truth should be hewn to as rigidly as possible. Mentioning any subset of lives is a distraction. Mentioning anything that is not a life is a distraction. Focus only on life. All Lives.
I have trouble believing this is really what people are thinking though. I don't even think all lives matter, and I don't think most of the people who say "All Lives Matter" believe all lives matter either.
It's not that I ignore life. I've followed many of the headline things that you would think someone who believes all lives matter ought to do.
Namely, I've generally opposed fighting wars. I've favored fostering economic growth where there is hunger. I've never been party to an abortion. I am vegetarian and try to avoid killing animals for any other purposes as well.
But I have a dog who has eaten more than his share of animals. Also, I eat plenty of plants that are killed for me in particular. I don't even really try to hold back on the number of plants I kill in such a manner. On top of that, there are people I have not treated well, and I have squished bugs. I purposefully murder mosquitos. If you think I am just being silly and it is impossible to do otherwise, remember that Jains exist. I could do better, and I am simply not doing so.
There's also this enormous failing that still haunts me. If you truly believed all lives matter, you would structure your whole life around that fact.
I do not see the people who say "All Lives Matter" taking even half of these actions. They might even be less likely to do so than those who make the narrower, less ambitious claim that "Black Lives Matter."