DC Statehood: 68.34 Square Miles of Constitutional Conundrum
the House of Representatives passed a bill which would incorporate the District of Columbia as a State
. Senate Majority Leader
Mitch McConnell pronounced the bill "full-bore socialism"
and its prospects for passage in the current Senate are D.O.A.
But the composition of the Senate is not fixed in stone and many of the folks with whom I dialogue on political matters realize this. While I'd still pronounce the prospects of Democrats taking control of the Senate in 2021 less than probable, it's not implausible; and in such a world, it's nearly inevitable that a Democrat would also be President. In a handful of such discussions, opponents of D.C. statehood were quick to state, with the certainty of gospel truth, that D.C. statehood would require a Constitutional Amendment. I disagree. Am I right to?
Let's begin thinking about this, as we should, with a bit of history.
A Very Short History of the District of Columbia
During the time of the Articles of Confederation, Congress met mostly in Philadelphia, then the largest and most prosperous city in the United States. In 1783, the various representatives of the several states were upset one day when a group of Pennsylvania militia broke into Independence Hall and demanded that the Federal government pay up on their wartime wages left over from the Revolution, which had been in arrears at that point for more than ten years. Pennsylvania's governor sided with the protesters, and would not deploy force to withdraw them.
The disruption was eventually resolved and Congress got back to business by reconvening in New Jersey and later in Maryland, but the episode convinced a number of Framers, James Madison in particular, that the federal government needed to have its own territory, beyond the influence of any particular state.
After adoption of the Constitution, the First Congress met in New York City in 1789. President Washington took an office nearby. One of the items under discussion was the permanent location of the Federal government, and it was a political football. Eventually, the Compromise of 1790 was reached, literally over a dinner at George Washington's house where he'd invited Thomas Jefferson and Alexander Hamilton as leaders of the opposing factions to hash out a deal under the influence of his encouragement and Madiera. The result was pure log-rolling: Hamilton got something else he very much wanted, which was Federal assumption of all Revolutionary war debt, in exchange for agreeing to move the capital further south, on land to be somewhere along the Potomac River, with a temporary capital to be held in Philadelphia in the meantime. The Residence Act of 1790 was the result, empowering the President to pick the exact spot.
Washington was himself a land surveyor and was familiar with the area as his home was not all that far away, so that worked out well. He personally negotiated with the governments of Maryland and Virginia, and a square plot of land, ten miles to each side and its corners lining up on the four cardinal compass points, was identified. This land included some of the Virginia city of Alexandria and all of the Maryland city of Georgetown. Both of the states agreed, thinking that the proximity of the national capital to their own territories would be of assistance and influence to them.
Pursuant to the District Clause of the Constitution (see below), Washington accepted the cession. I have not found the Act of Cession to determine if Maryland put any contingencies or conditions upon the Cession (whether Virginia did or not is moot) which very possibly might be an obstacle to retrocession or incorporation in the modern era. In 1800, the Federal government moved to the "Federal City" that had been under construction near Georgetown since the Cession, and has remained there ever since.
By the 1830s, the village of Alexandria had fallen on hard economic times, and its most significant center of economic activity was its slave market. This didn't sit very well with abolitionists, who had established a strong presence in the District. Slave trading interests in Alexandria petitioned Congress for retrocession to Virginia, and in 1846, the Virginia General Assembly indicated that it would accept it. The next year, Congress agreed and retroceded the District's territory south of the Potomac to Virginia, preserving the slave trade there until 1864. This reduced the area of the district to its current 68.34 square miles.
In 1871, Congress abolished the charters of Georgetown and Washington City, consolidating the entire district into a single territory, managed by a presidentially-appointed territorial governor. This state of affairs lasted until 1973, when Congress passed the District of Columbia Home Rule Act. Since in 1973, there has been an elected city council and mayor of the city of Washington, D.C., who can provisionally pass laws applicable in D.C. subject to Congressional approval. Technically, everything the D.C. government does requires Congressional approval, but this is almost always given.
The 23rd Amendment granted D.C. electoral votes in presidential elections in 1961. D.C.'s nonvoting delegate to the House of Representatives was first recognized in 1971. It remains outside the boundaries of any state, and recognized as a Federal District, to this day.
On November 7, 2016, D.C. voters approved a referendum for statehood and for a proposed state of New Columbia constitution, by a margin of about 86% in favor and 14% against. It's interesting to note that the D.C. City Council has subsequently amended the proposed constitution to rename the proposed new state the "Douglass Commonwealth," to honor Frederick Douglass and keep the "DC" initialized nomenclature.
Taxation Without Representation
With just under 706,000 residents estimated as of July 1, 2019, Washington D.C. is the twentieth-largest city in the nation. But those 706,000 people are not represented in the United States Senate at all, and in the House of Representatives by Eleanor Holmes Norton, only the second person to ever serve as Delegate from D.C. to the House. Delegate Norton casts votes that count on the committees on which she serves, and has floor speech rights, but does not cast votes for passage of bills before the House.
Residents of the District pay federal income tax and other federal taxes at the same rates as other Americans, as well as local taxes which are generally approved by the local government in D.C. and approved by Congress, the cognates of state and municipal taxes in other areas.
Consequently, it's not difficult to see that there is more than sass involved in the District adopting the phrase "Taxation Without Representation" as its motto – it's a way of life for D.C. residents, who overwhelmingly are in favor of independent statehood. It's galling to those of us who actually buy into the notions that animated the American Revolution that this would be the case.
Disenfranchisement comes in all forms. D.C. having no voice in Congress is one of them

Join us on TikTok: https://t.co/ljmTekQM6b pic.twitter.com/4pAe4vlS2l

— NowThis (@nowthisnews) July 1, 2020
The Political Objection
D.C.'s demographics are such that it is reasonably easy to predict that it would elect Democrats to Congress given the chance. It is overwhelmingly African-American and overwhelmingly Democratic. D.C. has never elected a Republican to a District-wide position since it was granted home rule rights in 1971. This is the first objection to D.C. statehood that seems to muster significant support: it would be a permanently Democratic state; Republicans will never be competitive there. It would change the balance of power in the Senate: currently, there are 53 Republicans and 47 members of the Democratic caucus (2 of those members, Angus King of Maine and Bernie Sanders of Vermont, are not formally Democrats). Adding two Democrats to that equation would make the balance of power a single seat in Republicans' favor.
Hopefully, it's obvious that an argument like, "this hurts my team" or "this helps my team" isn't particularly principled. At least plausibly, this is the basic reason why Democrats are pushing for statehood and why Republicans aren't so enthusiastic about the idea. There's not really much to say to someone who is going to set principle aside and argue strictly for political advantage.
Moreover, there are a few, admittedly not powerful rejoinders. It's Republicans' own fault if it appears that they've made themselves permanently unappealing to African-American voters, for one. More interestingly, it's not necessarily the case that in a generation that African-Americans will vote so solidly for one party or the other as they do now. That's entirely within Republicans' power to change, and there's a powerful incentive for them to break into the Democrats' single most reliable voting bloc. African-Americans once voted for Republicans in large numbers because they saw Republicans rather than Democrats as better representatives for their interests.
These are raw sorts of political arguments which are likely not going to muster enough power to persuade anyone who might otherwise be persuadable. Rhetorically speaking, Democrats have the advantage here: there are principled reasons to push for D.C. statehood (700,000 Americans oughtn't be without a complete franchise regardless of who they are likely to, or actually do, vote for), but this isn't a principled basis to oppose it. If you're persuaded that D.C. should not be made a state because it's very hard to foresee D.C. ever electing a Republican Senator, nothing I say will persuade you otherwise. If so, please try to not let that color your response to the remainder of this essay. I do point out what I think the best Republican response to this issue ought to be below, and a way that Republicans might plausibly gain ground, at least in presidential elections.
Practicality Of Statehood
One of the other objections I've heard is that D.C. lacks a sufficient tax base to be a self-supporting, independent state. I don't agree with this claim, although this is not the focus of my interest.
Were the complete District of Columbia a state, it would be the third-smallest state in the Union (behind Wyoming and Vermont). The government of the District of Columbia anticipates taking in about $15.4 billion in revenue for FY 2020, all but $3.3 billion of which is derived from locally-raised taxes, and the remaining amount coming in the form of federal grants and Medicaid payments. Here's D.C. current budget proposal to Congress; see pages 57-58 for its revenue sources. Compare that to my own slightly less populous city, Portland, which has a $5.6 billion annual budget, or a state slightly smaller in population to D.C., Vermont, which has a $5.9 billion budget. As an entirely-urban, roughly 68-square-mile state, D.C. would face certain infrastructure challenges, avoid other infrastructure challenges, and like every other state, have to come up with solutions to its problems of educating, housing, and delivering justice to its residents. However, it has been doing so under Congressional supervision for nearly fifty years, with varying degrees of success or failure that are, frankly, consistent with the various successes and failures that the several states work through.
It appears plausible, therefore, that the District of Columbia has a tax base, infrastructure, and other incidents of statehood adequate to support itself as a practical matter. It might do a good job with autonomous state government, or it might do a bad job, but there's no particular reason to think that over time, it would do any worse than any of the other several states.
The Legal Objections
The most interesting objection (to me) was that there is a Constitutional or a legal barrier to creating a new state out of D.C. territory. Having had occasion to look at how states are legally created in the past, this didn't seem right to me. And a look at the Constitution confirms my thinking.
The clause in question is called the District Clause of Article I, Section 8, and it reads as follows:
The Congress shall have Power … To exercise exclusive Legislation in all Cases whatsoever, over such District (not exceeding ten Miles square) as may, by Cession of particular States, and the Acceptance of Congress, become the Seat of the Government of the United States, and to exercise like Authority over all Places purchased by the Consent of the Legislature of the State in which the Same shall be, for the Erection of Forts, Magazines, Arsenals, dock-Yards, and other needful Buildings;
So the District Clause provides that Congress has plenary power over the District. But notice what isn't in the District Clause – a requirement that there be a District at all. There are rules about what has to happen in order for there to be a district and obviously the creation of such a district is contemplated.
History shows us several things about how the Framers and the generation that immediately followed them actually treated this Clause of the Constitution. First, they demonstrated as a practical matter that we don't need to have a "Federal city" at all; Congress met and passed laws, and the President administered the government, and the Supreme Court convened and heard cases, in both New York and Philadelphia just fine in the 1790s. Second, the Federal government can retrocede District land back to a state; Alexandria was retroceded to Virginia in 1847. And third, there is no other mention of the "Federal City" anywhere in the Constitution other than the 23rd Amendment, giving D.C. three electoral votes in presidential elections. So they didn't really give it much thought beyond demonstrating that D.C. is not really sacred space.
The process by which a federal territory becomes incorporated into a state is set forth in Article IV, Section 3, the Admissions Clause:
New States may be admitted by the Congress into this Union; but no new State shall be formed or erected within the Jurisdiction of any other State; nor any State be formed by the Junction of two or more States, or Parts of States, without the Consent of the Legislatures of the States concerned as well as of the Congress.
The legal requirement, then, is that 1) if any of the land in question is within the border of one or more existing States, each State must consent to the formation of the new State; and 2) Congress must pass a law creating the state. As to D.C., it's already extrastatial (not within the border of any state) since the land ceased to be a part of Maryland in 1790. So requirement 1) is not there, and the only thing that has to happen to create a new state out of a federal territory is passage of a regular law – which requires a majority vote in the House of Representatives, a majority vote in the Senate, and for the president not to veto it (or for the veto to be overridden if he does).
How To Make A State
In practice, what's most often happened (31 times, to be exact) was a more complex process contemplated by the Northwest Ordinance of 1787, which pre-dates the current Constitutional government. Under the Northwest Ordinance regime, Congress passes a law called an Enabling Act, setting out the territorial limits of the territory contemplated to be incorporated. Such Acts provided for a separate pre-state government and the conditions under which the State might apply for statehood.
Those were typically some sort of democratic process, either the election of a territorial legislature or the calling of a territorial convention. That democratic process had to result in something demonstrating that the people of the territory adopted and ratified the United States Constitution, and then that they wanted to form a state, adopting a Constitution, which takes the form of passing something called an Organic Act. When the Organic Act was then reported to to Washington, either the President or the Congress (depending on the terms of the Enabling Act) would then issue either a Proclamation of Admission (if authorized by the Enabling Act) or pass an Act of Admission (if done directly by Congress) and now there was a new state.
Six states (California, Kentucky, Maine, Texas, Vermont, and West Virginia) have been admitted in ways that deviated from the Northwest Ordinance model. In particular, look at California. In 1848 the Treaty of Guadalupe Hidalgo formally transferred sovereignty of California to the United States. People in the area held a Constitutional Convention in 1849, setting forth the state's boundaries that still exist today, but the statewide outlaw of slavery violated the terms of the Compromise of 1820. Congress never organized a "California Territory." As part of the Compromise of 1850, California became a (non-slave) state directly by way of a single Act of Congress without an initial Enabling Act.
So again, both history and the text of the Constitution tell us: Congress can unilaterally and by passage of a single law create a new state out of Federal territory. No, it does not require a Constitutional amendment to create a state out of the District of Columbia. It requires passage of a law through the normal processes of passing laws, which happens all the time, and has happened a total of 37 times in American history. The District of Columbia would be the 38th.
The third legal objection is that incorporation of the District would disrupt the Compromise of 1790. To which I say, haven't the political imperatives necessitating the Compromise of 1790 long since expired? All of our debts to Revolutionary War soldiers or their heirs has long since been paid off, and a proposal to turn all or most of D.C. into a state does not purport to move the "seat of government" away from its existing physical location on the banks of the Potomac River to some other location.
But Don't We Need A Federal District?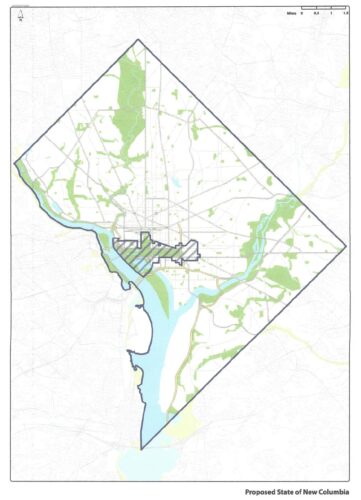 As I've argued above, we don't need a Federal District. But in fact, we aren't talking about getting rid of a special, extrastatial Federal District in which the government is seated. We're talking about incorporating most of the District of Columbia into a new state. Note here, the most recent proposal for incorporation, which is called the "New Columbia" plan.
As you can see, about two square miles of territory would remain outside the borders of "New Columbia," strategically chosen to exclude the White House, the Capitol, the Supreme Court, and a variety of Federal office buildings, the Mall, the Smithsonian, and a large number of national memorials and cultural sites.
This is a much smaller Federal district than what currently exists, but the only Constitutional specification is that the district be no more than ten miles to a side (contemplating a square shape).
One thing that would be very interesting, though, is that with a rump District, there would still be a 23rd Amendment in place, which means that the Federal District would continue to get three Electoral College votes in presidential elections. The number of people who would be residents in the rump district would be very small indeed (and would include the president and his family if they chose to register to vote in the Residence of the White House). What's more, rent and housing prices in those areas are currently very pricey and probably would only increase. So it's not unimaginable that Republicans might get those three electoral votes in a presidential election, until and unless the 23rd Amendment were repealed.
Hey, What About Retrocession?
Personally, I have no principled objection to retrocession of the District of Columbia into Maryland. If the 706,000 residents of DC became Marylanders, they'd be represented in the Senate and fully represented in the House. That would resolve the basic issue of their being subject to taxation without representation just fine. And I'm not concerning myself here with the question of whether retrocession would be better or worse for the welfare of D.C. residents, whether D.C. statehood is really as practical as its budget numbers suggest.
If D.C. were retroceded, Maryland would almost certainly gain a seat in the House of Representatives, at the expense of some other state, exactly which is not clear. Maryland would also rise from the nineteenth-most populous state to the seventeenth, displacing Indiana and Missouri. The retrocession of Alexandria back to Virginia demonstrates that this is entirely possible. And, as noted above, the retrocession needn't be complete; the Federal government could reserve the boundaries of the District set forth in the New Columbia proposal, so there would remain an extrastatial Federal seat of government.
Really, I think that if Republicans were to put retrocession on the table, the Democrats would become the ones arguing against enfranchising D.C.'s residents rather than the other way around. The objection there would be that Maryland might not want to accept the retrocession, which if partisan concerns prevail it might not. But no one has so much as even asked Maryland what its government and people think about the idea.
Now, of course, with a Republican president and a Republican-controlled Senate, D.C. statehood isn't going to happen. But, it's not beyond the imagination that in 2021, both houses of Congress and the Presidency would be held by Democrats. At that point, I see no Constitutional or legal barrier to the creation of the State of New Columbia out of the bulk of the existing District of Columbia, should the Democrats be able to muster the political will to pass a law creating it.
Oh, and Another Thing…
All of this goes at least as strongly for Puerto Rico, which isn't the seat of the Federal government, and which has 3.2 million American citizens who pay taxes like the rest of us but don't even get electoral votes in Presidential elections the way D.C. does. Puerto Rico's current state of governmental impoverishment is the result of decades of Federal laws that effectively made it a debt haven; with proper government there's no reason it couldn't have a thriving economy. Just sayin'.
Last week,