Hollow Rights & Hollow Points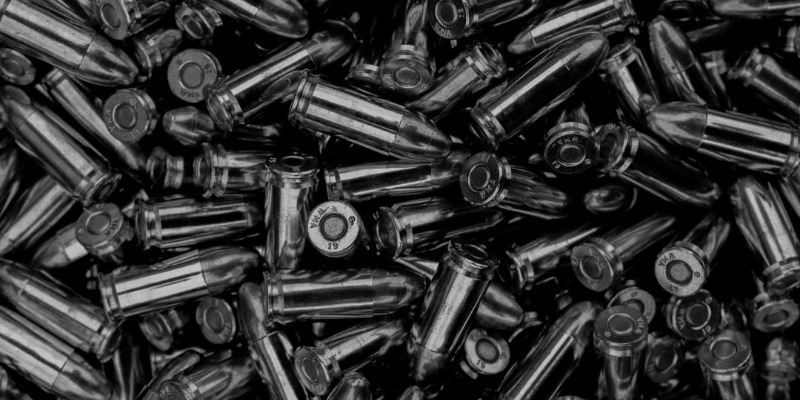 A DiscRep1 from last week included a really good piece by Derek Thompson on the role of guns in the police debate. While most of the piece was dedicated to explaining why gun control is critical to get the police to stop killing people, his section on Philandro Castile really jumped out at me.
Derek Thompson writes about the role of guns in police violence:
It's been four years now. The list of men and women killed by law enforcement seems to grow every month. So why can't I stop thinking about Philando Castile?

Because I think few other chapters in the long epic of American police brutality so capture the hell into which we have all chosen to walk, arm in arm, under the banner of the Constitution. Castile was set up to die by a country that proclaimed his inviolable right to a gun, legally approved his right to carry, and then excused his killing by virtue of the fact that the object he'd been permitted to keep in his pocket could also be used as a precondition for his slaughter.

Castile was killed by a cop in a country where it is more dangerous for a black man to exercise his Second Amendment right than it is for a white man; that is undeniable. But he also died at the hands of a culture that, in celebrating widespread gun ownership, makes it all but inevitable that the United States has more armed police than similarly rich countries, more panicky officers, more adversarial police encounters, more officer shootings, and more civilian killings.
Castile was something of a turning point for me. My views on gun control or police shootings didn't change, but I stopped defending the NRA after that. They couldn't muster a defense of Castile, which should have been a layup.2. Most pro-gun people I know were horrified, but I have come to learn they are not as representative as I would like.
One of the criticisms of the pro-gun right is that they would freak out if African-Americans ever took advantage of their Second Amendment rights. There is some history there. Ronald Reagan signing gun control into law in response to Black People With Guns, for example. But it's also an oversimplification. The NRA and gun rights supporters have gone to bat for African-American gun-owners in the past. They are often sharing stories of African-Americans with guns positively. At the least many recognize the trap for what it is, but also many do believe it. At least in theory, and at least sometimes in practice. My pro-gun friends are not representative, but they are not that unrepresentative. So, to me, that attack has always been more complicated than it seems.
What does seem more clear and less complicated, however, is the extent to which their own support for gun ownership is eclipsed by their support for police when the two come into conflict. This conflict happens often. There is no right to gun ownership if the presence of a gun is ipso facto justification for a police officer to be threatened and respond accordingly. It doesn't matter if you can't be charged and prosecuted for gun possession if you can simply be shot. It may not be just the presence of the gun – or the presence of a gun with a black man – that makes the officer feel threatened, but when we talk about police shootings we differentiate between "armed" and "unarmed". The "armed" carries with it an assumption that the shooting was more likely than not justified. Because they were armed.
Regardless of race, such a view is inimical to a belief that people should have the right to own a gun and have it in their possession in public.
But it isn't enough, really, to say "regardless of race". If the main criteria that makes a shooting justified or not is the level of fear an officer fears, then a heightened fear of African-Americans makes it a racial issue3. Even if you believe the extra fear is justified because of crime charts4, it creates a situation where black people's right to own a gun is hindered due to the actions and predispositions of others. That's not how rights are supposed to work and if it works that way it is not so much a right as a privilege granted to some by the authorities. Some people have more reason to believe it will be respected in their case than others.
It is often a source of frustration among gun rights advocates that they don't have more support from minorities who are more likely to live in communities where having a gun might be more necessary and against whom gun laws are more likely to be enforced. There are a number of answers to this question, including a belief on the part of some who do own a gun that they wouldn't need to if so many others weren't allowed to and the reality that those who don't own a gun don't have to worry about gun laws being used against them minority or not5. But one of the reasons is that people don't support rights that they do not believe will be extended to them if applicable.
So the tension on the right between the right to own a gun and the police being able to use the force they deem necessary to defend their lives is very much unresolved. For a lot of conservatives the circle is squared through an unflinching belief that overwhelmingly the shootings are justified. Videos like George Floyd render that argument more difficult to make. As should have the video of Castile. Rights that are not respected by the spear's tip aren't rights.
It's a hard set of rules to ask people to accept.
Once upon a time, police unions used to support gun control. It used to be a matter of officer safety. Until somewhat recently, police unions were not especially partisan and often leaned Democratic for a variety of reasons. The era of bipartisan Tough on Crime platforms has passed, and they started drifting to the right. Trump appears to have accelerated that trend. Likewise, the NRA used to be non-partisan but has increasingly become an all-purpose conservative political organization. It seems unlikely that these two groups are going to go at one another any time soon. It's much easier to pretend that there is no tension.
Thompson makes a case that the presence of guns on the streets directly leads to the police shootings that have captivated the country. It certainly points to an untenable position. It would be nice if there were a gun rights organization that stepped up and worked to resolve it.