Election 2020 Chapter 4: The White Heat Of The Summer Campaign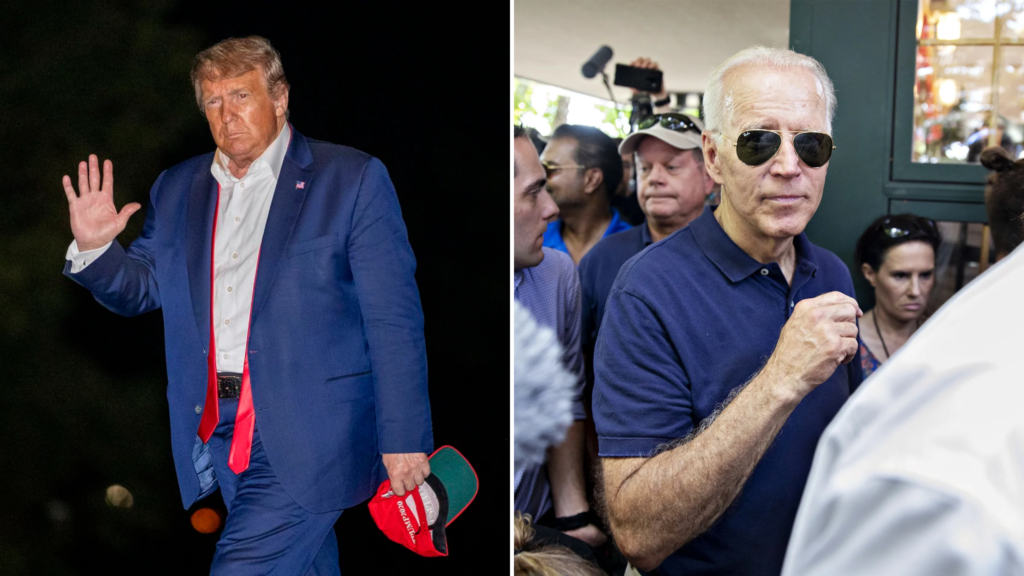 In October 1963, UK leader of the opposition and Labour leader Harold Wilson spoke at his party's annual conference. Just ten months before the previous Labour leader, Hugh Gaitskell, had suddenly and shockingly passed away at the age of 56 from a bout of lupus after fighting off a serious flu. It was thought that Gaitskell was on his way to becoming the next Prime Minister, as the country had gone into economic malaise and a string of scandals plagued the benches of the then increasingly unpopular Tory Government. Now Wilson had taken up the Labour leadership and with a year before the next scheduled election (and the Conservative party ripping itself apart in a series of actions that would lead to a desperate switch in Prime Ministers) he had to make sure to cement his party's status as the favorites in the upcoming race. Wilson had no idea that this speech would go on to be perhaps his most famous of all and would be linked to his future path to occupy 10 Downing Street.
In that speech Wilson made sure to make himself palatable to the middle, as his party's proud label as radical socialists which worked in their 1945 "brave new world" landslide had found itself struggling in the preceding "you've never had it so good" Tory fifties that were accompanied by good economic times. While he made sure to do this and keep his party on track for taking over the Government, he of course had to refer to the very real anger and momentum for change that was out there at the time. In this speech to his party's conference he said, "…But that revolution cannot become a reality unless we are prepared to make far-reaching changes in economic and social attitudes which permeate our whole system of society. The Britain that is going to be forged in the white heat of this revolution will be no place for restrictive practices or for outdated methods on either side of industry." Wilson's call for a revolution in how the UK did business in all sectors of its society going forward, even while playing his role as a charming moderate in a radical party, would become known as his "white heat" speech.
So what does a UK leader from the sixties' campaign pitch have to do with the 2020 campaign for President? Well maybe more than you realize. As I always say, history repeats itself even while each new world event has its own context. Like in the UK then, Joe Biden has become the leader of an opposition progressive party that is asking for votes from the center even while dealing with what feels like the cusp of a cultural and technological revolution for U.S society going forward. And like Wilson then, Biden finds himself favored to unseat the ruling party but with plenty of time left to choke this away if the wrong steps are made. The "white heat" of change seems to have dominated the summer of the 2020 campaign, and with it we've been presented with an environment that has fundamentals that point to an election that could at best for Republicans see them lose the White House and at worst see them suffer a wave election of the likes not seen in a presidential year since the "Obamamania" 2008 wave.
In the Prologue to this series I looked at the path that led us to this political moment – from the polarizing and complicated Obama years, the rise of Trump to the White House, and the 2018 midterm wave that showed Democrats striking back. In Chapter 1, I looked ahead toward the primaries and correctly gauged Trump would skate to re-nomination and that it was likely between Biden and Sanders for the Democratic nomination. In Chapter 2, I took a retrospective look at how the primaries played out and even gave some advice to progressives on future primary campaigns. In Chapter 3, I looked at how things seemed to look for the presidential election from the outset, and found that Biden was a slight to moderate favorite against the incumbent in Trump. In this Chapter, I'm going to look at how things have run down since and why the blue team's hopes for this November seem to have only improved going into the middle of the summer.
Part 1: Fear The Reaper
Nothing messes up election campaign teams' hopes more so than unforeseen events, those pesky things I always make sure to remind folks of whenever I make a prediction or note an ongoing trend. When the GOP midterm waves of 1994 and 2010 happened, Republicans didn't foresee a change in economic confidence and sitting Presidents who clawed and fought their way back up to re-election. Going into the 1980 and 1992 Presidential campaigns, there was an initial false sense of invulnerability by the sitting incumbents who would come to be swallowed up by world events, economic recessions, and charismatic challengers. In 2020, the Trump administration wasn't counting on the worst pandemic in a century to strike a massive domino effect and cripple Trump's already perilous standing for re-election.
At the start of 2020, the election was a toss-up with some debate as to whether Trump's unpopularity or the great economy would lead to what would likely be a close race win or loss for him. While he seemed like a slight underdog in the polls, Trump's team correctly saw that enthusiasm for the Democratic front-runner was soft, their electoral college advantage remained, and that the economy was on their side and thus some historical trends and economic based models favored his re-election themselves. Then COVID-19 struck and whether it be through willful ignorance of the size of the threat during the virus' early days or Trump's badly reviewed attempts to assuage public concerns during his press conferences, his initial (historically weak) rally to the flag bump in approval was replaced by consistent bad polling on his handling of the crisis – which in turn became one of the highest rated issues in voters' minds. In comparison state and local governments enjoyed far more praise for their handling, leading to almost every governor enjoying a massive rally to the flag bump that has persisted since.
And then came the deaths – 127,000 plus and counting as of this writing. This pandemic hasn't just led to increasing anxiety among the electorate, but healthcare – an issue Republicans historically struggle with, returned to voters' minds. On paper this is the kind of thing that should help a sitting incumbent asking for another term to come off presidential with an image of leadership. Instead Trump has been seen as having botched the federal response and current polling now shows folks seem more comfortable with Biden dealing with the crisis than the sitting president who has the tools to actually deal with it. Worse yet for the president, seniors who have backed the GOP for decades now post-Clinton have started to weaken in their backing of him and these deaths can't be helping.
But the Trump campaign could always point to the good economy right? About that…
Part 2: The Great Pandemic Depression
COVID-19's domino effect has perhaps been felt the strongest (Save for the large amount of deaths) with the economic response to it. In December of last year, analysis by Goldman Sachs stated they were confident the county had become near recession proof. Months later the stock market crashed and the jobs hit by the virus' spread were widespread enough that we are now seeing jobs reports that reveal unemployment rates we haven't seen since the great depression – climbing into the double digits, and with some economists arguing it may even be higher than that. The polling on economic confidence has seen quite the shift downward and the feeling the economy is getting worse is at levels that are typically seen when incumbent presidents lose. In fact some historical and economic based models from academics that had previously shown the President as a favorite show the race now favoring Biden since the recession struck.
Now the President has had some good news on this front. The anticipated bad numbers for him on the economy have not happened. Whether it be because of his image as a billionaire or nuance from the electorate regarding the circumstances, Trump's approvals on the economy continue to be his only high spot. But even so the feeling that the economy is worsening is there and the President's edge on this question remains a strength, but nowhere near as high as it was before the recession. Bad economic times are the perfect backdrop for a change election.
So what else could go wrong? How about a little social unrest on one of the worst issues Trump polls on?
Part 3: Black Lives Matter
The murder of George Floyd, and the subsequent protests and riots since, have lead to social unrest across the country to varying degrees. Trump's team thought it would be a good idea to entertain using military force, clear out peaceful protests for a cringey photo-op with the Bible, and have Trump running as the "law and order" candidate. Many foolish punditry thought this would drive suburbanites to Trump's arms. Instead what we've seen is that "law and order" doesn't work as well when you're the establishment who runs things. Plus white suburbanites have shown themselves to have become increasingly sympathetic to movements like Black Lives Matter – shifting the conversation of race in the country in a dramatic way. Trump's polling on race relations is abysmal, and some polls have even shown majorities willing to say they believe the sitting President of the United States is a racist.
Social unrest typically helps the challenger. Comparisons to Nixon ignore he was the outsider in 1968 running against the backdrop of a time when polling showed massive chunks of whites were not as sympathetic to civil rights movements and protests as they are today. The President is on the wrong side of public opinion on this one. The social unrest has just added yet another recipe to the growing vibes of a change election. A pandemic killing over a hundred thousand, a depression era type recession, and chaos in streets coupled with a growing mistrust in institutions are not the fundamentals I want to run under if I'm asking for re-election.
But hey at least all those scandals and impeachment have faded from the news, right? Yeah um, about that as well…
Part 4: Never Ending Drama
Like with Presidents Grant, Harding, Clinton, etc., Trump's administration has been plagued with a constant barrage of scandals which all culminated in his becoming the third president to be impeached earlier in the year – a slightly popular action by Congress if polling is correct. You'd think a pandemic, recession, and a country ripping itself apart on issues of race would finally stop such things from being a part of the news. Nope. The President has former administration officials writing books about impeachable offenses, his response to the pandemic has come with potential evidence he tried to slow down testing to make the numbers look better, and of late a Russian bounty for dead U.S soldiers that he may or may have not known about has come to light. Even with the world seemingly in chaos, the President's scandals can't seem to fade in the background.
But hey the President is at least out there in the public eye, and has recently begun to campaign publicly again, so what has his challenger been up to?
Part 5: The Generic, Safe Big Dog
Joe Biden's campaign has come under fire as being weak, dull, and uninspiring. It's been half-mocked as "the basement campaign". Reminds me of a lot of the things I heard about regarding his team during the primaries, as his appeal as a safe moderate pick seems always underrated. But in the defense of the cold towards Biden cynics, there is some nuance around his performance. For one when you look at Biden's favorability margins they're pretty mediocre, sitting at -1.6 on average as of this writing. He's also got weak enthusiasm as most voters seem to back Biden as a vote against Trump than for Biden himself. On paper this sort of stuff makes me think of past play it safe "electable" nominee choices like Dole, Kerry, and Romney. They all had enthusiasm issues in the general and had public image problems to varying degrees – but they all seemed like safer picks versus the other ideologues seeking the nomination. In fact these comparisons are one of the many reasons I was as bullish as I was on Biden getting the nomination. So if you think it feels like Biden is getting no excitement generated for him or that he feels so generic, it's not you, because even the data that has shown him increasing his lead has shown this.
Now against presidents who are slightly to moderately popular these sort of candidates tend to lose, albeit respectably. In 2012, the enthusiasm for Obama compared to Romney voters just wanting Obama out was a big story of the campaign. Unfortunately for the President, he doesn't have mid-fifties approvals like Clinton did in 1996 or even the mid-way level support Dubya and Obama had in their respective 2004/2012 re-election campaigns. His favorability is averaging -14.6 as of this writing and while his voters are more enthused for him, Biden voters are even more anti-Trump and are happy to show up and vote for the definition of generic Democrat if it means the unpopular guy in the White House is out of the picture. If Trump were someone like a Rubio or Haley, maybe Biden's mediocre favorability and enthusiasm numbers would be a big problem for him – but when you're running for re-election it helps to be the guy who's more popular than not, even when your base is more amped to back you versus the other guy's voters hating you.
So it's been a pretty bad Summer for the Trump campaign, but what about the Republicans down the ballot? How much damage have they taken? How bad can it get?
Part 6: Hints Of Another Blue Wave?
Historically houses of Congress don't flip in the presidential cycle – especially in the modern era. Post-Truman we only saw the House flip in Ike's 1952 landslide and the Senate flipped during the 1980 Reagan wave year – note both change election years. The thinking was that a Trump win or loss, the Democrats would keep the House while Republicans held on to the Senate. But that was during a time when polling averages were teasing the 269/269 electoral college tie as a very real possibility and Biden led nationally by ~5 in his best polls. Today averages are showing Biden at around 334+ electoral votes and with national leads that reach ~10 or even higher in some polling. Thus the down-ballot effect has shown the red team suffering.
Democrats are poised for a 2018 repeat in the House with an increase in their majority showing up on forecasts. In the Senate, the blue team has suddenly become slight favorites in various forecasts as well with GOP incumbents in Colorado, Maine, Montana, North Carolina, and even Iowa and Georgia showing softness – not to mention a dark horse to keep an eye on with the right perfect storm in Alaska and/or Kansas. Republicans' only bright spots seem to be in Alabama's Senate race and the much more pro-status quo environment of the governors' elections with a flip in Montana within their grasp. The worse the Trump rejection is, the worse it is for his party down the ballot. Don't forget that even while winning in 2016, Trump's party suffered net losses in both houses of Congress and that was with a two point national deficit, If Biden wins as much as current polls have him winning, I just don't see how this doesn't wind up an anti-Trump wave year that paints the country blue.
So given how rough the Summer has been to team red, any hopes of a comeback in the next four months?
Part 7: Running Against History
The President is still in a historical window where he can come back and win, and margins can and will likely change, but we're now entering a timespace where if you're ahead at this point you'll likely win. Keep in mind before you pull out the "But 2016…" card that Hillary never hit 50%+ in polling like Biden is so consistently doing and that she never reached these sort of leads during the campaign. Not to mention that forecaster, Electoral Polls, has created a model on what things might look like if a 2016-type miss were to happen again and as of today Biden even leads that scenario. If the President is going to win, he must abandon any false hopes of expanding the map as the battleground has ended up showing a race where Biden has the higher ceiling and has forced Republicans into defense mode in some light red states. His best hope to be an outlier to history is to follow the paths of guys like Truman in 1948 and HW Bush in 1988 who were down significantly at this point in this race but came back to win, but the context of those races aren't matching 2020's as much as it does other campaigns like 1980 or 1992 – the last two in which an incumbent lost re-election.
Nobody worth their salt believes Biden has this in the bag. There's four months left. Trump is still an incumbent, and as I showed in the previous chapter we tend to re-elect incumbents. COVID-19 can lead to — God forbid — a Biden infection, or a surprise vaccine might be released before November that leads to a rally to the flag moment. Maybe the economic recovery is surprisingly faster than expected. But note I'm trying to come up with a lot of "ifs" and "maybes". Anybody worth their salt can also admit to the fact that since I last wrote about this race in April, the President's chances have only gotten worse and a blue wave is now in play as much as is a Trump squeaker. The white heat of the summer campaign has led to a pro-change and anti-incumbent environment that I haven't personally seen in a presidential cycle since 2008 and that was an open seat election.
For myself I can't believe that in this polarized era that Biden's current landslide margins will hold. Even the aforementioned Harold Wilson saw his first victory in 1964 wind up closer than expected,leading him to be asked if he felt like a Prime Minister as he clawed to a bare majority – a question to which his response was that he felt like having a drink. But I do believe Biden remains, and will probably still remain the next time I sit down and look at this race, the likely winner. The only debate for now seems to be by what margins. My personal over\under is that Biden gets 334 electoral votes. As of today, even accounting for likely tightening of the race in the next few months, I would actually take the over on that. When I plan to look at this race again the conventions will have come and gone and Labor Day will be upon us. If by then the President hasn't shown any ability to pull at least a Ford 1976 and tighten this thing up after a rough Summer, it might be time to seriously consider preparing to get used to saying "President Biden." Tick tock, tick tock, the white heat of the Summer is threatening to melt away Trump's chances to shock the world again. The President doesn't need to push the panic button just yet, but he might want to join his fellow Republican Senators and push the "concerned" button. Time's running out. Tick tock, tick tock.