Weekend Plans Post: Making a Homemade Fancy Schmancy Pizza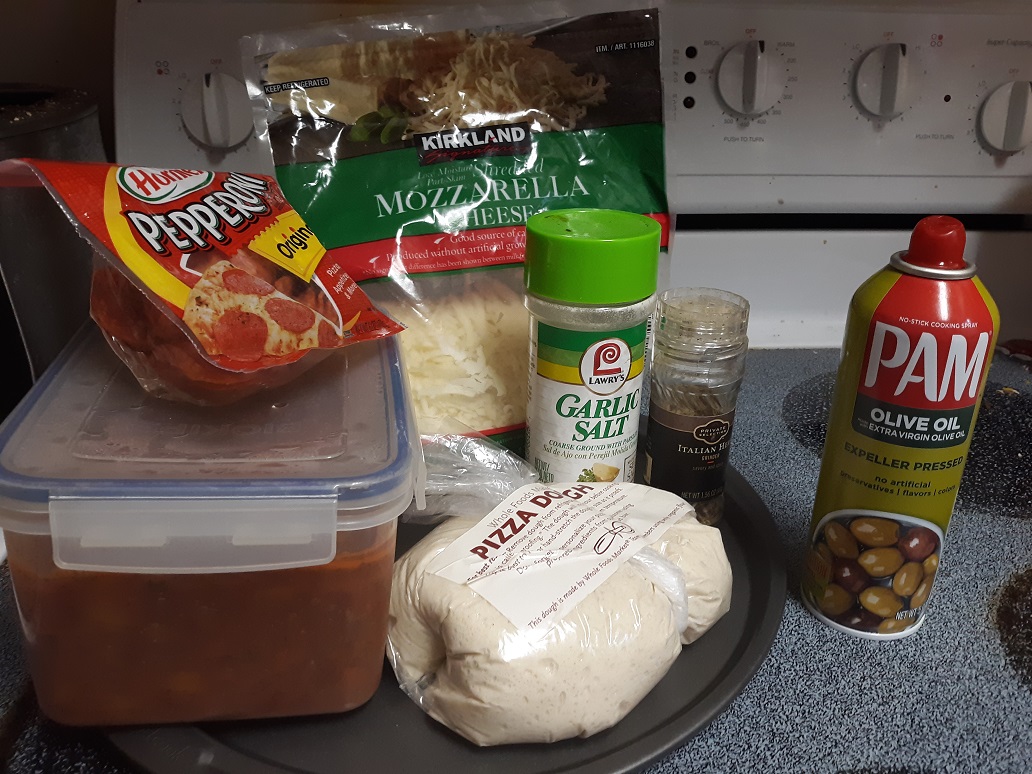 Holy cow, is tomorrow Friday already?
Indeed it is. Friday night means Pizza Night. Or, at least, it did when I was a little kid, back in the beforetime. We'd go to The Roman Forum (closed about six years ago) and it was magic. A restaurant too dark to read in, real candles on the tables, a suit of armor guarding the bathrooms.
Since then, I've grown up and pizza has both gotten better and gotten worse. It's now possible to get frozen pizza in the grocery store that is of higher quality than the non-Roman Forum pizza I had access to in Michigan growing up. But picking up a gourmet pizza on the way home from work isn't half as exciting at 47 years old as it was when I was 8. It's not a quarter as exciting.
But there's a part of me that delights when I find a truly awesome pizza and I've recently figured out how to make one that reminds me of the ones I used to get at the Roman Forum.
Let's start with the ingredients: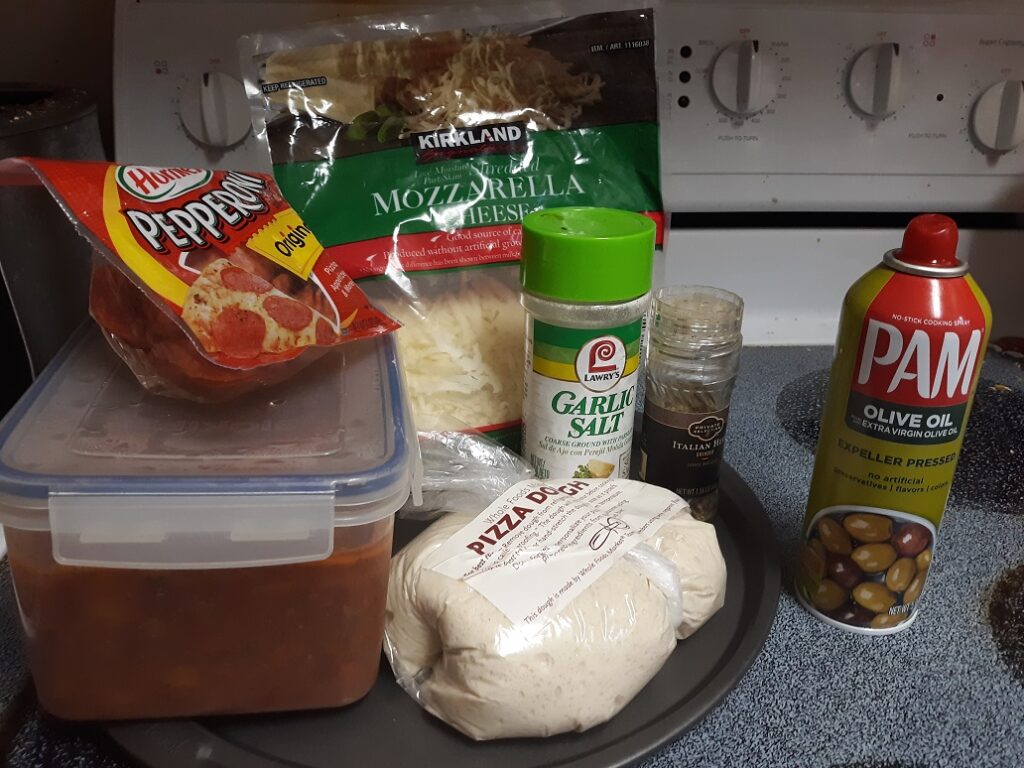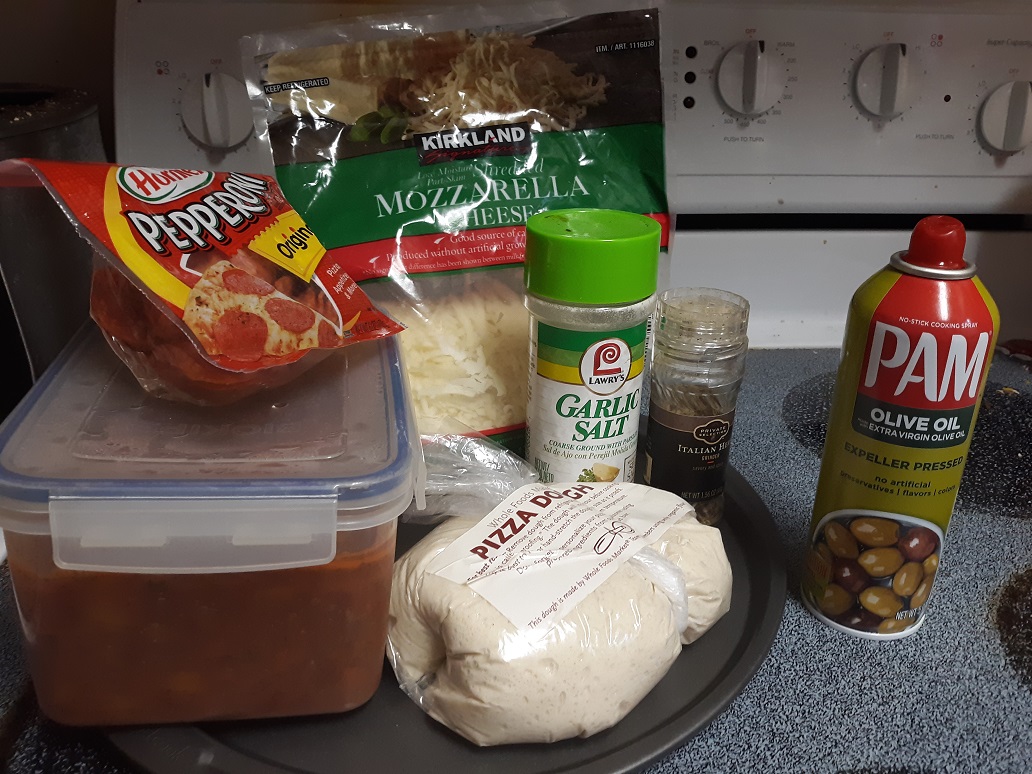 First off, I made spaghetti sauce last weekend. If you don't have homemade, I'm sure store-bought will do you right. In our grocery delivery this week, we got a ball of Whole Foods' Pizza Dough (three bucks… expensive when you think about it but cheap if you don't). Mozzarella from Costco. Pepperoni. Garlic Salt. An Italian herb spice grinder. A little bit of magical cooking spray. (Not shown: garlic, parmesan, and any other toppings you're inclined to put on there.)
First off, spray your pizza pan and drop the dough on it.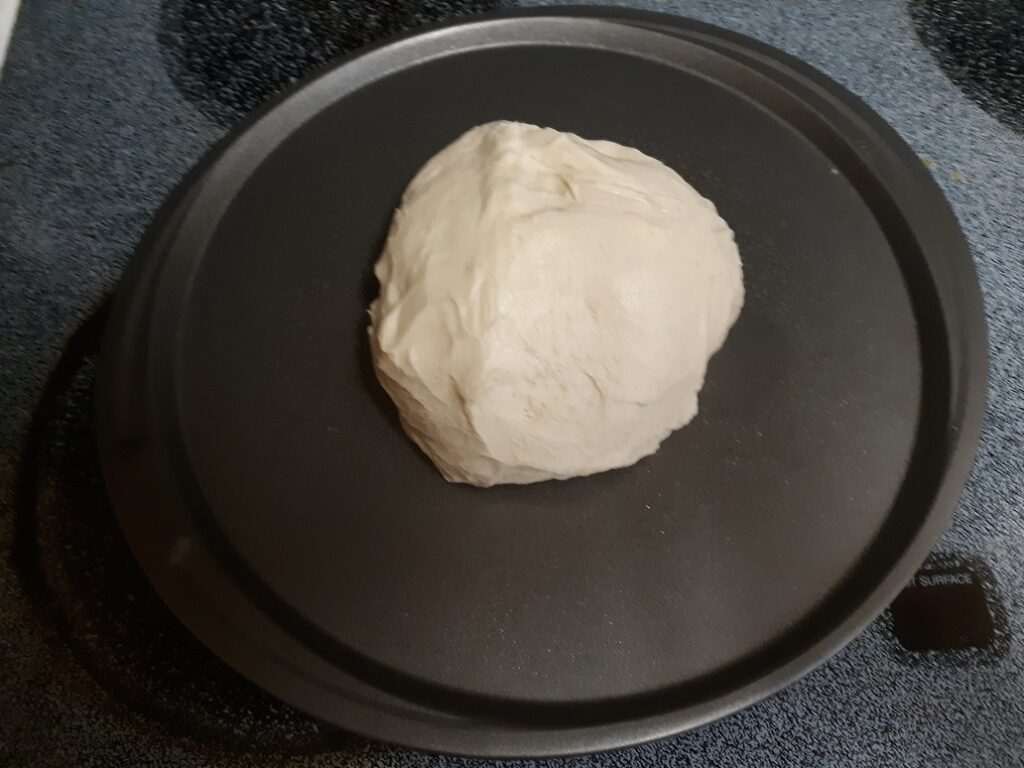 Go away for an hour. Let it rise and bubble a little bit.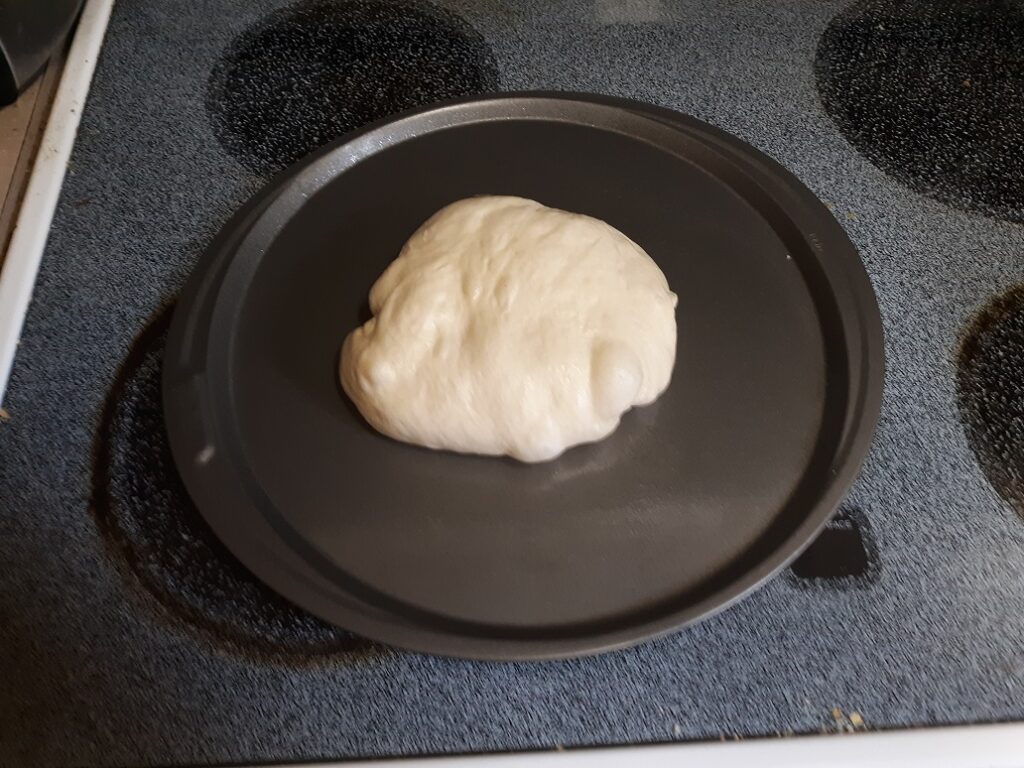 Pre-heat your oven to 450 degrees, then beat the dough up and stretch it out and put it on the pan. Get some garlic and butter and a basting brush.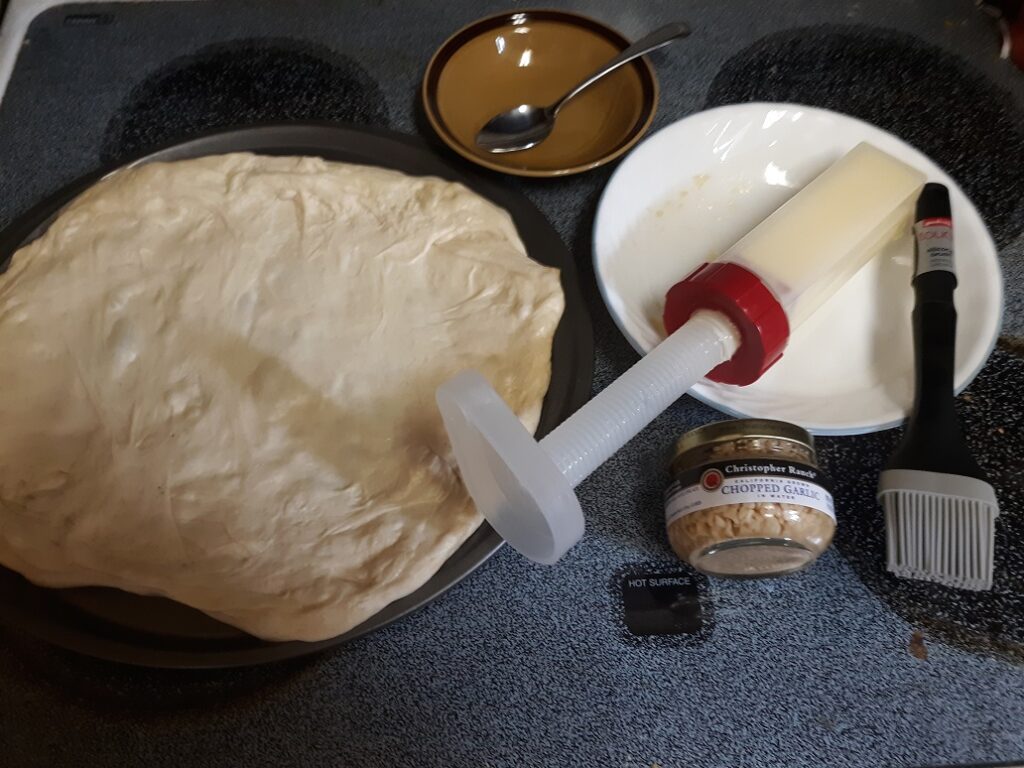 Get you a small spoonful of the garlic and put it into a bowl (get the garlic oil too).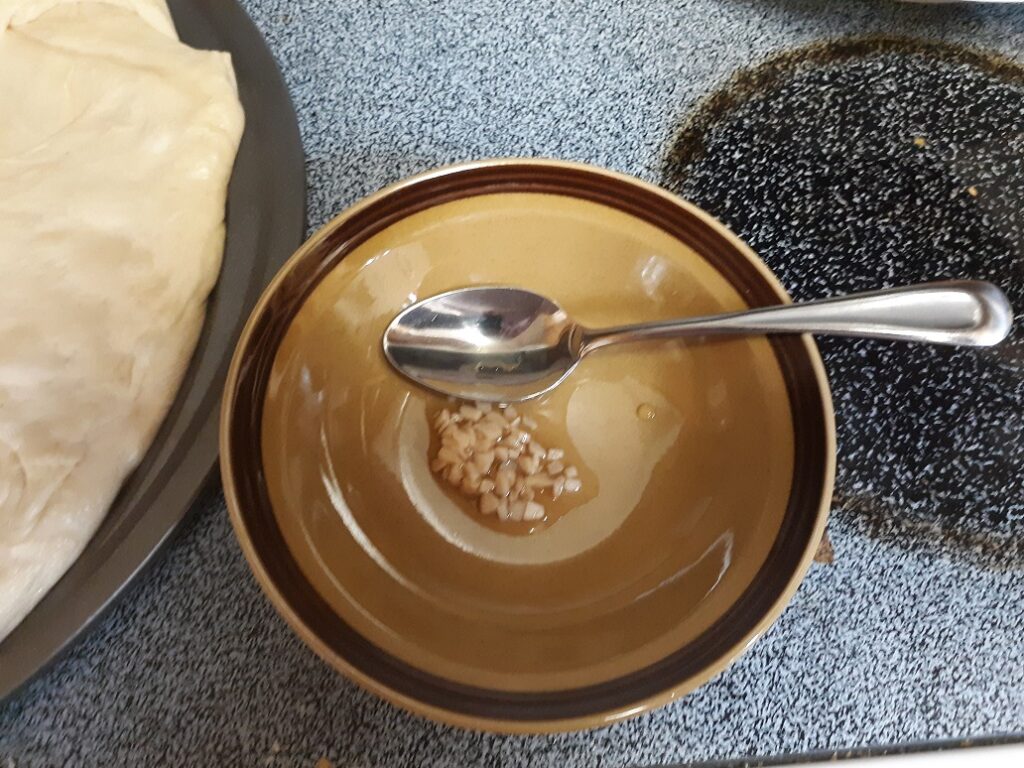 Put some butter in the bowl and then microwave it for 15 seconds and melt it and stir it (don't put the spoon in the microwave).
Brush the butter and garlic onto the crust. Pay a lot of attention to the edge of the crust, but go over the whole thing. You're worth it. (Leave enough in the bowl to go around the crust again in a few minutes.)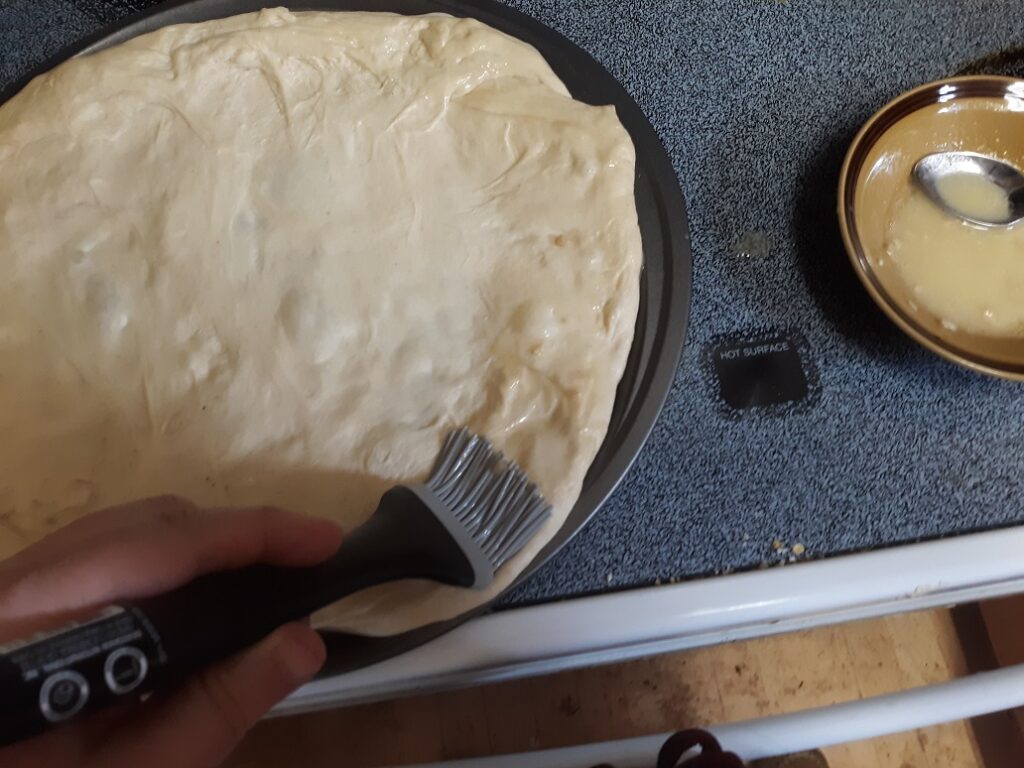 Now we're going to parbake the crust for 8 minutes on 450.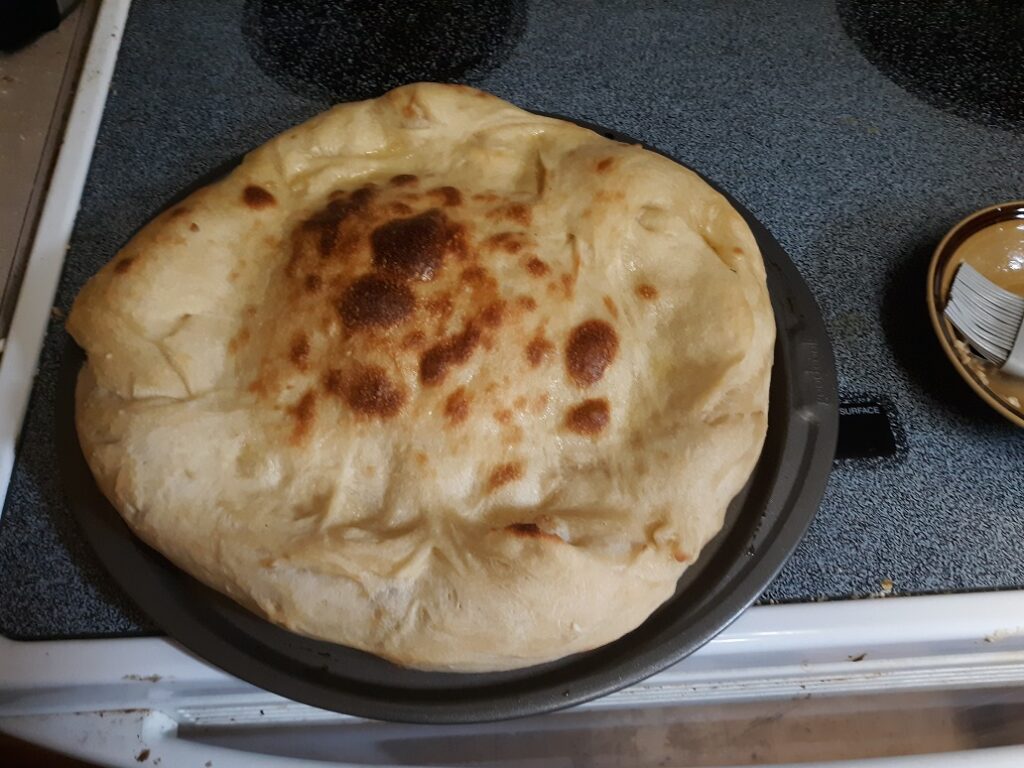 Mmmmm! Look at that! Set the oven to 500 degrees.
Now go over the edge of the crust again with the garlic butter and use the rest of the garlic butter up.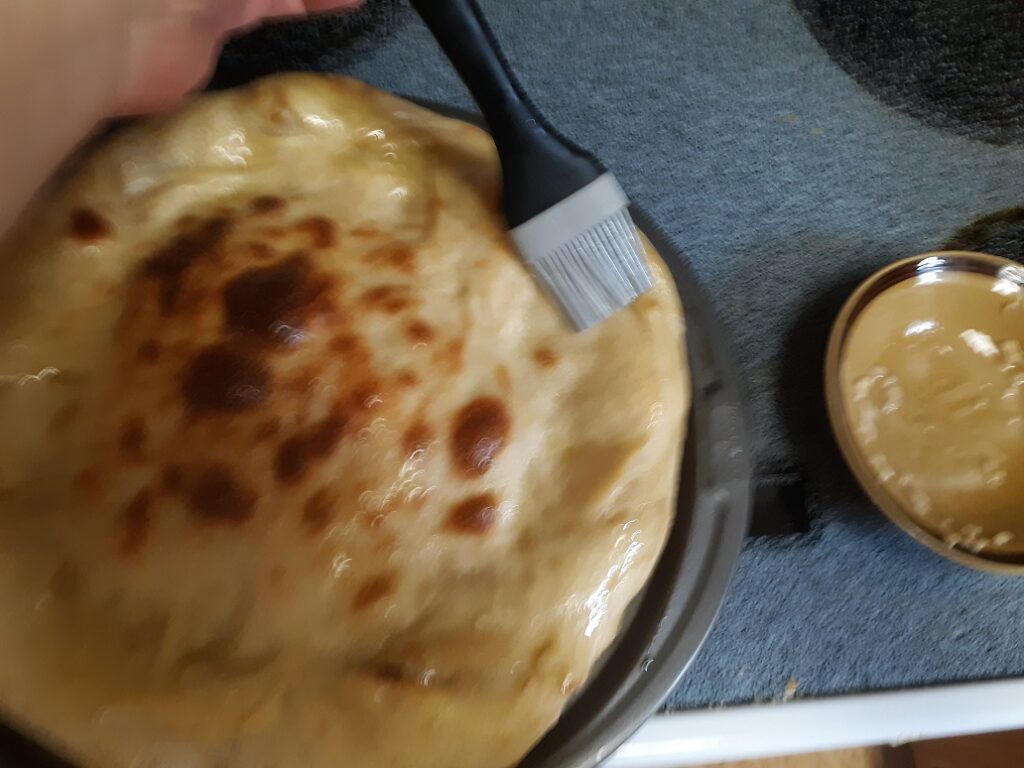 Spoon your sauce onto the crust…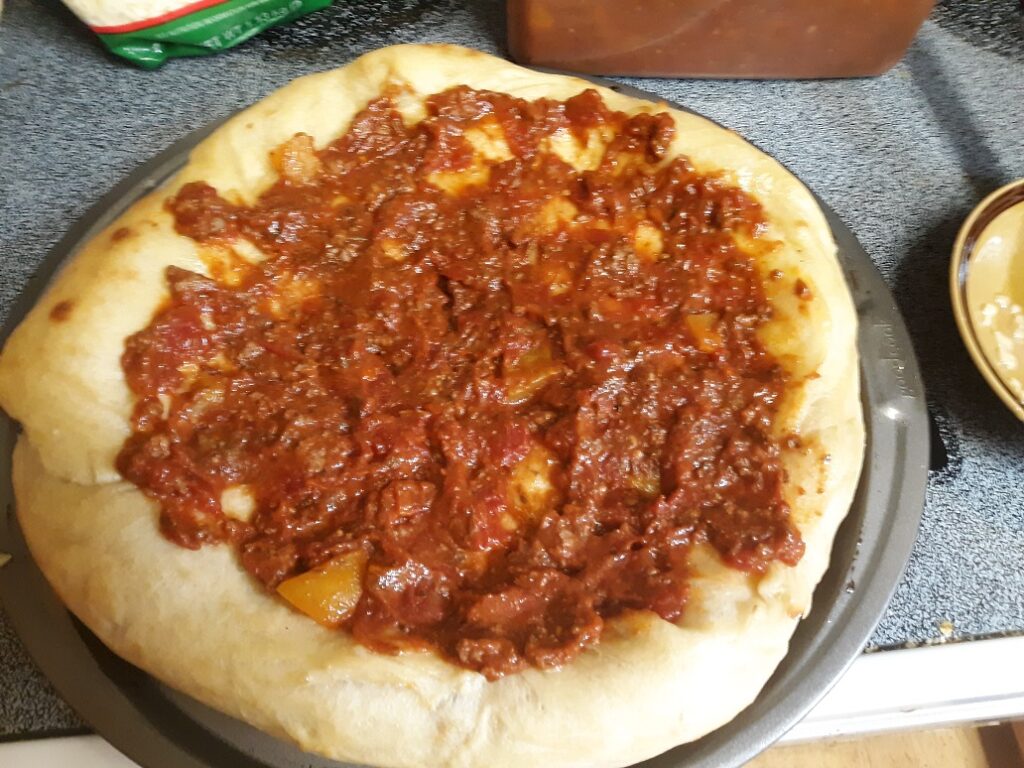 And then apply your cheese.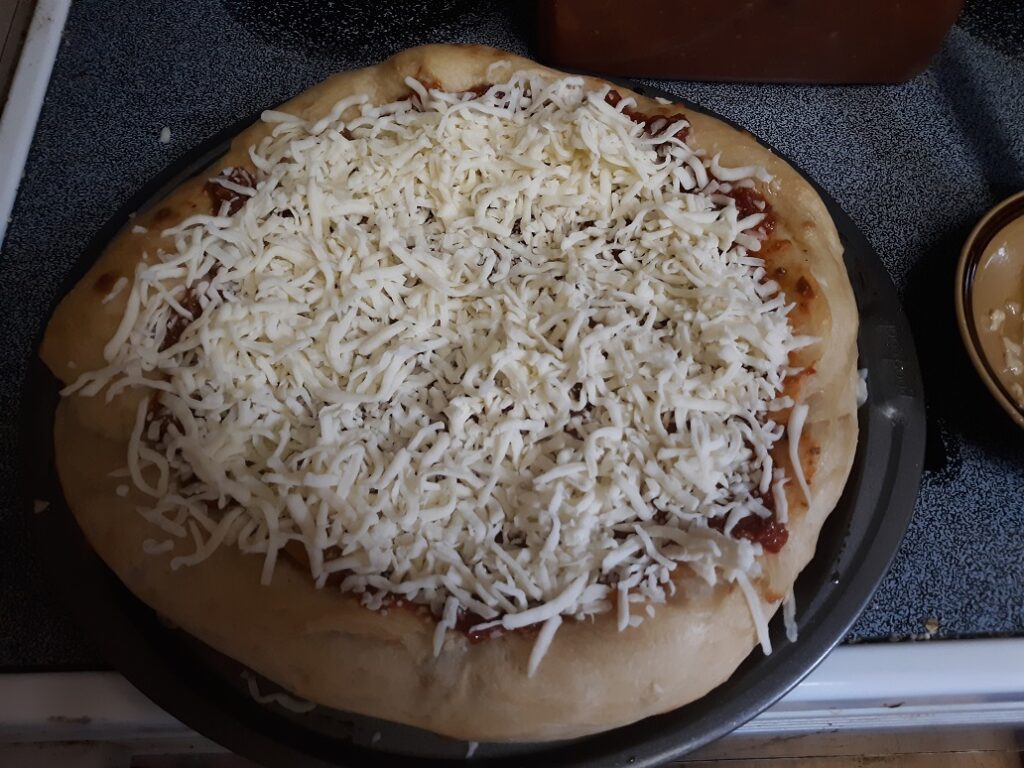 Add toppings to taste.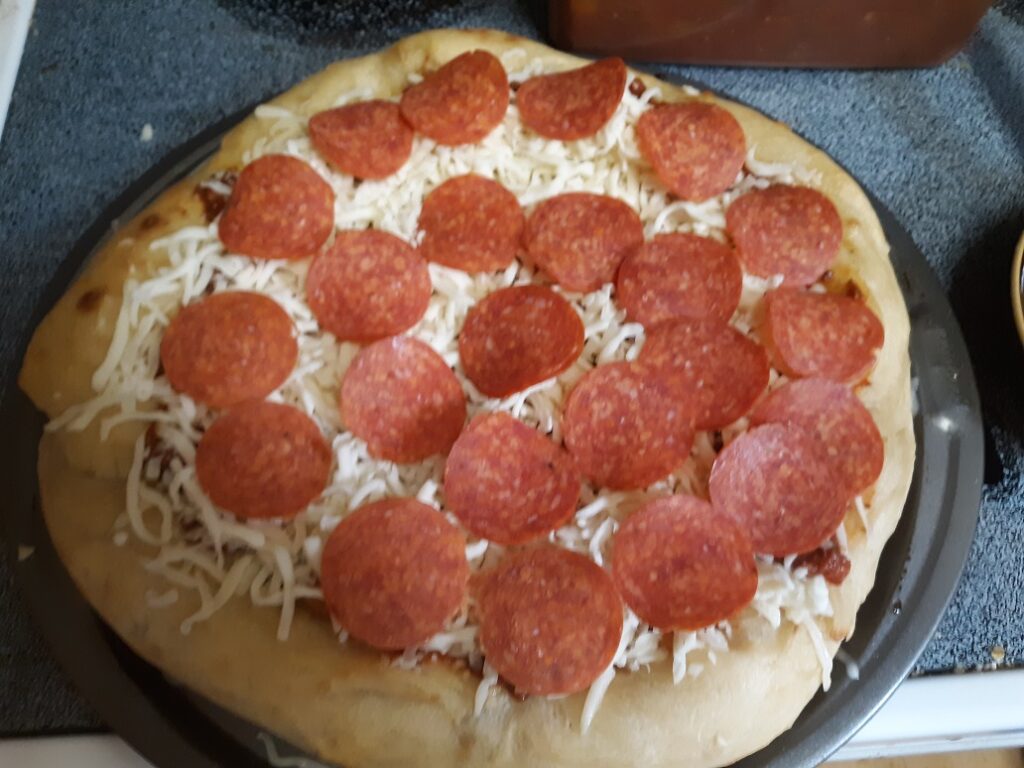 Sprinkle a little bit more cheese on top of all of the toppings to make it pretty, then go around the edge of the pizza on your buttered crust with some Garlic Salt.
Now put it back in the oven for 8-10 minutes (you set it to 500 already, right?). Keep an eye on the cheese to tell you when it's done. When it comes out, place the pizza on a cookie cooling rack and apply your Italian Herbs from your grinder.
And sprinkle on some parmesan as a finisher.
Give the pizza 5 minutes to cool and cure and finish baking in its own residual heat. Put it on a cutting board and cut it.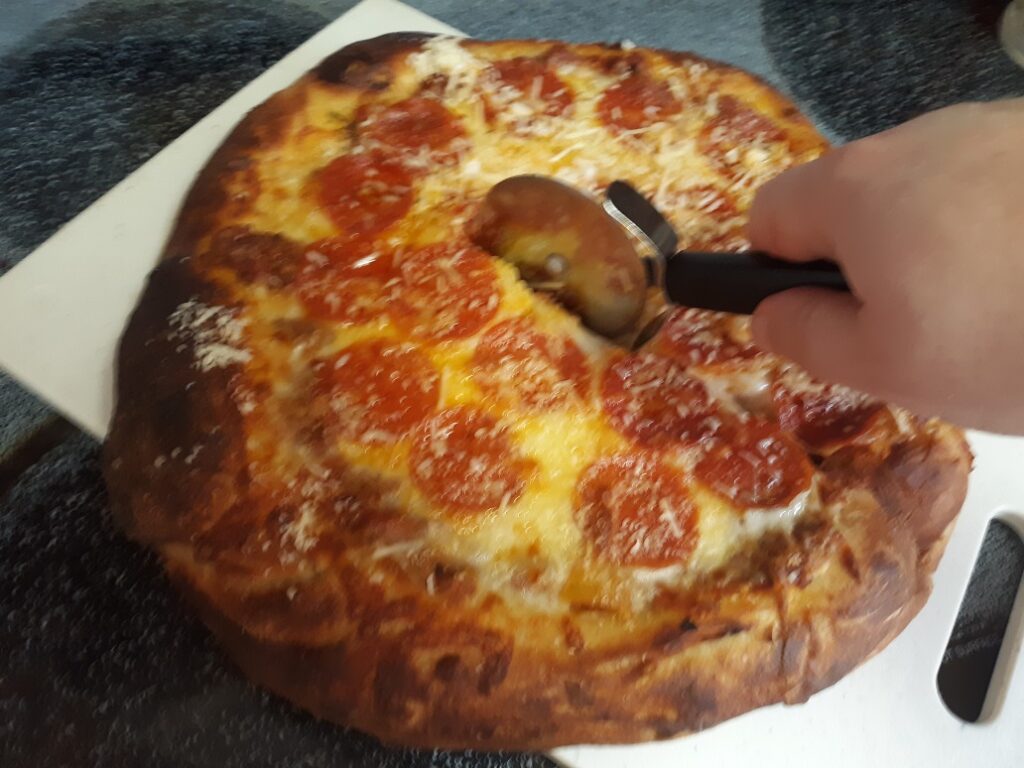 And, seriously, look at that crust.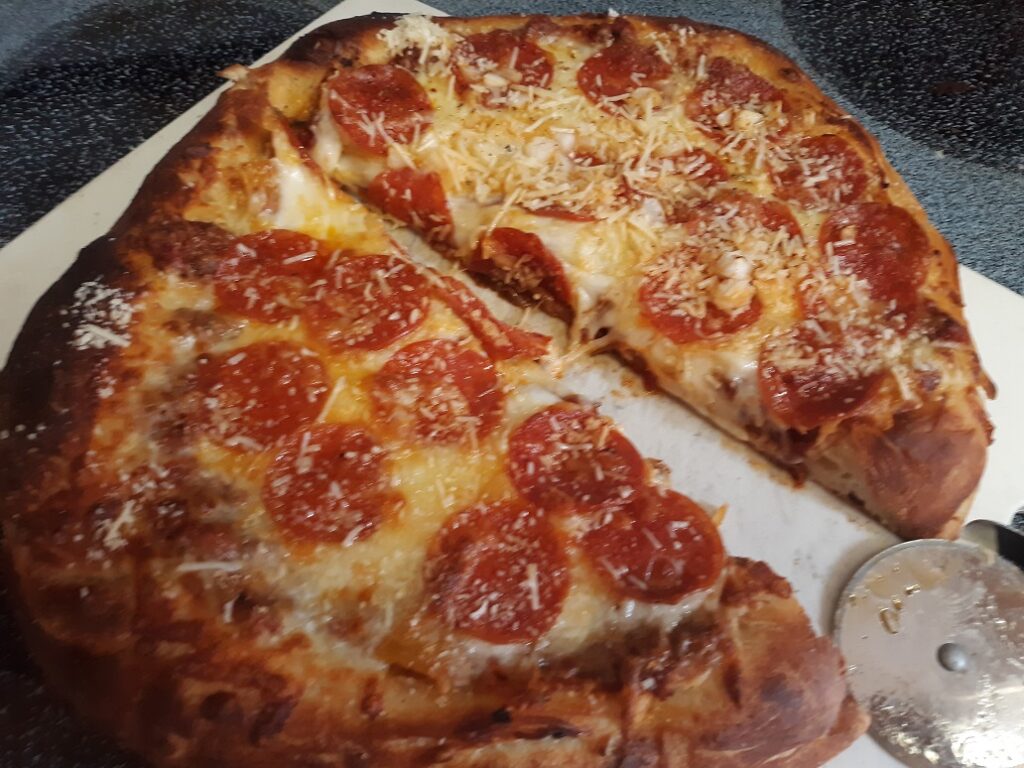 This pizza was GOOD. It was seriously good. It was so good, I want you to make it for yourself. The parbaking makes the crust amazing and the garlic butter pushes everything over the top.
It was SO good that I'm going to talk to Maribou and see if maybe there's anything else we might have forgotten from Whole Foods because, seriously, we need another ball of pizza dough for Friday Night. Hey, you know what else would be good on this? Jalapeños. I should get some jalapeños.
So… what's on your docket?
(Featured image is a shot of the ingredients, taken by the author.)