The Shark Still Works: 45 Years of Jaws
I originally wrote this piece for my now-defunct blog. At the time, it was a response to Matt Zoller Seitz's excellent article about watching "Aliens" with his 11-year old son. He wrote, "I realized…that while unfortunately you can't see a great movie again for the first time, the next best thing is to show it to people who've never seen it." That's a sentiment that resonates with me. Watch a comedy you enjoy with someone who's never seen it, and you'll find yourself laughing harder. Watch one of your favorite horror films with someone who's never seen it, and you'll find your palms sweating.
This month, which marks the 45th anniversary of the release of "Jaws", I wanted to re-appropriate my post. Sure, I could wax philosophical about how tightly structured Peter Benchley and Carl Gottlieb's script is, how effortlessly director Steven Spielberg weaves together suspense and comedy, or how watching those three leads — Roy Scheider as the aquaphobic police chief, Robert Shaw as the salty shark hunter, and Richard Dreyfuss's marine biologist — on a road trip would be compelling in and of itself. Instead, I'm going to tell you about the first time I showed "Jaws" to my college roommate.
Indeed, my freshman roommate — and we would remain roomies throughout college — had never seen "Jaws". I felt determined and obligated to remedy this as quickly as possible. He was a good sport, but he went into the experience with notions of what he thought the film would be. Though he didn't say anything beforehand, I could read it on him. "Oh yeah, 'Jaws'? I've heard about the fake-looking shark." Or "I've seen other movies from this period, and I didn't like them very much." Or "horror movies have changed so much since the 70s. Scary? Yeah, we'll see."
One early autumn evening in 2004, we had three or four friends over to watch the film. The viewing circumstances were less than ideal. We were all stuffed into a small dorm room. It was stinkin' hot in upstate New York, and our door was open for circulation. I still remember intoxicated voices bouncing around the hall outside as students were enjoying their weekend. The television set was in the neighborhood of 15 inches, and it was wedged between the ceiling and the top of a tall, dorm-standard wardrobe.
There was idle chit-chat among our friends over the opening credits. I grimaced, not wanting to be a killjoy but also trying to maintain some semblance of a proper presentation. With that first tug on poor Chrissie Watkins's leg, things started to quiet down. As she was ripped through the water by an unseen menace, the chatter turned to complete silence.
Cut to 15 minutes later, Chief Brody sits on the beach with his family. He anxiously watches bathers enter and exit the water, believing a shark was responsible for the young woman's death. A couple of townsfolk strike up a conversation with him, but his eyes are fixed on the expanse of ocean. The Chief explodes out of his chair at the sound of a young woman's screams, only to discover that her boyfriend has swum up and startled her. He leans forward as a shape approaches a woman floating on her back. Just another swimmer. Little Alex Kintner enters the water and paddles out on his raft. I watched with anticipation as John Williams's menacing score started to thump and Spielberg's roving camera — the shark's POV — approached the boy from below. The raft is overturned, and there's a geyser of blood as Alex is taken under.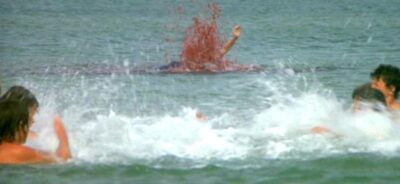 My roommate screamed: "Oh God! OH MY GOD!"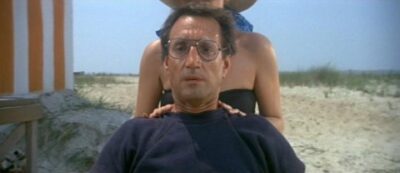 Movie viewings are rarely this gratifying.
As the full gravity of the community's situation sets in, Matt Hooper (Dreyfuss) investigates a boat that was struck by the shark. A moody night-time scene: lights from Hooper's vessel filter through the inky water. Eerie music indicates that danger could strike at any moment. And then, my phone went off. I can't for the life of me remember why I didn't have it on vibrate. As it rang out, one of our friends piped up, "Well, that ruined the mood!" Without bringing the phone to my ear, I spoke into the receiver: "Hold on." As Hooper approaches a hole in the hull of the boat, the craft's former owner, dead, floats into frame to greet him. Screams erupted all around me as I walked to the hallway to take the call.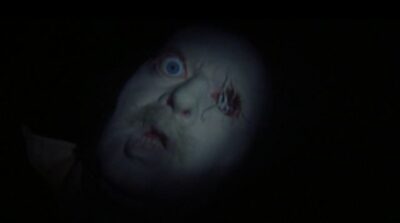 For all its craftsmanship and artistry, I'm not sure "Jaws" needs much more than to frighten and thrill a bunch of skeptical teenagers. Later that night, my roommate would admit that he thought the film would be a victim of its times. The next day, he posted a picture of the "Jaws" poster online with a simple caption: Best. Movie. Ever.
Do you have any memories of the first time you watched "Jaws"? Or any fond recollections of showing a favorite movie to a friend? Comment below!