Saturday Spins: Ryan Adams
Fresh off last week's harbinger of ska-punk sound in the East Bay, I plan on visiting a landmark solo effort by one of my favorite musical artists. We have been down the road before with this dude, when I discussed one of his mid-2000s efforts with his band, the Cardinals.  I also discussed on this website my thoughts regarding his so-called "cancellation." This particular record allows me to spend some time discussing another odd collector quirk that I have, and that is the tireless pursuit of variants.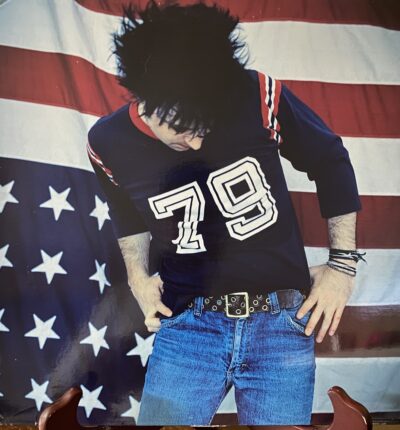 Ryan Adams
Gold
2001
Commentary
In something that will no doubt be very weird to most but cool as hell to some, I own four copies of this LP. HOWEVER, three of the 4 are different in their own special way. Artists these days are finding new ways to monetize physical media, and I have discussed at length on this site the resurgence of such physical media. Depicted above is the red and blue double LP version of Gold, and the rarest by every measure. Mine is number 267/1000 pressed.
Before I get into the other variants, let's talk a little bit about Gold and why it is a landmark record. Four years after disbanding Whiskeytown, Ryan Adams released this gem and radically changed his original alt-country sound. His first solo album, Heartbreaker, is in a class all its own, and perhaps someday I will have it here on Saturday Spins.
However, Gold remains his best-selling album to date. Coincidentally, and predictably, the prominence of an American flag on the cover of an album boosted its profile since it was released on September 25, 2001. Patriotic fervor in our country has been responsible for many things,1 but boosting album sales has not been THAT high on the list.
Connecting it even more to the events of that month and year, the video for the top single from the album, "New York, New York" was shot with the World Trade Center buildings prominently featured, four days before the attack. But we will get to that later on down the line.
Originally Adams wanted this to be a double LP release, but the record company, Lost Highway, decided to pare down the number of songs and would later have releases featuring "side 4" which has a lot of great tracks.
Another cool thing about Gold was the mishmash of personnel that played on the record. Adam Duritz, Counting Crows lead singer; Bucky Baxter, former Bob Dylan band member; Benmont Tench, of Heartbreakers fame; and Ethan Johns, producer and son of the legendary Glyn Johns. A lot of musical firepower on this one. Johns is a frequent collaborator with Adams, e.g. the latter producing Johns' 2014 album, The Reckoning.
Finally, other than my so-called "play copy" (a 2003 repress), I have a sealed OG pressing, and the ten-year anniversary release that was pressed onto clear wax. Some people claim that the clear version doesn't sound that great. I can't say I hear much of a difference, but I rarely break it out and play it. I prefer the repress on 180-gram vinyl or the red/blue version.
Tracks I Think Are Great
You can read 1000 articles about this particular album and nearly every single one will state, as I already have, that the song "New York, New York" was something of a rallying cry post-9/11, garnering endless radio spins and the video featured all over screens across the nation. See the video for yourself and for your nostalgia, I guess.
[youtube https://www.youtube.com/watch?v=hmHgY_J63Ik]
But as Billy Mays said on every infomercial before his untimely death, "BUT WAIT, THERE'S MORE!" The song, "When the Stars Go Blue" has been covered by such luminaries as Bono and Tim McGraw.2 "Firecracker" is one of my favorite Ryan Adams songs of all time, it is perfect to blast on a warm summer day. In fact, this whole album is filled with Americana bangers like it that are drenched in catchy riffs played on guitars, organs, and harmonicas. "Gonna Make You Love Me" is in a similar vein to what I just described, as is  the bonus track "Rosalie Come, and Go." "Tina Toledo's Street Walkin' Blues" is another foot-stomper.
A couple of the more balladish songs like "Rescue Blues," a hint of gospel sound on bonus track "Touch, Feel, Lose," and the more upbeat "Answering Bell" satisfy the need to just decompress rather than rock out. "Answering Bell" features Duritz on background vocals and he is also in the video which should only be watched after dropping acid. Stay tuned until the end when Sir Elton John appears out of nowhere.
[youtube https://www.youtube.com/watch?v=Grkn6x6VWms]
The bonus tracks feature several good songs like the extremely underrated "Cannonball Days" and the dirge "The Bar is a Beautiful Place." "Sweet Black Magic" is a song co-written with Ethan Johns and sounds like it would have belonged on Steve Earle's Copperhead Road. 
A Ryan Adams album is not complete without some sad songs, and on this record the beautifully sad "La Cienega Just Smiled" sticks out the most for me. There are many fans that love "SYLVIA PLATH," but I gotta say, it is not my favorite; lyrically it is hauntingly good though. "Harder Now That It's Over" actually tells the true story of Adams throwing a drink in the face of A.C. Newman, lead singer of indie-rock band, the New Pornographers.
"When I threw that drink in that guy's face
It was just to piss you off
'Cause honey, it's over now"
A lot of people read a bit much into some of the lyrics Adams writes, I don't really see a lot of them as portending the alleged abuses he was accused of, I think a lot of of what he writes might be deeply personal, but it also might be a lot of malarkey meant to throw off the Mr. Jones' of the world. Regardless, Gold is one of the most complete and well-written Ryan Adams solo records that achieved great commercial success. At least until Love Is Hell which I will save for another day.
Fun Facts!
The atomic number for Gold is 79, Ryan is wearing a shirt with the number 79 on the cover of this LP– David Blaine face [dot] gif.