Old Men in Poorly-Fitting Pants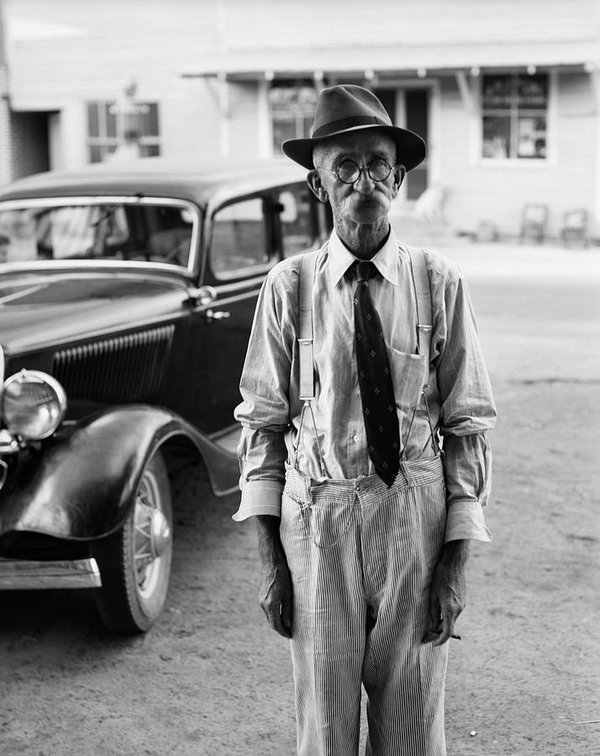 Their pants never seem to fit right, it's the first thing you notice about the older men who stand and lounge languidly in the hot doorways on my street; the seat hangs too low or they've pulled the waistband up too high; probably the most common look is shapeless and somewhat inflated clown trousers. And I get it because my pants are invariably walked through in the cuffs or have a flowering hole in the knee or some pattern of bleach stains.
It's definitely a class marker though. The wealthy newcomers in town all have tailored jeans; they fit perfectly. There was a store on the street where you could buy a close approximation, but they started out at over a hundred dollars, and none of us could spend that much for a pair of jeans; it's obscene really. So, if the options are to look like a slovenly hobo in thrift store pants, who doesn't really fit into the world somehow OR to look like a dummy who spends too much on clothes, might as well be a girl really, well it's better not to maintain the pretense of fitting in anywhere.
And trust me, this does matter now because every man you see on the street these days is a little past middle-aged and appropriately overweight and they're all standing around smoking or shuffling through their lottery tickets, and every one of them is in ill-fitting pants. Not one of these men is wearing a cloth mask over their mouth and nose. This time last year these men would have been here, invisibly, but they would have been outnumbered by bespoke young men in bespoke jeans and young women who will walk you off the sidewalk three abreast. All of those weekly-haircut, tailored jeans people are gone now, of course. And the expensive jeans place is gone too. So are two other clothing stores and three restaurants recently closed. And who really cares?
It was in January we started hearing about people dying in China and elsewhere with something that was probably just like the flu really. And, in February, we heard about people in Europe and even the states with it, but the survival rate was tremendous. By March, it was here in Canada too and people were starting to stay home. By April, everyone was staying home, except for the few thousand homeless people who drift like ghosts throughout our city. In May, those men seem to have been raptured and replaced by the middle-aged men whose pants don't fit- nor their lives. The wealthy newcomers have begun to visit a little, in their cars, for a few hours a day, like an evening tide of money, or colonial administrators in a third world village. The louche older men in the doorways of newly-shuttered clothing stores and restaurants watch them come and go, smoke, shuffle their lottery tickets like talismans.
And those older men are the ones most likely to die, should they get this foul disease that seemed to terrify everyone else who was less likely to die. At least, they're more likely to die than to win the lottery. Yet they take no precautions and pay it no mind. They intrude on your space in stores or on the sidewalk; a dynamic plenty of women have noted in the past. They're not exactly living free of all fear I don't think. It's more like they accept it as inevitable. I've heard a few of them say something like this: "if you're going to get it, you're going to get it, there's nothing you can do," as if they were talking about fate or predestination or the furies.
As if it was a matter of accepting one's lot in life. There are people who do this, you know: they shoulder the burden, whatever it is. They expect the worst, and they're seldom disappointed. Disappointment is a privilege, you know. All of these older men seem to know the facts of the matter; I don't get the feeling they're misinformed, uninformed, conspiratorial, or oblivious. I don't think it's "toxic masculinity" either. I think it's fatalism. If death comes for them, well, so be it.
And here's the thing to remember: to some extent, we all live in obligation to one another. But, after a certain age, living is a responsibility that no one places upon us. We retire from jobs; marriages come to an end; our kids move away and barely see us; we keep going in the absence of any expectation. So, it's a hard thing not to become a little indifferent to one's ongoing survival. Who for? You can't see the ocean in the darkness, but you can hear it lapping at the shores, and in the middle of the night it sounds a little like it might be calling for you. So, why not walk towards it?
Of course, this short circuits one of the cherished tenets of Enlightenment societies: that people will act rationally in their own self-interest, if they can only be given accurate information. There are plenty of times we don't, in ways big and small. We stay in bad relationships for too long, do things that aren't healthy or wise. We ignore safety regulations at work. We drive like maniacs. We've all gulped down micro-doses of death to see how close we could come to the edge of something that was deafening and annihilating.
And, in terms of the old men in poorly-fitting pants, what's been the most disheartening about all of this is that, without exactly saying the words aloud, the rest of us seem to have collectively decided that, if the elders and the "immunocompromised" are the ones most likely to die of this virus, it should be up to them to fend for themselves- for the good of the community. They have a responsibility not to interfere greatly with the functioning of our economy (which we've misidentified as a society). So, we've politely withdrawn their social obligation to survive.
Of course, it's too horrible to say any of this so baldly, so we find nice ways to phrase it. But I think that does us no good, recoiling into a cozy bed of euphemisms. Instead, we should learn from the horror. We know the reality in our guts, which is that this in not how healthy cultures survive. Sericide, or geronticide, exists more in myth than in any historical reality. The Japanese practice of ubasute — leaving elders to die atop mountains — was a folk legend that most likely never happened, a cautionary tale. Inuit leaving the elders on ice floes likely only happened during times of extreme famine. The Nordic Ättestupa cliff jumps have no basis in historical fact. We're not in a pre-civilized time and modern post-industrial societies are not facing starvation or mass suicides if the service economy remains closed longer than we'd like. These are folk tales.
Believe it when I say that talking in platitudes about letting the elders self-isolate and fend for themselves is something really pretty novel in the modern world. There have been cultures that did this; none of them lasted more than a few decades. At the very least, if you don't value your old men and women in poorly-fitting pants, you should hope your own children aren't taking notes for when you get old and the waves are lapping at the shore in the darkness. Clutch your talismans tightly regardless.