Harsh Your Mellow Monday: Mission Creep and Opposite the Editors Edition
It's been one week since President Trump took a walk to a church to hold up someone else's Bible, four days since James Mattis said things, three days since a street in Washington DC was repainted, two days since an addendum was painted on that same street, the day after the resignation of the New York Times Opinions Editor, and God knows how long it will be till we all say we are sorry.
Let's bore with the big auger into this week's Harsh Your Mellow Monday.
[HM1]Mission Creep on the Streets
The message of the black lives matter protests has taken to streets across America. Since last Monday's events where the president cleared the street near the White House for his photo op/campaign add march down it, that particular street has become a focal point. Now some folks want to make sure it stays that way.
D.C. Mayor Muriel E. Bowser renamed a street in front of the White House "Black Lives Matter Plaza" and had the slogan painted on the asphalt in massive yellow letters, a pointed salvo in her escalating dispute with President Trump over control of D.C. streets.

City officials said the actions Friday were meant to honor demonstrators who are urging changes in law enforcement practices after the killing of George Floyd, an unarmed black man, in the custody of Minneapolis police.

"There was a dispute this week about whose street it is, and Mayor Bowser wanted to make it abundantly clear whose street it is and honor the peaceful demonstrators who assembled Monday night," said John Falcicchio, the mayor's chief of staff.

On Friday, city workers included a D.C. flag at the end of the display in front of St. John's Church, close to where federal law enforcement forcefully cleared the area of largely peaceful protesters Monday night just before Trump walked over and posed for news cameras, a Bible in his hand.

The art takes up two blocks on 16th Street NW, between K and H streets, an iconic promenade directly north of the White House. Local artist Rose Jaffe said she and others joined city work crews to paint the giant slogan, starting before dawn.

Shortly after 11 a.m., Bowser watched silently as a city worker hung a sign at the corner of 16th and H streets that said "Black Lives Matter Plz NW."
Alright, performative and a bit on the nose but attention grabbing and nobody gets hurt so, so far so good.
That lasted less than 24 hours before the new art to "honor the peaceable protestors" got a very political addendum:
Just a day after D.C. Mayor Muriel E. Bowser ordered "Black Lives Matter" painted down 16th Street NW to make a statement to President Trump, a group of Black Lives Matter activists made a statement of their own as an addendum to the city's now-famous mural.

They painted "DEFUND THE POLICE" in the same bright yellow paint as Bowser's much-publicized statement.

On Friday, Bowser renamed a street in front of the White House "Black Lives Matter Plaza" and had the slogan painted in giant letters leading toward Lafayette Square, which has become the epicenter in the District for protests over police brutality. Saturday night's update by Black Lives Matter D.C. now follows soon after, 10 feet from the original street art.

Makia Green, a core organizer for Black Lives Matter D.C., said Saturday the "defund the police" display by the organization is a "direct response" to the mural from the mayor. Black Lives Matter D.C. tweeted the original mural commissioned by the city "is a performative distraction from real policy changes," adding the mayor has consistently been on the wrong side of "BLMDC" history.
The "wrong side" means Mayor Bowser's budget included increases in police funding. Something tells me that if the mayor announced anything short of immediate abolishment it would be not enough for some of the BLMDC folks. Already on social media, plenty of activists, leaders, and office holders are sensing the problem here and working on variations of "What we mean by defund is…" which is probably true in some cases. Chanting slogans in the streets is, has, and always will be about the impact and rhyming scheme more than technical accuracy.
But if you want to harness the moment you better be very, very precise in your phrasing.
The NYPD and its so-called "unions" may not believe it, but defunding is coming. I'm hearing it everywhere – from the leftiest lefties to the most regular regulars. Biggest place of agreement? Cuts to armor, equipment, weapons, anything remotely military.

— Tom Watson (@tomwatson) June 7, 2020
Tom clarifies in subsequent Tweets he is aware of defunding becoming, in his words, "bloated" in meaning. But this is a great example; what is described here is better classified as "demilitarizing" the police, something that a huge majority of people would support depending on details. "Defund the police" comes across as anarchy and support drops immediately. The wording is going to matter, a lot, going forward if anything positive is going to come from the current situations. Of course police budgets are bloated and out of control in many cities. Sure there are plenty of things to cut. But the devil is very much in the details. "Defund the police" is too broad a call, and counterproductive. Like with other sacred spending cows, any attempt at reigning in bloat in education results in cries of "They're stealing from teachers and cheating our children" for anyone with the temerity to think administrators making six figures a year without ever seeing the inside of the classroom don't need week-long junkets to Miami or wherever on the taxpayer dime to bring up testing standards. Similarly, there is no part of government that gets more wasteful funding than the Department of Defense because any cut is framed as taking the weapons out of the hands of the troops, when in reality it is layer upon costly layer of superfluous bureaucracy by folks never leaving a desk that is the problem.
"Defund" runs too close to "abolish", which the more aggressive activists also push for while holding their ACAB signs (acronym for "all cops are bastards" for the uninitiated, a slogan borrowed from the UK). All cops are not — in fact — bastards, and you better have good people willing to do that not easy job even while holding them to the higher standard the profession must adhere to. No city in America can go without a police force. Suggesting otherwise is Utopian nonsense. Even in the cases of a "disbandment" folks who point to the Camden, NJ model need to be reminded that a mid-sized city closing its city department to make it a county law enforcement agency with double the size, and driven as much over budget issues as police reform concerns, is a model of reform, not abolishment. It is also probably non-transferable in the whole of concept, due to some unique situations surrounding Camden, but surely there are lessons there to be considered and learned.
The conflict to come, that is already happening beneath the headlines, is while the terminology and original meaning of "Black lives matters" has become far more accepted and sympathetic to folks as a worthy cause, Black Lives Matters the organization has a long list of items they are seeking that go far beyond the scope of police reform and racial issues.
So you get what we have here, a progressive mayor fully supporting black lives matter the message, with Black Lives Matters the organization immediately moving the marker for the next item on the agenda while directly attacking an elected official who is ostensibly an ally as being insufficiently helpful.
The term here is mission creep and it is a very old tactic to continue a cause past its stated purpose and objection. Many folks in the country are aware and paying attention to the issues of policing and race at the moment. Vast majorities are in agreement that something should be done. Those sentiments can be harnessed, but they cannot be browbeaten into ideological purity. Things like consensus and compromise are not popular words amid a "movement" but are still the currency of actually getting things done. The folks who protest professionally have a habit of moving the goalposts every time the general population gets close to where they proclaim the promise land is, and will do so again here. Which is their right to, and they have plenty of reasons to pursue that tactic.
But for the folks who just want things to get better in their lives and communities, the unattainable goals of revolutionary perfection tend to leave them in the no man's land between the aftermath of the current crisis and the inevitable dissipation of the moment without anything substantial changing. Or worse, ill thought out reactionary policy that might make the horrible unimaginably worse.
The pincer movement of viral videos and advocacy has achieved a victory in getting attention on the issues of how a free people who self govern police themselves. It's not just the usual suspects in the streets, but plenty of new folks who have never protested before feeling like they need to do something. If you told police reform advocates a month ago you would have police joining marchers, the bulk of headlines for two weeks, and Mitt Romney marching in a black lives matter protest they would have laughed at you. All that happened just yesterday.
Take the win, don't squander the moment, and don't trade the good that can be done today with overwhelming support now for for an unattainable fantasy laundry list that isn't coming later. The protests made a statement on the streets. The president made a statement clearing and marching down the street. Mayor Bowers made a statement painting that street. The Black Lives Matter leadership upped the ante by painting even more on the street while declaring the first painting insufficient.
The danger is the high profile folks keep making statements and counter-statements to one-up each other while nothing gets done at the levels of government necessary to change things for the better for the regular folks who have to live with it.
"This is no longer about George Floyd" isn't just going to be a talking point; it's a warning to those seeking change to not let mission creep, or getting caught up in the moment, or just good old fashioned hubris and self-righteousness carry you further than the moment and the people who are on your side right now, today, are willing to go. Take the win, then build for what comes next.
[HM2] Who Will Op-Ed the Op-Eds?
The New York Times is having a rough week. Long time columnist Tom Jones summarizes:
In case you missed what happened, here's a quick explanation: The Times ran an op-ed from Arkansas Republican Sen. Tom Cotton, who said the military should be deployed to deal with protests across the country. Times staffers and others said the op-ed was dangerous, threatening and not factual. More than 800 Times staffers signed a letter objecting to it, saying it put people of color in jeopardy.

At first, publisher A.G. Sulzberger and Bennet defended the op-ed, saying the Times should welcome views from all sides. But then Bennet said it was wrong to run the op-ed, that it was rushed into publication, that the editing process was flawed and, shockingly, then admitted to not even reading the op-ed before it ran online. The Times addressed the issue in a company-wide town hall on Friday and, while Times staffers remained angry and confused, it appeared Bennet would keep his job.

Then came Sunday's sudden resignation, which reportedly surprised staffers at the Times.

On the surface, it would appear Bennet's resignation is a result of what happened last week. But Sulzberger's note to staff made it seem as if this was merely the final straw. He wrote, "Last week we saw a significant breakdown in our editing processes, not the first we've experienced in recent years. James and I agreed that it would take a new team to lead the department through a period of considerable change."

But you have to assume that if the Cotton op-ed had never happened, Bennet would still have one of the most powerful and influential jobs in American journalism.

So that brings us back to the heart of this matter: Should the Times have run the op-ed or not?
Should or shouldn't is one argument, one that has been raging across the media table in the national conversation lunch room. What is going on, though, is a lot more than just an op-ed. Senator Tom Cotton, who is up for re-election but short of getting hit by a bus is going to continue to represent Arkansas, has ambitious designs on higher office. The op-ed was garbage — a giant troll of populist pulp from someone in Cotton who knew it to be just that. Yet his pontificating Pez dispenser of nonsense isn't really the problem here. Cotton will be fundraising and living large off this free press for months.
What it reveals about the inner workings and factions at the nation's "paper of record" is far more important.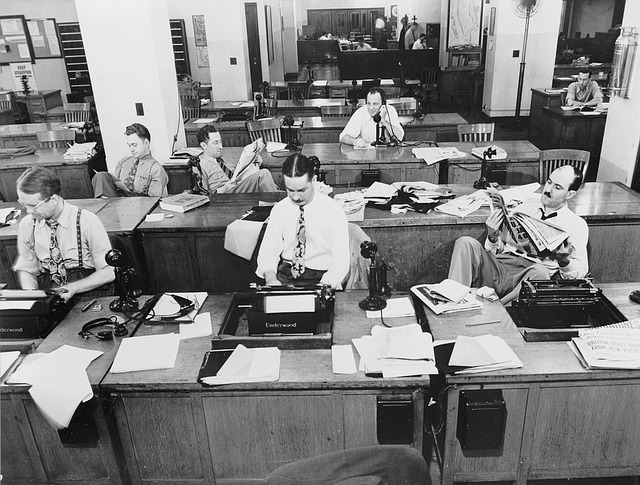 It's tempting to handwave such elite media intramural fussing as not important but it is. The New York Times is still the headwaters for a lot of content that gets recycled, reused, and regurgitated in all directions as it rolls down the news and information mountain. It's just how it is. So yes, it matters when the "news" side and the "opinion" side of the New York Times go to war over whose paper it really is.
And let's not kid ourselves here. There is a lot of interpersonal and business relationship going on when things like this happen. The guy in charge making mistakes is the cue for folks with long held grievances to start airing laundry for their own purposes. Add in the layer that the news media's favorite story template is how the news media covers the news, and you have a crossing of the streams New York City hasn't seen since Ray Stantz childhood memory nearly ended life on Earth as we know it.
Media in America is changing rapidly. Folks who spend their entire lives getting into positions to dictate the discourse at places like the New York Times are not going to suddenly devalue those gains. Throw in a fight over purity of thought and intention, instead of the airing of well written opinions of the editors and op-eds — in the original meaning of "opposite the editorial page" and those who are in charge of it — who are the hallmarks of a vibrant opinion page. If "All the news that is fit to print" becomes an argument more than a mission statement, and it looks like that epoch has come, a bunch of Americans are going to take one look at that paywall and see fit to find their news elsewhere.
Then where will the New York Times be? The "paper of record" for the country relegated to insider media newsletter isn't good for the New York Times, for journalism, for media, and certainly not good for the country. But the country can live without the New York Times if they absolutely insist on it.
[HM3] Lies, Damn Lies, and Hiding Behind Statistics
There is no way to say this gently, so I'm just going to go with plain English here:
If your gut reaction to the videos of police brutality against people of color is to start "well AWKSHUALLLY" -ing some statistical information that there is no problem at all please go fix yourself.
Yes, it is true media coverage in a viral world can blow things out of proportion. Of course, people can take advantage of situations both for political power and personal profit.
If your response to seeing an injustice laid before you is to go "yeah, but that's an acceptable number of injustices to those people over there, but whaddabout this much bigger injustice to people like me over here…" it is time for some reflection.
You can't fix every problem. You can't even know about every problem, certainly not in the detail involved to formulate solutions. But you can take notice and have a moment of understanding of a problem before busting out your priors in statistical form to prove that no new information will ever scale the ramparts of your chosen position.
Cultural change is hard. Listening and acknowledging that some folks have a different experience is not hard. Just takes a little bit of effort, and a smidge of give-a-damn. And without that, there will never be any change for any cause ever.
So lowest level, and attention to detail, and a little bit of humility to at least hear folks out before you just start shouting statistics at their real world worries.
Facts may not care about feelings, but facts aren't people. And people have feelings. Use your facts to better the lives of people, even when it might be rough on your own feelings from time to time.
Otherwise, bless your hearts, shut up about it.