Saturday Spins: James Gang and Joe Walsh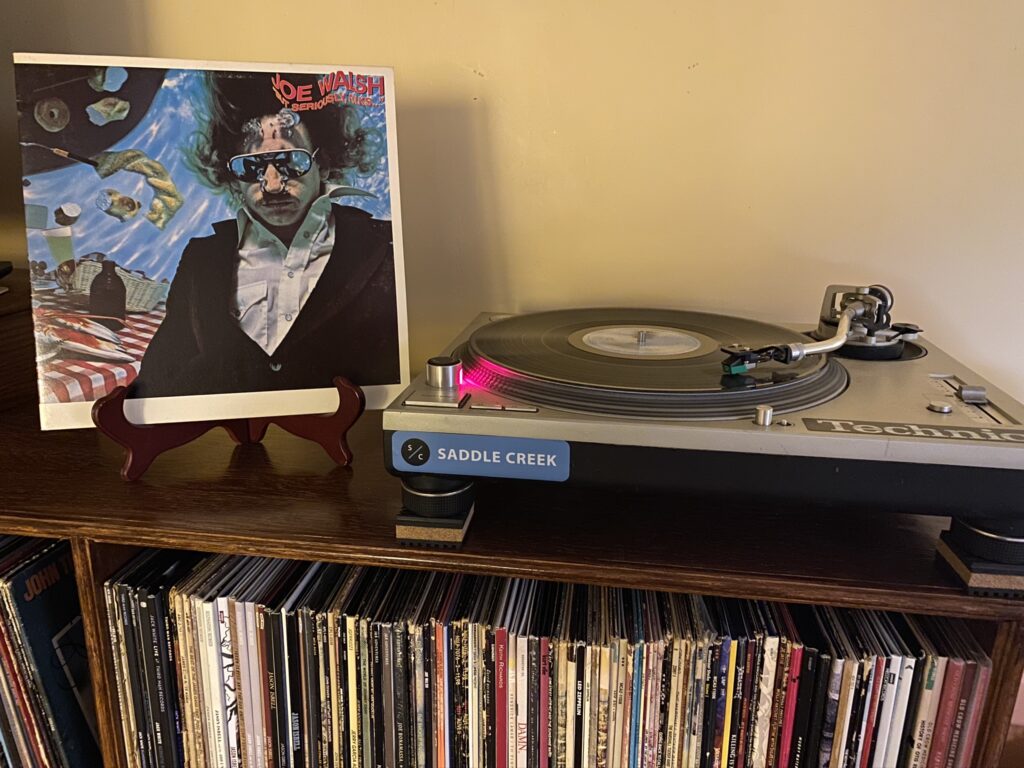 Took a week off last week because, as I have often said, being a lawyer is no joke and sometimes real life gets busy. For this spin, the randomizer spit out a refreshing change of pace. Last time we were here, I covered Combat Rock by The Clash, which is basically their Roman Empire falling. I count it as one of my favorite Clash albums, but others definitely do not. This week, I will be covering the fourth solo studio album by legendary guitarist and chillest member of the Eagles.1 I also plan to make this a double feature, not an extravaganza.
Joe Walsh
"But Seriously, Folks…"
1978
Commentary
I am a little dismayed that the randomizer picked such a "meh" album. Not much special in the way of stories or art for this one. My copy is an OG pressing, so it has the words "Luncheon Counter of the Deli Kind" and "Call It In the Air" engraved on the carry-out grooves on side 1 and 2 respectively. The carry-out grooves are just before the label in the center of the LP. The Eagles, as they existed at that time, all contributed to this album with background vocals.
The album comes in just over one half hour, 35 minutes, and lacks a lot of Walsh's usual antics, save for the single we all know and love, "Life's been Good," which we will get to momentarily. It is not one that I definitely go rifling through my shelves to find and play, but it is a respectable effort. My collection is in a loose alphabetical order, which drives my wife insane, but the system works for me.
The artwork is interesting, and I wish I knew more about how they did it in 1978. It shows Walsh underwater having what appears to be a picnic alone. If you open the gate fold it widens the shot a bit.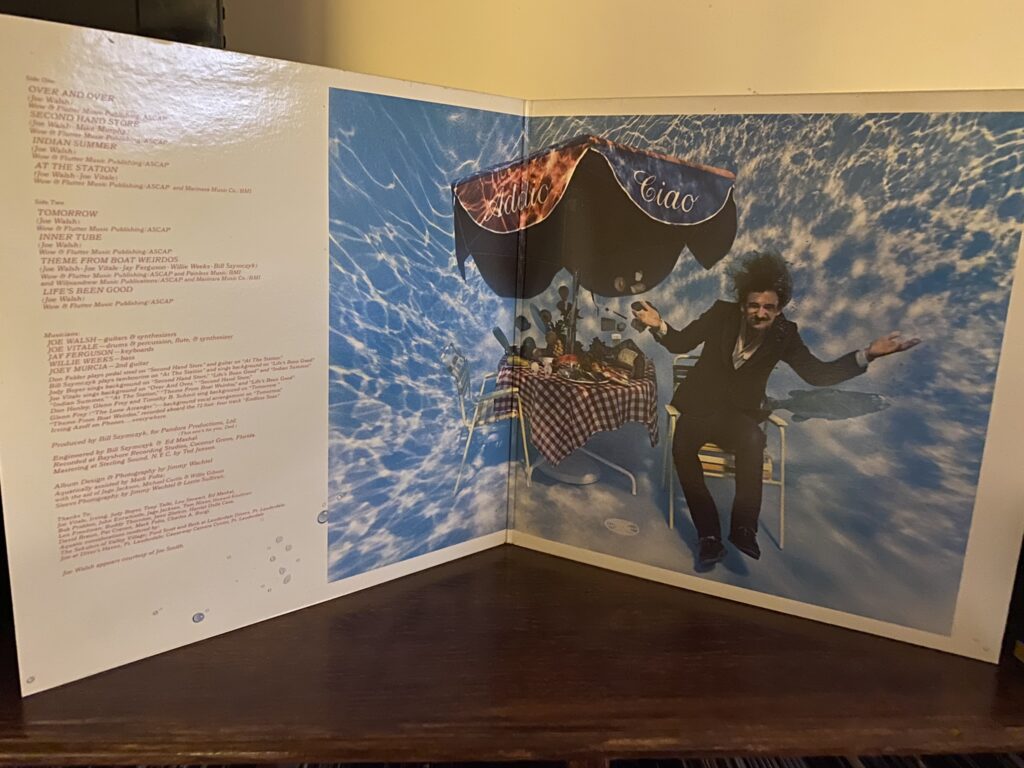 Tracks I Think Are Great
There's only really one on this album which is worth really talking about and that is of course, "Life's Been Good." Many of you have maybe only heard the radio edit for the single version which is about half the length of the actual song. Discussing this song also gives me the opportunity to share this video, which is one of my all-time favorites. Walsh, in his usual irreverent tone, breaks down both the music and the lyrics to that legendary song.
[youtube https://www.youtube.com/watch?v=NIzyTk1fuf0]
If you have 8 minutes to spare and don't even want to read anything I write here today, just watch that video. "At the Station" is a great track, but is pretty straightforward 70s rock. A real deep cut for Joe Walsh fans is "Indian Summer" which most definitely is a song to play on a sunny day while out on your deck sippin' a cold beverage of your choosing.
Bonus spin time, y'all!  Before the illustrious solo career, before Barnstorm, and before he was the yin to Don Felder's yang in The Eagles, Joe Walsh was a member of an extremely underrated trio, James Gang. What's interesting about delving into these early days of Joe Walsh songwriting, is to see just how much it has evolved.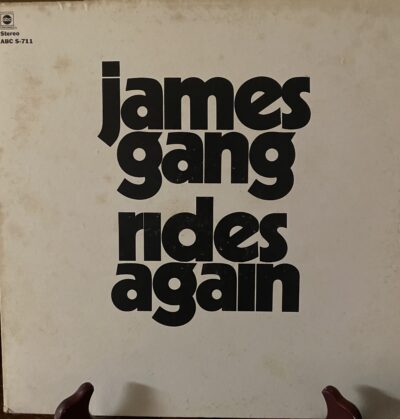 James Gang
Rides Again
1970
Commentary
This is the second studio album by James Gang, and woo boy is it a banger. One of the most important pieces of classic rock that isn't given the credit it deserves. The art is plain jane, and doesn't have much artistic flourish, but the minimalist approach is adequate because the music is what really counts on this one. This one is another OG pressing, which has a special meaning we will get to later on.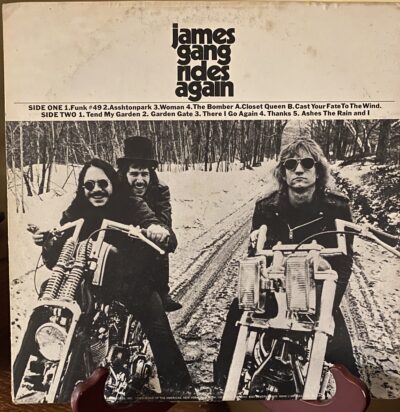 Walsh did the bulk of the songwriting, and as I said, the evolution shows. James Gang is another one of those bands that flared hot and bright, but soon fizzled. Walsh had left the band by the end of 1971.
A lot of people think that "Funk 49" and "Walk Away" were purely Joe Walsh songs, as in written and performed whilst he was a solo artist. However, these two legendary tracks were written while he was in James Gang.
Tracks I Think Are Great
Obviously, right out of the gate, "Funk 49" comes to mind. It has such a raw and heavy groove that was way ahead of its time. This song has staying power, man, it is a direct sequel to "Funk 48" from the previous James Gang album.
As a variation on the "Funk," Walsh also wrote and recorded "Funk 50" which is yet another sequel and has been given a modern veneer. Here is another great video from one of my favorite television shows, Darryl's House, where he plays 49 into 50 seamlessly. The man is a pure genius with a guitar.
[youtube https://www.youtube.com/watch?v=chJAwn6dwUw]
"There I Go Again" is another straightforward jam. One of my favorite Joe Walsh songs is the psychedelic rocker, "Tend My Garden." Finally, even though all of the songs deserve praise on this particular LP, "The Bomber" suite is especially interesting both musically and historically because of the legal battle that ensued.
"The Bomber: Closet Queen"/ "Boléro"/ "Cast Your Fate to the Wind" is technically the title of the whole song, it features "Boléro" by French composer Maurice Ravel. Ravel's heirs took exception to its inclusion on this album for some reason and sued. Later pressings of Rides Again have that part cut out. Since I have an OG pressing, I am lucky enough to have the full suite. Later pressings included it by accident and when it was released on CD, the full suite was also included. "Cast Your Fate to the Wind" is a well-known jazz composition by Vince Guaraldi of Peanuts television special composition(s) fame.