Saturday Morning Gaming: Educational Games
Commercial PSA Buckle Up For Safety 1964
Seven years ago (!), I talked about the games Prison Tycoon and Papers Please. While both were, on the surface, different genres, when you peeled back the layers, you could see that both games were games that were criticisms of real-world institutions. On the surface, they were fun. A management sim here, an immigration sim there… but, underneath that, it was a lot less fun.
Orwell: Keeping and Eye on You is a game that does something vaguely similar. On the surface, really fun. Underneath… well. It's not "not fun" as much as "educational".
In this game, it's fifteen minutes in the future and you're a new hire at a branch of law enforcement and you are logging into your system.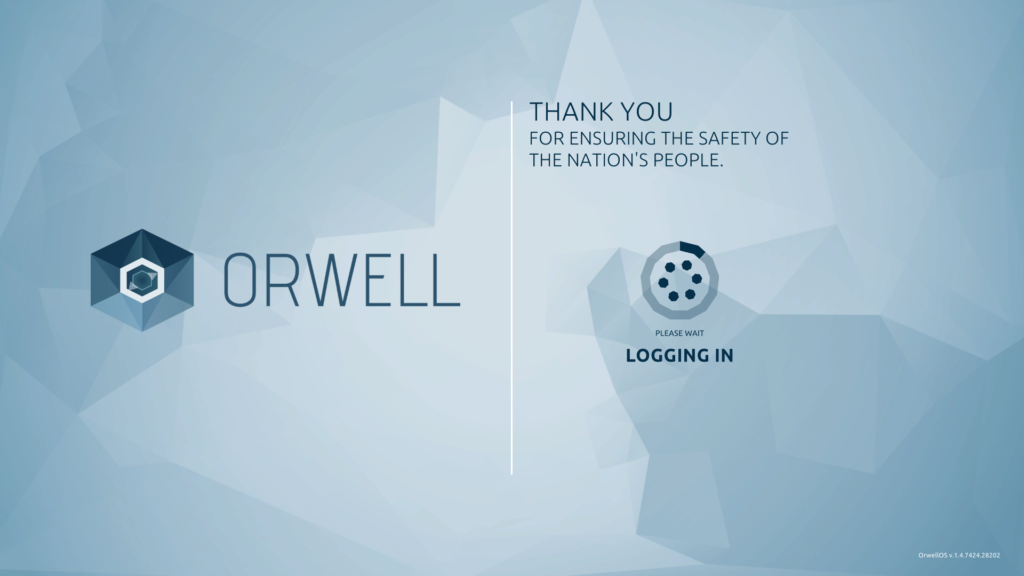 There has been a recent bomb attack in the park. It's your job to go through surveillance footage and social media and try to figure out who was behind it. The footage finds someone already known to law enforcement. Huh, she was involved in an altercation at the park a few months back. So you just go into social media and find stuff out. Most of the stuff is available on the internet. A It's-Not-Facebook page here, a public-facing website for her old job there, and a blog that her pseudonym writes at (you found her pseudonym on her It's-Not-Facebook page). You find out that she's dating a prominent defense lawyer. Interesting.
There's some stuff that is less public-facing. You have access to her unencrypted text messages to and from her boyfriend. These also contain clues about her (and, by extension, associates of hers) that may be connected to the bombing that she may be connected to.
There are a handful of judgment calls to make… a year ago, she and her best friend have a whole bunch of pictures posted together. A month ago, she and her best friend got into a huge altercation on It's-Not-Facebook. You've got the file and you are going to add information to it: do you include the information that this associate is a close friend? Or a former friend? Pick one, you can't pick "both" or "it's complicated". There are also smaller judgment calls to make. There are several pictures to choose from on social media… which one do you attach to the file? The goofy one? The serious one?
Oh, she's got a connection to a former professor of media ethics… who is expressing regret over what a small group of his former students have turned into? They've twisted what he was trying to teach them? Interesting. Let's see if we can find more information about him and his former students. It's all out there on the web, after all.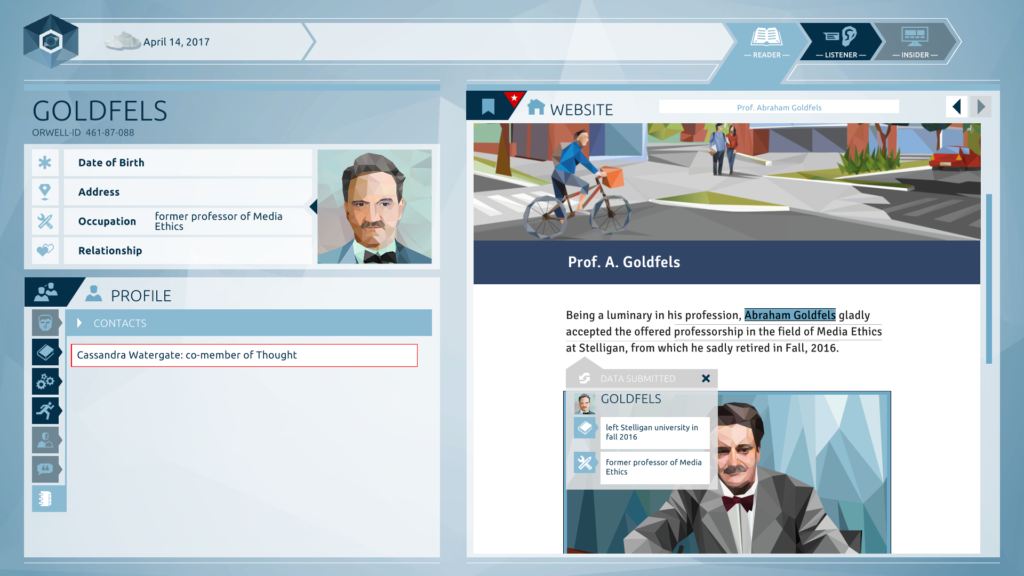 There are twists and turns in the narrative as you explore the links between the people picked up on the surveillance cameras. Reason to believe that any given person of interest is involved… reason to believe that they're only tangentially connected (like the best friend).
On the surface, it's really fun. Scratch the surface? It's a game about how much information about you, yes, YOU, is already out there on the web. Social media, job websites, and so on. "I should really get some better encryption for my phone", I could see someone thinking while playing the game.
As for gameplay, it's reading-intensive and only requires about as much hand-eye co-ordination as clicking and dragging tidbits of information from one file into another. It's really easy to play… on the surface.
So… what are you playing?
(Featured image is a screenshot of "logging in" to your Orwell work computer.)