Saturday Spins: The Clash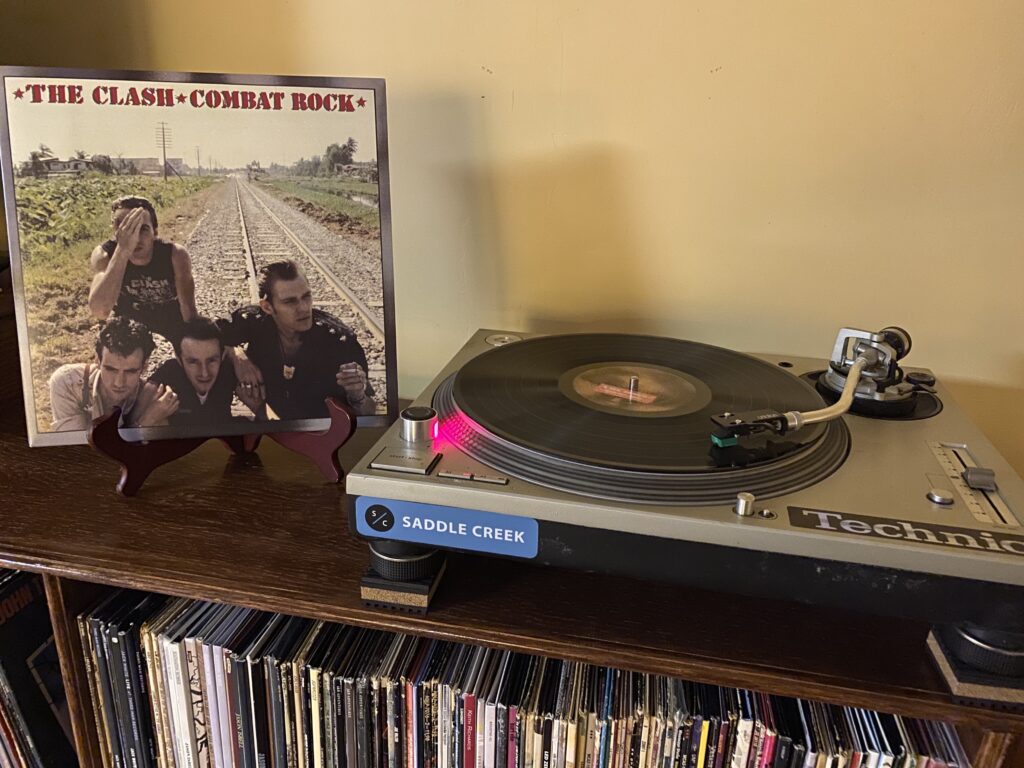 The Discogs randmomizer gizmo smiles upon us all this week as we discuss one of the progenitors of punk rock.1 Last week I covered Jason Isbell's latest decent, but somewhat formulaic, effort. The good news is that I received my original pre-order on the actual release date and was pleasantly surprised to find that I had ordered the transparent fire orange with black swirls, satiating my hunger for colored vinyl.
The Clash
Combat Rock
1982 (2013 Reissue/Remaster)
Commentary
I am going to, and this will be somewhat controversial, proclaim that Combat Rock is second only to London Calling in the definitive ranking of albums by the Clash.2 This album also is the last time The Clash would record with their classic lineup. Mick Jones pretty much wanted to strangle Joe Strummer at this point, more on this later, and drummer Topper Headon was taking so many drugs that it is a wonder how he could function. He was summarily dismissed after this album was released.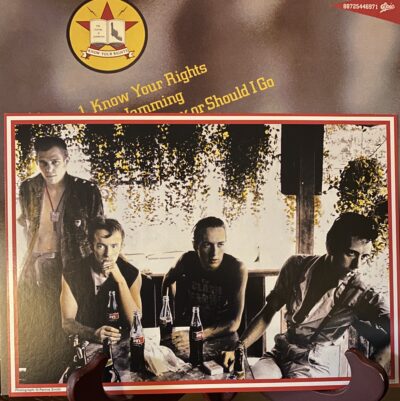 Nevertheless, this album produced two well-known songs that have stood the test of time. Overall there were four singles. While not an original pressing, I picked up this 180-gram reissue/remaster a few months back thinking it would be an excellent addition to my collection. It features the same album art, liner notes, and tracks as the original. This came with a print of a photograph of the band in either Thailand or Vietnam. The front cover photo is definitely Thailand.
Since the aesthetics of this particular album does not allow me to pontificate, allow me to illuminate another subject that I do not believe we have touched on here, the advent of the 180-gram LP. This is not my first 180-gram LP covered on Saturday Spins, but It might be a good time to cover this.
Historically speaking, heavier weight vinyl allegedly increases the quality of the sound in a few ways. The first being it provides a better bond or "marry" of your record to the platter. This reduces vibration, but does not necessarily improve your sound quality. From my own listening, you can hear a slightly bolder and heavier sound, which sacrifices brightness in my opinion. A lot of older records were flimsy and so over time, and without proper care, they warp. This can eff up your sound. Some ways to fix this range from de-warping, a long and complicated process, or using a weight or clamp. De-warping is also not always successful. You'll even see some people out there using wood glue to "clean" records. Dumb as hell, man.
With the surge in demand for vinyl, a lot of 180-gram LPs sold by places like Amazon, Target, and Wal-Mart, are of poor quality and are usually derived from digital or compact discs, rather than original mixes or original tape. To the untrained ear, like the average user of some shitty streaming service like Spotify, there is no difference. What it comes down to is where you get your records from. So, if you're new to collecting and Target is trying to sell you a record that says it is a "180-gram Audiophile Pressing," don't waste your money.
Tracks I Think Are Great
"Should I Stay Or Should I Go" is one of the better known Clash songs, even being prominently featured more recently in the first season of Stranger Things. It is one of the best not-pop-pop-songs to come out of the 80s. The first single, "Know Your Rights," does what The Clash did best, and that is make people confront uncomfortable truths about society. The lyrics are sung from the perspective of a corrupt politician or bureaucrat and, well, are still prescient today:
Number one
You have the right not to be killed
Murder is a crime
Unless it was done
By a policeman
Or an aristocrat
Oh, know your rights
And number two
You have the right to food money
Providing of course
You don't mind a little
Investigation, humiliation
And if you cross your fingers
Rehabilitation

Number three

You have the right to free speech
As long as
You're not dumb enough to actually try it

"Straight to Hell" is another brilliant social commentary, touching on themes regarding colonialism, outsourcing, and fatherless children produced as a result of the Vietnam war. Joe Strummer was never one to shy away from political statements, and that was always a constant throughout his career.
Speaking of politics, the other very well-known song from this album is "Rock the Casbah." Originally intended to be somewhat of a humorous take on a fictional Arab king banning rock music and bombing his own citizens, "Drop your bombs between the minarets," it was co-opted by conservatives during the first Gulf War and post-9/11. Joe Strummer reportedly wept when he learned that Americans were painting "Rock the Casbah" on bombs they were dropping on other human beings during the first Gulf War.

This song was also on the ol ban list by Clear Channel Media, the largest radio station conglomerate in the US, after the 9/11 attacks. The Drive By Truckers wrote a song about this particular censorship regarding the inclusion of the song "Imagine" by John Lennon on the list. Finally, I happen to think one of the most underrated songs on this album in particular is "Death is a Star." Also, don't miss out on "Ghetto Defendant."

Fun Facts!

Speaking of "Ghetto Defendant," Beat poet Allen Ginsberg recites poetry in the song! I mentioned something about Mick Jones wanting to strangle Joe Strummer earlier, their relationship had become so strained at this point that if you watch the video for "Rock the Casbah" above a little more closely, you'll notice Jones wearing a mask through 90% of the video. Apparently he was so pissed off the day of filming that he opted to wear the mask, until the end where Strummer yanks it off of his head. I don't know if this was planned, but judging by all accounts of their relationship at this point, it probably was not.

Please refrain from comment dissertations on what "punk rock" is or means. The Clash were part of the first wave, and thus they are progenitors.
Related Post Roulette