Searching for Little Richard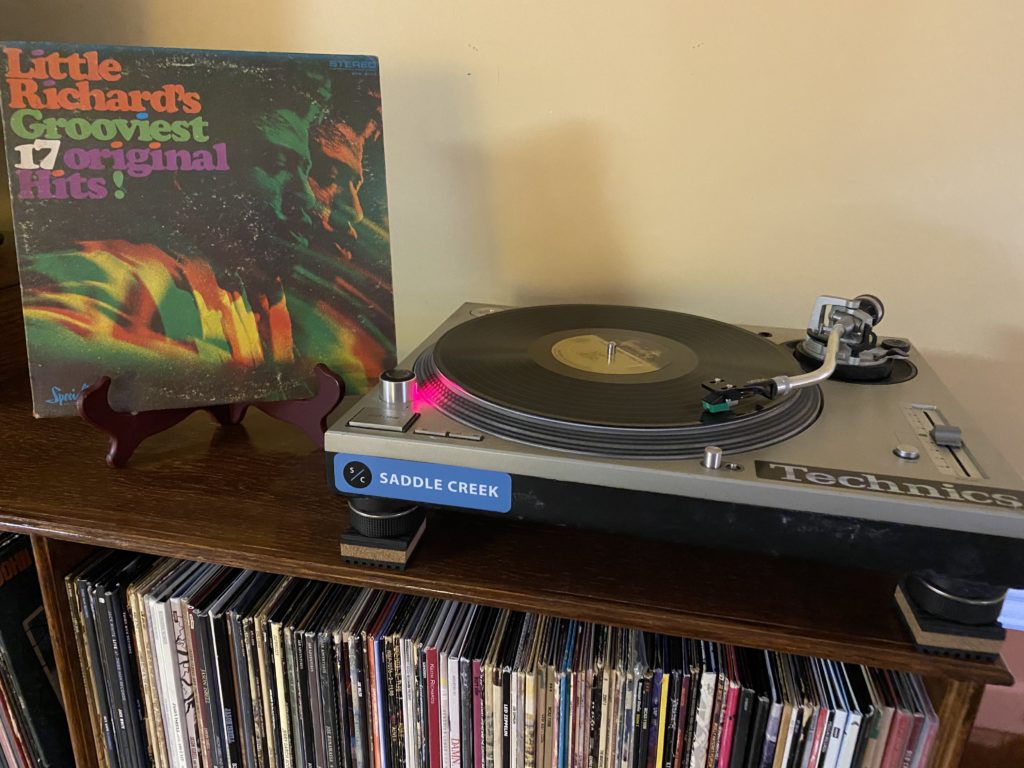 Richard Wayne Penniman, best know by his stage name "Little Richard," passed away yesterday at the age of 87. No disrespect to Elvis the King, but Little Richard, a gay black man from Georgia, was the true architect and king of rock n' roll. Elvis appropriated the sound and made it palatable to pre-civil rights America.1 His audiences were among the first to become truly integrated, because his music immediately brought people out of their seats, black and white, to dance.
Known for his flashy outfits and energetic performance style, as well as his dynamic vocal range, he truly was a precursor for rock, pop, soul, and funk music. Here he is performing his first two big hits "Long Tall Sally" and "Tutti Frutti" in the 1956 film Don't Knock the Rock.
[youtube https://www.youtube.com/watch?v=LVIttmFAzek]
We all know that these songs, and others, became cemented into American musical lore. I spent most of  the afternoon yesterday searching through a pile of 45s, that I have yet to clean and categorize, searching for Little Richard, but found none by him. I thought for sure I had at least one piece of Little Richard's music in my collection. It turns out that I should have searched my discogs collection before going through manually, because lo and behold, I had a 1968 pressing of Little Richard's Grooviest 17 Original Hits.
I tried to remember why I picked up that record to begin with. I think it was around the time I read Bob Dylan's autobiography, Chronicles Vol. 1. Dylan devotes a lot of the chapters regarding his early life to crediting a chance encounter with famed wrestler Gorgeous George and a dream where he was a performer in Little Richard's band to why he decided to leave Hibbing2 to travel to New York City.
At that time, my vinyl collection was in its infancy, as I had just started to collect in earnest. If I am remembering correctly, I went to Half Price Books in search of some records and stumbled upon Little Richard's Grooviest 17 Original Hits while crate diving, and remembered Dylan mentioning how much of an influence he was, so I took it home. Condition be damned.
We all search for things that influence our tastes, Little Richard, and other giants of early rock usually hang out on the outer edges of things I often listen to. Like most pioneers, his legacy will be with us forever. His songs will continue to be played on the radio, at weddings, at funerals, using whatever available medium. Rock music has changed so much since those days, and some may hear Little Richard and think he sounds quaint or old fashioned, but his innovations are important and powerful works of art. As Bob Dylan once said, "Art isn't looked at as something 'old' or 'new,' it's looked at as something that moves you."
I am reminded of Eminem's lyrics from "Without Me," "Though I'm not the first king of controversy/I am the worst thing since Elvis Presley/To do black music so selfishly/And use it to get myself wealthy"