Star Wars And the Rule of Cool
As a scientist, I know that Star Wars is absolutely ridiculous. Spaceships do not make U-turns. Asteroids, even in dense fields, are separated by hundreds or thousands of kilometers. The energy necessary to destroy a planet would require a million years of output from a star.
As an occasional student of military history and technology, I also know that the weapons, ships and tactics in Star Wars are equally ridiculous. The Death Star would be one giant floating target for rebels or terrorists. The Trench Run is completely unnecessary.1 Spaceships fight side-by-side like ships from the Age of Sail, instead of engaging at thousands or millions of miles. And every behemoth seems to have that one point where a single laser blast will make it explode.
As a writer, I know that Star Wars doesn't make a whole lot of sense. Force powers seem contrived to the needs of the moment. Decisions are often made more in service of plot than character.
Everything in the Star Wars universe is ridiculous, impractical and overblown.
And I don't care one bit.
You see, from Day One, Star Wars decided that it is not a science fiction franchise. It is a fantasy franchise with sci-fi trappings2. It tells its stories using a pastiche of classic films, obscure films and (especially) Kurosawa films. It is built around iconic images, familiar tropes and John Williams' brilliant music. When Revenge of the Sith came out, James Lileks' review noted that Star Wars works best as a silent movie, carrying its best moments with Lucas' impeccable visual sense, Williams' generational musical talent and minimal dialogue. And I would add that Star Wars, from its inception, has been the definition of the Rule of Cool:
The Rule of Cool: The limit of the Willing Suspension of Disbelief for a given element is directly proportional to its awesomeness.

Stated another way, all but the most pedantic of viewers will forgive liberties with reality as long as the result is wicked sweet or awesome. This applies to the audience in general; there will naturally be a different threshold for each individual. Also known in some circles as a "rad herring", in which something doesn't make sense within the guidelines of the story's reality, but it's too cool not to include it.
Today is Star Wars Day and it particularly marks the 40th anniversary of what most would agree to be the best film in the franchise: The Empire Strikes Back. Eric posted an excellent review of the film a few months ago that covers the themes, the script and the overall importance in the arc. But I want to hone in one aspect in particular. Because no film exemplifies the Rule of Cool quite as perfectly, quite as dramatically, quite as overwhelmingly as Episode V.
---
Consider for a moment, the opening battle on Hoth. There's a small throwaway line to actual military tactics, where the Empire comes out of light speed too early and the rebels are able to raise a deflector shield against planetary bombardment (exit Admiral Ozzel, pursued by a force choke). But then the Empire launches a ground assault, spearheaded by AT-ATs.
But … AT-ATs as a military machine make absolutely no sense. They are slow, ponderous, unwieldy, awkward behemoths. They can only attack in one direction and are easily tripped up and destroyed by tow cables. Only very strong armor and very weak blasters stops the rebels from blowing out the kneecaps of each one and calling it a day (as they did in Rogue One). I would rather go into battle in an Abrams tank. Without an engine.
But … look at this shot.
This is one of the more iconic shots in movie history. It's not just beautiful, although it is beautiful. The white snow, the rebels running in the foreground, the impractical, worthless, exceptionally vulnerable walkers looming with menace in the background. But it's also a shot that tells a story. It gives the layout of the battlefield and sense of how the battle is going in one image. It shows the desperation of the rebels and the technological might of the Empire. If I cut out the first act of the movie and just showed you this, you'd know what had happened.
And those lumbering behemoth AT-ATs, which no general would ever use in battle unless he didn't like his men, are the key element of the shot. They are what makes it awesome. It wouldn't work with fast tanks hovering low to the ground. Or snipers picking off targets at a distance of a kilometer. No, it needs those terrible things to work.
---
I've been thinking about Star Wars and the Rule of Cool ever since The Rise of Skywalker came out in December3 There are many criticisms one can level at the sequels. They are often derivative of the original series. There isn't really a plot so much as a bunch of stuff that happens. It abandons the throughline of the original series that clearly was heading toward the idea of a "Gray Jedi" order that could harness both sides of the Force. I liked the sequels, but I can understand why others didn't.
But one line of criticism absolutely baffled me, which was that the sequels lacked practicality, logic and reason. Critics harped on the First Order's tactics or Holdo's management style or the appearance of previously unknown Force powers. But as Cinema Wins argued, that has always been the case with Star Wars. None of the technology has ever made sense. None of the tactics have ever been rational. And the Force has been a giant Whatever plot device for 43 years.
What you mean to say is that the movie wasn't good enough for you to suspend disbelief, the way you do with the other films. And that's a perfectly legitimate criticism. I might disagree with it, but I can't tell you how much to enjoy a movie and at what threshold it crosses the Rule of Cool for you. But that's the way it needs to be framed. Because if you're going to start pretending that Stars Wars is science fiction and that everything in it has to make sense, you're going to find the ground crumbling beneath your feet.
---
While Luke undergoes an intense vigorous life-changing course of Jedi training that lasts maybe three days, his compatriots are fleeing the Empire. First, they run through an asteroid field much denser than anything that exists in mature solar systems. Then they are almost eaten by a cave monster which has grown shockingly large given that his diet appears to consist of the occasional freighter stopping in for a pee break. And finally, they evade the Empire by hiding in a way that would make my 6-year-old, currently the lowest-ranked Hide-And-Seek contestant on Earth, instantly say, "I see you!"
There is no way this could ever work. Anyone who looks out a window will notice the big spaceship. A tie fighter on combat patrol would notice it. Hell, half the fleet probably saw it stop, reverse and land.
But when I first saw this movie and this image, people laughed. Not with derision but with joy. Because the movie sells it so completely. Because it's absolutely in character for Han to hide literally under the soon-to-be-choked Captain Needa's nose. And again, because of the Rule of Cool. It sets up another beautifully composed shot that tells us the story. The Falcon is hiding in the lion's den, surrounded by dozens of star destroyers and waiting for its moment to slip free. This of course, sets up the next iconic moment when Boba Fett, instead of saying, "Your boy is attached to the ship, gimme my money" emerges from the garbage pile to silently follow the Falcon to Bespin.4
From there, we go to the gas mines of Bespin. What's a gas mine? Why is it in the clouds? Why exactly does it have a city filled with civilians instead of a bunch of droids mining gas?
Who. Cares. It looks like this:
One almost gets the feeling that Lucas wrote Luke's line "I saw a city in the clouds" and then created Cloud City based on that. Borrowing heavily from Close Encounters of the Third Kind and other sci-fi tropes, it is a massive saucer. The lighting varies from friendly daytime when things are going well to stark sunset when the jaws of the Empire are closing in on our heroes.
And it is here where Vader set up his masterstroke to…freeze Luke? For some reason? Because just putting him a tin can and towing it Coruscant wouldn't work? The carbon freezing scene is dramatic, powerful, and emotional. As a kid, it first filled me with terror and then hit me with one of the starkest images I'd ever seen in a movie:
Star Wars V: The Empire Strikes Back - Han Solo's hibernation (Imperial March and Love theme)
Han. The Rogue of the Galaxy. The scoundrel that everyone wanted to be. Frozen in carbonite. And I went to the video because you have to watch to feel the impact of Williams' mournful music and the sudden violent slam as the carbonite crashes to the floor.
---
Like most of the films, The Empire Strikes Back ends with a lightsaber duel. And not just any duel. Arguably the best of the series. It is beautifully shot. The two contestants have very distinct and different styles. There are heavy stakes. There is a flow and plot to the fight, with Vader first toying with Luke and then completely overpowering him. It's one of the best action sequences in movie history.
Which is funny if you take a step back because lightsabers are, without question, one of the fundamentally dumbest weapons in all of film.
I did a little recreational fencing in college. One day, we were using the saber when my helmet rang like a gong. It turned out, I'd accidentally hit myself in the head5 Even experts frequently hit their foes and themselves. That's why you wear all that protective gear. That's why fencers in the past prided themselves on having the occasional scar on the face or the hands.
If lightsabers were real, every single Jedi would be covered in burn marks and/or missing limbs. I don't care how strong you are with the Force. You're going to screw up. You're going to overswing. You're going to accidentally hit yourself.
I mean, look at this: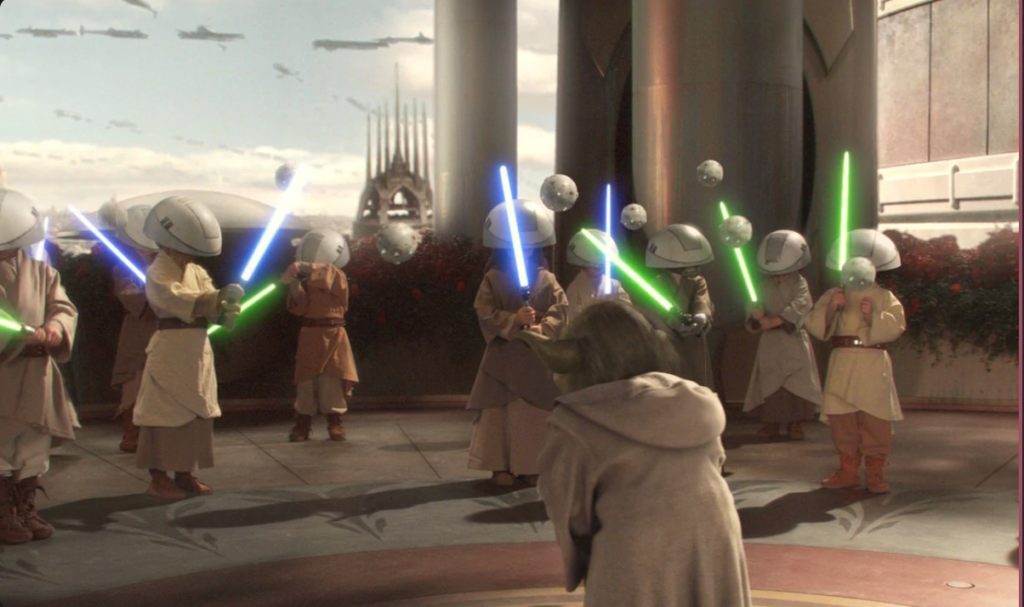 I mean, Come. On. Anyone who has kids knows that within about ten seconds, everyone in that class would be cut in half. Try lining up kids that age just for a class picture and you'll get at least half pointed in random directions. Now imagine them pointed in random directions, twirling around, sticking digits in orifices, etc. with a lightsaber.
But look at the image again. It's just a casual one-off shot midway through Attack of the Clones. And yet, Lucas' composition is as perfect as ever. Yoda off-center in the foreground, the Younglings in the middle, the frantic Coruscant traffic in the background. That shot tells a story. That shot contains everything you need to know about what's happening. It obviates the need for some crappy "Hey, Big Y, wassup?" "Nothing, Kenobs, just training these young Jedi to use lightsabers!" dialogue.
And in Empire, the unwieldy, absurdly dangerous, massively impractical ultra-short range lightsabers give us images like this: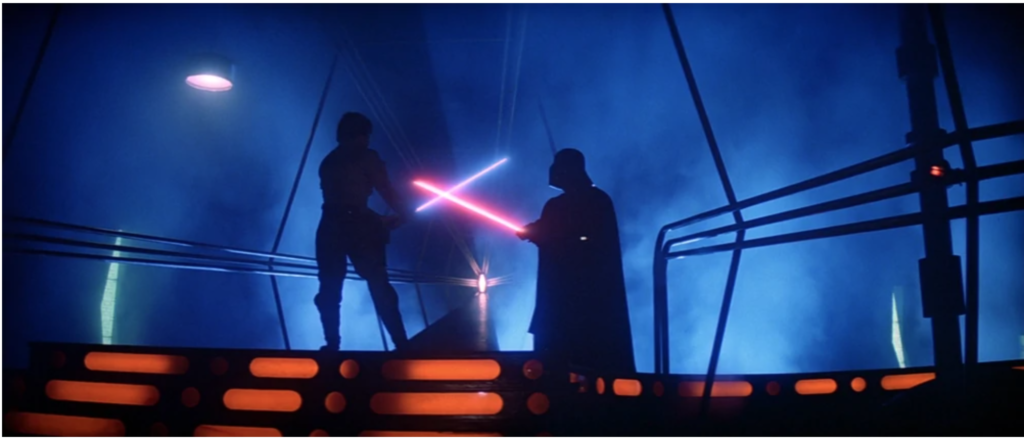 And you'll find equally magnificent shots in just about all the movies. Qui-gon and Kenobi vs. Maul. Yoda vs. Dooku. Anakin vs. Kenobi. Rey and Kylo vs. Snoke's guards. Every time we hear a lightsaber ignite, it sends a thrill down our collective spine. Because we know we're about to witness some beautiful film-making.
And that is a particular quality of the light saber. Edit that image to put guns or bazookas or even regular swords in their hands and it doesn't work. The light beam itself is the critical part of each shot, giving it a focal point. They immediately and irresistibly draw our attention. Note that in that shot, the crossed sabers are slightly off-center, meaning they are the subject. The color, the stance of the actors, the blue-orange-black setting, the steam…all of it is designed around those silly laser swords.
---
I am not ashamed of being a big fan of the franchise. I've liked almost everything they'd done and loved quite a bit of it. Loved the originals. Enjoyed the prequels. Liked the sequels. Liked most of the associated media and video games. But it has never been and never will be science fiction. It will always be something that leans heavily on fantasy and movie tropes and the familiar. It is always about making things look so wonderful and so amazing and so engrossing that the Rule of Cool applies: we suspend our disbelief.
The recent revival of Clone Wars and the unexpected delight of The Mandalorian are reminders of just how good Star Wars can be when it's on the right side of the rule. And Empire, looking as good as ever at age 40, is how good it can be when it does it perfectly.