Saturday Spins: The Traveling Wilburys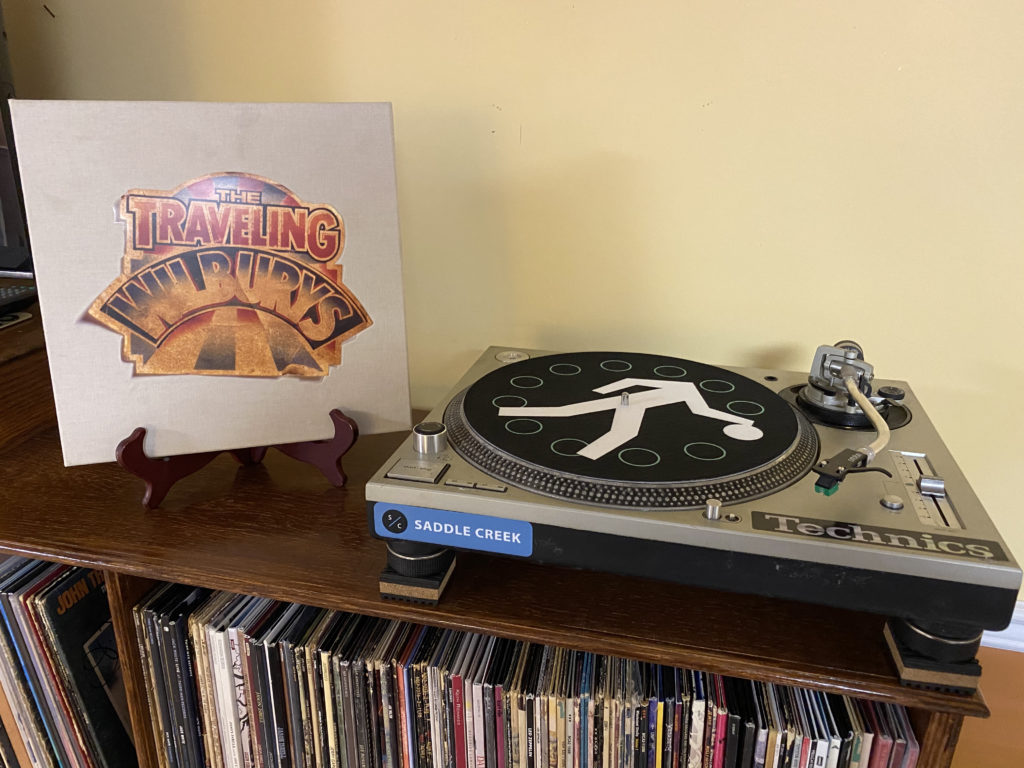 Last time on Saturday Spins, your hero covered the father of "Cosmic American Music." Well after a lengthy twitter discussion RE the monstrous talent that is Tom Petty, I got the brilliant idea to shelve the spin I had already queued up. Instead, I am going to be diving into the greatest supergroup ever formed. It is also the very first true box set from my collection that earned a Saturday Spin.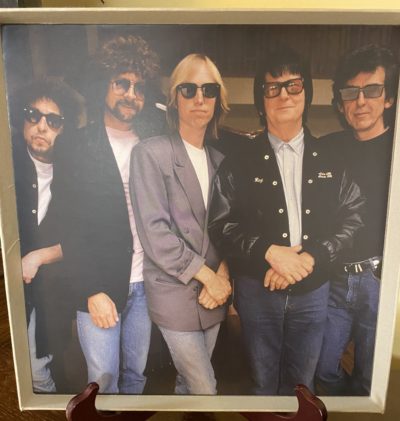 The Traveling Wilburys
The Traveling Wilburys Collection
2007
Digression on Supergroups
At first I thought to address the (my) definition or "supergroup" in a footnote, however, since I visited Wikipedia's page RE supergroups, I feel as though I must address the war crime that was committed there. To me a supergroup is a group of musicians from already very successful bands or solo projects.
So, when I visited Wikipedia's page and saw that they considered Led Zeppelin1 a supergroup, I about tossed my laptop out the window. I can't even reconcile their selection of Cream as the first supergroup. Although they fit the profile a lot more than Zeppelin. By their logic, The Quarrymen are a supergroup. Here are some examples of actual supergroups:
The Highwaymen
Audioslave
The Traveling Wilburys
Me First and the Gimme Gimmes
Velvet Revolver
Monsters of Folk
Chickenfoot
Black Country Communion
Hollywood Vampires
Notice a theme? Already famous and successful artists coming together to form a supergroup, not loosely affiliated session musicians or musicians from less successful first projects finally forming an awesome group.2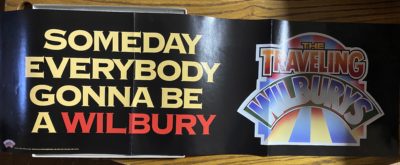 Commentary
For the uninitiated, the Traveling Wilburys were formed in 19883 by George Harrison (The Beatles) and Jeff Lynne (ELO) while they were tooling around in Harrison's obscene Malibu mansion. They decided to bring Roy Orbison in and Bob Dylan, since hey, they all lived in and around Malibu too. Finally, completing the puzzle was Tom Petty, who was at the absolute top of his game in 1988.
In order to keep up the shtick of traveling family of troubadours, the group came up with monikers, that changed of course, for everyone, including the session drummer.4 The Vol. 1 versions:
George Harrison-Nelson Wilbury
Jeff Lynne-Otis Wilbury
Roy Orbison-Lefty Wilbury
Tom Petty-Charlie T. Wilbury, Jr.
Bob Dylan-Lucky Wilbury
I came by this box set when I found it at a local record shop still sealed, and being the huge Dylan fan that I am, had to have it. Rather than search out original pressings of Vol. 1. and Vol. 3, I decided to just roll with this box set, which includes a bonus LP that serves as a sort of Vol. 2 that never happened.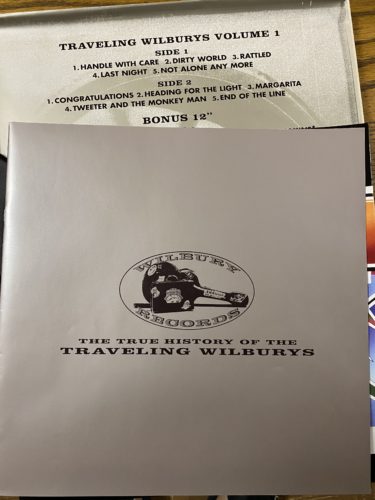 Also included with this box set is a 16-page booklet with some decent commentary. There was another collectors box that was on CD that came with a nicer booklet and was limited to 50,000 copies worldwide and included a certificate of authenticity. A DVD too! Along with the booklet, 3 LPs, and the poster (above), this box set came with a set of collectible postcards as well.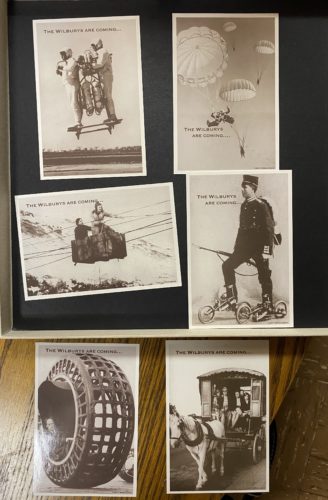 The Traveling Wilburys Vol. 1
The first Wilburys album burst onto the scene with an excellent first single, "Handle With Care" that showed the true powers of all of the bonafide rock stars involved. Jenny Lewis did an excellent cover featuring Conor Oberst and M. Ward.
I can't really think of any tracks to miss on this one, there is the rockabilly inspired "Rattled," the tour de force story of regret in "Last Night," and Roy Orbison's main contribution to this record, "Not Alone Anymore." I also am a huge fan of the driving and positive "Heading for the Light." finally, "Margarita" is a fun track that, again, shows off all of their talents.
One curious thing that this LP has spurred is the rumor that the song "Tweeter and the Monkey Man" inspired the plot to The Big Lebowski. There of course has been no confirmation from Bob Dylan or the Coen Brothers, someday maybe.
Sadly, Roy Orbison died tragically shortly after his career resuscitation, both solo and with the Wilburys. The single "End of the Line" from this album has an accompanying video that was filmed after his death, but features a guitar and photo of Orbison in a rocking chair during his parts of the chorus.
[youtube https://www.youtube.com/watch?v=UMVjToYOjbM]
Bonus LP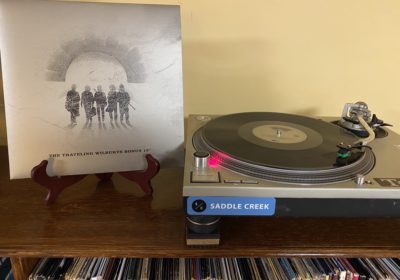 The bonus LP has seven songs, extended versions of "Handle With Care" and "End of the Line," but the real treats are the previously unreleased songs, "Maxine" and "Like a Ship." Both songs have credits to an "Ayrton Wilbury" for guitar and backing vocals that were overdubbed onto those tracks in 2007. Ayrton Wilbury is none other than Dhani Harrison, George's talented doppelganger son.
The Traveling Wilburys Vol. 3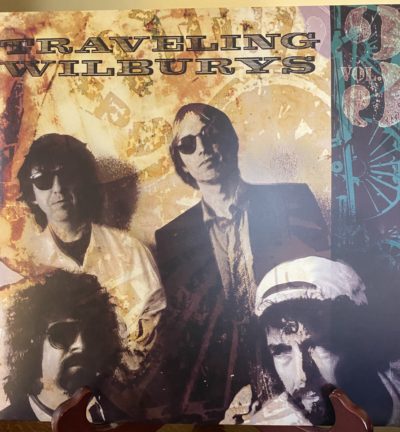 In true enigmatic fashion, the Wilburys named their second record Vol. 3, as if the number 2 didn't exist. The Wilbury family all decided to change their names after losing Lefty.
George Harrison-Spike Wilbury
Jeff Lynne-Clayton Wilbury
Tom Petty-Muddy Wilbury
Bob Dylan-Boo Wilbury
The second effort was not as universally popular as the first album, but still has brilliant songwriting. One of the more popular tracks is the "Wilbury Twist." I was never a huge fan of it, but it is still pretty good. It also features a shit ton of celebrity cameos in the video. My favorite track is "Inside Out." I am also a huge fan of "Cool Dry Place" and the ode to divorce, "Poor House."
"New Blue Moon" and "Where Were You Last Night?" are a couple of other great songs rounding out the second (or third?) album. There are bootleg versions of a Vol. 2 out there, unofficially. Most of the polished tracks ended up on the bonus LP above.
Fun Facts!
Only two members of the Traveling Wilburys are still living, and actively touring! Bob Dylan and Jeff Lynne. Despite their success, the band never went on tour since all of the members still had their own active solo careers.