100 Favorite Films To Recommend Part 4: The 1950s
I continue my recommendation of every film that happens to be my favorite of its release year with ten more classics. With the 1920s, an era where the film industry became a favorite pasttime for Americans, I noticed my favorite movies from then tended to be morality tales. With the 1930s, an era where the film industry thrived and started to become a part of the culture itself, I noticed my favorite movies from then tended to be horror classics. With the 1940s, an era in which Hollywood wanted to help with the war effort, I noticed my favorite movies from then tended to be feel good stories. And now with the 1950s, an era in which Hollywood's golden age began to slowly fade away and television began to enter American lives, it seems my favorite movies from this decade tend to be human dramas.
This list of films include two Akira Kurosawa films that happen to be in the debate of greatest films ever made, three Walt Disney classics including my favorite Disney film of all time, one of the greatest westerns of all time, a musical that birthed a fifties icon, a romance without the glamour that ended up a Best Picture winner, an epic retelling of a story already covered in this series, and a film adaptation of Tennessee Williams' personal favorite work of his.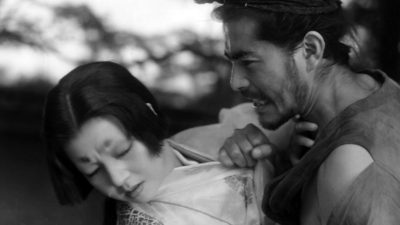 1950: "Rashomon"; AKA: "Rashōmon"
A few years back I was in a private Twitter chat debating with others what is the best film ever made, one acquaintance kept bringing up Rashomon, one of the Kurosawa films I hadn't had the pleasure of seeing for myself. After he kept bringing this film up in conversations of best films and favorite films I had to finally see it for myself and so I did — and boy am I glad I gave it a try. 1950 in my opinion was a good year for Hollywood with such classics as All About Eve, Sunset Boulevard, or Disney's Cinderella all being among some of the standouts when I think of the year's lineup. However, my recommendation is this Japanese classic adapted from a short story — a physiological thriller told through the perspective of characters ranging from a bandit, a woodcutter, a wronged woman, and even a medium channeling a departed spirit. Rashomon is a movie that was released in the states a year after its original release, and received such acclaim the Academy Awards felt it necessary to give it a special prize for foreign film back when the price was handed out instead of voted on against other nominees. This movie didn't just inspire other stories that used perspective to keep the audience guessing as to who told what truth, but it is arguably Kurosawa's first great masterpiece in a career filled with them.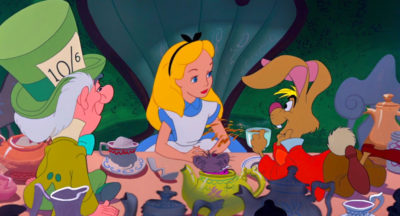 1951: "Alice In Wonderland"
After Dumbo had saved his company from more flops at the box office, Walt Disney found himself doing propaganda films for both the U.S and Latin America, forcing him to create feature length films that were presented as anthologies. He finally got the chance to return to a proper story with Cinderella in 1950, a film that was one of the year's biggest box office successes. He followed that up the next year with my favorite film from this year, Alice In Wonderland — a film that lost them money at the box office. What makes this movie feel different than a lot of Disney's classics is its daring nature to be almost psychedelic in its presentation and push boundaries for its animation visuals, making it a favorite with hippies and teens smoking a certain plant when the film was re-released in the seventies to more acclaim and financial success.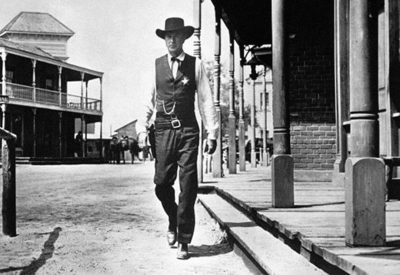 1952: "High Noon"
Westerns can be some of the most formulaic of genres in cinema, but when one is treated with care you can make astounding stories like High Noon. Though he can easily leave town with his new pacifist bride, a criminal with vengeance on his mind is coming to terrorize Marshall Will Kane's hometown and he's going to face him and his gang even as most of the town itself shows themselves to be cowards. It's one good man against a few bad ones. This film is considered by some film historians to have been robbed at the 1953 Academy Awards when it lost to The Greatest Show On Earth, one of the more controversial Best Picture winners.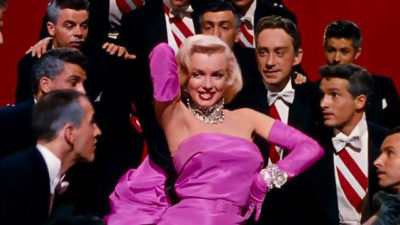 1953: "Gentlemen Prefer Blondes"
This isn't Marilyn Monroe's first film, in fact she had a small part in the Best Picture winning All About Eve before this one, but it is arguably the one that launched her into becoming the iconic sex symbol of the fifties. Alongside Jane Russell, this comedic musical adapted from a Broadway show about high jinks on a cruise has one of Hollywood's greatest and possibly most famous musical numbers in "Diamonds Are a Girl's Best Friend" as sung by Marilyn Manson (Actually Marni Nixon's voice was dubbed over hers), which has been re-created for half a century later across other films including the recent Birds Of Prey film released just this year. This is a year that included big cult favorites for me in House Of Wax and The Beast From 20,000 Fathoms, but ultimately I have to admit this was my favorite from this year.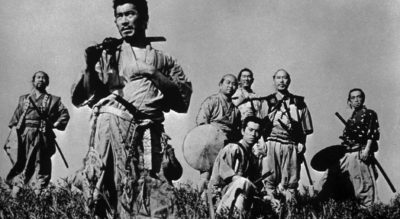 1954: "Seven Samurai"; AKA: "Shichinin No Samurai"
In my opinion 1954 is probably the closest Hollywood has come to replicating 1939 with films such as Rear Window, On The Waterfront, The Caine Mutiny, White Christmas, Them!, among others but it is also one of the most important years in Japanese cinema with the release of a certain film about a giant city destroying lizard that launched my all-time favorite movie franchise into existence and the second Kurosawa film to make this list that happens to be my pick for my favorite non-English speaking film. Seven Samurai, about seven warriors hired by a village to take down a gang of bandits who are terrorizing them and planning to steal their crops, is the only film that could challenge Rashomon for the title of the best Kurosawa film. It is an epic tale that has inspired everything from shounen anime to western genre remakes, even being retold as a Pixar film in A Bug's Life. But none of those retellings can come close to touching the original masterpiece.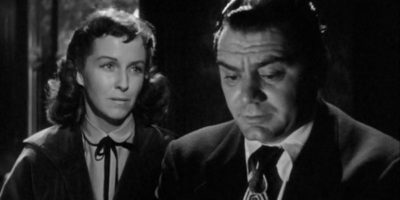 1955: "Marty" (Won The Oscar For Best Picture)
Before Parasite pulled off one of the most improbable Best Picture winning runs in cinema history, this was the last Cannes Film Festival top film award winner to win the Academy Award for Best Picture as well. What makes Marty stand out as a romance, on top of the great award winning performances by its cast, is that this isn't a typical Hollywood film about a beautiful woman and a handsome man falling in love in some over-scripted melodrama. This is about a regular guy and a regular gal, with regular people problems, in a regular world, finding love with one another to make life just a little more better for themselves.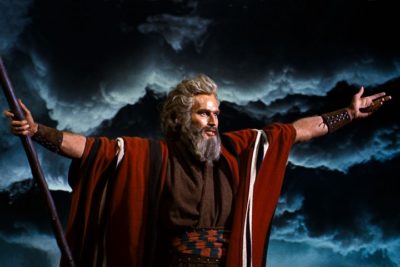 1956: "The Ten Commandments"
My choice for my 1923 favorite film was the original DeMille production of The Ten Commandments and for 1956, in a year with a good slate of films, I have to pick its epically long remake. With Charleston Heston as the lead role, this remains the definitive choice for the best adaptation in film of the Exodus story. Unlike the 1923 original, this time the movie skips with the moral modern tale and stays with the biblical story, and expands it so that we not only watch Moses' journey but also get more on the other supporting players. The movie also boasts of an incredible spectacle in the scene in which the red sea is parted, I always get a kick out of many not realizing that the horror icon Vincent Price is actually in this movie as Baka, a lecherous Egyptian, but he doesn't sport his infamous mustache. Ironically this movie losing to Around The World In 80 Days for Best Picture is considered a big Oscar mistake but four years before it was DeMille's other film, The Greatest Show On Earth, that upset the film many saw as the superior one.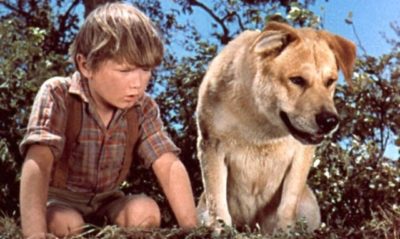 1957: "Old Yeller"
Back in the late fifties as he was launching his theme park, Walt Disney started to become more interested in producing more live action films as animation started to take more of a backseat and begin a dark age for Disney's animation studio. But out of those live action projects came Old Yeller, adapted from an award winning book, this is admittedly a pretty standard boy and his dog movie accompanied with the familiar sad ending for the pet. But the film holds a place in my heart, having seen it various times as a kid back when the Disney channel would play these classics. Plus I have to admit that 1957 is the year on this list that has the least amount of films I've gotten to watch.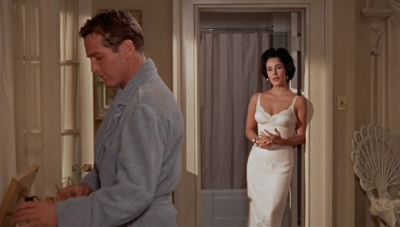 1958: "Cat On A Hot Tin Roof"
I'm probably going to get roasted for this but I'm not that big of a fan of Tennessee Williams' works and yet I fell in love with Cat On A Hot Tin Roof as soon as I watched this film adaptation of the play and then read the source material afterwards. Supposedly the play is Williams' personal favorite and I can see why. Maybe it's because I'm a sucker for good dialogue but the movie's characters and the candid conversations between them always suck me into the story. Plus Elizabeth Taylor is at perhaps the height of her career here with a great performance and looking good while doing it.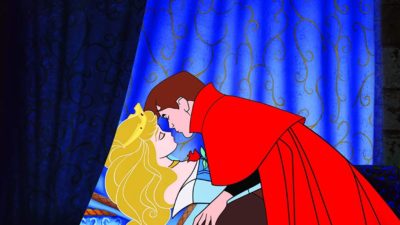 1959: "Sleeping Beauty"
I make no apologies for considering Sleeping Beauty my favorite of Disney's feature length animated lineup. A movie that has come under attack by some as being out of date and too traditional compared to today's Disney offerings, not to mention a quasi-remake I refuse to acknowledge, this may be the most beautifully animated of all Disney films. Every single scene could serve as a painting and it almost looks like it is out of place as a 1950's film with it's incredible quality in picture, even before you account for digital restorations. Not to mention characters like the lovable fairy godmothers, the adventurous prince Phillip and his humorous father, and of course Maleficent who for my money is the best of all the Disney villains. The film's final climactic battle is among the best in cinema with a transformation scene that has inspired other creators across the globe. The movie took such care and time to make that many don't consider the fact that Disneyland's Sleeping Beauty Castle was presented four years before the actual movie came out.
And that caps off all my favorite films from each year from the 1950s. I hope that I've given you some new favorites to discover among these and look forward to any replies of others' favorites from the 1950s.
Next up: Hollywood starts to go big to combat television in one final dying gasp for the golden age – the 1960s.