Weekend Plans Post: Stir Crazy
I am one of those guys who works in a place where I have about 8 or 9 people I might be referring to when I talk about my boss.
This alternates, sometimes. I've been places where I had my boss and then I had the owner of the company… but then I get transferred to another team where they need a jack-of-all-trades to help the network guys have a conversation with the integrators or have the engineers sit down and really talk with the security guys and, next thing you know, I have 5 people mention that they need somewhere between 4-6 hours of my time every week and, jeez, they report to different managers and… well, I'm currently in one of those places where I have 8 or 9 bosses now.
Amusingly, two of my bosses are married to each other. While doing some research for one of them, he mentioned that he struck out the last time that he went shopping and couldn't find any Hamburger Helper. While working on Excel worksheets for the other, I made a joke about getting a bottle of wine delivered and she made a comment about running out the weekend before.
Well, we had delivery earlier in the day and I got 4 pounds of ground beef in it (in one-pound packs, frozen solid) and my booze delivery from the booze store included 4 bottles of wine to get me well into May. I thunk and thunk and thunk and realized that, jeez, I haven't been out and about for a good long while.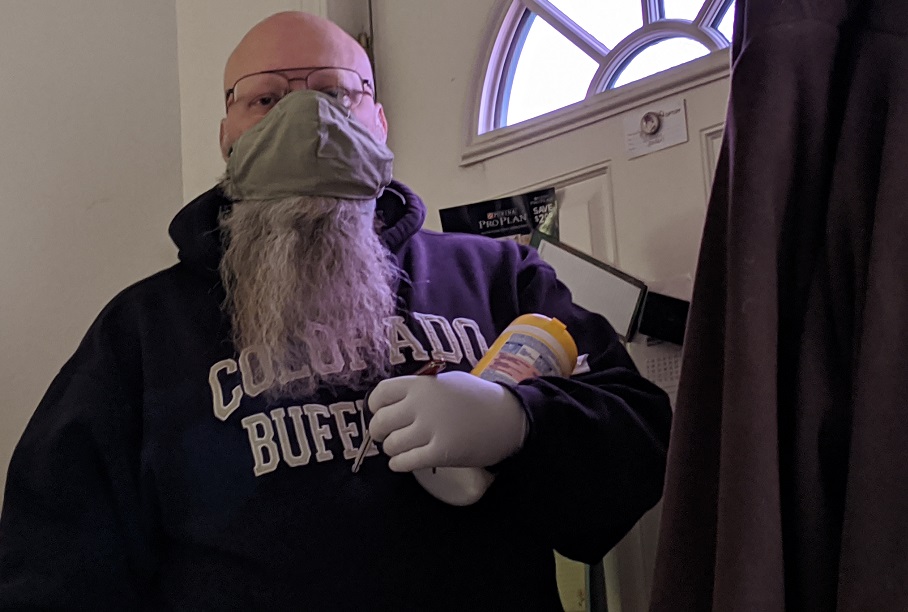 So I packed up a pound of beef, a box of Hamburger Helper, and a bottle of wine and got in the car and drove to their house. They live about 35 minutes away and it was a lovely drive. Seriously, I drove more on that trip than I had in the month prior. Rolled down the window and had my arm on the sill. I checked out various stuff like gas prices (Cheap!) and the various darkened storefronts as I went about. Got to their house, put the stuff on their porch, got back in the car and drove home. I got on the google chats and texted them both "Dudes: Check your porch."
And a good time was had by all.
That's pretty much the only interesting thing that happened to me in the last week. Everything else was a Xerox copy.
This weekend will be a Xerox copy as well, but we'll do some fun stuff like get together with the gaming group or make some Hamburger Helper of my own and, tomorrow, we've got a delivery scheduled. If they manage to get me my fresh basil and thyme, I'll make myself another crock pot full of spaghetti sauce.
And look forward to next week because one of the things we hammered out in a meeting today is that I'll have to go into the building at work and have a mask-to-mask conversation with some of the Change Management people that the other folks on my new team need me to talk to.
It'll be nice to drive.
So… what's on your docket?
(Featured image is the author, fixing to go for a drive. Photo taken by Maribou.)