The Ballad of Gregory Rigano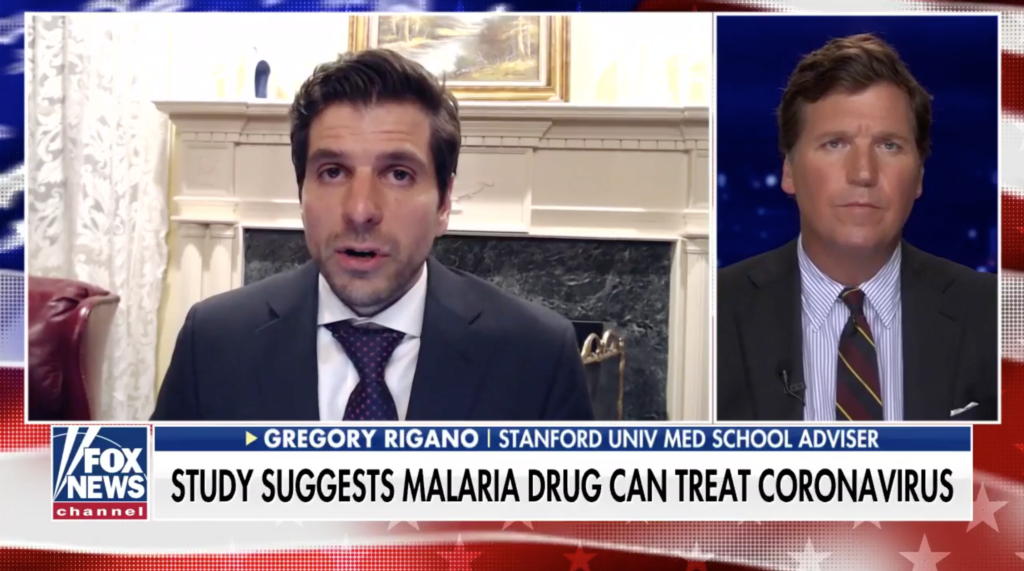 On March 19th, in the early stages of the drastic efforts being taken at federal and state levels to mitigate the damage of a global pandemic, President Donald Trump delivered the good news about the anti-malaria drug hydroxychloroquine to the people of America.
"It's a game changer," he declared in a press conference at the James Brady Briefing Room. "It's shown very encouraging — very, very encouraging early results.  And we're going to be able to make that drug available almost immediately.  And that's where the FDA has been so great.  They — they've gone through the approval process; it's been approved.  And they did it — they took it down from many, many months to immediate.  So we're going to be able to make that drug available by prescription or states."
As he sang hydroxychloroquine's praises, Trump also preemptively downplayed any concerns about approving a drug for new treatments without testing. "The nice part" he said, "is it's been around for a long time, so we know that if [sic] things don't go as planned, it's not going to kill anybody."
As we all now know, of course, people can be killed by hydroxychloroquine. For one thing, it works by lowering your body's immune system responses, making you more susceptible to other types of infections and diseases. Hydroxychloroquine can also cause cardiotoxicity, a condition which can create a fatal cardiac episode for the person taking it. And though this all may be relatively new information to us, it's certainly not news to the medical community, who have known about these dangers for years.
As we also now know, a study funded by the University of Virginia and NIH released this week showed patients with COVID-19 had no benefit from hydroxychloroquine therapy. Indeed, patients who were given a treatment of hydroxychloroquine died at a higher rate than those who were not. It should be noted that this study, while the largest done on the effects of the anti-malaria drug on COVID-19 so far, is relatively small, and its authors conclude that further clinical trials are still needed. Still, the study is not exactly a ringing endorsement of a "game changer" that is "not going to kill anybody."
It seems worth asking, then, why it is that the President of the United States thought that hydroxychloroquine was such a miracle cure, or why he was so sure it would have no adverse effects on patients that he encouraged its use without any clinical testing whatsoever. 
Seriously, where did the President of the United States ever get such an idea? 
                *
On March 18th, the night before Trump made his pitch to doctors and the public to embrace an untested anti-malaria drug to combat the coronavirus, Fox News's Tucker Carlson interviewed Gregory Rigano about the research Rigano had done in conjunction with Stanford University on hydroxychloroquine.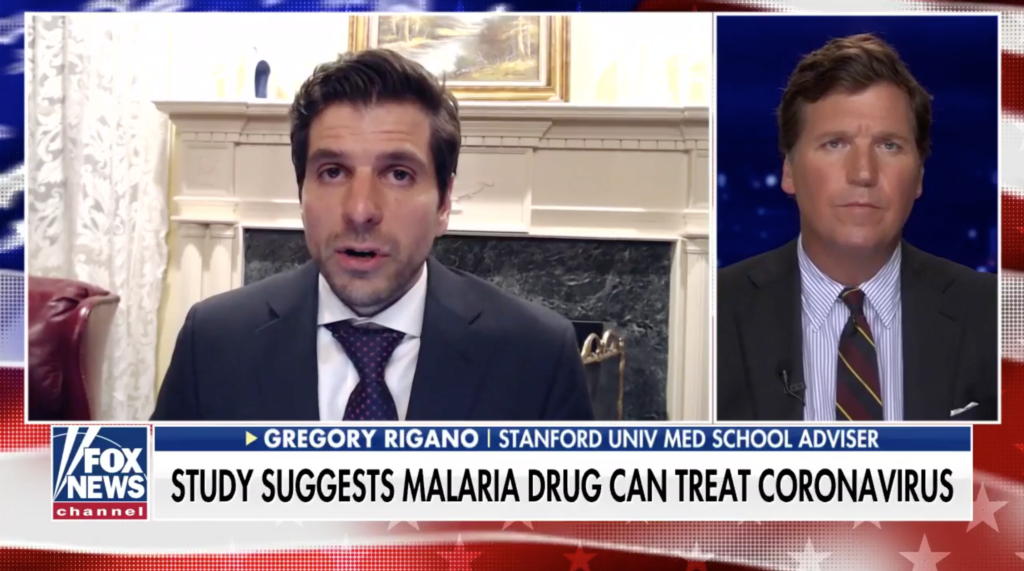 Rigano was clearly not used to being on camera, and it showed. However, for those watching, it was hard not to take him seriously. His resume, after all, was insanely impressive. In addition to his work with Stanford with the hydroxychloroquine study, Rigano was an advisor to their medical school's research team. He was also the CEO of Jonas Research, the University of Colorado's well-respected photovoltaics research group. He had a degree from SUNY in biochemistry, one from both Binghampton University and Universitat Autonomo de Barcelona in Global Finance, and a JD from Hofstra's Maurice A. Deane Law School. And his hydroxychloroquine research team seemed no less impressive — "the most eminent infectious disease specialists in the world," as he put it.
That morning at 5:00 am, Rigano announced, his team released a report showing that hydroxychloroquine was a cure for the coronavirus, one that boasted an astonishing 100% cure rate. He also put that law degree to some use, declaring that "the president has the authority to authorize the use of hydroxychloroquine immediately" without any further testing.
"I only know what you're telling me," replied Carlson prophetically, adding that "it's our job to be skeptical… However, I very much want to believe this. The federal government needs to track down if this is true."
"I'm so grateful," Carlson added, "that you announced that on this show."
     *       *       *
The idea of using hydroxychloroquine as a treatment for COVID-19 is not an altogether outlandish one. The symptoms for malaria are, after all, not that different from the symptoms you get from a coronavirus. And hydroxychloroquine is used as a therapy treatment rather than a cure for the maladies for which it is prescribed, which also include lyme disease, rheumatism, and lupus. It was, in fact, one of the first treatments doctors in China used at the outset of their own outbreak, though it was quickly abandoned after a lack of results there.
Didier Raoult, a doctor in France, had the same thought the Chinese did. He believed his results were more promising, however, and on February 25th posted a video on Facebook encouraging the use of the anti-malaria drug. Raoult went on to attempt to publish his findings but had a hard time finding a reputable publisher, as his tests were not double blind, had no control group, and seemed to downplay the risks of adverse cardiac events the drug caused in some patients. Some doctors in Nigeria made similar claims and received similar criticisms as Raoult, but for the most part the idea of a hydroxychloroquine treatment for COVID-19 was considered a fringe idea, outside the thinking of the general public and elected officials alike.
The first time the thought of a hydroxychloroquine treatment really entered the general public's conversation was March 16th, when famed billionaire and oddball Elon Musk tweeted his support for the idea. Musk linked an early draft of what appeared to be a study done in conjunction with Stanford Medical School that was inexplicably published on Google Docs. One of the listed authors of that study was Gregory Rigano, who, as a result of the attention from Musk, found himself on Tucker Carlson's show just two days later to discuss his findings.
That interview appears to be the genesis of our country's brief official foray into hydroxychloroquine. As has been widely reported, the President gets most of his news from television, and most of that is from Fox News. And on a day when Trump was looking for good news — any good news — to share with a nation racked with anxiety, Fox delivered in spades.
The president's statements the next day mirrored completely everything Rigano had said on Carlson's show: the fantastic results of the drug, the no-risk prospect of zero negative side effects, and his legal authority to demand wide-spread use without any testing whatsoever. Indeed, the only part of the interview that did not make it into the president's comments was the part where Carlson — who seemed clearly unsure about the person he was interviewing after the interview was underway — said that "the federal government needs to track down if this is true." Which is too bad, because the federal government really should have tracked down whether any of it was true or not.
Because as it turns out, Gregory Rigano was not at all who he claimed to be.
     *       *       *
In retrospect, there were probably scores of reasons to question Rigano and his findings.
For one, he's clearly pretty young, which makes the number of degrees he's racked up seem somewhat unlikely. Then there is the fact that his degrees themselves seem oddly scattershot: biochemistry, medical research, international finance, law, and photovoltaics suggest a series of weird career changes, to stay the least. Then there is the fact that he seemed to list his official role at a state university research team as Chief Executive Officer, or for that matter, that he seemed to think that said team's specialty — photovoltaics, the study of the production of electric current at the junction of two substances — was in any way related to epidemiology.
Also, he seems to always refer to himself as Gregory Rigano, Esquire. Which, I mean. Come on.
As it turns out, Rigano is in no way associated with Stanford University, and Stanford's Medical School says that despite Rigano's claims to the contrary, it had nothing to do with his so-called study. All of the other authors listed are indeed real researchers — but, like Stanford, they all claim to know nothing about Rigano or his study.
Rigano also appears to have nothing to do with Jonas Research, which, not surprisingly, does not have a CEO position. He does not appear to have degrees from any of the institutions he claims, nor does he appear to have been the founder of any of the various actual existing student organizations he claims to have founded on his LinkedIn page. To be clear: he might well have those degrees and be the founders for those organizations. But other than his LinkedIn page, there is a dearth of google-able records verifying or even referencing any of it.
As near as anyone can tell, before the coronavirus came along Rigano spent his time claiming to be a crypto currency expert to the stars, making the nebulously confusing claim to having provided "counsel to over $1 billion transaction volume at global scale." Which maybe he did, maybe he didn't. Rigano's entire resume appears to be a list of incredible achievements that are either 100% provably bulls**t, or things you'll just have to take on faith. In fact, as best I can tell, there is only one thing you can say with absolute certainty about Gregory Rigano's career accomplishments:
He was patient zero in both the White House's and the right-wing media's weeks-long political push to use an untested, potentially unsafe drug without any kind of testing or research whatsoever. 
     *       *       *
The story of hydroxychloroquine as a possible treatment for COVID-19 is still being written. It seems certain now that the claims of it being a "game changing" miracle cure with zero negative side effects will not be borne out, but it may yet prove to be useful for some patients in some circumstances. It will be months, or years, or possibly even never before we know for sure, because unfortunately that's how stuff like this works. 
But that doesn't mean there aren't still lessons to be learned from hydroxychloroquine. And the biggest lesson by far is who to trust, and who not to trust, in this time of change and strife.
Epidemiologists, like Dr. Fauci, were pretty upfront from the start that it was way too soon to know any of what was being reported to be "proven." It wasn't the news we wanted to hear, but it ended up being both correct and prudent. If anything, I would argue their lack of telling us what we wanted to hear should make us want to listen to them more carefully in the future. Others, of course, we should learn to listen to less.
That Carlson interview? It's still up on their website, with no corrections or updates. At least as of today, it's still being shared by people I know on Facebook as proof that Dr. Fauci is lying to us for some unknown nefarious reason.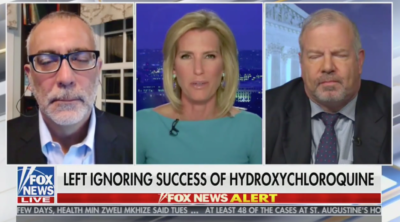 Laura Ingraham actually had Rigano on her show two days prior to Carlson. But no one at Fox News, in the time between those two appearances, bothered to do any fact checking about Rigano or his claims at all. Ingraham even famously made a very public trip to the White House to demand the president make hydroxychloroquine treatment the medicinal law of the land. The day after he appeared on Carlson's show, Fox Business's Stuart Varney not only featured Rigano, he claimed that Rigano was a doctor – one of the few things Rigano himself has never claimed to be but which, presumably, Varney thought would add some gravitas.
And on the subject of doctors, we should all remember that despite actual epidemiologists encouraging caution about hydroxychloroquine as a miracle cure, almost every so-called "doctor" with a TV show or talk radio show — Dr. Oz, Dr. Phil, Dr. Drew, Dr. Laura — pushed it hard, and used the fact that they used "Dr." as part of their stage name as reason to take them more seriously than the epidemiologists. Same with pretty much every other conservative talk show host that didn't have the word "Dr" in their stage name.
And finally, of course, there is the president himself, who let himself get flimflammed the way he seemingly always does: by assuming someone whose only skill is self-promotion knows more about complex topics than do the people who actually study s**t. Rudy, Cohen, Manafort, Pirro, McEnany, Hannity, Diamond & Silk, Alex Jones, Stone, the Labradoodle guy, Lawrence Van Dyke, The Mooch. Trump clearly has a soft spot for those who have no real interest in brushing up on anything past their own self-promotion.
Really, Gregory Rigano is no different from any of those other clown-show grifters. But at the end of the day, he may end up being the one with the biggest body count.
As I said, the story of hydroxychloroquine is still being written.