COVID-19: A New Black Plague?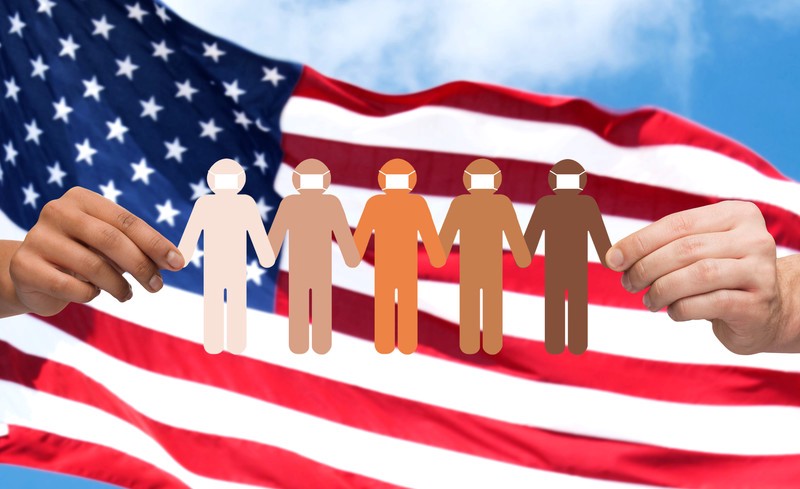 In 1996 when I was 27, I developed pneumonia. As I said in an earlier story, I was having trouble breathing so I decided to go to the closest hospital to me, which was a public hospital in downtown Minneapolis. The emergency room doctor took x rays and decided that I had pneumonia. It was at this point that things got weird. The doctor gave me a 5-day supply of antibiotics. This was odd; I was never given a 5-day supply of antibiotics. I usually had a 10-day treatment for sinus infections, so being given a 5-day treatment made no sense. Obviously, prescription didn't work, I ended up getting worse. Long story short, I did get better over time. But I've always wondered: did race had anything to do with how I was treated? I'm African American, the doctor was white. I can't prove anything and it is as likely that it wasn't about race than it was about race.
Does race ever factor in health care? That question has come to fore during the COVID-19 pandemic. In places like my home state of Michigan, which is being ravaged by the coronavirus, a higher amount of people infected with COVID-19 are African American. Michigan has a population, close to 10 million and about 14% of the population is African American. However, African Americans make up 40% of coronavirus cases.
Many people are wondering why that figure for African Americans is so high. Is race a factor? There are those who say yes, but there are others who think race has nothing to do with it and it is even absurd to even talk about race. Kmele Foster from the Fifth Column podcast and writer Coleman Hughes strongly believe race is not a factor. Writing in Quillete, Hughes believes there are other factors that are to blame, with race being used as a proxy:
Blacks are more likely to work in the service sector, for instance, which means they have more opportunities to contract the virus. Moreover, blacks are more likely to suffer from diabetes, asthma, obesity, and hypertension, all of which make the virus more deadly. Moreover, black Americans are less likely to have access to high-quality health care and are more likely to live in areas that are served by over-burdened hospitals and emergency response services.

But if we are going to discuss underlying risk factors, we should discuss them directly rather than immediately using race as a proxy.
Foster is perplexed why people are focusing on the phenotype of a person which is rather pointless.
Before we go any farther, you should know that when it comes to talking about race in America, my views can be closer to Foster and Hughes' views. I tend to believe the end goal for America is to become a society that is colorblind, something that is an anathema to more progressive views on race. Thinkers like Ibram X. Kendi or Ta-Nehisi Coates who tend to see America as irredeemably racist and nurse grievances instead of solving problems. But to get to a colorblind society, you have to deal with race and where it still makes an impact on American life and find solutions to solve it. In short, to get beyond race, you have to deal with race.
I agree with Foster that's it is absurd to judge someone on phenotype. But Foster forgets that Americans have been doing that until very recently. Up until 50 years ago we had actual laws in the United States that were based on the color of someone's skin. My father grew up in Jim Crow Louisiana and I've heard stories from him about the segregated South. My mother tells the story in 1968 of her first trip South to visit relatives just after they married. She had a medical problem and needed to see a doctor, so she went to a local doctor. Mom tells me she had to go into a different entrance to a different waiting room. The room for whites was very nice and the waiting room for "colored" people…wasn't. .Just because it is a silly thing to judge people on the color of their skin doesn't mean that it doesn't exist and that there aren't issues.
None of this means that America is this terrible, racist place that is beyond hope. That said, we have to acknowledge that the history of this nation includes racial discrimination. And, that history of discrimination didn't just end because of the civil rights movement. So knowing all of this, we have to ask why the people who are getting sick and dying from COVID-19 tend to have my color of skin.
Of course, you don't have to focus on race at all. But an odd thing happens when people say race isn't a factor in modern American life. When you don't focus on groups, you start to focus on the person (though in reality, it becomes a focus on groups, just under their terms). So what is common among African Americans? There are higher rates of diabetes and obesity, which are two of a number of preexisting conditions that can make COVID-19 lethal. When we talk about diabetes and obesity, we also tend to focus on the person and their habits. It becomes what a person did wrong, eating too much bad food or not exercising enough. This was summed up in a National Review article on the coronavirus and race:
Ten years ago, when it was found that 10 percent of food stamps were being spent on sugary soda, many politicians, including Mayor Bloomberg, recommended food-stamp use restrictions. Michelle Obama refused to support these restrictions and instead promoted adjustments to the food-stamp program that gave discounts for purchasing fresh vegetables and fruits. The Times reported on a research study that compared whether banning sugary drinks or incentivizing fruits and vegetables would be more effective in combating obesity rates. The researchers found that the incentive program would not. By contrast, banning sugary drinks, they said, "would be expected to significantly reduce obesity prevalence and Type 2 diabetes incidence, particularly among ages 18 to 65 and some racial and ethnic minorities." Yet now, when Surgeon General Jerome Adams suggests consumption adjustments should be part of the response, he is condemned for raising issues of personal responsibility.
Now, my husband who is of sturdy Scandanavian stock also has diabetes. I would have to wager that people aren't going to fault him for having diabetes.
None of this is to say that personal responsibility has no role here. But the space between personal responsibility and societal responsibility is a spectrum, not a binary choice. I don't think the Surgeon General was being racist in chiding African Americans to not smoke. It was personal for him. However, saying that to African Americans and not white Americans can look one-sided.
It's also important to note that not all African Americans are on the same page. For example, I grew up with asthma. But I grew up with two parents who had good jobs and excellent health insurance which meant I had good health care that kept my asthma in check. But that's not everyone's story. Poorer African Americans don't always have health care and asthma can go either untreated or underrated. In our COVID world having asthma, especially if it isn't properly treated puts people at risk of this horrible disease.
We don't live in a colorblind world yet, so we can't ignore the health outcomes of African Americans. Jim Crow ended long ago, but that doesn't mean the legacies are not still being felt today.
In our day, there are no segregated hospitals or men walking around in white hoods. But there are actions that while not intentionally racist, could create an outcome that creates disparities.
Since I'm a Michigan native, I've been looking with interest how COVID-19 is affecting the Great Lake State. They are getting hit hard. At the time of this writing, there are over 31,000 cases in Michigan with just short of 2400 deaths. The hardest hit is Southeastern Michigan, the Detroit Area. Detroit is the city with the largest amount of African Americans. There are two stories that while on the surface are not blatantly racist, but might have had that outcome.
First off, is a story in the Detroit Free Press. Keith Grambell grieves the passing of his father and grandfather. He tells the story of how they went to three hospitals in Detroit because his father Gary was coughing and had trouble breathing. Three times Gary went to emergency and three times he was sent home being told he had bronchitis. Keith notes his father died on his recliner at home. When his mother Cheryl started having symptoms again they went to the emergency room. He tells the story of how his mother was treated as opposed to a white patient who came in:
Keith drove her to Beaumont Hospital, Grosse Pointe, the night of April 7 — just hours after her husband's body was taken to the funeral home.

"Before they even looked at my mother, there was a young Caucasian lady complaining about sushi she got from GrubHub that upset her stomach, and they swooped her in the back like she had coronavirus," Keith said.

"But my mom, she had all the symptoms, and they tell her just go home. That makes no sense. … They helped a girl who ate bad seafood over someone with all the signs of needing medical need help.

"I felt like they sent my mother home to die."
Luckily, Keith was able to get her into Henry Ford Hospital in Detroit. She was placed on a ventilator, but got better and is now recuperating at home.
The second is from the Detroit News. Most people are aware of the tragic story of Jason Hargrove, a bus driver in Detroit. A woman on his bus coughed on him without covering her mouth and he feared he would get COVID-19. We know that he died from the coronavirus, but what might be not known is the fact that he was taken to the hospital three times before he was admitted:
A day later, he was so sick that he asked her to take him to the hospital. Medical staff checked him out and sent him home with orders to quarantine himself and take cough syrup, Tylenol and blood pressure medicine.

"The fever started to just progressively get worse," said Desha Hargrove. "He started the coughing. The coughing was pretty bad. The cough syrup wasn't doing anything."

A few days later, Hargrove started experiencing "extreme chills" and his fingertips began to turn blue, said his wife, who took him back to the hospital. Again, medical personnel sent him back home after checking him out.

"They listened to his lungs. His temperature was 99," said Desha Hargrove. "They said they were no signs to them that required immediate attention as far as the oxygen to where his cuticles were blue."

At home, he began "rapidly" deteriorating, she said.

"He was just getting worse and worse," she said. "He was like lethargic. You could tell he was out of it. He was so miserable."

On March 29, Desha Hargrove said her husband told her to take him back to the hospital because he was not able to catch his breath or stop coughing.
"He said, 'I need some oxygen. I can't breathe. All I need is some oxygen,'" said Desha Hargrove, who dropped her husband off at the hospital.

It was the last time she saw him alive.
Again, nothing here is blatant. That said, why was Mr. Hargrove sent away twice?
Each case, including my own from the 90s by itself, is not proof of racism. But looking at the outcomes, you have to wonder what is going on and it is hard to say that it solely poverty since someone like Hargrove wasn't poor but working class.
I'm interested in trying to find a way to solve this issue instead of either ignoring it, explaining it away or using it as exhibit 200,987 of how racist America is. The pandemic has exposed how African Americans are treated by the health care system. So, how do we try to improve the health outcomes of African Americans? There isn't one easy answer and it isn't something that can easily be solved. The answer will come from the government and civil society.
I don't know if 20 years ago, I was being discriminated against. I can't prove it. We are not living in the bad old days of the 50s and 60s when racism was very clear. But I will always wonder why I got fewer antibiotics than usual. If this happened to me, I'm pretty sure something similar has happened to thousands and millions of other African Americans.
So let's stop with the fighting and investigate what is going on. If there is a problem, then let's find a way to solve it and improve health outcomes. We need to do this not simply for racial justice or payback, but because these are fellow Americans and they deserve to treated with respect.
May we long for the day when we don't judge anyone by the color of their skin. but truly by the content of their character.
---