100 Favorite Films To Recommend Part 3: The 1940s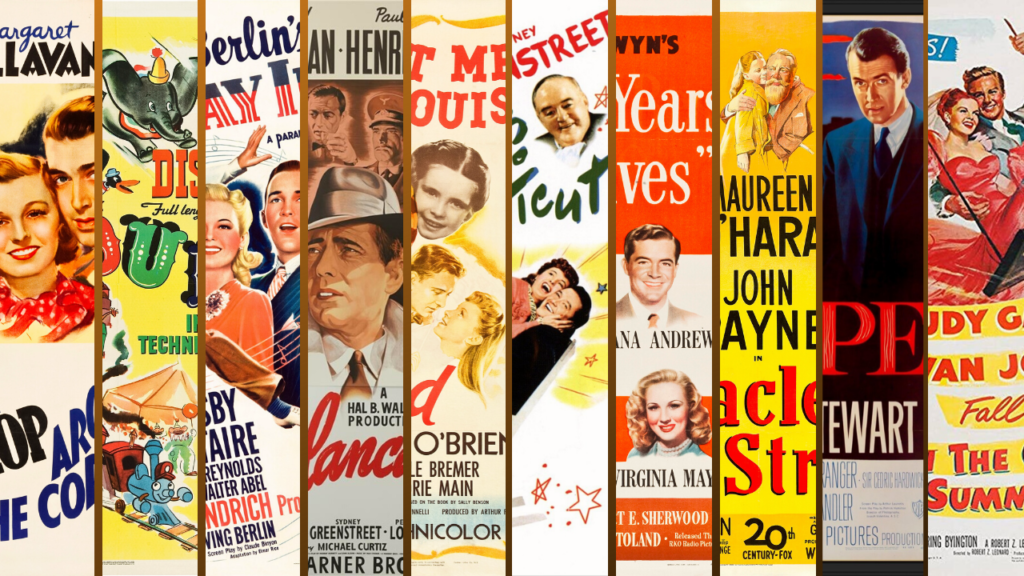 After looking back through the 1920s and the 1930s to pick out my favorite films from each year, i'm now looking at the 1940s. A decade in which Hollywood found itself joining the war effort in making what in some ways could be argued were basically propaganda films in favor of the allies, and those films were regarded as some of the most enduring of the decade by classic movie fans to this day. The post-war years were then marked by interesting insights into the effects war could have on soldiers as well as perhaps the peak of film noir. So after noticing a trend that in the twenties I tended to best like morality tales and in the thirties I tended to best like classic horror, I was expecting that I'd end up picking a lot of war films or film noir for the forties — and while I can pick a slate of those sort of films among my favorites of the decade, this is a list of my personal favorite from each year. Instead what I found is that films picked by me for this decade tended to be feel-good stories with musicals and Christmas stories involved.
This list includes my all-time favorite movie, a flying elephant befriended by a mouse, a holiday musical, perhaps the most famous movie of all-time, a colorful coming of age musical, a comedic Christmas mix-up, a film about life after war, a movie that has you questioning whether Santa is real, a Hitchcock thriller, and a musical re-make of another film on this list. Like the other two decades, two winners for Best Picture at the Oscars show up in this list.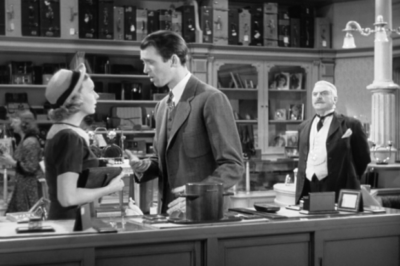 1940: "The Shop Around The Corner"
I'm not sure what more I can say about this masterpiece. I mean, I already wrote a whole article about this movie for this very platform just a few months back. Not only is this my all-time favorite film, but TCM legend Robert Osbourne referred to it as his personal favorite Christmas movie. A movie with a premise about quibbling co-workers who are unknowingly falling in love with each other through anonymous mail correspondence, and one that has been re-made multiple times since (A little more about that later on in this same list). This is a film purposely made for multiple viewings as character reactions in the background on second viewings will suddenly matter even more once you know the secrets everyone is hiding in this, and it pulls off something that can be very hard to do with any type of storytelling – making every story beat count and matter, right down to simple interactions between the characters.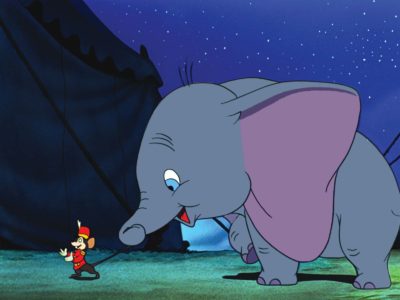 1941: "Dumbo"
It took a social outcast elephant with big ears to stop the streak of Jimmy Stewart classics, but this iconic Disney animated film about a mouse looking after a baby elephant who eventually realizes he can fly is my pick for my favorite film of 1941. Which in itself might be considered blasphemous by fellow cinephiles given that this is the same year that Citizen Kane came out, a film many regard as perhaps the greatest movie ever made. But this isn't a series about my picks for must-see movies, this is a series about my personal favorite movies from each individual year and Dumbo wins out in my heart. This is a movie that when pitched to Walt Disney he laughed the concept out of the room as he didn't see how a feature film could come from it — and yet after two of his animated films in Pinocchio and Fantasia both under-performed at the box office he took a gamble with this one. After making the film while dealing with a friendship shattering and almost company-crippling workers' strike, the film was a box office hit and helped Disney to bounce back after a string of bad luck. The film was supposedly Walt's personal favorite of his animated offerings and who could blame him given that it has comedy, a heart-breaking song in "Baby Mine" and one of the zaniest musical segments in Disney's entire library with "Pink Elephants On Parade". One final trivia piece for you, Timothy Q. Mouse is voiced by Edward Brophy who typically played gangster characters and actually played a background character in a film already mentioned in this series, Freaks.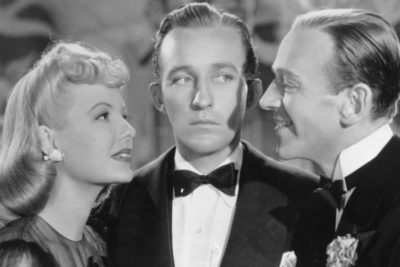 1942: "Holiday Inn"
Ever heard of the Christmas classic White Christmas? Well it was a very loose re-make of this film. But instead of ex-soldiers trying to stage a show for their former commander, this one takes place in an Inn devoted to celebrating the holidays and run by a former stage musician with a budding romance that finds himself at odds with his former partner trying to make it a love triangle. The comedy is right on the money and great songs that match every holiday on the calendar and come with great dance numbers — but what else do you expect from Bing Crosby and Fred Astaire? A warning to those sensitive to badly aged parts in movies though, there's a blackface routine in this that will make you cringe.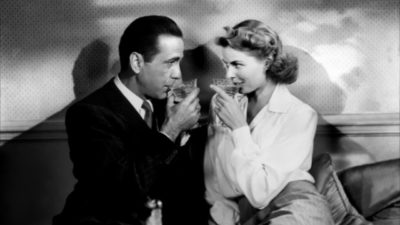 1943: "Casablanca" (Won The Oscar For Best Picture)
If Citizen Kane is regarded by some as perhaps the greatest film ever made, Casablanca might be the most famous. Millions know of it and probably haven't even sat down to watch it. And of what we do see in pop culture mentions of this masterpiece, you would think its exclusively a tragic ill-fated love story. But as someone who isn't typically a fan of that genre of lost love, imagine my pleasant surprise when I first saw this and realized the movie has more complexities with other characters and interesting side-plots. I would argue this isn't so much about two people in love who can't be together as much as it is about a really messed up day in one guy's life. Humphrey Bogart as protagonist Rick is probably the best casting in film history, Ingrid Bergman is great as Ilsa, Claude Raines sometimes steals the show as Captain Renault, and the movie even has character actors like Peter Lorre and Sydney Greenstreet. On top of all that it has so many notable quotes that when the American Film Institute ranked all-time movie quotes, several showed up on their list. The Academy awarded this a Best Picture win. One final note, the film technically premiered in the twilight of 1942 but its 1943 premiere for general audiences was recognized by the Academy instead so I chose it as my 1943 pick over my 1942.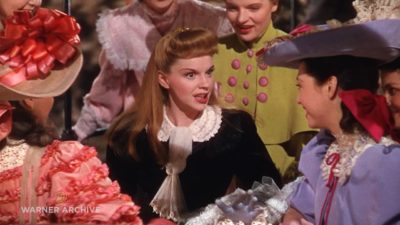 1944: "Meet Me In St Louis"
By the mid-forties Judy Garland had grown tired of playing adolescent girls but somehow she was convinced to do it one more time for a coming of age musical that spans over a year and has plenty of notable songs yet has become most well-known as a Christmas film by some, thanks to the signature performance by Garland of "Have Yourself A Merry Little Christmas" towards the final act of the movie. Like Holiday Inn, this film does a good job of taking you through various timeframes within a year and making every one of them push the story forward while celebrating that particular season in time. All culminating in a great re-imagining of The World's Fair.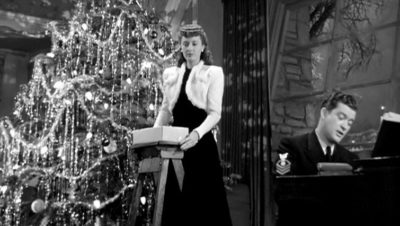 1945: "Christmas In Connecticut"
I'm a sucker for situational comedy and this Christmas classic is chock full of it. This film's about a solider who just wants to visit his favorite homemaker wife turned magazine columnist, but unbeknownst to him she's actually a fraud who isn't married and couldn't cook to save her life. Add that her job is on the line, she's getting help from a pushy suitor, she finds herself getting a crush on her visitor, and her boss is coming along, and you get awkward hijinks mixed in with some romance. This is one of those movies I watch every Christmas season.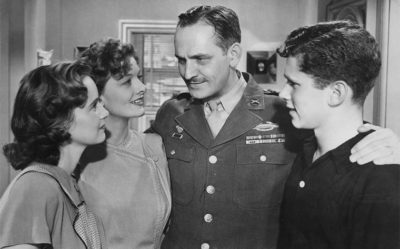 1946: "The Best Years Of Our Lives" (Won The Oscar For Best Picture)
You'd think in a list about a decade of favorite movies dominated by feel-good stories Its A Wonderful Life would be the obvious 1946 pick, but like in the race for Best Picture between these two, The Best Years Of Our Lives wins out. An early attempt by Hollywood to explore integration back to normal life for war veterans, this film might be considered pretty sanitary compared to modern offerings on the subject. Still, I think there's enough here that really hits on the themes of the difficulties of coming back from a war environment to peace time, and gives us hope on how to overcome that and find a way to still move forward with one's life.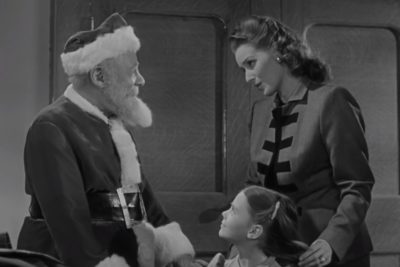 1947: "Miracle On 34th Street"
Two things about this Christmas classic might surprise you – this film was actually nominated for the Oscar for Best Picture and won several Academy awards including best screenplay and best supporting actor and oh yeah this Christmas set film was released in the middle of Summer. A comedic drama about a man who claims to be Santa Claus being put on trial for his identity, this movie actually makes you question whether he's just a kind old man living in a fantasy or if he's actually the real thing and somehow we never fault him for perhaps lying to us. Unlike its remake, this movie allows certain circumstances and good luck to help "Santa" along the way and yet by the end of the film there's still enough evidence he actually is Saint Nick! Notable as well is Natalie Wood as little Susan Walker in her first major film and a humorous side plot involving Gene Lockhart playing the trial judge who realizes this could cost him a political career.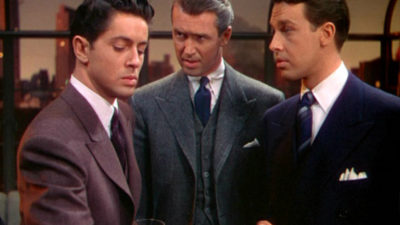 1948: "Rope"
Based on an infamous 1920s true crime case, this Hitchcock thriller sees two young men kill a fellow classmate before stuffing his body into a case and then hosting a party right there and then with guests unknowingly walking around a murder victim's remains. One of the guests however is their professor, played excellently by Jimmy Stewart, who happens to be well-versed in such deviant behavior. But what really makes this film special? Its a one-shot film where the camera never cuts away and we see the story unfold in real time.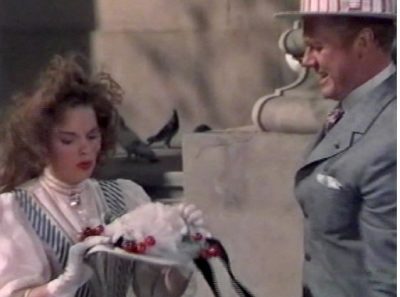 1949: "In The Good Old Summertime"
And after all that we circle back to the premise of the film that started this decade-spanning list. In The Good Old Summertime is the first attempt at remaking The Shop Around The Corner, but this time as a period-piece musical set in the summer and revolving around a music store, with Judy Garland and Van Johnson taking the roles of our two bickering co-workers. This version also introduces new subplots like a potential love triangle and a much less depressing arc for the store owner. It isn't as good as the original, but the film is still a fun watch that admirably tries to be more different than other attempts at a remake might have tried.
And that caps off all my favorite films from each year from the 1940s. I hope that I've given you some new favorites to discover among these and look forward to any replies of others' favorites from the 1940s. Next up: Hollywood begins to have more technicolor and enters an atomic age – the 1950s.