Saturday Spins: Gram Parsons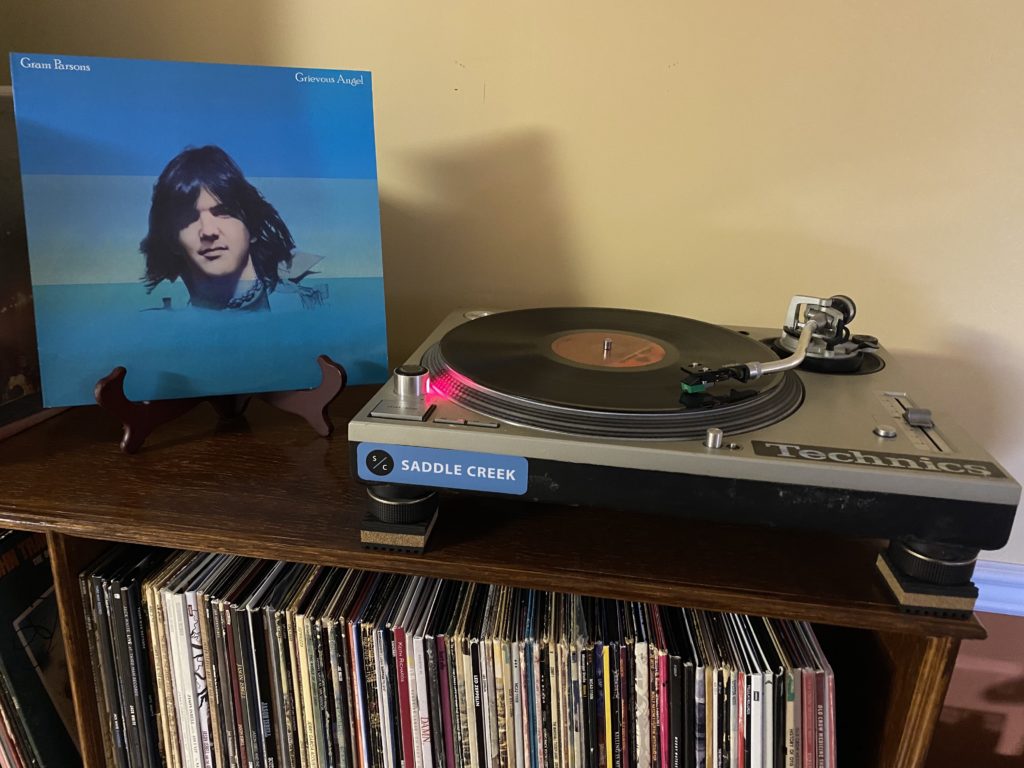 My collection is a pretty eclectic one for sure1, so the randomizer took a leftward turn last week for some old fashioned Omaha punk rock. This week my toddler shook my phone and out popped the father of "Cosmic American Music," or as the folks over at No Depression call it, "Alt-Country."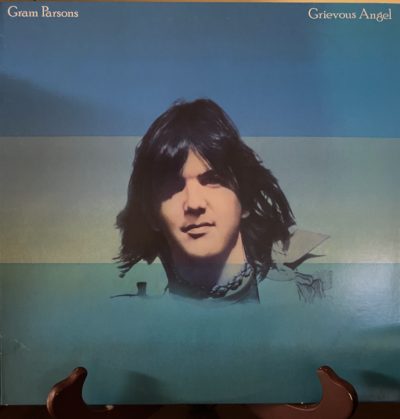 Gram Parsons
Grievous Angel
1974
Commentary
Gram Parsons is one of those artists that burned hot and bright, but flared out very quickly. He died before this record was even released! He was only 26 years old, so he can't be considered part of the "27 Club." In fact, as soon as the album was mixed, Parsons took a trip, and a "trip" to Joshua Tree where, sadly, he overdosed.
This LP is chock full of excellent songs. Not that his time with the Flying Burrito Brothers wasn't full of memorable tracks, but Grievous Angel contains a multitude of songs that blur the line between honky-tonk and rock. The album features a young Emmylou Harris on several tracks, her angelic voice complements Parsons' mature twang in a lot of ways. You can also find Linda Ronstadt in the credits as singing on one of the tracks, which we will get to later on.
The artwork is kinda meh, his previous effort, GP, yielded a more traditional cover for the time period, with Gram sitting in a chair at the Chateau Marmont in Hollywood. On this album, it really puts the "Cosmic" in "Cosmic American Music" with Parsons' floating head in a sea of various shades of blue.
Track By Track
I thought it would be a good time to bring back the so-called "Nipper Scale," which is a rating system of my own creation and is akin to Dr. Oz going onto Fox News to talk about COVID-19.2
1. Return of the Grievous Angel
To demonstrate how great of a songwriter Gram Parsons was, this song was hastily written during the recording sessions while Gram was doing voluminous amounts of heroin and imbibing voluminous amounts of alcohol. It features Emmylou at her best complementing Grams voice as they harmonize together. Emmylou did a version with Ryan Adams back when he was making Alt-Country tunes. 4/5 Nippers.
2. Hearts On Fire
Some of the songs on this album are more traditional sounding country tunes. This is one of them. It is still better than anything coming out of Nashville these days. 3.5/5 Nippers.
3. I Can't Dance
This right here is my theme song. I cannot dance to save my life. Call it being born with "two left feet" or whatever, I just can't ever justify getting onto a dance floor and making a fool of myself. I realize how bizarre that sounds coming from someone that writes about music as a hobby. Anyway, this song could have totally been written and sung by Jerry Lee Lewis, but he was too busy boffing his underage cousin. 3.5/5 Nippers.
4. Brass Buttons
Did you know that Gram Parsons went to Harvard? He spent one semester there in 1966. He wrote this song way back then for one of the bands he was in at the time. Another very traditional country song, it has some very poetic lyrics.
"Brass buttons, green silks and silver shoes
Warm evenings, pale mornings, bottled blues
And the tiny golden pins that she wore up in her hair
Brass buttons, green silks and silver shoes"
4/5 Nippers.
5. $1000 Wedding
Here is a reinvented Flying Burrito Brothers song written about Parsons' want of a decadent wedding to the mother of his daughter. It never happened that way, but the song still spins a great tale. Emmylou really shines here, as always. 3/5 Nippers.
[youtube https://www.youtube.com/watch?v=QiaCZ3KgJe8]
6. Melody Live From Northern Quebec
Gram produced this LP and I have to question why on God's green Earth would he would think it was a good idea to insert a fake set of live tracks. This suite of two "live" songs, complete with fake crowd noise and canned applause. It features a cover of "Cash on the Barrelhead" by the Louvin Brothers and Parson's own song from his days with the Byrds, "Hickory Wind." The presence of "Hickory Wind" here is the only thing preventing me from giving this a poorer rating. I love that song. 3.5/5 Nippers.
7. Love Hurts
The Everly Brothers made this song famous, but the version sung by Gram Parsons and Emmylou Harris is very good as well. Harris made it a staple of her live sets in the late seventies and eighties. Not much to say here, other than it is a great rendition. 4.5/5 Nippers.
8. Ooh Las Vegas
A very good example of the country/rock fusion that Gram revolutionized. It is a love letter to the crystal city, or is it a drinking song about gambling?
"Well, the first time I lose I drink whiskey
Second time I lose I drink gin
Third time I lose I drink anything
'Cause I think I'm gonna win"
I covered masked country singer, Orville Peck, here a few weeks back. He did a live cover of this song that really does it justice. 4.5/5 Nippers.
[youtube https://www.youtube.com/watch?v=rb_3nzgEORg]
9. In My Hour of Darkness
The second song that Gram Parsons hastily wrote in the studio in order to fill out this album. He actually co-wrote it with Emmylou. Probably my second favorite song on this record. It also features backing vocals from Linda Ronstadt. 4.5/5 Nippers.