Saturday Morning Gaming: Blood Bowl II
One Calorie 'Tab' Soft Drink Commercial (1978)
I first encountered Blood Bowl in Dragon Magazine back in the 80's. There was an article talking about the rules and showed pictures of Orcs and Humans wearing heavily stylized spiked armor. I never played it (techincally, I wasn't supposed to even read Dragon Magazine) but I looked at the art and thought "man, I wish…" and turned the page to read about other, forbidden, infohazards.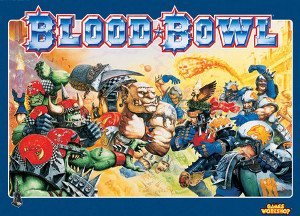 From what I understand, the first few iterations of the game weren't very good. When it started, it was more supposed to be a way for players to yell "SMASH" in their orc voice.
After much tinkering and rebalancing and rule changes, they finally got what they were going for down.
Which is a game where you field a team of various fantasy archetypes (humans, elves, dwarves, orcs, lizardmen, skeletons, etc) to play a football variant. You've got offense and defense and the goal is to pick up the ball and run it to the opposite end-zone. Meanwhile, your team players that are not involved with moving the ball need to be beating up the opponent's players or setting up beating them up next time. Or getting up off the ground from when they beat you up last turn. It is the job of Defense to try to beat up the guy with the ball (barring that, the guys around the guy with the ball).
How stuff plays out is based on a handful of rules and a roll of the dice. Roll a 6? You just beat up the other guy. Roll a 1? The other guy just beat you up. You can set stuff up so that you roll two (or three) dice instead of just one and, if you're completely outmatched, you roll two dice and your opponent gets to pick which one you use (don't roll a 1 on one of the two dice).
There are a handful of other rules… if you get pushed to the sidelines, your player is likely to get injured. There are different injuries that range from "out of the rest of the game" to "loses stats permanently" (very bad if you're playing in a multi-game league) to "dead". Also, your turn ends when you flub something up. Try to tackle your opponent and roll a 1? It's now the other guy's turn. Oh, he runs to pick up the ball and rolls a 1? Well, now it's your turn.
The good news is that they finally took all of these tabletop mechanics and put them in a single computer game package for you in Blood Bowl II (available on Steam). No figurines, no painting, no nothing. Just boot it up and let it fly. It's got a single-player campaign that will ease you, slowly, into all of the mechanics of the game proper and, eventually, get you ready to play a real game against a human opponent.
Which, honestly, is where the fun is. Beating up the star quarterback of your Real Life friend is so much better than beating up the one belonging to the AI.
I don't like how expensive the game is and I really don't like how they paywall a whole bunch of really cool teams behind DLC. If you're lucky enough for that to not be an issue, you should check this game out. Get your gaming group to all get copies and put a league together and have a tournament! All in all, it's a fun game that will make you not miss football so much.
So… what are you playing?
(Featured image is the Blood Bowl box art from the tabletop game.)