Record Store Day 2020, Sort of
In order to continue receiving my obscene paycheck from the editors of this site1 , I must continue to write about records, and I guess music in general. One thing that comes about twice a year in the record collecting world is Record Store Day. (RSD). It was originally created in 2008 due to renewed interest in the hobby and to celebrate independent record stores throughout the United States, and now the world. Originally slated for April 18, 2020, the COVID-19 virus and the danger that stems thereof, resulted in RSD being moved to June 20, 2020. The second RSD is always Black Friday.
I love the croutons in salad. I think it has something to do with the scarcity of the croutons in the salad2 If you want a break from the same boring lettuce/tomato/cucumber crunch, a nice piece of re-baked bread is great.
Much like croutons, I love the limited releases that occur on RSD. It used to be a smaller affair, more intimate for lack of a better word, wherein record collectors would go down to their local indie shop and grab a few limited-edition releases and then maybe search the crates for other things to buy as well.
Nowadays, there are usually lines, and indie stores have tried to make it an all day affair. One local shop I used to frequent would open the doors at 8:00 A.M., have complimentary coffee and donuts, but would have people sign up in blocks and call those names every 2 minutes or so after 9:00 A.M. for them to join the fray. This is because the success of RSD has also brought forth the worst kind of person: the price gouger. Let's just call them Parasites. This is super relevant to the times we are currently living in, although not a matter of life or death, but merely a minor annoyance in the world of record collecting.
Parasites are the people that camp out in the lines, rush forward when the shop owner says go and then proceed to buy up as much limited edition stock as possible. It does not take long for them to post the limited edition stock on eBay with starting bids at 300% of the original price they paid. Don't be a Parasite. Parasites are the worst of the bunch, but the next worst are people that buy more than one copy of these limited-edition releases, crack one open, but keep another one sealed; presumably to stare at longingly like Gollum did the One Ring. A lot of stores combat these troubling displays of human greed and indifference by limiting purchases on some of the stock, or as I described before, staggering the number of people digging through the crates.
Thus far I have celebrated RSD in three different indie stores in various years, Broad Street Records in Waverly, NY, Siren Records in Doylestown, PA, and the historic Princeton Record Exchange in Princeton, NJ. Thankfully, these three stores remain open to this day. Sadly, one of my favorite record stores, Dave's Music Mine, located in the South Side neighborhood of Pittsburgh, PA will be closing it's doors this year after 20 years in business. Fun fact, I never celebrated RSD there because I was always either on Spring break or Thanksgiving break. Please consider ordering from those stores, or your local indie record store, online during this time. They usually sell more than just LPs!
I point out the troubling trends of price gouging and keeping sealed copies, obviously as some kind of twisted investment, because to me, this hobby is about the music. That's why I share it with all of you in the best way I can, through the soon to be popular Saturday Spins column. There is no reason, I repeat, no reason to ever keep an LP sealed. These records are made to be listened to, and music, and other art forms, are definitely something the world needs right about now.
By my unofficial count, I have around 40 RSD releases dating back to 2010. There are probably a couple more thrown in there. Since we're about the music and Andrew says he'll upgrade my RC Cola shipment to Tab this month, here are a few of my favorites:
The Baseball Project–El Hombre, 2012

A fun holographic cover 45 featuring the hard-luck Harvey Haddix and the legendary Albert Pujols. Here is a live version of "Harvey Haddix."
---
The Rolling Stones–No Spare Parts, 2011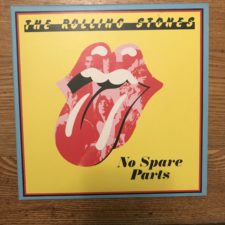 "No Spare Parts" is an extremely underrated Stones song, this 45 features "Before They Make Me Run" on the b-side.
---
Jason Isbell & The 400 Unit–Live from Welcome to 1979, 2017
Speaking of the Rolling Stones, Isbell plays two covers right to tape on this RSD find. However, it's the cover of Springsteen's "Atlantic City" that really makes it shine.
---
South Park–San Diego/Gay Fish, 2013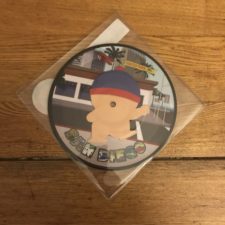 I love South Park, and this picture disc 45 features two great songs. However, the best song (and video) is "Gay Fish," which lampoons Kanye West.
---
Dylan & The Dead–Dylan & The Dead, 2018
Originally released in 1989, this controversial live album was reissued on purple and blue tie-dye wax for RSD 2018. This version was remastered and cut down on a lot of the fan noise, making it a much better live cut.
Even though RSD has been delayed this year, I'll still be here spinning records and talking about them. I am hoping that will be even the slightest distraction from the anxiety of these weird times.