A Climate Hawk Laments: I Was Wrong About the Environmental Left
Those on the Right who resist climate action do so is not because of ignorance or denial regarding climate change itself, but rather fear. They are horrified by the spectre of "socialism", and they believe it to haunt and possess many progressive policies and ideas, especially as they relate to climate change. They see movements claiming to save the planet as Trojan horses for a massive expansion of government, socially engineered lives, and centrally planned economies.
For some time now, I have used my role as the token conservative at my K Street firm to assuage those fears in the energy discourse, assuring my compatriots on the center-right that the climate activist class on the Left takes the issue deadly serious on the merits. But in light of the histrionic reactions of many on the Environmental Left to the suspension of the Bernie Sanders campaign, I must admit: I was wrong.
Justice and "Just Us"
The signs were there, I know. The flagship policy proposal in the so-called "Green New Deal" contained every progressive hobbyhorse known to man. Representative Alexandria Ocasio-Cortez's (D-NY) Chief of Staff flatly stated, "We really think of it as a how-do-you-change-the-entire-economy thing." Surrogates for the Sanders campaign advocated for the nationalization of industry in order to decarbonize. The Sunrise Movement (a youth-focused climate activism group) gave Joe Biden, who is advocating to spend two trillion dollars on climate change alone, an "F-minus" grade for his climate plan.
The Sunrise Movement, US Youth Climate Strike, and others purport to be organizing movements of young people around a singular issue, what they call "climate justice". Environmental justice is a serious concern, as the effects of environmental damage will disproportionately affect those already on the margins. But considering how these groups talk about "justice", and the politics they propose to attain it, it becomes clear that the concern of their leadership is not with the climate, and their "passion" may not be about the planet.
Where it becomes clear that this is about socialism rather than climate change are on the political tactics and rhetoric. They engage these with a cynicism that could only so ironically come from a campaign whose motto was "Not me, us."
As Falls Bernie, So Does the Veil
I know how heartbreaking it is to watch a campaign you really believed in, fail. I think for many of the young people who are frustrated and hurt by Senator Sanders not being nominated, there should be grace applied, especially as we all deal with the stress of pandemic lockdowns. But as for the leaders in the progressive and socialist left who should know better, no such grace is given. From a progressive perspective, a Biden presidency is disappointing, but a Trump presidency is devastating. And yet this is how they responded:
Now, this is some next-level bad political science happening. Still, it's not exactly unprecedented that the groups explicitly designed to build political support for a specific candidate and their platform. What is worrisome here is the groups who supposedly focus uniquely on climate change, not electoral politics. Groups that I had defended, perhaps condescendingly, as "having good intentions" in a "love your passion" sort of way.
Political Hindsight is 2020
It should have been evident to me, I know. But I saw these people as opportunists and grifters. They were merely taking advantage of a bona fide crisis to win a few political victories for their base. I chose to believe that the activists in the movements on the ground, demanding radical increases in green energy were doing so out of an earnestness mitigate the worst effects of a warming planet. I hoped that their sense of urgency came from an understanding that we are running out of time to limit devastating global temperature increases. I didn't want to consider that it was impatience for student debt forgiveness. It is now abundantly clear that many of these activists and organizations were, and are, merely using the climate crisis as a fig leaf while pursuing their true goal: getting leftist politicians elected and socialist policies passed.
Sadly, when this electoralism was no longer possible, that fig leaf appears to have fallen quite quickly. In a word from the inspirational artist, Future, "f*** it, mask off." From a climate perspective, a Trump presidency is likely catastrophic. Climate change is not a binary issue, where either it gets fixed, or it doesn't. Outcomes exist along a spectrum that depend on how we address the issue or make it worse. The fat tail risk on this spectrum means that there is a significant chance we could be headed towards a range of many apocalyptic futures, with much uncertainty based on how we act today. But even slowing that increase at all dramatically can change that outcome, especially if action happens soon. Every marginal decrease in emissions could save millions of lives.
A Joe Biden presidency, on the other hand, presents at the very least a stop to the sort of vapid policymaking that seeks to bail out coal plants. These Trumpian efforts would mean irreparable damage to any climate progress. "President Biden" means a global engagement that is vital to reduce global emissions (which the US only accounts for 15% of), seen in Biden's emphasis on the Paris Agreement. This stands in contrast to Trump's "America First" specious isolationism. It means billions in funding for green energy infrastructure and research rather than a gutting of those funds in favor of "small modular coal-fired power plants". (Yes, that is a real DOE initiative). In a bizarre apparent contradiction, even Bernie Sanders himself seems to agree with me!
Considering this, it is impossible to see these groups resigned to the view of Trump and Biden as equally dangerous to the planet. The only logical conclusion is that they know they aren't, and they don't care. They have decided that accelerationism will rule the day. Socialism is inevitable and four more years of what they consider fascism will convince Americans of that. Cynicism explains the tactics.
Heated Rhetoric
While the politics of the issue are what matter, rhetoric is indicative of how the activist class views this issue as well. When weighing nominations and endorsements, The Sunrise Movement gave significant 30% of the points for "how much they talk about it" and "how they talk about it" regarding climate change. This design is clearly to weigh towards one candidate who explicitly uses their lexicon to speak on the issue (see above for that candidate. However, it is also indicative explicitly to the fact that they value rhetoric to the point of absurdity.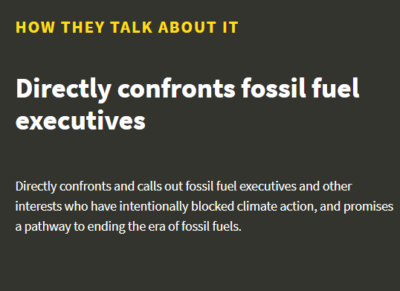 As for their own rhetoric, groups like Extinction Rebellion's posters claiming "CORONA is the CURE, HUMANS are the DISEASE"  (which the larger group has repudiated), and similar throes of misanthrope should be rightly ignored. There are plenty of idiotic hot takes from radicals advocating for the guillotining of fossil fuel executives to pick from. They clearly do not represent "the Left" as many right-wing blogs will surely claim.
Environmentalism writ large has still long been wracked by those who view humans as unique threats to the planet. Many in their historic tribe believed the only solution is anti-human policymaking. This came through eugenics advocacy and immigration fear-mongering usually. This historic tendency gave many people pause as to the true intentions of environmental movements as their words reflect it. Why protect the planet, if not for the people who live on it?
With this context, many critics deep concern as modern movements have embraced population control measures, especially in how they talk about it. But I believe when Bernie Sanders and his comrades invoke abortion as a climate solution, it is much more about abortion than it is about climate, similar to the Green New Deal's insistence on a federal jobs guarantee. The Environmental Left's serious, consistent rhetoric speaks to the larger tendency of the movement to be more about a certain kind of politics than actually addressing climate change.
Making Climate Change Important Again
Progressives in the energy/environment discourse often view conservatives as impediments to robust climate action. They believe them to oppose their prescribed policy solutions out of only malice, greed and ignorance. As the token conservative at my firm, I regularly have to explain to my left-leaning colleagues that skepticism on the Right is not about denial of science, but rather fears of socialism. Climate hawks like myself will try to assure our compatriots in the GOP that most leaders in the discourse engage in good faith, even those on the activist Left, however misguided they may be.
By proving people like myself — who have defended their motives as noble — wrong, the Left does irreparable damage to the cause of fighting climate change, which I still believe many of them care deeply about. Bad-faith feints and motive masking make the kind of horse-trading that policymaking requires virtually impossible. I was wrong about certain aspects of the movement, but I am still hopeful that a coalition of the earnest can triumph.