I Predict 2021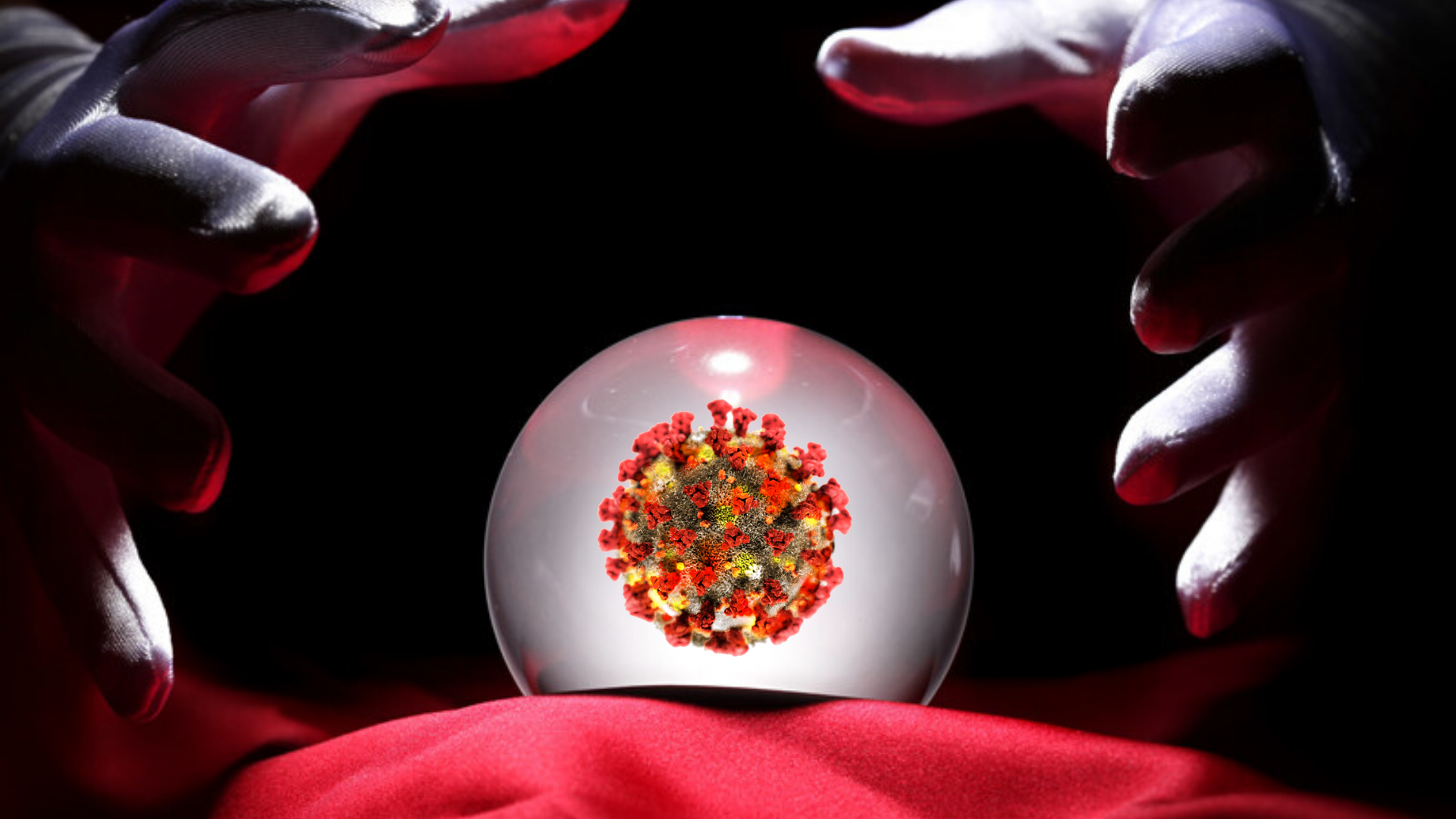 March 11, 2020. That was when the world changed.
I was heading home from church after leading a Bible Study. I pulled the car into the garage when I felt my watch. That meant the watch was trying to tell me something. I looked and that's when everything changed. A news alert from the Washington Post said that the NBA's season was going to be suspended because a player on the Utah Jazz tested positive for COVID-19.
Maybe you had a different moment, but it all boils down to the belief that life had changed. We hit an inflection point that split the world between before and after. Just like September 11th, or the assassination of John F. Kennedy, we know this is a moment when everything changes.
A few weeks ago, Politico ran a story where they gathered 34 thinkers who took a shot at guessing how the world will change because of the pandemic. It was an interesting story, but it felt that most of the speakers envisioned some kind of progressive utopia that will wash away all the things that they don't like and in its place will be a new agenda that satisfies their wishes.
I don't think it was the best article. Not necessarily because it tilts left, but because the thinkers seem so sure they know how things will change. But we don't know how things will change. The thing is, there might be changes that are directly opposed to each other. We just don't know.
History tells us that pandemics can bring about changes in society down the line. The Black Death of the 14th and 15th centuries brought massive change among the peasants which in turn lead to revolutionary moments like the Reformation and the Industrial Revolution.
So the focus of this article is wondering how things will change. I don't think I know how things will change, but I can wonder. Some change is welcomed. But there are also ways that things will change for the worst. As I said before, we just don't know.
The following are only guesses based on what I'm seeing now and how the pandemic either accelerates the change or reverses it. I'm not an expert, just a writer, and an observer of current events. I'm not going to be making statements as much as I will ask questions. I don't know what the future holds and neither do most experts. What I do know is that we as a nation and a world are at an inflection point, a liminal space. We don't know how things will change, but they will change. So with that, let's go.
Will the welfare state expand? People were told that if they were sick, they shouldn't go to work. That makes sense…if you have a job that gives you sick days. That is not always the case with lower-wage jobs. Even before the pandemic, there were growing calls for paid sick leave. The pandemic revealed the gaps in our social safety net. Paid sick leave was included in the recent coronavirus stimulus bill. Anthony Fisher is correct in saying that crises like the pandemic lead to an expansion of the welfare state and none of these emergency laws are ever rescinded. This doesn't mean that things like the "Green New Deal" or Medicare-for-all will become law.
But certain things like paid sick leave and paid family leave may very well become additions to the safety net. As we see millions lose their jobs, they losing them during a major pandemic. It will be very hard for people to oppose any form of universal health care because…socialism. While universal health care didn't prevent or slow the coronavirus other countries, it would provide a sense of security during a chaotic time. So, expect a strengthening of the Affordable Care Act or Obamacare.
The thing is, crises can speed up desired legislation. The Progressive Party included an old age pension in their 1912 party platform, but it never became reality until the Great Depression when Social Security was started under FDR. Could this crisis bring about some long-desired program that never had a chance until the crisis occurs?
Will there be less trade and immigration? Now, pandemics don't always result in a limiting of legal immigration. The 1918 flu pandemic didn't fuel anti-immigrant behavior. Most of those feelings were already set in motion by the time the pandemic started. Anti-immigration sentiment in modern America was already underway when Donald Trump started his anti-immigrant campaign in 2015. That said, COVID-19 has fueled the movement to further restrict immigration. As Linda Chavez notes, Trump's aide on immigration, Stephen Miller framed the virus as a foreign virus. It's a way of looking at COVID-19 as something brought to America by an Asian other.
Even when the pandemic slows, there will still be people who see non-white immigrants as carriers of disease. We might be seeing the end of the period of immigration that started with the Immigration Act of 1965. That law brought people from non-European parts of the world. COVID-19 gives the excuse to close our borders to immigrants as some odd way of protecting America from dangerous foreigners.
We could also see less trade. Does this mean more trade barriers? Yes and no. There has been a lot of talk about how America might see a shortage of drugs due to the amount of time that factories in China were shut down due to the virus. Roger Martin notes that one of the reasons the US doesn't have access to equipment like ventilators is because of the focus in the last half-century on efficiency, a system that allowed for little slack like a stockpile of needed equipment. There has been a movement on both the right and the left that has become skeptical of trade. The need to try to meet the growing demand of ventilators might mean applying some breaks on free trade. That doesn't mean the US is going to create Smoot-Hawley II, but it might mean that America will put more emphasis in growing domestic manufacturing so that the nation won't be caught with its pants down again.
Will this mark the end of conservatism and the GOP? If you were to go back in the time to the late 1970s, conservatism was a growing movement with ideas about government and how it related to American life. Ronald Reagan was something uncommon among conservatives; a happy warrior, someone who believed in America seeing it as a force for good in the world. You may or may not have agreed with those ideas, but they were ideas. You may not have had Reagan's sunny attitude, but he did have one and it made conservative a positive movement. Forty years on, the movement is no longer one of ideas. It has become revanchist, allowing the demons that were always present within conservatism come roaring out to terrorize the nation. Donald Trump's version of America is a dark place, a place afraid of immigrants, afraid of experts, afraid of leadership, just plain afraid. His leadership or lack thereof in the ongoing COVID-19 Pandemic shows where conservatism, the GOP and America have ended up: at a dead end.
I am not saying this the end of conservatism or the GOP. It is the end of a phase of conservatism. In the phase that is ending, it was in the driver's seat. Even during Democratic administration, a conservative ethos reigned. Just like the Great Depression ended Republican rule for 20 years, the pandemic might just be the thing that brings an end to this era of conservatism. What comes next? I don't know. But if the welfare state does expand, you can see conservatism changing to meet the time and put some breaks on the progressive march leftward.
As for the GOP, it could very well become a minority party for a long time. The resistance to a mail-in general election in the fall shows a party that knows it is boxed in with the electorate it has and is afraid to go beyond it. If the projections of 100–240,000 Americans dead by the coronavirus come true, people will not support the party in power. They could be punished severely.
Or not.
One of the things I've noticed is the reversal of many bans on plastic bags. Reusable bags are increasingly banned because they can carry the virus around. The fear of that which foreign could give a boost to a more authoritarian GOP that people will support. But that doesn't mean it will become the same small government party. Trump has moved the party in a more big-government and nationalist direction. Nationalists tend to see governments as a way to benefit people, especially people in their group. If Trump can tie this to immigration and he could do this, then he could form a coalition that could beat Joe Biden. Again, from the way Trump is acting, you have to think he is destined to lose. Of course, we all thought he was destined to lose in 2016.
Will Americans turn inward or not? It makes sense to practice social distancing. It makes sense to tell people to stay home. But even the wisest advice has a downside. That downside is that we are being implanted with a seed, that the other person out there is dangerous. Right now as I type this, the federal government is saying that now people shouldn't even go to the grocery store for the next two weeks. One of the last places we could go is fast becoming a no-go zone. All of this is telling people that any public place we go is scary. Go to a restaurant? The person at the table next to you could kill you. Is the latest Marvel movie worth going on a ventilator? How will we respond when someone coughs or sneezes? Shake hands? Nope. Hug? Uh-uh.
What this time in quarantine has taught us is that we don't have to go outside of our homes for things. We can order out with Grubhub or Doordash. We can watch movies on Netflix. We can have business meetings through Zoom. People aren't going to go back to normal because we have been shown this new world and the world we used to know is one that was fraught with danger.
Again, all of the practices people are telling us to do make sense and should be followed. But when you tell people that everything outside your home is dangerous, then expect people will not go back to normal.
Will brick and mortar die? AMC Theatres might not open at the end of this crisis. Stores like Macy's have laid off thousands. Other businesses are teetering. Again, people aren't going to be raring to go to the mall or the movies so expect that many brick and mortar businesses will go under. The coronavirus could signal the end of many businesses that were already in a weak position pre-COVID.
Will authoritarianism make a resurgence? Hungary was one of the first of the former Warsaw Pact nations to liberalize and evolve into a democracy.
After decades under Soviet rule, Hungarians were not free to elect their leaders.
Over the last few years, the Prime Minister, Viktor Orban has steadily grabbed more and more power. The pandemic allowed him to finally put the final nails in Hungarian democracy. Parliament is suspended and Orban can rule by decree. As some observer noted, the coronavirus became his Reichstag Fire.
Other strongman leaders like Rodrigo Duturte are doing what they can to grab power under the guise of controlling the pandemic. Will we see that happen from other nationalist, authoritarian leaders like Brazil's Jair Bolsonaro find ways to end democracy in the nations they need? The coronavirus didn't cause Orban to take power, Hungary was already down the road to becoming authoritarian. But like everything else, the pandemic could accelerate the process.
Is this the end of American global leadership? The United States has been the global leader since the end of World War II. Over the last 10–15 years, America has started to not play such a front and center role. This sped up when Donald Trump became President. He has never been crazy about keeping up ties with our European allies and seems to want to be friends with the world's dictators. The current pandemic should have been a time the US would provide leadership. The United States had an office in China as a sentinel of any emerging viruses, but the budget for that office was cut under Trump and the position was not filled when the epidemiologist embedded with China's version of the CDC left in protest. The United States is rightfully upset that China tried to keep the coronavirus outbreak under wraps. Would that have happened if the CDC staffer was present in Beijing?
Who knows.
What we do know is that this position might have been a way to keep China honest and given not just the United States, but the world time to prepare for this virus. America stepped up to try to stave off the next pandemic, but the Trump administration and growing isolationism wasn't so interested in the job.
Could the pandemic mean the loss of American leadership? It could. China is already trying to spin the story of the coronavirus to its advantage. It's also made inroads in Africa and Latin America, pouring money into major projects, while the US dawdles. The US had a chance to counter China's growing economic power through the Transpacific Partnership, but Trump pulled the US out of the trade deal. Of course, the outbreak could stop and leave American power intact, but the odds are the rest of the world will look at the United States very differently after this has past and we might regret our willingness to piss the mantle of leadership away.
So those are some of my thoughts on how the world might change. Of course, we are still in the midst of this crisis, so the change could…change. We won't know until years down the road how things will change. What we do know is this: things will change.
Get ready and hang on.