Sunday Morning! Tarkovsky's "The Sacrifice" (1986)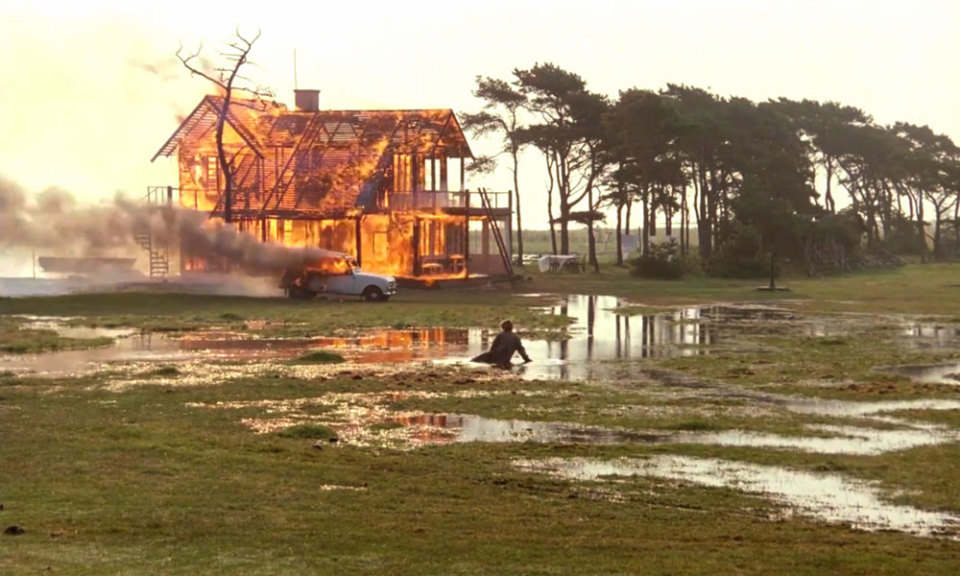 Like most everyone right now, I've spent the last few weeks oscillating between boredom and despair, from a frantic desire to return to the world of just a few months ago to hope that the now-evidently-broken world will be remade somehow better. There's an idea in Jung that the emergence of a new self is painful because the old self is dying. It already feels like the pre-virus world in which we lived in has gone forever, and since most of us construct our selves in relation to our world- how could we not?- there is great uncertainty about how to live in the post-virus world. I've been learning to cook, started a garden, worked on rewriting a book- everything helps a little, but it's a bit like drawing a map while trying to find your way through a new territory.
I've also taken the time to finish watching the films of Andrei Tarkovsky. I've talked a bit here about the first I saw, Stalker, and I'm now going to talk a bit about the last movie he ever made, interestingly enough a film about a man's attempt to turn back the world after a cataclysm though recourse to the miraculous.
Tarkovsky's movies turn the world strange in a way that seems fitting right now. They are slow, meditative, poetic, fixated with nature and punctuated by images both odd and remarkably beautiful. His best-known film is Solaris, a sci-fi epic about the nature of love and loss and memory. If you haven't seen any of his films, I would recommend starting with Ivan's Childhood, his first feature, which applies Tarkovsky's eye for striking imagery and nonlinear narrative flow to the story of a boy lost in a world at war. It was made during the so-called 'Khrushchev Thaw' when it became acceptable to tell an anti-war story and it was something of a smash hit. Although Tarkovsky disliked the film, it is beautiful and moving. From there, I would watch Solaris and Stalker, in that order. For an advanced course, watch The Mirror, Tarkovsky's most personal film and, in my opinion, his masterpiece.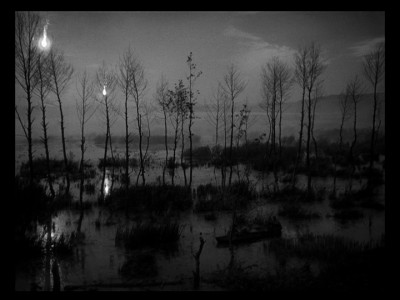 It is sad to think that The Sacrifice was Tarkovsky's seventh feature film as well as his last. He died at 54 years old of lung cancer. He had made the film Stalker in an abandoned chemical plant; this, and the fact that his lead actor Anatoly Solonitsin and wife Larisa Tarkovskaya died from the same type of lung cancer, have led some to speculate they were poisoned by toxins during the filming. After Stalker, he made no more films in the Soviet Union, where his deeply personal and philosophical films were always causing conflict with the government; for ideologues, the personal is always less-than-political. The Sacrifice was filmed in Sweden.
I have a poet friend whose favorite Tarkovsky film is The Mirror, but who cannot stomach any of Ingmar Bergman's movies, which strikes me as odd because it's the closest he made to a Bergman film. The two filmmakers thought the world of each other and The Sacrifice makes use of some of Bergman's regular actors and was shot by his legendary cinematographer, Sven Nikvist. It was even filmed on the island of Gotland, as close as the Swedish military would let Tarkovsky get to Fårö, the island most closely associated with Bergman.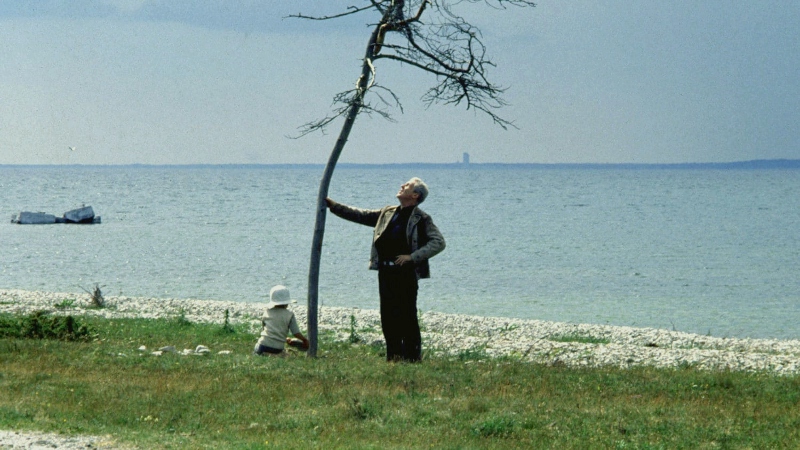 It's also the Tarkovsky film that comes closest to honoring Aristotle's unities of time and place. It feels more compressed and unified, more like a poetic parable than his usual oneiric flood of images. The first shot, a nine minute and twenty-six second tracking shot, sets up nearly everything we need to know: the main character, a former actor and successful writer named Alexander (Bergman regular Erland Josephson) and his mute son Little Man prop up a dead tree by the water's edge, while he tells the boy about a monk who was assigned to water a dead tree atop a mountain for three years, at which time it had returned to life. The postman Otto delivers a package for Alexander's birthday, they discuss God- whom Alexander no longer knows- Nietzsche, and Otto's feeling that he has waited his whole life for real living to begin. It's an astonishing opening that really shouldn't work, but it does. It's not a cold or cerebral scene; it's raw and direct and emotional.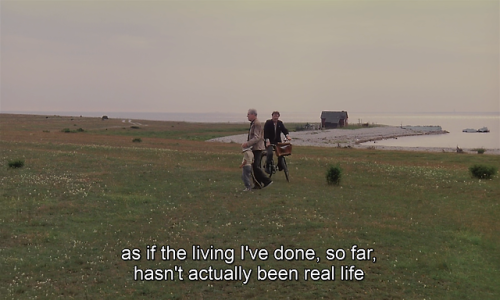 The truth is Alexander is in a bad place this birthday. He returns home where his friends and family, his wife, son, and stepdaughter, have gathered for a celebration, but he is filled with despair at the modern world and it's inexorable pace of technological progress, worried that it is all headed towards the death of everything good in man. And, incredibly, he is not wrong: at some point this evening, jets will roar overhead, and nuclear war will begin. The high bourgeois culture of his family, their highly developed aesthetic tastes and rationality will be totally useless in the face of annihilation. He will be broken. In one of the most powerful scenes in any film, Alexander begs and pleads with God; he will sacrifice all that he loves if only, somehow, all of this can be undone and his loved ones spared.
Miraculously, and much like something out of a dream, his prayers are answered: Otto calmly explains to Alexander that all he has to do is lie with the strange family maid, Maria, a known witch, and whatever he asks for in the throes of passion will be granted. It is an insane suggestion, blending Christian and pagan magic, but his desperation is strong enough that he agrees to it. When he goes to Maria's tiny home, she seems unaware of the impending nuclear holocaust and confused by his behavior, but agrees to his request. During sex, they levitate from the bed, a common image in Tarkovsky's films.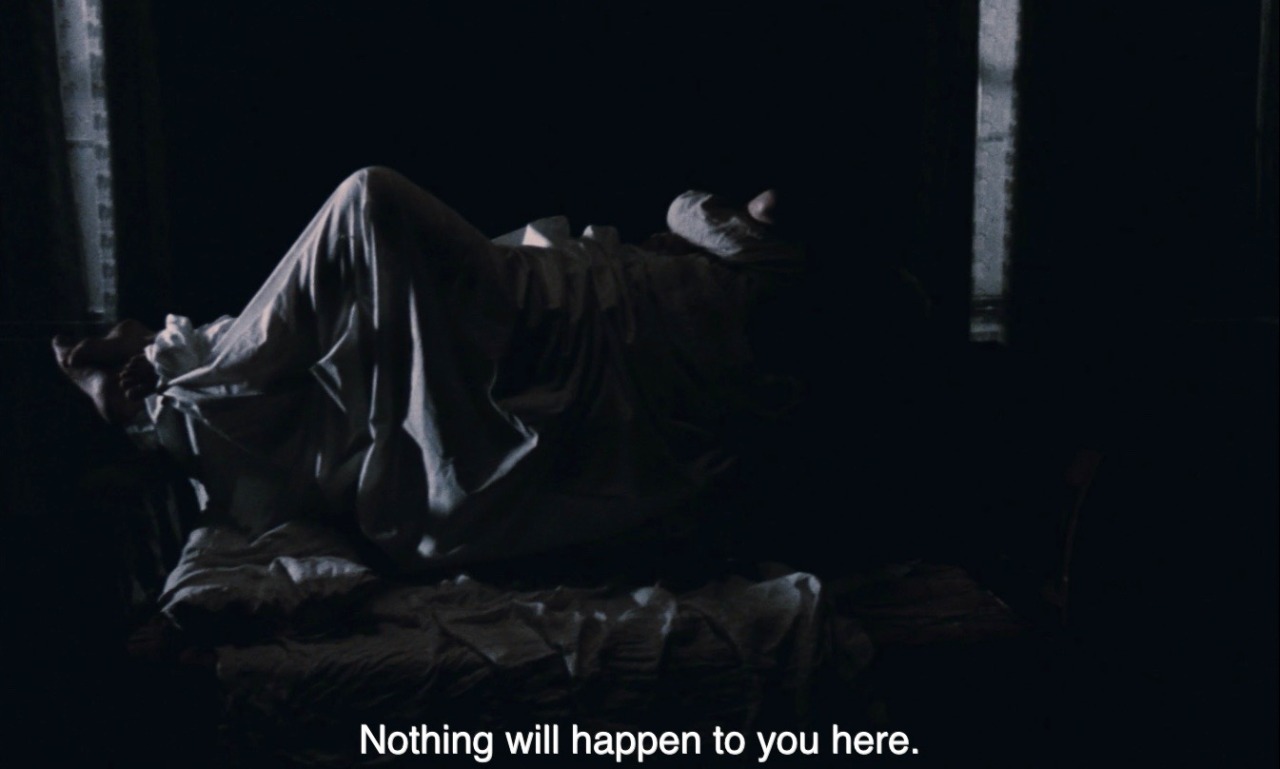 Alexander awakes the next day to find the world has returned to normal and the nuclear war has been undone. He now has to meet his end of the bargain. And so he makes his way back to his house, sees his friends and family off for an excursion, and then burns his home to the ground. It is a shocking conclusion that makes perfect sense. Because they have no idea what has happened, however, they all think he is insane.
Is he insane? Is he a martyr? A hero? A madman?
I think it's all up for the viewer to decide. It is a somewhat bleak movie, as obsessed with death as it is with salvation. Tarkovsky was falling ill at the time and he would be dead shortly after the film was completed. But there's something in its final images- of a man sacrificing every material thing he loves in order to turn back the devastation of the modern world- that still rings very true.
So, what are YOU watching, reading, pondering, playing, creating, or sacrificing while in quarantine this holy weekend?