100 Favorite Films To Recommend Part 2: The 1930s
When one goes back through a century of cinema and attempts to pick out their favorite film from each year, you can't help but note patterns that arise from each decade of film you're picking from. When I wrote about my favorite films from the 1920s, an era known as "roaring" for a load of reasons, including a too-often-glanced-past sexual revolution and criminal activity that arose from prohibition, I noticed afterwards that while there was plenty of diversity among the films chosen, the theme of the morality tale seemed to dominate most of that decade's slate. As far as when I sat down to figure out my favorite film from each year of the 1930s, an era struck with economic depression and major institutional reforms, I realized just how much the horror genre seemed to dominate my picks for this decade instead.
The thirties turned cinema from one page to another with what would become known as the "talkie", as the silent era started to fade away into history, and in turn Hollywood would see its industry grow in the background of economic hardship as regular folk looked to escape their true life problems. If the 1920s established film as a way for Americans to pass the time, the 1930s established its celebrity and its integration into the fabric of American culture, as films that have stayed with us as must see classics premiered and stars such as Clark Gable, Jimmy Stewart, Betty Davis, Joan Crawford, etc began to see their careers take off. This is perhaps the beginning of the peak of the "Golden Age of Hollywood"; with the decade culminating in what many (including me) consider the greatest year in film-making history.
From this decade my favorite films include a the final bow from a silent era icon, the making of a new horror legend, a controversial cult classic, a giant ape that unwittingly launched many careers and some major franchises, a love story with one of the most famous scenes in all cinema, the creation of campy horror, an erotic horror film with an alluring villainess, the first ever feature length animated film, and back to back Frank Capra and Jimmy Stewart collaborations. Like the last decade, two of these films won the Best Picture Oscar. These are my favorite films from each year in the 1930s.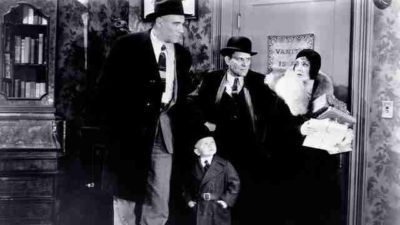 1930: "The Unholy Three"
There's perhaps no more tragic figure of the silent era of Hollywood than Lon Cheney in terms of the symbolism of his death. "The man of a thousand faces" as he was sometimes called has begun to take on more dramatic roles toward the end of his career and it seemed like that career would see continued success as movies began to have sound. However, Cheney was struck with, of all things, throat cancer, and after making just one film with sound, passed away shortly after that movie was released and just as silent film was becoming history. That one film he made in sound is this one, The Unholy Three, a remake of a 1925 silent film that quite frankly is the superior version of this tale and would have made my 1920s list were it not for The Lost World coming out in the same year. This is a story based around three former sideshow acts that get together to commit cons and other forms of crimes. Notable in the film is Harry Earles, a little person actor that plays the former twenty inch man performer Tweedle Dee as a little person who has been obviously hardened by the way he's treated because of his height. Inevitably tragedy and karma come to these three after we watch them commit their acts of crime. This remake may not be the better version of the two films of this story, but in my opinion its a great and symbolic way to say goodbye to the silent era with the final film of one of its icons and say hello to a new era for Hollywood.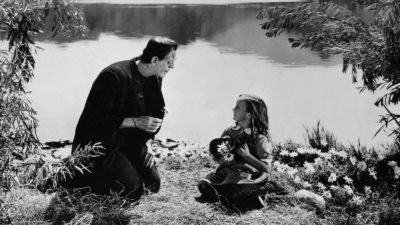 1931: "Frankenstein"
This film was supposed to star Dracula himself Bela Lugosi as the monster created by a mad scientist from the parts of dead bodies stolen from graves and organs stolen from university laboratories, but after Lugosi turned down the script Boris Karloff was discovered by James Whale instead and used this career role to become a legendary horror icon. If you put yourself into the mind of a contemporary film viewer in 1931, this movie must have been absolutely terrifying as you watched Frankenstein create his monster with madness in his eyes, his bumbling assistant get murdered, and the monster's rampage across the countryside that culminated in a tragic scene in which he accidentally drowns a little girl –  a scene  which was considered so shocking for its time that it was an almost mythic deleted scene in re-releases for about half a century before being put back into the cut of the film. But Karloff's performance is the cherry on top; watch other actors portray the monster and then go back and watch Karloff. He gives the creature a sense of humanity that others (with all due respect to them) couldn't seem to achieve, and one of the many reasons I think he's such an underrated actor.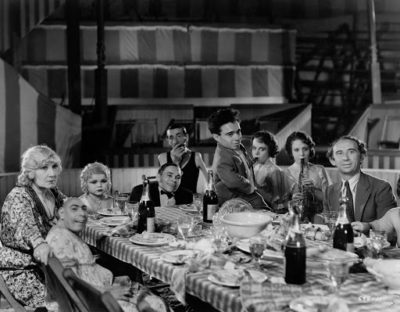 1932: "Freaks"
Freaks was considered a controversial abomination when first released in 1932, a tale about circus sideshow in which a gold-digging black widow type of figure attempts to make the little person circus owner played by the previously mentioned Harry Earles into a victim of hers – only for the other sideshow acts to catch wind of this and take gruesome revenge toward her in the end. This movie was probably cursed from the start, with a story that F Scott Fitzgerald threw up at the lunch lobby of the studio when he saw the Siamese twins on set and one of the "normal human" actresses quickly regretting taking part in the project. The movie itself was received badly by critics, human rights campaigners, and audiences who were horrified with stories of some of them running out of the screening and one claim of a woman going into labor from the shock. The film flopped and seemed destined for obscurity, only to end up gaining a cult following as time has gone on, and now is regarded as a must-see horror classic to watch ever Halloween season. I had heard of this mythos of Freaks for some time and when I finally got around to seeing the film for myself I was expecting some unnerving horror flick that might offend me. Instead what you get is a drama with a look into the way these people with physical disabilities have found a way to keep living life and make a living while at it, and almost every single one played by actual sideshow performers at the time. Yes, the film ends in a shocking act of revenge but quite frankly you find yourself almost rooting for it when you see how the villainous Cleopatra treats the leader of these innocent people.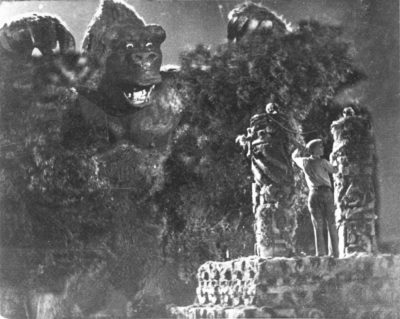 1933: "King Kong"
This is when making one of these lists begins to get harder because all of a sudden the choice winnows down to two of your favorite all-time films, and with 1933 it's a close race between this classic and the original The Invisible Man starting the great Claude Rains in the first of many incredible performances as perhaps the greatest character actor of all time.  But King Kong wins out, a film I first saw when I was still only about four years old and a movie that inspired such greats like Steven Spileberg and Peter Jackson to want to make film. Not to mention it being a big hit with Japanese audiences to the point they wanted to make their own films of the giant ape and would then take inspiration from it to create a certain giant radioactive lizard that's become a big part of cinema. Learning how to use stop motion techniques in 1925's The Lost World, Willis O'Brien brought Kong to life in what at the time were amazing visual effect achievements. Add some romance, action, adventure, creature fights, and an amazing and iconic climax atop the Empire State Building and you get a legendary creature feature that has withstood the test of time – past some less well-aged depictions of Island natives.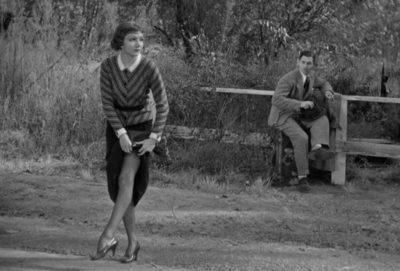 1934: "It Happened One Night" (Won The Oscar For Best Picture)
It was beyond difficult to have to pick a film above 1934's The Thin Man but this movie just ultimately slightly ranks higher on my personal lists of all-time favorites. The first of two winners for the Oscar for Best Picture, It Happened One Night might have the most amusing and greatest of behind the scenes stories of Oscar Best Picture winners. This romantic comedy ,about an heiress attempting to flee her father with the help of a cynical and trouble-making newspaper reporter who wants to get her part of this big scoop and has an iconic scene in which Claudette Colbert shows off her legs to get a passing driver to pick them up off the side of the road, wasn't suppose to be a big hit. Frank Capra, who might be my number one choice of favorite directors, didn't think this would be much past a small comedic film. However, a rival studio head who happened to be angry with Clark Gable at the time loaned the actor out to Capra for the film, and though she was supposed to be enjoying her honeymoon, Claudette Colbert got roped into doing the film as well under protest. Capra re-wrote the script, anticipating it could become something so much more with such heavy hitters joining the cast and wrote a great romantic comedy that ended up receiving various Academy Awards' nominations. The film ended up sweeping all the major awards, a feat only two other films have pulled off, including Colbert as Best Actress, after she had to be stopped from leaving the ceremony earlier to catch a train because she was so sure she wasn't going to win. I knew i'd love this film as soon as I watched it for the first time and then directly started the film all over again to watch an encore.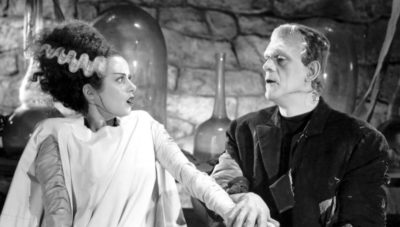 1935: "Bride Of Frankenstein"
When people debate the greatest sequels in cinema's history, Bride Of Frankenstein has to be mentioned among them. Usually chosen by Universal Monsters fans as their favorite film of the franchise, this film is Whale's risky gamble at following up a straight horror film with some campy content with comedic relief strewn throughout a movie that is ultimately sort of a tragedy about a monster's realization he is not meant for this world. The movie offers up another great manic performance by Colin Clive as Dr. Frankenstein in his final time taking up the character before he sadly passed away at a young age just a year later. But the most fun role goes to Ernest Thesiger as Doctor Pretorius, a mad scientist with a sinister quirkiness and, some would even argue, queerness to him that ultimately ends up the real villain of the film.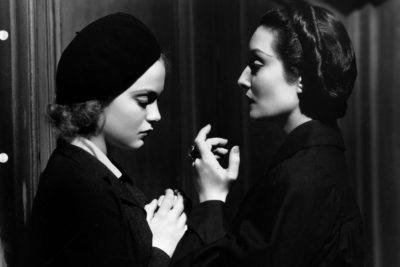 1936: "Dracula's Daughter"
Set right after Dracula, this film made five years later about the Count's daughter who attempts to fight back her urges for blood as a vampire herself is highlighted by the performance of Gloria Holden as the title character. The movie is post-code but somehow exudes an erotic vibe with the countess finding herself chasing after our main protagonist, a doctor who was supposed to be helping her fight off her cravings, and a scene in which she unnervingly forces herself onto a female victim. The movie admittedly isn't up there among my favorite of the Universal Monsters' series, but among 1936 films it strikes me as the much more entertaining watch that more horror fans should give a look.
1937: "Snow White And The Seven Dwarfs"
The first-ever feature length cell-animated film, Walt Disney gambled huge on this movie being a box office success even as many industry insiders mocked Walt by calling it "Disney's Folly". Though his animation studio had become a successful and profitable business making short cartoons for theaters to show before movies, Walt wanted to make his own film and spent years making it happen. He had to fight off debt collectors, a business partner in his brother who wanted to quit at times, and a wild party atmosphere among his animators that led to one of his main animators striking up a romance with the model for Snow White's designs. Creating an innovative multi-plane camera technique to make the animated sequences feel three dimensional, the movie ended up creating enough realistic emotion for and from animated characters that when Walt noticed Clark Gable crying at the premier during Snow White's would-be funeral he knew he had hit the jackpot. The movie was the biggest box office success of 1937 and would lead Disney's company into becoming the most respected and acclaimed creator of animated feature films.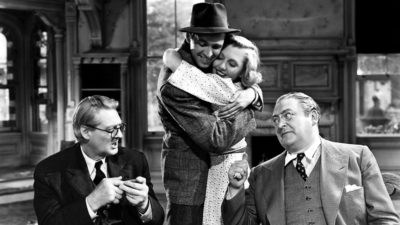 1938: "You Can't Take It With You" (Won The Oscar For Best Picture)
Based off the stage play, You Can't Take It With You is a comedic tale of the classic rich boy falls in love with poor girl – except now picture that poor girl has the zaniest, kookiest, largest, and most eccentric family anyone could have in one house as they host dinner with her fiance's uptight wealthy parents. Now imagine that said wealthy father happens to want the property that said poor girl's family owns, and that in order to get it he has an underling implement shady hijinks that end up getting all of them intro big trouble on dinner night. This is pretty much a story about crazy inconvenient situation occurring after crazy inconvenient situation, and at the end of it all a message about trying to appreciate the simpler things in life. This won the Oscar for Best Picture for a reason.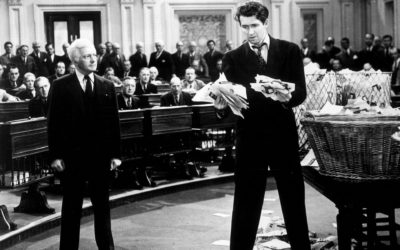 1939: "Mr Smith Goes To Washington"
There was no year harder to pick a favorite film than this one. 1939 is regarded by many as the greatest year of American cinema for a reason. I could have gone with the iconic and spectacularl-looking for the time Gone With The Wind, or with the crowd pleasing (and my wife's personal favorite) Wizard Of Oz, or maybe with my personal favorite of the Universal Monsters' films in Son Of Frankenstein. But for a second year in a row I have to go with a Capra film starring Jimmy Stewart and with Claude Rains showing up in it in what might be his best performance. Mr Smith Goes To Washington is only second to one other movie as my all-time favorite movie and as someone who has only grown more cynical about politics that position of it among my top favorites has only hardened. This is a dramedy about a boy scout leader plucked from obscurity to become a senator who should be an easy pawn for a political machine. However, when he fights back against that machine they try to doom him in return, causing Senator Smith to go on the most epic filibuster in the history of cinema. This movie was actually besmirched by some establishment forces at the time as being a film that would only destroy the confidence in political institutions, but eighty years later no one would blink an eye if you tried to tell this story again within today's political environment.
And that caps off all my favorite films from each year from the 1930s. I hope that I've given you some new favorites to discover among these and look forward to any replies of others' favorites from the 1930s. Next up: the 1940s, a decade when Hollywood went to war.