Saturday Spins: Desaparecidos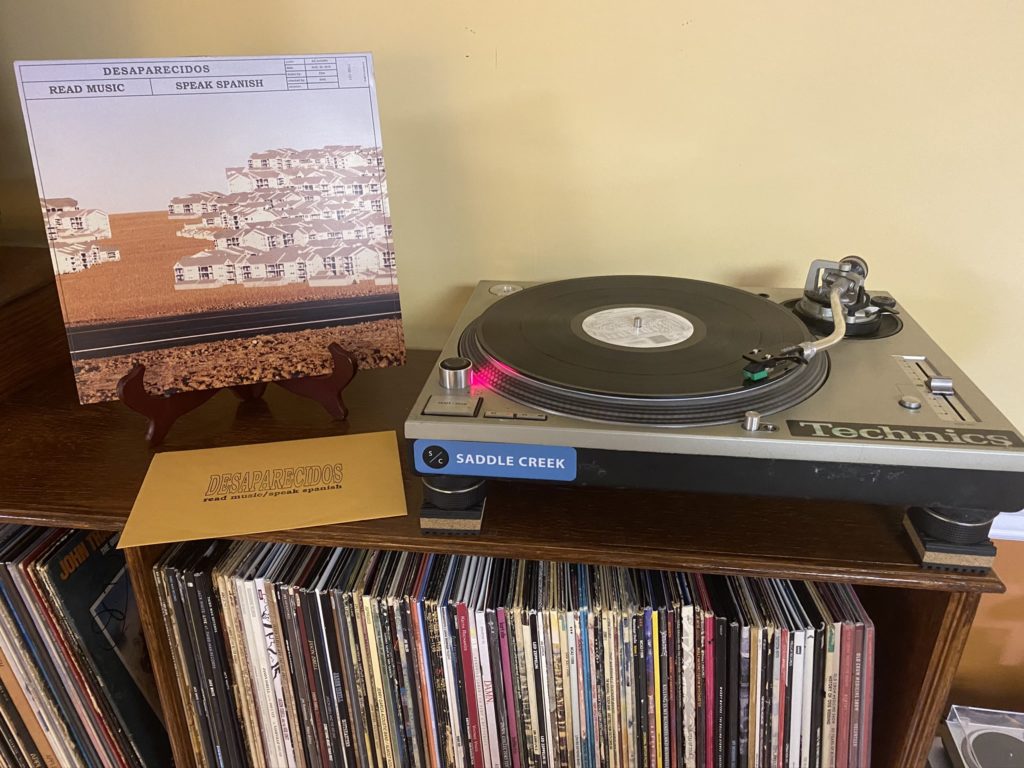 Last week, your hero covered an obscure artist from New Jersey because it was just something I happened to stumble upon and wanted to share it with you fine folks. This week, the randomizer presented one of my favorite stick-it-to-the-man records from my youth. This time it isn't Rage Against the Machine, though.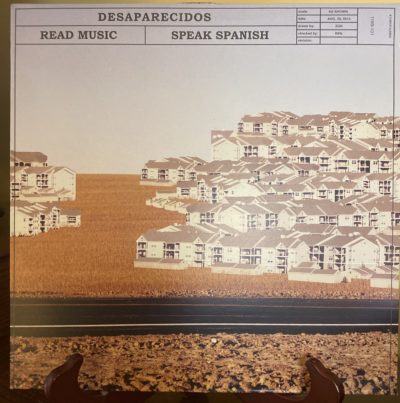 Desaparecidos
Read Music/Speak Spanish
2002 (2010 Reissue)
Commentary
What happened when the saddest man in Omaha decided to "make a rock record with the disappeared?" Magic.1 When I was in high school me and my other sad friends would often listen to Conor Oberst's alter-ego, Bright Eyes. As is the case with music, you learn to not only branch out, but discover artists' various side projects. In mid-2001, Bright Eyes was gaining a lot of traction, but Conor took a detour and fronted a politically charged punk rock group.
Students of history will recognize the name of the band; it is a reference to victims of fascist/right-wing regimes in central and south America that would often "disappear" their political opponents along with other people. The term "Desaparecidos" is primarily associated with United States-backed fascist monster, Augusto Pinochet.
Read Music/Speak Spanish is a concept album that operates as a criticism of unfettered capitalism, consumerism/materialism in the United States, and the pressures of upward mobility2. Since they were a group from Omaha, their songs also explored suburban expansion in that city as well.
I do not have a copy of the 2002 original pressing, but in the reissue copy I do have, the liner notes come in the form of a development plan that would be presented to a municipal planning commission.3
The album artwork is like a faux engineer's plan of a suburban housing development. on the original pressing it had the February 2002 release date, on my reissue it has August 2010.
This album is the perfect soundtrack for the BS of the Dubya era in America, which led to the economy crashing due to the illusion of upward mobility through sub-prime mortgages.
Track By Track
1. Man and Wife, The Former (Financial Planning)
This is essentially a song written for millennials when millennials were still in junior high. It's all about the hustle after being married young in an economy that definitely does not work for you. It is also about young love, but love in the sense that one partner expects a certain standard of living while the other struggles to keep up.
2. Mañana
"What you learned
What you read in their books
All they offered
What you saw
When they told you to look
A final offer."
This song is great because it is a succinct telling of a generation pushed to spend piles of money to get an education, but with little to no opportunity or standard of living upon graduation.
3. Greater Omaha
[youtube https://www.youtube.com/watch?v=hdLxVBTEHgI]
This one is about suburban spread/sprawl. Once quaint burgs outside of major cities being literally eaten up by the spread of cookie cutter housing and chain restaurants.
"A little shelter from the sun
For the upper tax bracket
Here on the cul-de-sac
We are not giving back
Until the community repents
Cause we can't afford to be generous
There are closing costs
And a narrow margin
So go earn your degree
And we'll take you out to lunch
You can work for us
But you gotta eat 'em all up!"
4. Man and Wife, The Latter (Damaged Goods)
Here we return to our couple from track #1, and folks, they aren't doing so swell. In fact, they ended up getting married and are now getting a divorce. In fact, the partner that was all about living beyond his/her means is still living beyond his/her means.
"So you want to change?
Read a letter from a lawyer4
Want to take me out to dinner
You want to bury me under a mound of shopping bags."
5. Mall of America
[youtube https://www.youtube.com/watch?v=ed9g1B0DLu0]
"Mall of America" is my second favorite track on this album. It is a blatant salvo against unfettered capitalism and American-style consumerism. One of my favorite quotes from Infinite Jest is, "It did what all ads are supposed to do: create an anxiety relievable by purchase," and this song pretty much sums that up pretty well.
"There is not an image
That I must defend
There are no art forms now
Just capitalism
So send the National Guard
To the Mall of America

And they can dress dead bodies up
In tight designer jeans
Diesel! Prada!!!
It looks good. It looks good. Yeah, it does."
6. The Happiest Place on Earth
One of the things I noticed in my years of angst is how truly nonexistent the so-called "American Dream" is. It's really, as this song states, "A rationing of luck." Continuing their theme of unabashed criticism of consumerism and greed, the song takes a bit of dark turn:
"I got a letter from the army
So I think that I'll enlist
No, I'm not brave or proud of nothing
I just want to kill something
Too bad that nowadays
You just point and click
Swing low satellite
Hot white chariot
In the computer's blue glare
The bombs burst in the air
There was a city once
Now nothing is there."
7. Survival of the Fittest/It's a Jungle Out There
I would think by now, y'all would definitely know what the Desparecidos are all about. It may seem a bit redundant, but as I said before, this is a concept album and that concept is to tear the mask off of American Exceptionalism to reveal the Scooby Doo villain underneath. This song explores everything from salesmen, pyramid schemes, religious grifters, ambulance chasers, loan sharks, advertising, and (what I think) credit bureaus.
8. $$$$
I'm gonna start a factory
The size of a country
I'm gonna teach them all
To work for liberty oh
But I'm not one for handouts
No they got to pay their dues
They can make our shoes
And then we'll walk on you
Always on the move
We heard that business will boom
If some people are removed
I know there's all body types
But we have just one size
I don't care if it's tight
It's all about the bottom line, baby. Profits over people.
9. Hole In One
[youtube https://www.youtube.com/watch?v=DOwcDSN9tJc]
My favorite song on this album. It is basically about selling out, giving up on your dreams and "playing ball" for lack of a better phrase.
"You took your family to join in the urban sprawl
You can't see the stars as well but you're near the mall
Don't know where you stand no more, in line at the convenient store
That's way too long"
It also contains one of my favorite song lyrics of all time:
"Oh they got their eighteen holes
Should tell them to dig one more
The dream is dead"
Fun Facts!
This album also had some additional B-sides released on a 45 that I DO have an original pressing of. It contains two additional tracks, "What's New For Fall" about consumerism, and "Give Me the Pen" which is about moving on after the tragic events of September 11, 2001.
The Desaparecidos broke up shortly after the release of this album, but reunited in 2012 and released a second album, Payola, in 2015. Perhaps we will cover it someday here on Saturday Spins.