Pepperoni Rolls: West Virginia's Official Food, Not a Hot Pocket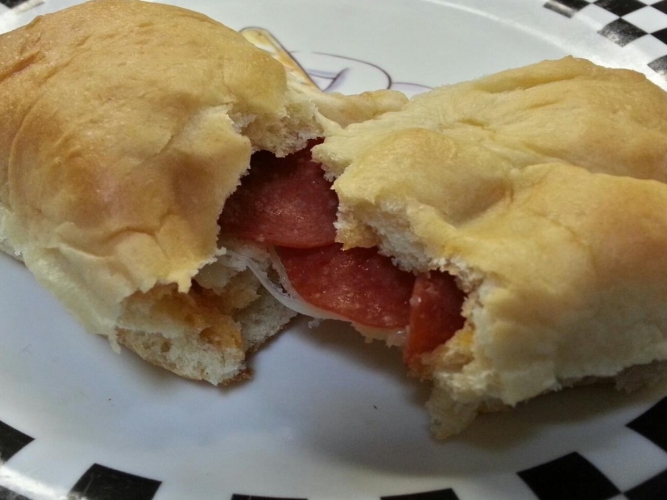 You may or may not be familiar with a delicacy native to the mountain state, the official food of West Virginia, the best thing to come out of here since Mr. Don Knotts: the pepperoni roll.
When you think of West Virginians, Italians are probably not the first group of people that come to mind. To be sure, Scots-Irish and Germans make up the lion's share of ancestry among our people, but the northern part of our state had a high number of Italian immigrants, especially around the turn of the 20th century. And of course, being West Virginia, many of them worked in the coal mines.
Coal mining is tiring, hungry-making work. Miners needed a hearty, but quick and non-fussy lunch. Typically, that means meat and bread. Enter the pepperoni roll, a portable, delicious meat-filled baked good that became a ubiquitous staple in the miner's lunch pails.
What exactly is a pepperoni roll?
First, let me tell you what it isn't:
It's not a stromboli or a calzone.
It's not a corndog.
It's not a "pig in a blanket".
It is absolutely not a damned Hot Pocket, Tod.
What it is, is a large, soft, freshly baked yeast roll that has been stuffed – stuffed, no skimping – with pepperoni and then baked. The baking releases the spicy oils from the pepperoni, which then soak deliciously into that soft bread. If your pepperoni roll is not slightly orange on the bottom like the picture on the left and does not leave a bit of a grease spot behind on a napkin, it wasn't done right.
The bread should be the consistency of a school cafeteria dinner roll, if you remember those. Rolls soft and fluffy with a light crust on top. The dough is made as you would for the rolls, but the portions are flattened out, then filled with pepperoni, and then folded — more than rolled — to encapsulate the meat.
In any cooking, I think it's best to use the most quality ingredients you can afford. Good pepperoni can really turn a pep roll from delicious to amazing, but if you only have or can only afford a package of pre-sliced Hormel, it's fine. But use a lot; nobody likes biting into a pepperoni roll and getting all roll and no pepperoni.
Even among West Virginians, there is debate about what is and is not acceptable for a pepperoni roll. Some swear that the pepperoni must be cut into sticks, not slices. Others say slices, or gtfo. Then there is a small contingent who prefer their pepperoni ground up. Personally, I like any of the above, but my preference hierarchy is sliced, ground, stick.
Then there is the battle between the meat-only purists and those who would add a little flair to their pepperoni rolls in the form of mozzarella cheese. I am 100% pro-cheese. Cheese can never be wrong. There are others still who like hot peppers in theirs. I can't get on that train, but it's a pretty common addition. To me, as long as you have pepperoni, there are many acceptable variations.
However, there is one area on which I cannot budge: the bread.
Some like to roll up pepperoni inside of canned crescent roll dough before baking and call that a pepperoni roll. Those people are not to be trusted and I hate all they stand for. Others use pizza dough. This might make a good pepperoni roll alternative, but that is a stromboli, not a pepperoni roll. A pepperoni roll must be made of a soft, pillowy yeast bread. The only shortcut that is even marginally acceptable is the use of frozen dinner roll dough balls, and only because one occasionally just lacks the time to make the dough from homemade. But even the frozen rolls have to be thawed and allowed to rise before they're stuffed – and then left to rise again before baking. Time saving is minimal, but it's an option if you're just not good at making bread or perhaps lack the necessary ingredients.
I've been asked whether one might put sauce inside. I suppose one could, but I think we are getting way outside "pepperoni roll" territory here, into some sort of pizza bread concoction. However, there is a restaurant in my hometown which I featured during our pizza symposium that serves a variation. It is a large, fresh baked sandwich roll that is split and filled with pepperoni, cheese and sauce. The sauce is not a pizza sauce but something more like a meat sauce, the meat being ground pepperoni. It is warmed after it is topped, which melts the cheese and toasts the bread. They call this offering a "pepperoni bun"; they know better than to call it a pepperoni roll.
You should try a pepperoni roll sometime if you get the opportunity. Just make sure it is an actual pepperoni roll, and not one of the weak wannabe versions discussed above. If you're not in or near West Virginia, you may have to make them yourself. Or, better yet, come visit us sometime, and have the genuine thing.