Tiger King: America's Newest Obsession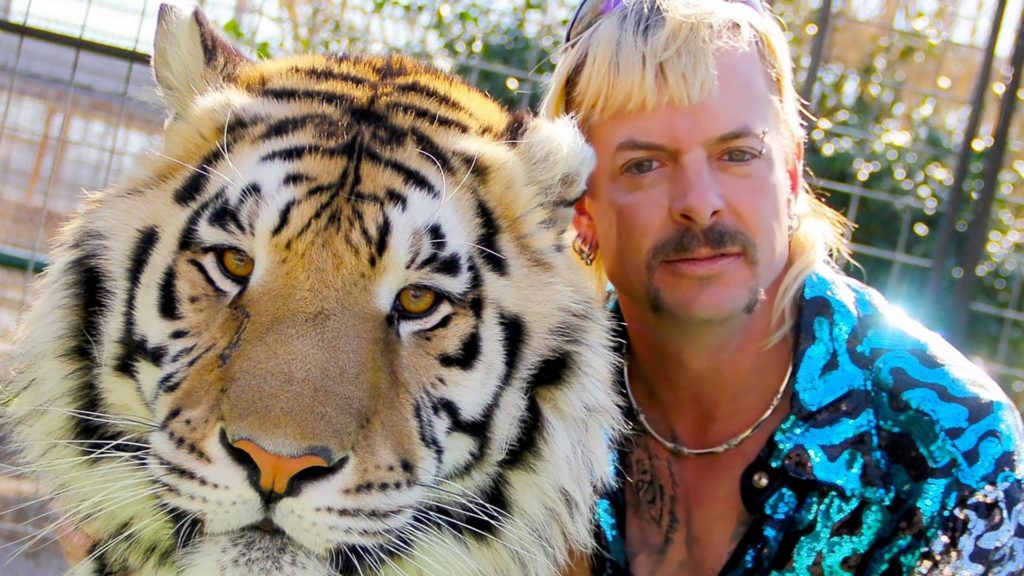 Warning: Spoilers
Surely you, as a denizen of the internet, by now have seen a meme featuring a man in a loud shirt, armed1 with a blonde mullet, usually flanked by a real life tiger or other big cat. You may have even possibly seen or heard some reference to, "That b****h Carole Baskin." All of this makes more sense if you plant yourself in front of the television, fire up Netflix, and watch the documentary that is taking the United States by storm.
I was a victim of social media peer pressure. I was perusing Facebook, Twitter, etc. and I kept coming upon the same weird content featuring the aforementioned characters. So I finally did a little investigating and found that Netflix had indeed a released a bonkers new documentary about the world of keeping big cats and other exotic wildlife in captivity. I am stilled floored that people like this exist.
What made it even more interesting was the main subject of the documentary was currently sitting in federal prison after being convicted of murder for hire and various wildlife offenses. At first glance, and listen, I asked myself how he hadn't already been incarcerated. The man is a walking felony; as soon as he opens his mouth, it's like he is speaking a different language.2
As the story unfolds, it quickly becomes apparent that Joe Exotic was once a well-meaning, if not eccentric, zoo owner. However, once he realized he could start profiting off of shameless self-promotion using exotic wildlife, the wheels came off. Joe Exotic is basically what Donald Trump would be today had he not been purchased an admission into Penn and then given some seed money from his overtly racist slumlord father.
Men and women like Exotic are pervasive in today's ultra-connected internet society. Take for example trust fund bro, Dan Blizerian. Better yet, pseudo motivational (cult?) leader Gary Vaynerchuk. And of course, one of the best examples of narcissistic rich persons with no discernible skills, the Kardashians. Living large and always working on their #brand. It mystifies me that hordes of people enable and glorify them.
The bulk of the documentary is a description of the war between Exotic and animal rights activist, Carole Baskin. Baskin runs an exotic wildlife rescue in Florida.3I gotta say, Baskin's rescue is not much different from a zoo. Her main rub against Joe Exotic, and other collectors of big cats, is that they profit off of the litters of kittens born in their captivity.
Her activism and Exotic's vainglorious attempts to be famous result in some wild back and forth salvos. Most of these salvos consist of Joe simulating violent acts against Baskin on his television channel called "Joe Exotic TV." After years of back and forth though, Exotic finally does something civilly actionable, resulting in Baskin suing him and acquiring a judgment for damages of around $1 million. That's when things really take a dark and sad turn for Joe Exotic.
Never before have I watched a documentary where several of the interview subjects say things that are potentially incriminating in so many ways. It is like a prosecutor's wet dream. One of the interesting interview subjects is Baghavan "Doc" Antle, a Hollywood-connected exotic animal trainer and collector who has also been in Baskin's cross hairs. Rightfully so, because the dude basically runs a weird sex cult. Sometime in December 2019, his compound was raided, but no charges were brought.
Speaking of multiple spouses, Exotic marries three much younger men during the course of the time period (including two at the same time) covered by the documentary.4 One of his ex-husbands is interviewed extensively, let's just say he doesn't do a lot to dispel my feelings about the vast majority of middle America. In an even weirder turn of events, both men he married together turned out to be heterosexual.
One of Exotic's favorite accusations to level at Carole Baskin is that she killed her first husband, a millionaire, and fed him to her tigers. It is absolutely insane at first until you hear about the circumstances of his disappearance coupled with Carole saying something in some footage about coating a person in sardine oil and how it would entice tigers to eat said person.5Exotic even tried his hand at country music, and recorded a video about Baskin feeding her husband to the tigers.
The country songs were later revealed to be written and performed by some obscure Canadian country artist, but Exotic, ever the showman, brings them to life.
Back to the judgment that Carole acquired. At this point, Exotic was on the ropes; he didn't have the money to pay and it was clear that Baskin was maneuvering to execute the judgment by acquiring his animals and the zoo itself. Enter Jeff Lowe, another trust-fund bro. Kind of a low-rent version of Blizerian. What follows is a series of bad business decisions6 and extremely incriminating stuff by Exotic,7 but I think you will have to watch to find out.
Other than the comically dark and tragic circumstances that led to Exotic's conviction and confinement, I think one of the more amazing messages this documentary seeks to show is that 1. There are estimated to be more tigers living in captivity in the United States than in the wild; and 2. A whole cast of real life characters spend hundreds of thousand of dollars fighting each other in the name of exotic animals when they could be spending it on real conservation efforts.
I enjoyed it, mostly because of how absolutely wild it is, but I am bothered by one thing. Throughout the whole documentary, they try to portray Joe as some kind of anti-hero and Carole as some kind of spouse murdering villain. In reality, almost every single person in this documentary is a villain. I only hope, since it has been so widely viewed, it can be a lesson more than a playbook.