Chill Out: The Story Behind the DC Universe's Most Important, Anonymous Figure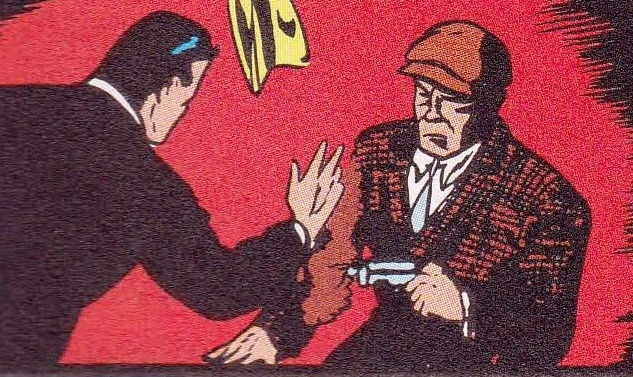 When I was a teenager, I was obsessed and fascinated by the 1991 movie "JFK." I spent countless hours watching and rewatching the three-hour epic, absorbing every detail in Oliver Stone's expansive vision of a lush and dangerous 1960s America that was just too fallen for its purest president.
The movie had quite a cast of colorful characters, but none were as compelling as Stone's conception of Lee Harvey Oswald. Played with smoldering, implosive energy by Gary Oldman, he quietly lurks in the background of most of his scenes, somehow world-weary in his early 20s and hiding untold knowledge and history behind a cryptic and disengaged expression.
That such an enigmatic figure must have had a more interesting story than the official narrative — a miscreant ex-Marine and one-time traitor with bizarre delusions of grandeur — seemed too obvious to be even worth debating.
Such is the nature of the anonymous citizens who sometimes move history.
The DC Universe has a John Kennedy—a few, actually—but no one would disagree that the Wayne family is really the closest comics equivalent to the Kennedy clan. (Albeit, with a WASP's old-money fortune.)
And, like the Kennedys, their dynasty was forever changed by an everyman with a gun. Who is, depending on who's telling, a vicious lone criminal or a pawn in a vast, city-wide conspiracy. A symptom of rising crime and falling standards in a spiraling society. Or — sometimes — a symbol of nothing at all.
He's avoided supervillainification in a medium that thrives on pumping up all antagonists to absurd proportions. Which, in a sense, makes him Batman's greatest foe. If you're puzzled how a tragic, Gatsby-esque figure like Batman could become one of the most beloved superheroes in American pop culture, don't look to the Joker, the Penguin, or Catwoman. Look to Joe Chill.
To back up a second, this is my 10th post about the Batman universe. What began as what I thought was a funny little diversion about the Condiment King has turned into an obsession with examining the lesser-known threads in the 80-year mythology–from Alfred's history as a bumbling fop or Batwoman's homophobic beginnings.
But I'd long been fascinated by Chill, and wanted to write about him — but found it difficult to get started. Because he barely exists at all.
Surprisingly little is known about how the murder of the Waynes — one of pop fiction's most famous origin stories — was conceived. Bill Finger, the anonymous (hmmm…) Batman co-creator added it to an issue six months after the character debuted, and he did too few interviews in his lifetime to ever be asked.
"Bill and I discussed it, and we figured there's nothing more traumatic than having your parents murdered before your eyes," said Batman co-creator Bob Kane, as quoted in "Batman: The Complete History," by Les Daniels.
Not that it was entirely their idea—in "The Caped Crusade," Glen Weldon notes the similarity to the origin story of the Phantom, whose ancestors were killed by pirates.
At any rate, the story perfectly meshed with what Finger and Kane were trying to do — ride on Superman's cape-tails with a similar character who combined the heroics with a noirish pulpy edge, borrowed from the potboilers both of them constantly devoured.
Chill didn't have a name at this point — he was just a mugger after Martha Wayne's necklace, wearing a flat hat and tie and growling "You asked for it" and "This'll shut you up" before firing the fatal shots. His name and story weren't particularly important — his act inspires grieving young Bruce to swear war on "all criminals," not just him.
But the relentless demand for new stories eventually forced Finger to return to Chill, and flesh him out into an actual character. In a flashback Finger wrote in 1956, Batman learns that Chill wasn't a random mugger after all, but a hitman hired by a Gotham crime boss to rub Thomas Wayne out after he testified against him.
It was immaterial at this point, though — Chill had been dead since Batman #47, written in 1948. In that story Batman seeks revenge after finding out that Chill has risen to become a mid-level gangster of his own. But Chill instead meets his death at the hands of his own henchmen, enraged after they learn he inadvertently created the vigilante who made all of their lives hell. (Thanks to some precise and convenient dialogue, the henchmen only learned that, without learning Batman's identity.)
That Chill's story would be more elaborate and involved is only natural. Conspiracies and plots are integral to Gotham—something Batman inherited from The Shadow, who was almost always battling mysterious cabals of one kind or another. Part of the thrill of a good pulp novel is the promise that it's pulling back society's curtain, just a bit, to reveal the grotesque inner workings.
But this particular conspiracy didn't play much of a role in the overall Batman story. In fact, that version of Chill was barely heard from again.
When the DC Universe rebooted itself with Crisis on Infinite Earths in 1985, Frank Miller was tasked with reimagining Batman. With an eye towards '70s and '80s anxieties about ever-escalating crime and societal decay, he recovered Batman's roots as a noir figure and spiked it with grittiness and violence. Miller's Batman was dripping with pathos, and the origin story would play a new, dominant role in the narrative. Chill was due to a makeover.
Neither of Miller's twin opi, "The Dark Knight Returns" and "Batman: Year One," depict the killings directly. But in flashbacks he added new details and texture. (This is where we get that the Waynes were seeing "The Mark of Zorro" that night, for instance.)
Miller's Chill was a scared, pitiable figure. A symptom of society's downfall, not a cause.
"He flinched when he pulled the trigger. He was sick and guilty over what he did," Wayne says in the "Returns" voiceover.
In "Year One," Wayne describes him as "the man with the frightened, hollow eyes and a voice like glass being crushed."
Miller's world was chock-full of conspiracies — just about everyone in his Gotham was on someone's take. But it didn't make sense for Chill to be a part of it. Then Batman would have a specific, distinct foe, when his quest needed to be expansive and endless. A crusade against crime as a concept, and for an idyllic, lost world. Chill needed to be both bigger and smaller than he'd ever been.
"All he wanted was money," Wayne says in the early pages of "Returns."
(Wayne even reminisces about the simplicity of Chill's motive, compared to the gangs of psychotic mutant gangs roaming futuristic Gotham. "I was naive enough to think him the lowest sort of man," he tells himself. "These—these are his children. A purer breed. And this world is theirs.")
This new Chill didn't live long either, however. In "Batman: Year Two," immediately following "Year One," he actually teams up with Batman—not knowing his real identity—to fight a new vigilante on the streets, the Reaper. That new enemy kills Chill before Batman gets the chance to, after a confrontation in the alley of his parents' murder. This would be a pivotal moment in Chill's story if it hadn't been effectively uncanonized by later issues and completely forgotten by readers.
But Chill stayed dead — his natural state, outside the scope of Batman's vengeance and unavailable to supply answers to questions he doesn't want to resolve. And that was pretty much it for the next few decades.
Chill's relationship to Batman and Gotham changed again in "Zero Hour," a 1994 revision to the previous decade's reboot, in which Batman travels to an alternate universe and learns that this universe's Chill was somewhere else at the time of the Wayne murders. Does this mean that Chill is really guilty? Innocent? The point was to put his culpability in doubt, expanding Batman's mission even further.
(Another canon rewrite in 2006 restored Chill's status as the indisputable murderer, to match the 2005 movie "Batman Begins, which would feature Chill heavily. More about that in a bit.)
"Joe Chill in Hell," part of Grant Morrison's mind-bending Batman run in the aughts, imagines a terrified Chill shut-in with his henchmen and attacked by Batman every night. But this is a hallucination, brought on by a near-death experience after being shot by an evil doppelganger. (It's a long story.) It's classic Morrison — both a nod to past Batman canon and a searing look into his psyche. But it's unclear whether we're supposed to assume any of it reflects the real Chill.
Chill has found more screen time in Batman movies and TV shows, which have found clever ways to imbue him with added importance while staying true to the central tenet that he be an anonymous crook.
In the TV show "Gotham," for instance, the cops arrest someone else for the murders — who turns out to have been framed by crime boss Carmine Falcone, worried that the Waynes' death will shake the public and disrupt his control. (The show doesn't actually have a Chill character at all, eventually pinning it on a sociopathic killer.)
And in "Batman Begins," he's still a mugger, and clearly terrified — in keeping with the film's central theme of fear. But he also was a cellmate of Falcone and knows secrets about his empire. The district attorney cuts Chill a deal to testify, enraging young Bruce. He hopes to kill Chill outside the courtroom, but the corrupt judge allows one of Falcone's hitmen to beat him to it. The experience was a harrowing lesson to Bruce about the stark realities of Gotham's power structure, sending him on a lifelong mission to dismantle it.
"Falcone floods our streets with crime and drugs, preying on the desperate, creating new Joe Chills every day," a character tells him.
Chill looks like he could be an addict, or starving. Or maybe he's neither.
"Sure, I was desperate, like a lot of people back then," he says in the courtroom. "But that don't change what I did."
Is he telling the truth? Does it matter?
Other movies, like the 1989 "Batman," took Chill out of the equation entirely. And last year's dark, iconoclastic "Joker" flipped the script and turned Chill into an aggrieved Joker follower, targeting the Waynes during a riot. He was no longer a symptom of society's unfairness but a protester of it.
On rare occasions, Batman has had the chance to confront Chill, with interesting results. "Chill of the Night," an acclaimed 2010 episode of the irreverent animated TV show "Batman: The Brave and the Bold," mixed different elements of the Chill backstory to see Batman unveil his cowl and reveal himself to his creator. The intersection was fixed by the Phantom Stranger and the Spectre, two supernatural figures who've made a wager over Batman's soul. Stranger wins, and Batman spares Chill, who inadvertently dies soon after.
But the most involved Chill and Batman confrontation, which has survived to today's DC canon, came after yet another universal reboot in 2011.
Scott Snyder, now in charge of Batman's redesign, wanted to connect the Dark Knight to post-9/11 fears of society-shattering catastrophes, just as Miller connected his to the previous decades' frustration with street crime. The Batman story was about to turn even further into existentialism.
His first arc was the "Court of Owls" saga, a brilliant meta-thriller that pits Batman against an ancient and powerful organization, while also probing the fascination with conspiracies—our compulsion to look for hidden strings.
In flashbacks, once again, we learn that a teenage Wayne earnestly searched for what he thought were the collaborators in his parents' death, only to discover there were none.
"I couldn't accept that it was random. That some plain old Joe Chill, some no-name, had killed my parents over nothing but pocket change and pearls," Wayne says. "Deep down, I believed—I knew—there had to be something bigger at work."
Novelist Gregg Hurwitz, author of spy thrillers including the recent "Into the Fire," spun off and expanded this threat in a 2012 single-issue prequel story, Batman: The Dark Knight #0, which depicts young Wayne searching for and finding Chill, only to discover a beaten-down drunk.
"Your mom had them nice pearls," he tells Wayne. "I just..I needed money for another bottle."
Wayne spares him, not so much out of pity but because killing him would be a meaningless act.
"For me, the tragedy of Joe Chill, when he discovers who he is, is that he can't just kill him. There's nothing to kill," Hurwitz told me. "It's just the inherent and fundamental chaos of the world."
Hurwitz had long wanted to write about Chill, who he sees as a collision between the American literary traditions of Ralph Waldo Emerson and Edgar Allen Poe — the transcendentalist belief that to search within is to discover natural order and meaning, versus the Gothic romanticism that embraces only the irrational.
Eagle-eyed readers will notice references to both authors throughout the issue, as well as clown imagery invoking Batman's most famous enemy, who poses the same fundamental quandary.
"Batman to me has represented this need to create order to withstand chaos," Hurwitz said. "Bruce's challenge is even in the face of chaos and meaninglessness, to still show goodness and discipline."
Batman has many roles, but one of the most overlooked is that of a scientist. In a world filled with magical, supernatural beings his only superpower is his obsessiveness — his never-ending compulsion to research and explore. He wants to understand not only his enemies' weaknesses and stronger compounds for body armor, but every detail about a fantastic and bizarre world that will never, ever make as much sense to him as it did when he was a boy.
Born in the Great Depression and just before the world descended into violent anarchy, perhaps it is this quality that has helped make the Dark Knight such a relatable figure over the years. Superman might save you from the monsters but Batman offers the promise of understanding them too.