Remote Barista: Cafe Con Leche
One of my passions, other than music, is coffee. Coffee of all kinds too. Please do not @ me with your bad coffee takes or say that tea is better or whatever. We fought a revolution to throw off the yolk of an empire that only drank tea.1 Some of those psychos even add milk to that bitter nonsense.
In my youth, a very nice Cuban lady taught me how to make cafe con leche. Cafe con leche is different from a cafe au lait and more like a latte. Let me tell you now, though, a Starbucks style latte is shaped more in the European tradition of combining espresso and steamed milk, while a cafe con leche is considered a Hispanic staple and is made a little differently. It is extremely popular in Spain as well.
Now that everyone that can is (presumably) following the rules and staying at home, it makes a daily trip to your local Starbucks, neighborhood coffee shop, or shudders Dunkin'2 a rare occurrence during this time of weirdness.3 So, you may need a new way to enjoy some java.
What You Need
2/3 cup of whole milk
1/2 tsp of sugar-I prefer to use turbinado, but all I have on hand right now is good 'ol regular sugar. More to taste.
One brewed pot of espresso in the 4-cup maker. I use a Bialetti with Cafe Bustelo espresso.
Coffee Press
Homemade Whipped Cream (More on this below)
Trust the Process
Going to assume if you're reading this, you know how to operate a stove top espresso maker, if not you fill the bottom portion to just below the valve with water, then you spoon the espresso into the little filter in the middle and just tamp it down enough.4 The trick is not over extracting the oils in the coffee grounds. You want it to be smooth. At the same time, you don't want it to be too loose, or else you won't get the full flavor.
Next, put that milk in the microwave for 60-90 seconds depending on how powerful your microwave is. When it comes to making milk frothy, you can own a fancy espresso machine or coffee maker with an attached frother, or you can buy a hand frother. Since I am an everyman, I use a coffee press. Pour that hot milk into the beaker and start pumping to make some perfect frothy milk.
Your milk warming and frothing should occur when the espresso is finishing up. Much like popcorn, you want to be sure that you do not burn your espresso, So keep an eye on it towards the end of brewing.
The next thing I like to do is make an espresso simple syrup, as a way to really be sure you get an even sweetness throughout the beverage without stirring the whole damn thing.
What I do is pour just enough of the brewed espresso into the bottom of the cup with the sugar to dissolve it. then stir it around a bit to make a little espresso simple syrup.
Finally, pour the rest of the espresso in, you can eyeball it or measure it based on just how much of a caffeine jolt you need. Then pour the milk in followed by the frothy milk to top it off.
Whipped Cream
While not strictly a cafe con leche addition, it is helpful to have some homemade whipped cream around for any reason really. You can even use it to make the much less involved beverage, espresso con panna. Anyway, start by putting your mixing bowl and beaters in the fridge for like an hour.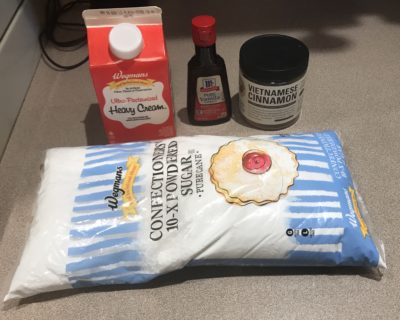 What You Need
1 Cup of cold heavy whipping cream
2-4 Tbsp of powdered sugar–more as needed
1 tsp of vanilla
Vietnamese Cinnamon to taste (Secret ingredient!)
Combine all the ingredients in the cold mixing bowl and beat with the cold beaters until the whipped cream has formed to your favored texture. Drop a dollop in your cup.
Voila!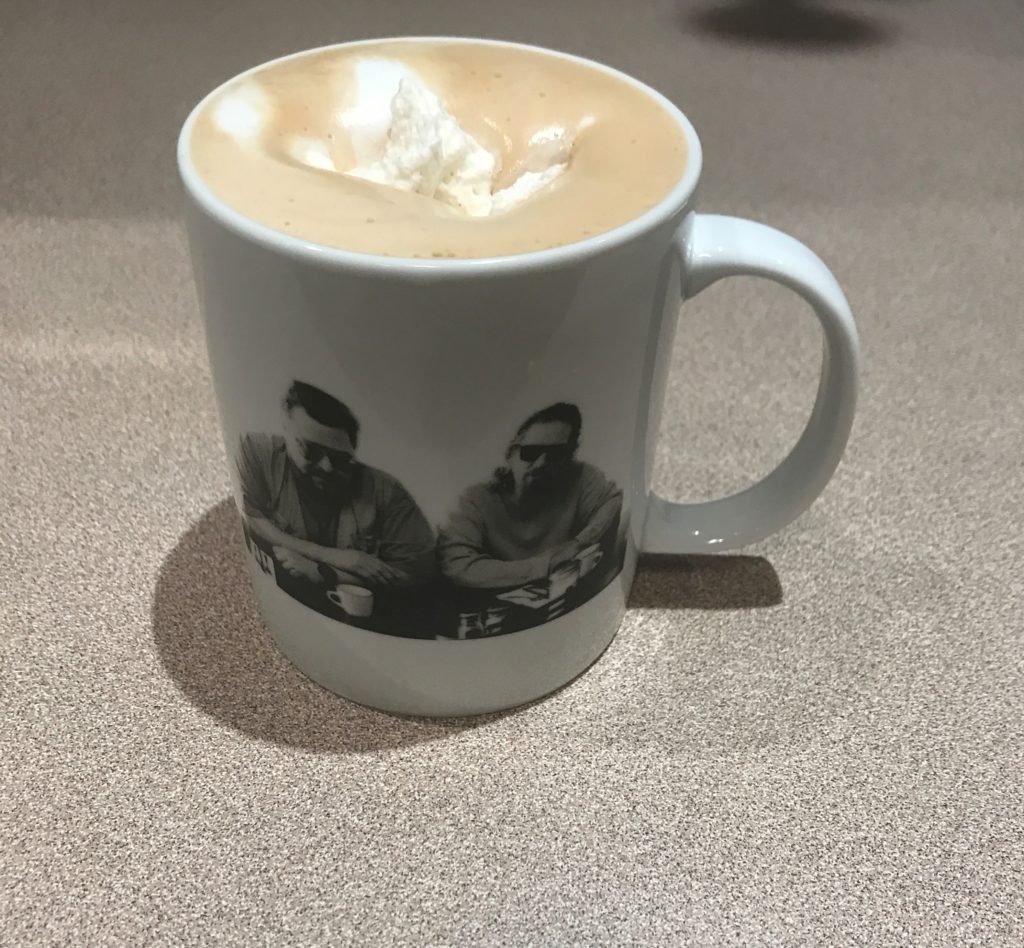 "These are basic freedoms!"
"I'm staying."
"Finishing my coffee…"
"Enjoying my coffee."–Walter Sobchak