The Avengers: The Origin Story of Louisiana's Mightiest Heroes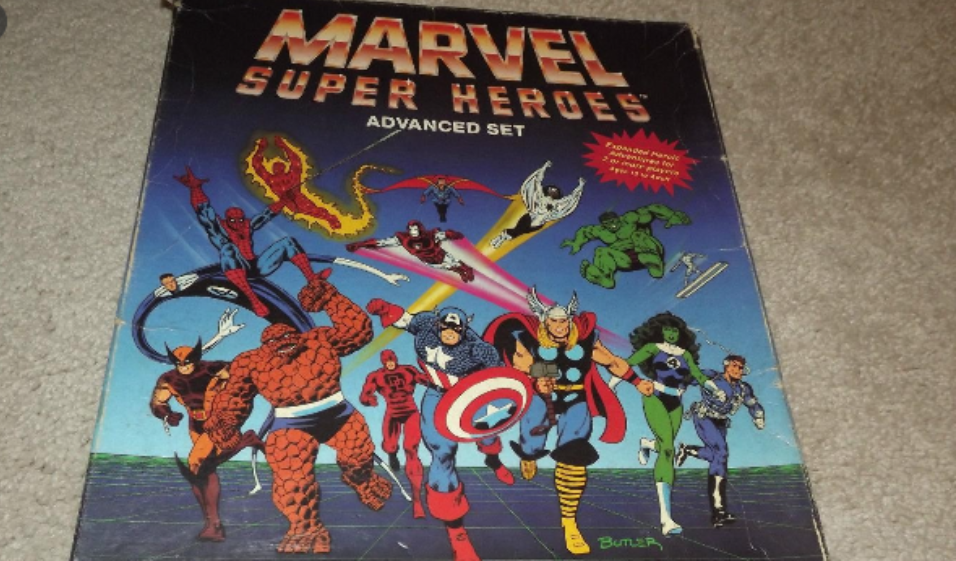 Christmas 1992 was a major turning point in my social life, and I have TSR to thank. Actually, I have more than a few people to thank, but I'd like to start with the folks who weren't content with publishing Dungeons and Dragons.
While I was still years away from being interested in the medieval fantasy genre, there was nothing cooler at that moment in my life than Marvel Comics. The X-Men were a red-hot property in the comic world, with a Saturday morning animated series starting only months earlier. Everywhere I went, I kept my eyes peeled for another new X-Men comic. I knew right where the magazine rack was in every grocery store. I knew which ones carried the latest issues. I knew which ones kept them tucked away in the top right corner of the lowest rack, virtually out of sight amongst the Good Housekeeping and People magazines.
I also knew, of course, where to find all the local comic book stores. Every January, when the yellow pages were distributed, I'd find the comic book stores section and check to see if anything new was added. That year, there was a fascinating new shop. Instead of being tucked away in a mixed-use office building far from a main thoroughfare, this new shop was only blocks away from the city's biggest shopping mall! Which, of course, was good news for a teenager looking to convince his parents to make a side stop now and then. When a gift certificate showed up in that year's Christmas presents, it was a blessing that would lead to a fateful shopping trip.
Not only did this new shop have an exhaustive collection of vintage back issues, it also had a curious shelf adjacent to the new issue rack. The upper shelves were decorated with all the barbarians and paladins one would expect from the D&D brand, but at the bottom there sat a dark blue box with an array of super heroes leaping forth, directly at the viewer. This glorious box was known as the Marvel Super Heroes Roleplaying Game Advanced Set.
My brain immediately jumped at the idea of what could be in this box. Would it allow me to create my own stories with the characters I knew and loved? Could I finally stage the epic battles my friends had debated for years? I had to have this.
As soon as we returned home, I ripped open the packaging and began to devour its contents. There were city maps! There were cardboard triangles to assemble that showed each character! There were flashcards to cut out with statistical summaries! Not only was there a book to guide my young mind in coming up with the most devious schemes for the likes of Doctor Doom and Magneto, there was also a guide to creating my own character to stand tall alongside these icons! This was far beyond my expectations.
I introduced my friend to the game, and he became just as obsessed as I was. We spent countless weekends creating new characters, reading the strange chart of superhuman abilities the dice could grant us. We were encouraged to list Contacts, or characters that we might be able to call upon for a favor. The first characters we made started small (or so we thought), thinking a well-timed phone call to Professor Xavier in New York could get us an invitation to become X-Men whenever we tired of fighting crime in west Michigan. Eventually, we just started writing in bigger and more powerful names, because why shouldn't a sentient robot be able to ask Galactus to show up from time to time?
In case that last paragraph didn't make it clear, my friend and I didn't understand the importance of a moderator in a roleplaying game. When you can do anything, the appeal doesn't last. A few years later, I'd put that lesson to good use.
As I moved into high school, my friend and I drifted apart. His tastes began to shift to more mature fare, which meant he didn't see much fun in reading comics and making up superheroes. Still, there were others I came to know that did share my interest. My new best friend, Josh, would eventually be a best man at my wedding and include some of this story in his speech at the reception (much to my new in-laws' chagrin).
Each Saturday, we'd plan to meet up at a nearby Pizza Hut where a local gaming group had arranged to use the basement for a small per-person admission fee. From noon to midnight, the pitchers of soda would flow endlessly while fellow gamers would huddle around folding tables in various states of disrepair. Magic: The Gathering was in its early years, sharing space with countless Magic clones and a handful of pen-and-paper games. In our little corner of the room, we'd explore a variety of games but we always left time for the main event: our weekly Marvel Super Heroes session.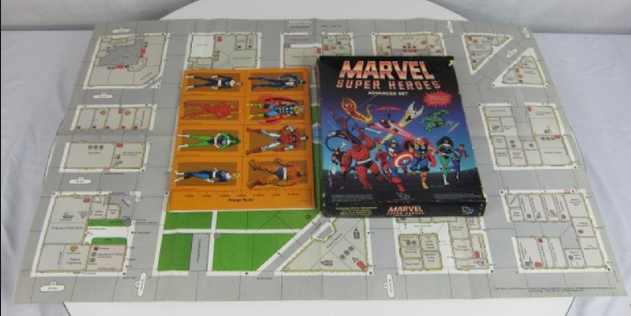 That first boxed set contained so much content, my mind couldn't even comprehend that there were supplemental products available. Eventually I discovered that the product line included comprehensive sourcebooks and boxed sets for all the well-known teams. Every time I managed to talk my parents into a trip to a comic book store, there was this faint glimmer of hope that I'd find an X-Men expansion. It wasn't meant to be, but one day I did find a sourcebook…for the Avengers.
These days, an Avengers product would be top of the line. However, back in the mid-90s, the Avengers were decidedly second-class. Captain America was years away from his reinvention, fighting a losing battle in the face of the "grim and gritty" characters of the time. Thor and Iron Man were both beaten up and replaced by pale imitations. The supporting cast was also weak. Black Knight was running around with a knockoff lightsaber. Black Widow, Crystal, and Sersi each couldn't go a single issue without failing the Bechdel test because their characters were so closely tied to sharing a team with the guys. The West Coast team was even more embarrassing. The less said about the Great Lakes franchise, the better. Who would ever want to be an Avenger?
Reading the Avengers sourcebook, you'd never know these characters were anything less than Earth's Mightiest Heroes. The material covered the proud tradition and lineage of the team name, and even included guidelines for creating your own franchise. Josh and I were both won over by the idea of convincing Tony Stark to financially support our vision of a fourth team. With locations in the Northeast, Midwest, and Southern California, this left the south as the logical choice.
With 90s alternative band Better Than Ezra in regular rotation on the local radio station, their song "King of New Orleans" became a mantra for the new team. We designed an island base in the Gulf of Mexico, and fully embraced the local setting by recruiting a very popular X-Men character, Gambit, to join us. My gun-toting spellcaster and Josh's Star Wars-inspired Jedi facsimile (air control simulating physical Force powers and a laser blade inspired by Black Knight's weapon) shared the lead as our friends joined us on the roster. Jessie, Clay, and Brian were our core teammates and also became close friends away from the table.
Our adventures would take us through space, time, and alternate dimensions, as any cinematic superhero story tends to do. Our characters married, had children, and then died and returned more times than I can count. (Moments ago I went through notebooks full of old session summaries and literally lost track of how many deaths and resurrections there were.) We converted Taskmaster from a mercenary villain to a full Avenger. Our team was criticized in the media. We made guest appearances on a late-night Saturday sketch comedy show. Global catastrophes resulted in redrawing government borders. We disagreed on our team's mission, and our powers caused adverse physical effects. We struggled, we fell down, but we always stood back up.
I don't remember how it all ended, but maybe it's better that way. What I do recall is a timeless string of stories. Our characters embodied the dueling feelings of camaraderie and rivalry. When I see Robert Downey Jr.'s Iron Man and Chris Evans' Captain America butt heads over leadership and policy on the big screen, I see the trademark tension that comes with the Avengers name. I remember the highest highs and the lowest lows. (Those session notebooks even include a scene where a superhero cocktail party is interrupted by a villain, as seen decades later in Avengers: Age of Ultron.)
That Avengers sourcebook truly captured the underlying message of the classic Marvel comics and infused it into a group of impressionable teenagers. There was joy in the struggle. Doing the right thing wasn't always easy, or even clear. However, acting mindfully with good intention and sticking up for your morals felt better than "winning".
We've all grown apart now, though the magic of social media keeps us connected in its own way. I'll forever be grateful for the lessons we learned playing silly games every Saturday night in the basement of a Pizza Hut.