How to Make Truly Decadent Hamburger Helper
Hamburger Helper Commercial (1978)
Much like the Mac&Cheese post, this isn't a post for people who are all-too-familiar with making Hamburger Helper. This is a post for people who feel intimidated by the top of the stove and want a step by step guide on how to make Hamburger Helper. Now, I also kinda gussy it up a little bit so if you're looking for pointers on how to gussy up Hamburger Helper, I have a few.
In the past, I've talked about Adulting 101 courses and one of the examples I use for what Adulting 101 would teach is "How to turn a pound of ground beef and a box of Hamburger Helper into a meal for four." Well, if you've been intrigued by that, this post will help you make something that will blow your friends and family away. And it's fairly easy, all things considered. In theory, all you need for some good Hamburger Helper is a box of Hamburger Helper and a pound of ground beef.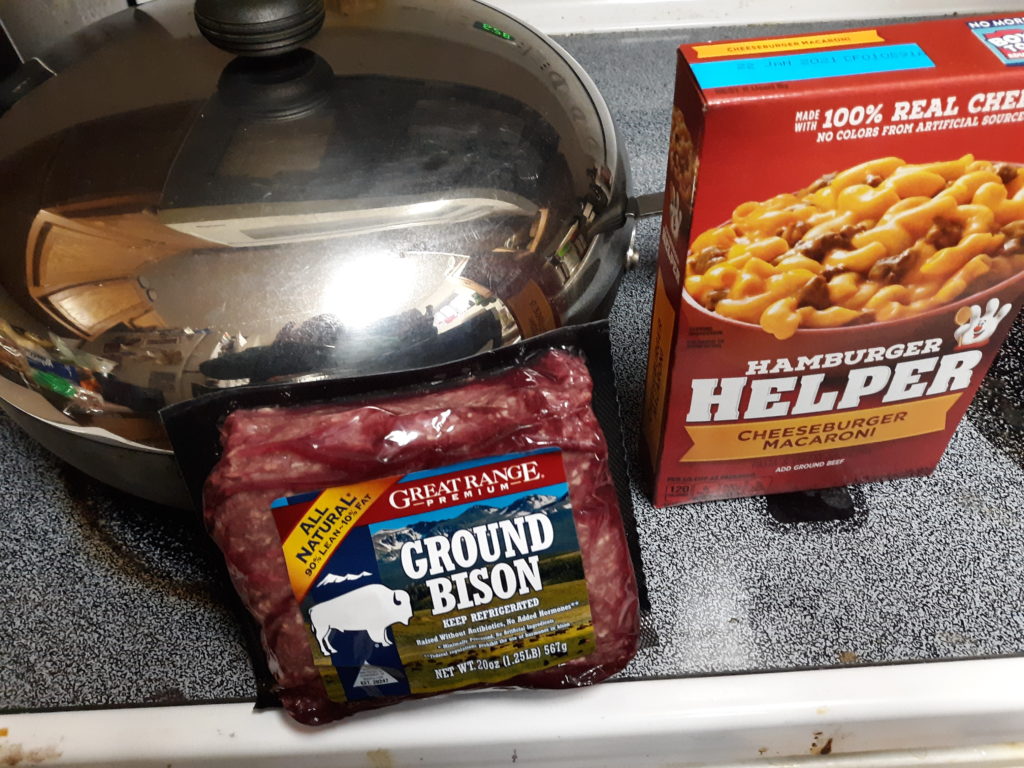 That's not how I make it, though. I start with just a little bit more: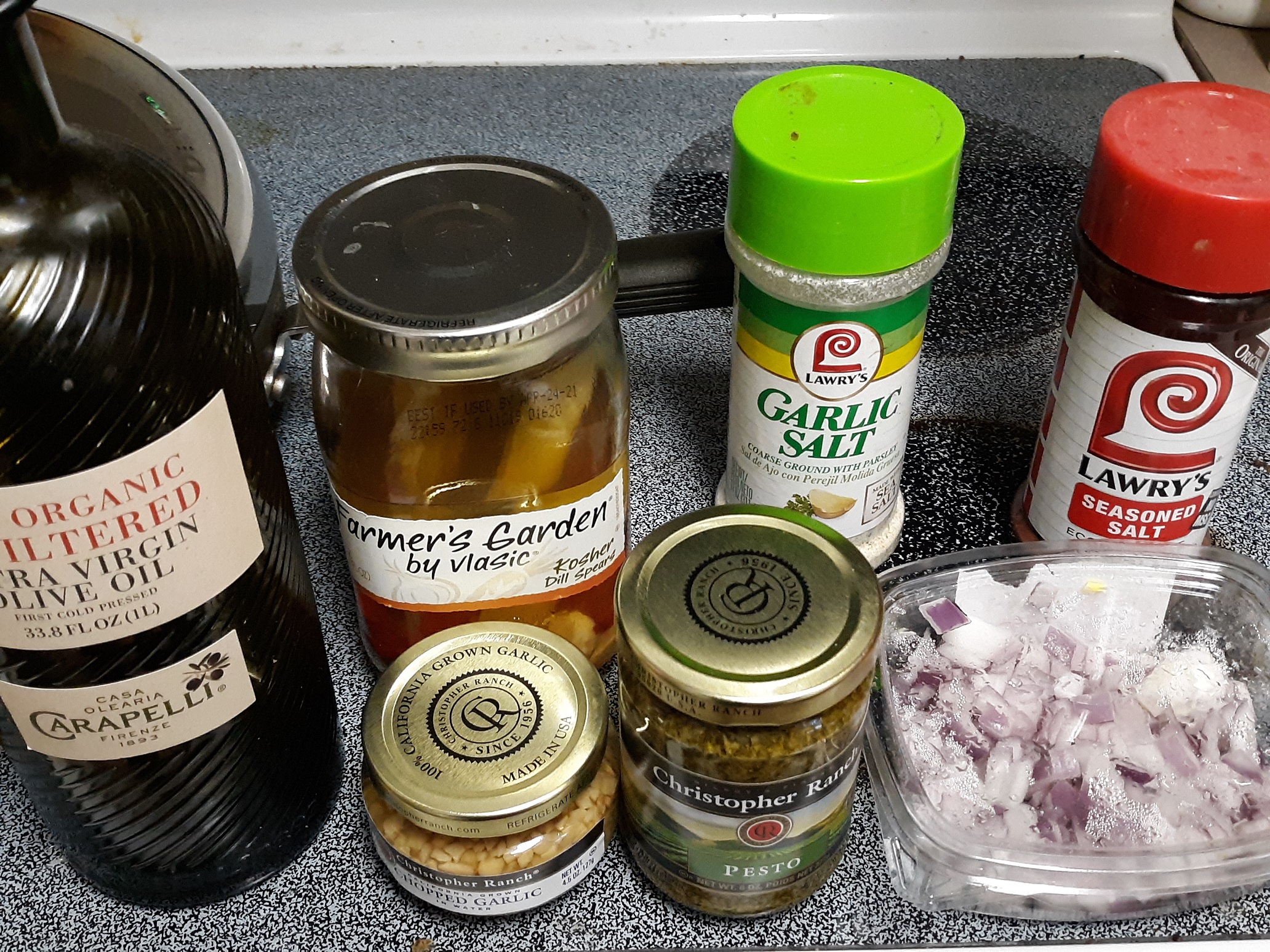 And I know that I'm going to want to dice up those pickles and put those into the Helper at the very end, so let's get those out now… and, holy cow, there are a couple of cloves of garlic in the jar! So I dice those up.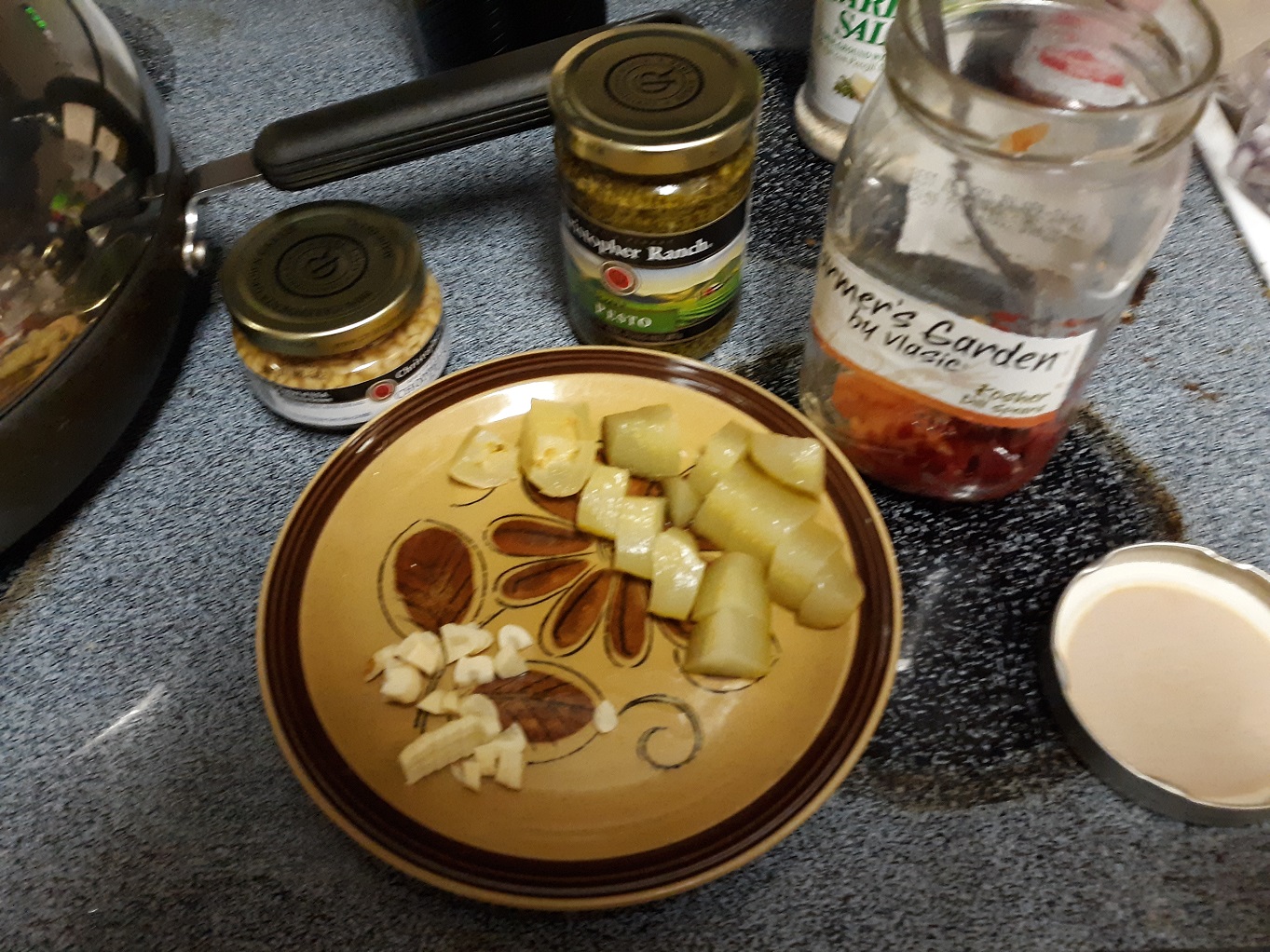 Okay, Put a shake of the garlic and seasoned salt into the pan. The garlic I just cut up. A spoonful of pesto. A spoonful of chopped garlic. And a swirl of the olive oil.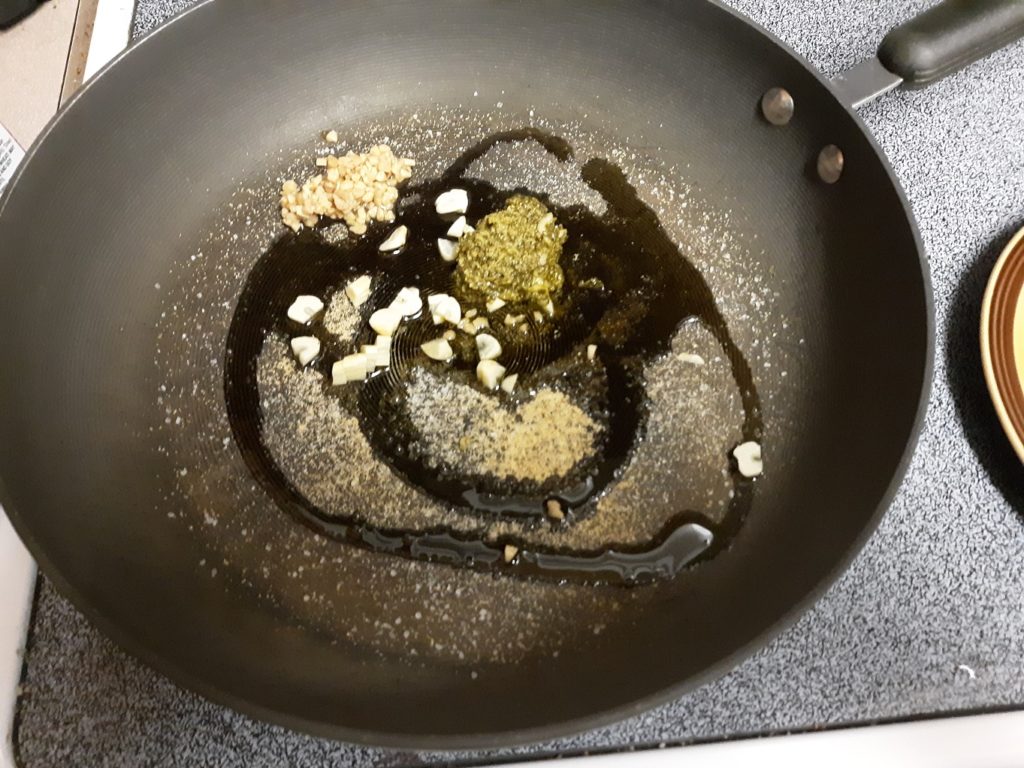 Get the stove going and then add maybe a quarter stick of butter: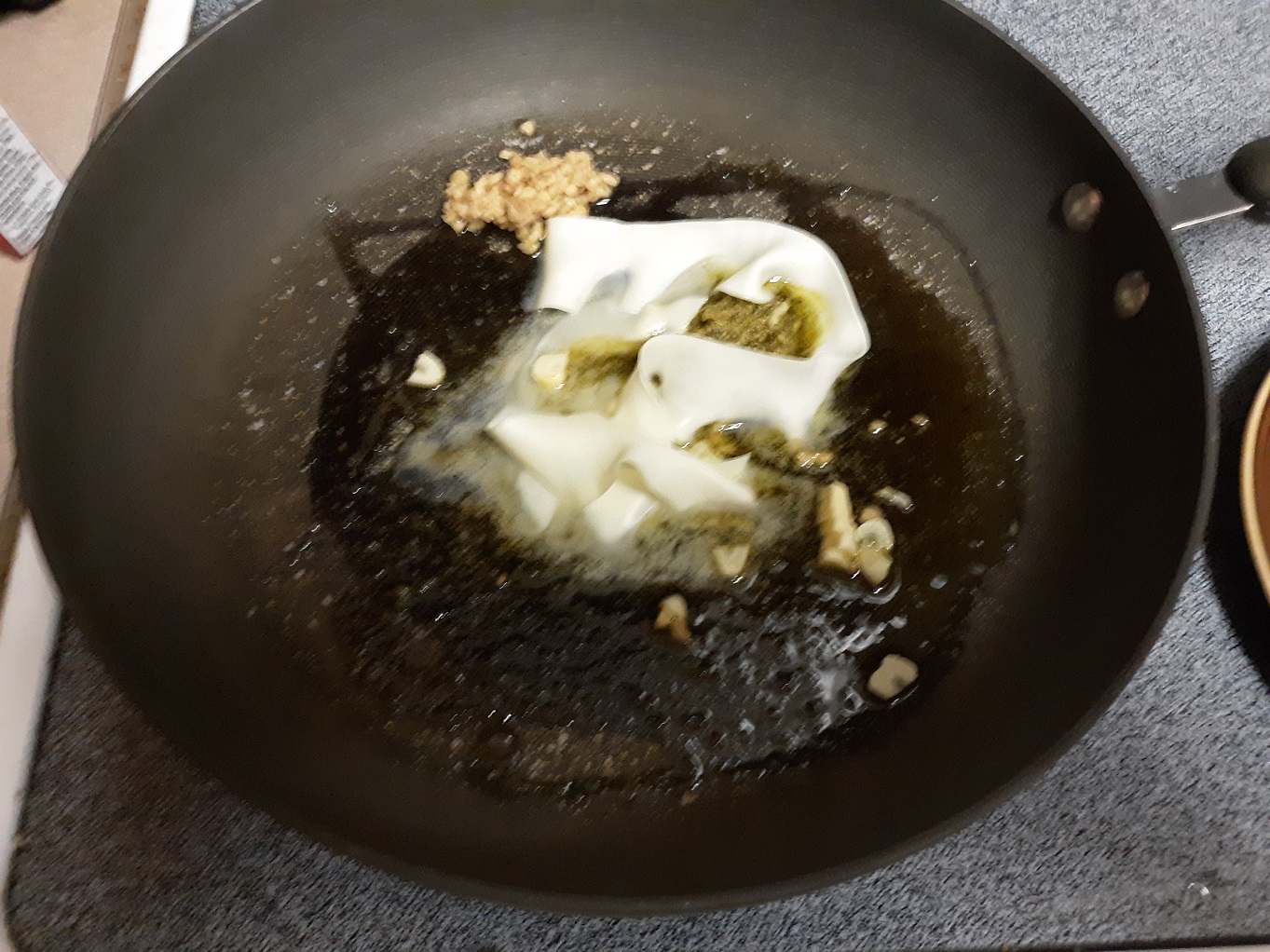 The kitchen has now started smelling pretty good. Time to add the onions (you can get them pre-cut in the produce aisle at your local grocery store… sure, they're a little bit more expensive but how much time and hassle are you saving yourself! No tears, either!):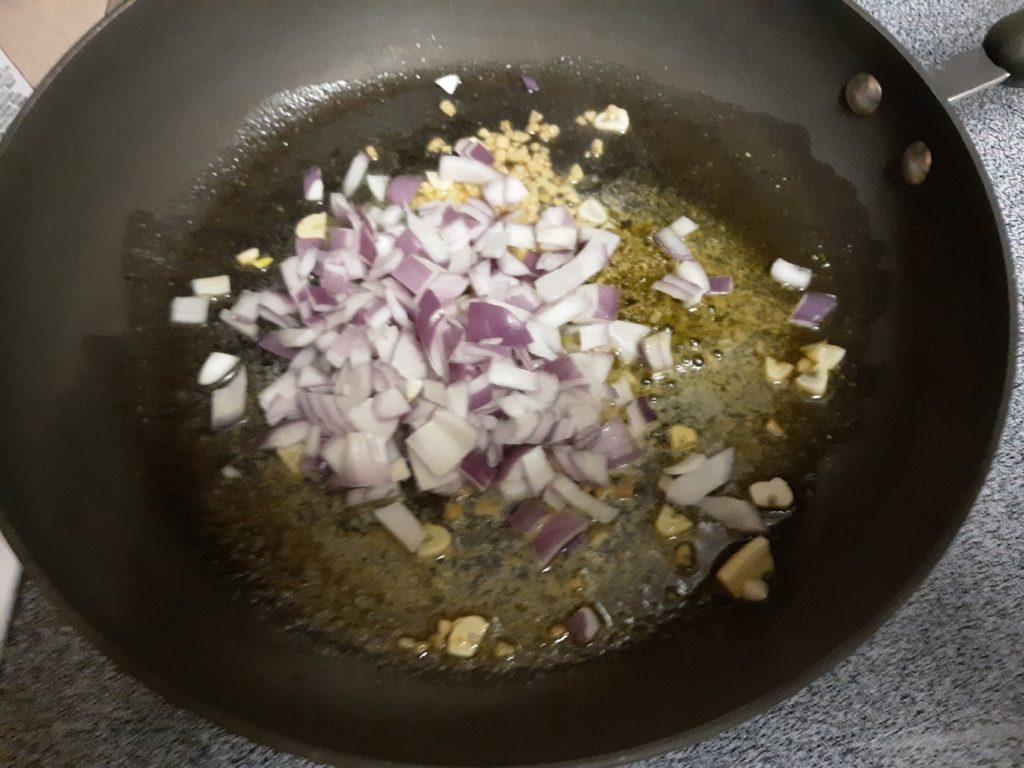 We're going to want to brown those up. So scoot them around in the frying pan for a few minutes…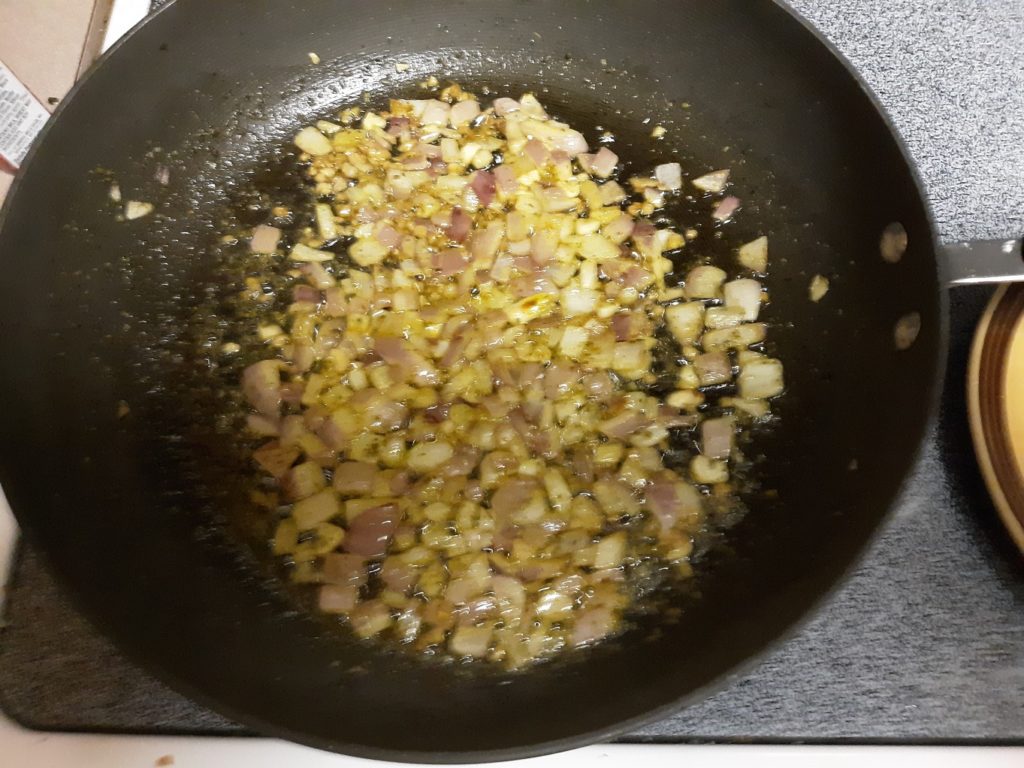 There. Now we're ready to add the meat.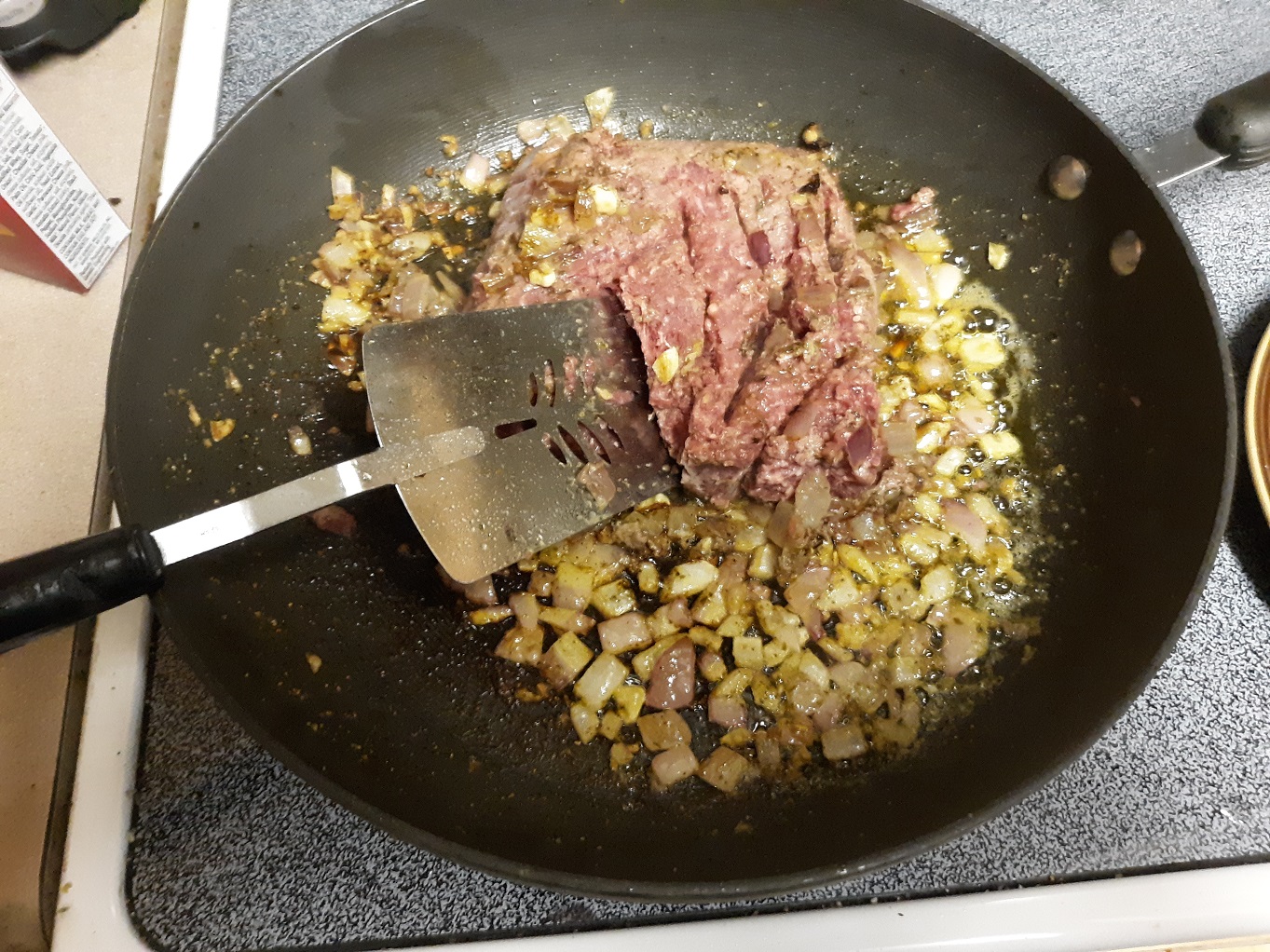 For this it's easy. Just flip the meat and break it up with the spatula.
You want the meat to be nice and browned. Just break up the bigger chunks and scoot them around the onions and garlic and pesto and all that good stuff in there. (The room now smells like absolute HEAVEN.)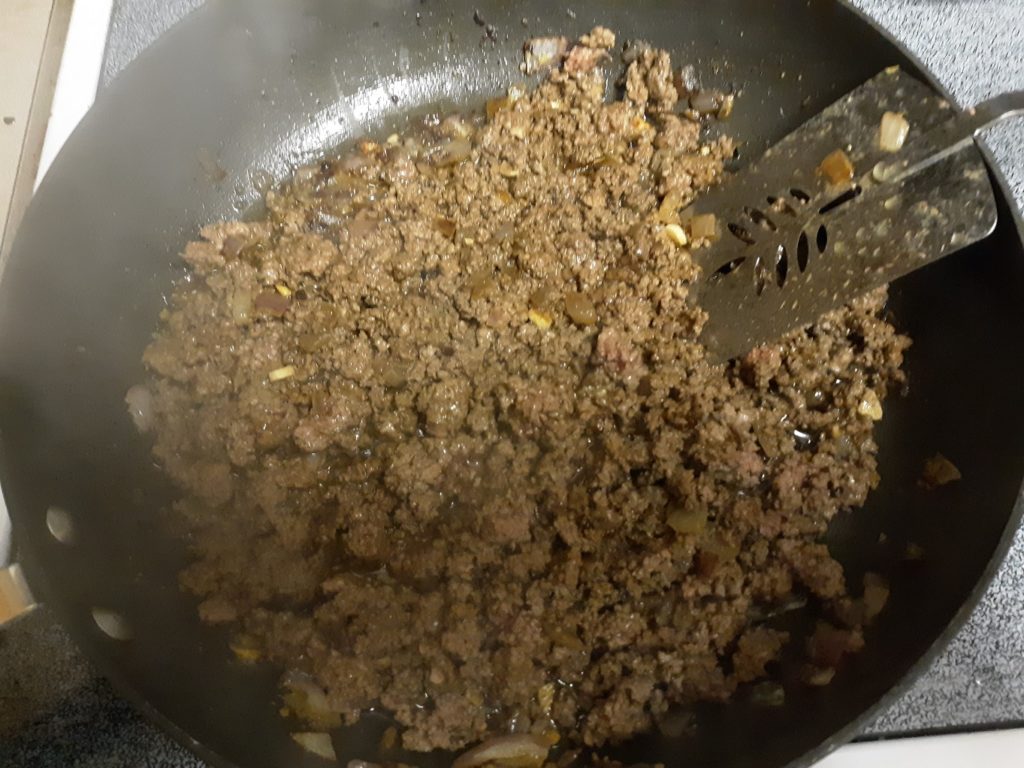 There. Once everything's nice and browned, it's time to look at the instructions again and see that we're supposed to add water and milk.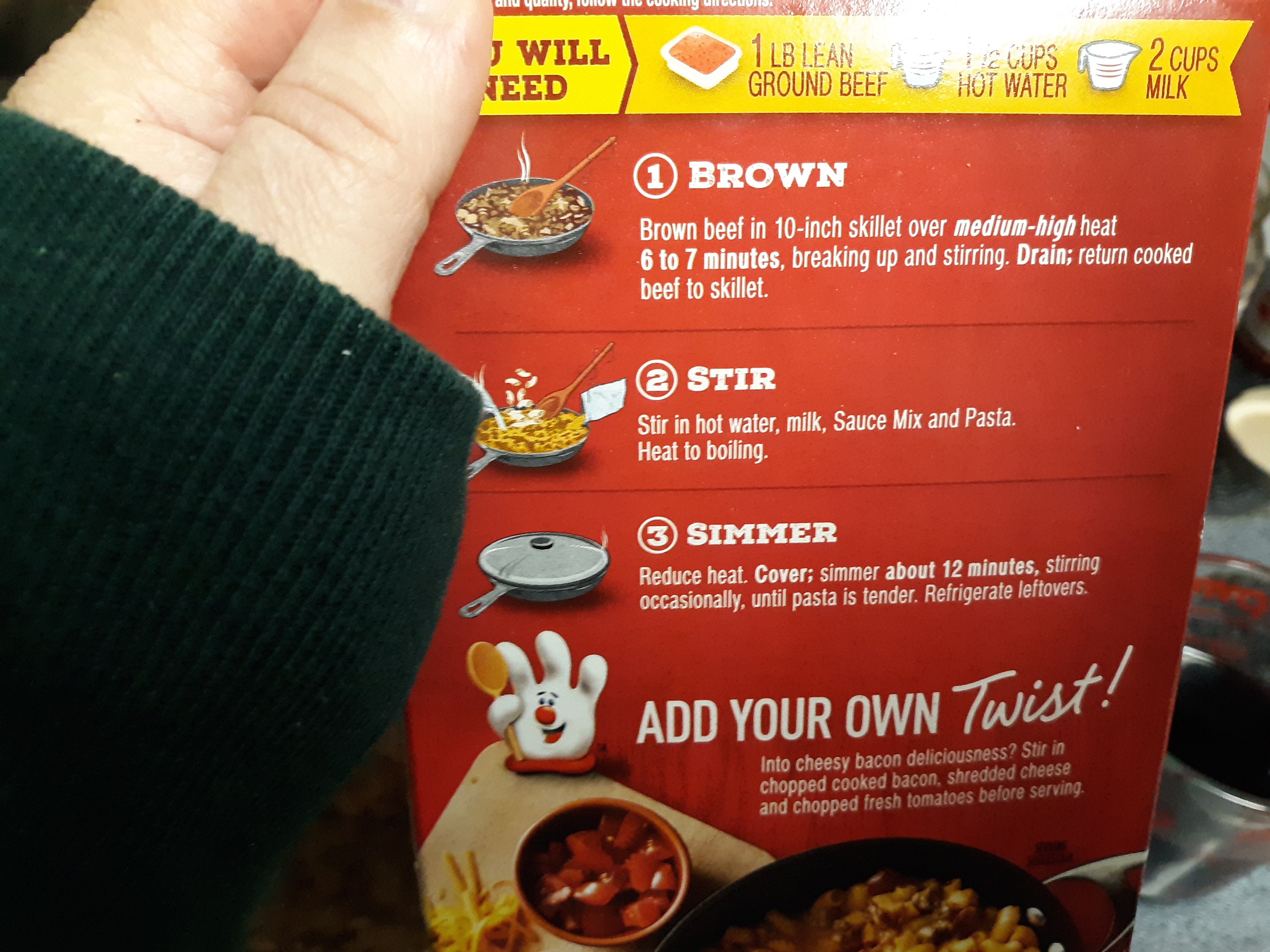 I'm not going to add water and milk. Instead, we're going to use two good, old-fashioned, substitutions: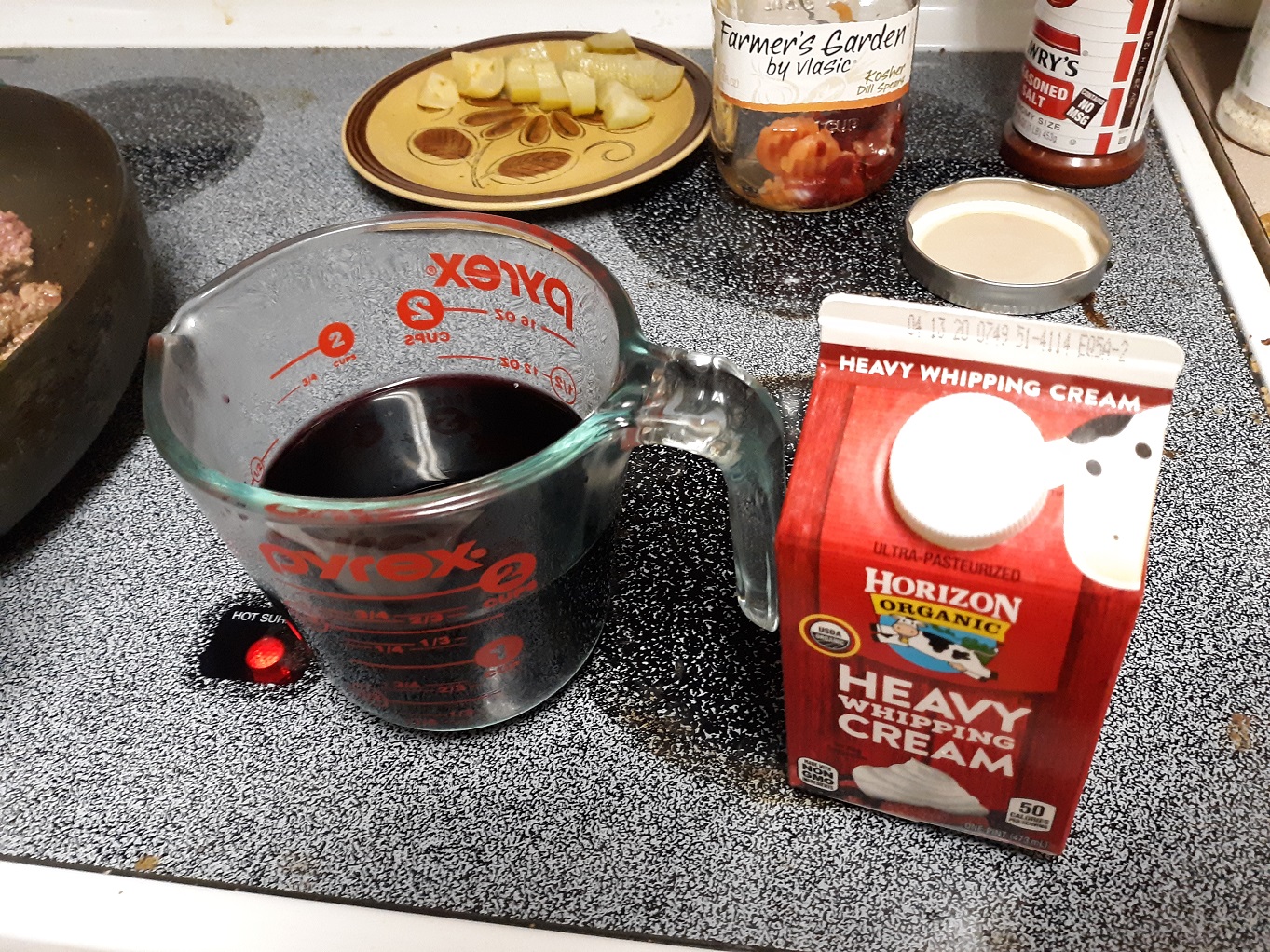 That's right: Wine and Heavy Whipping Cream.
First add the wine…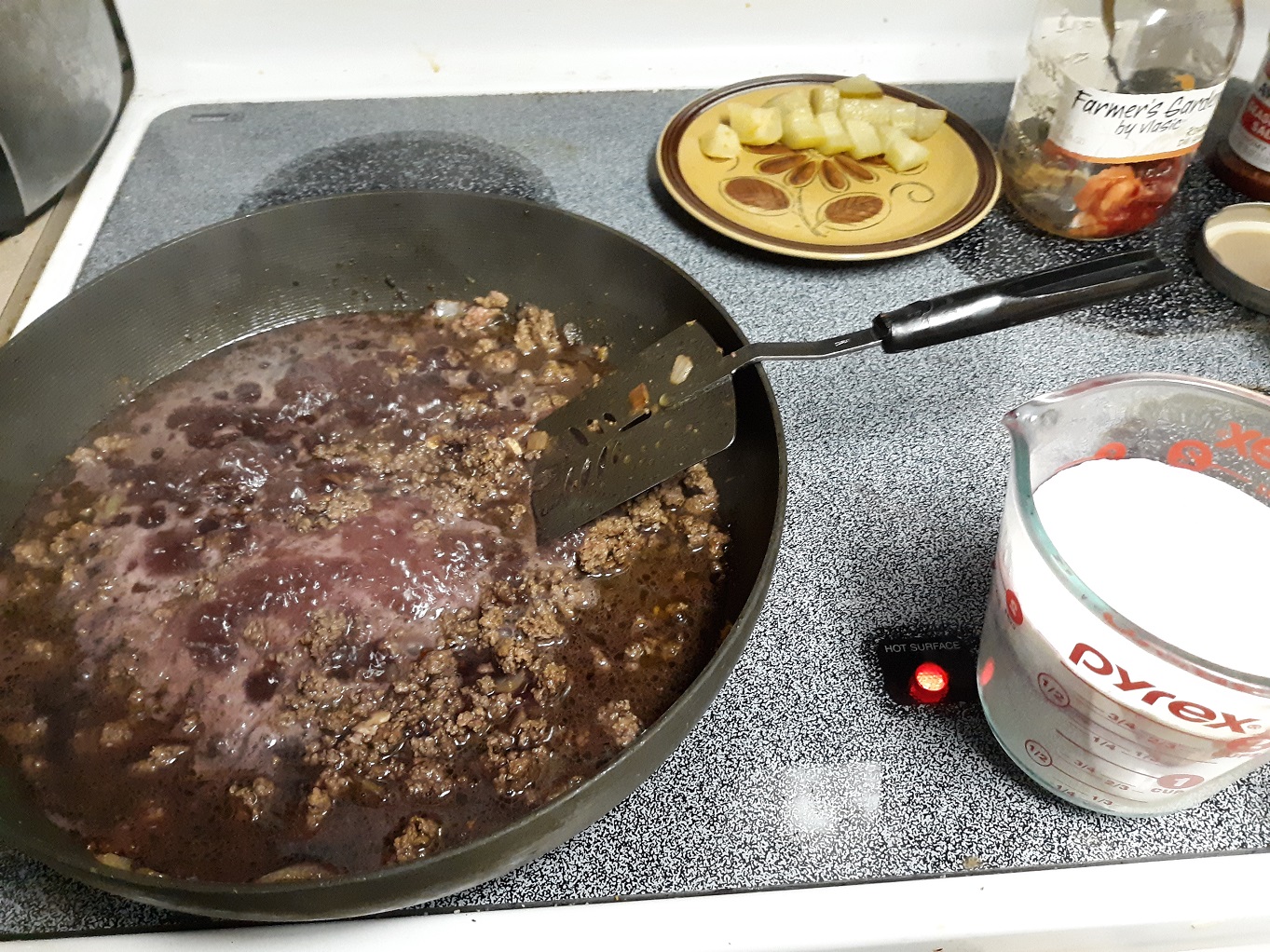 And now add the contents of the Hamburger Helper packet, the cream, and the bits of veggies that were in that pickle jar (that weren't, themselves, pickles).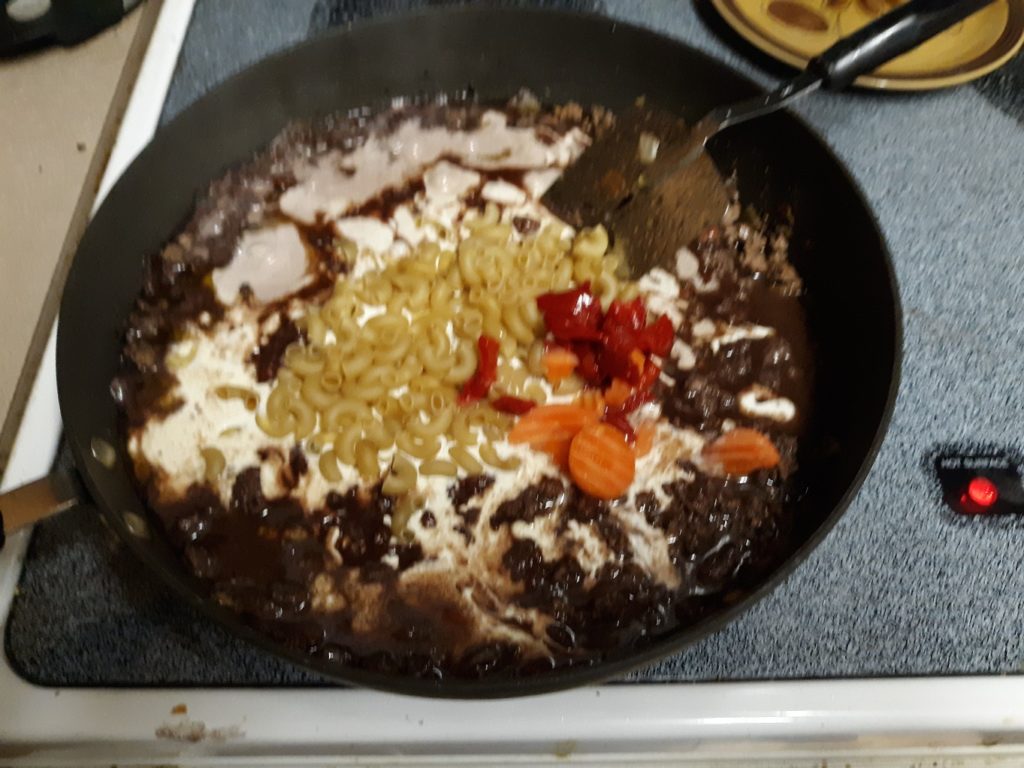 And now we're going to stir it with the spatula and, after it's well-stirred, turn the heat of the burner down to a 3 and we're going to let it simmer for 12 minutes (occasionally stirring it every 3 minutes or so).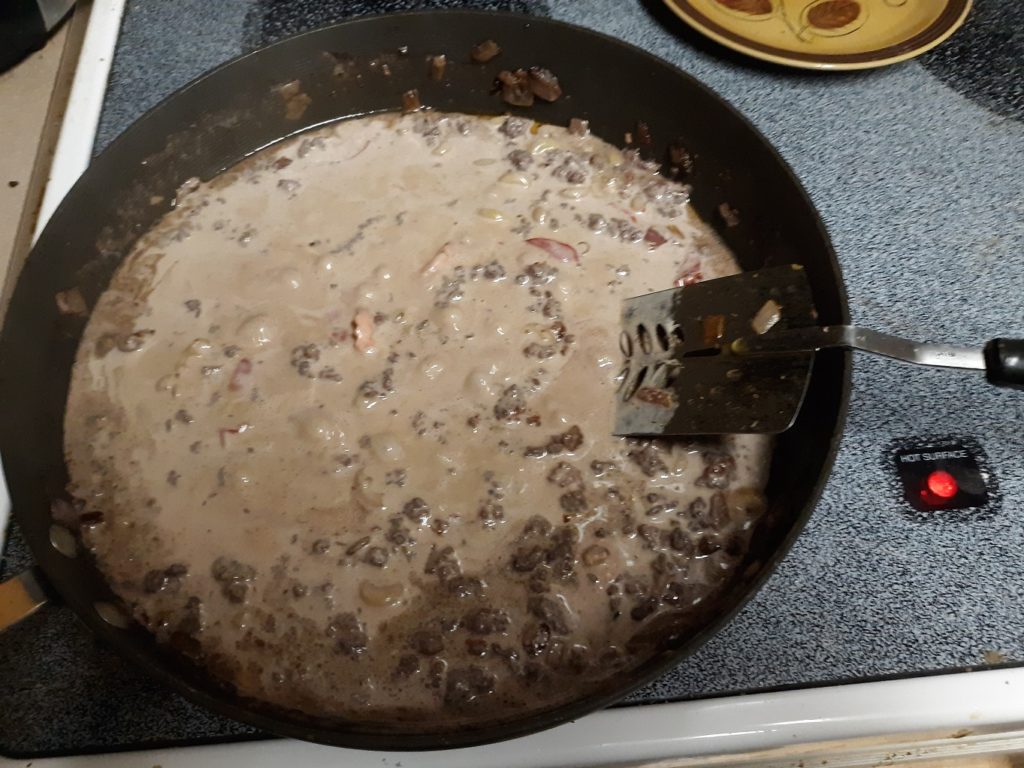 Ah. There are about 3 minutes left, so it's time to start adding more stuff and make it special: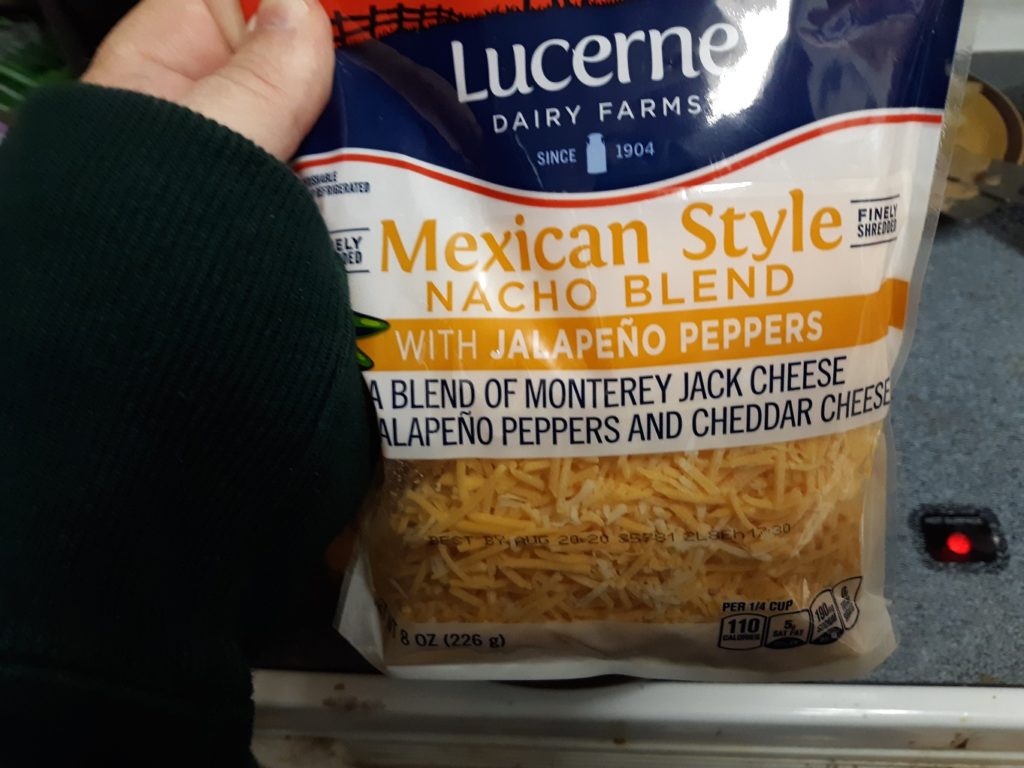 Mmmm. Cheesy. And you know what would kick this up a notch, as Emeril would say?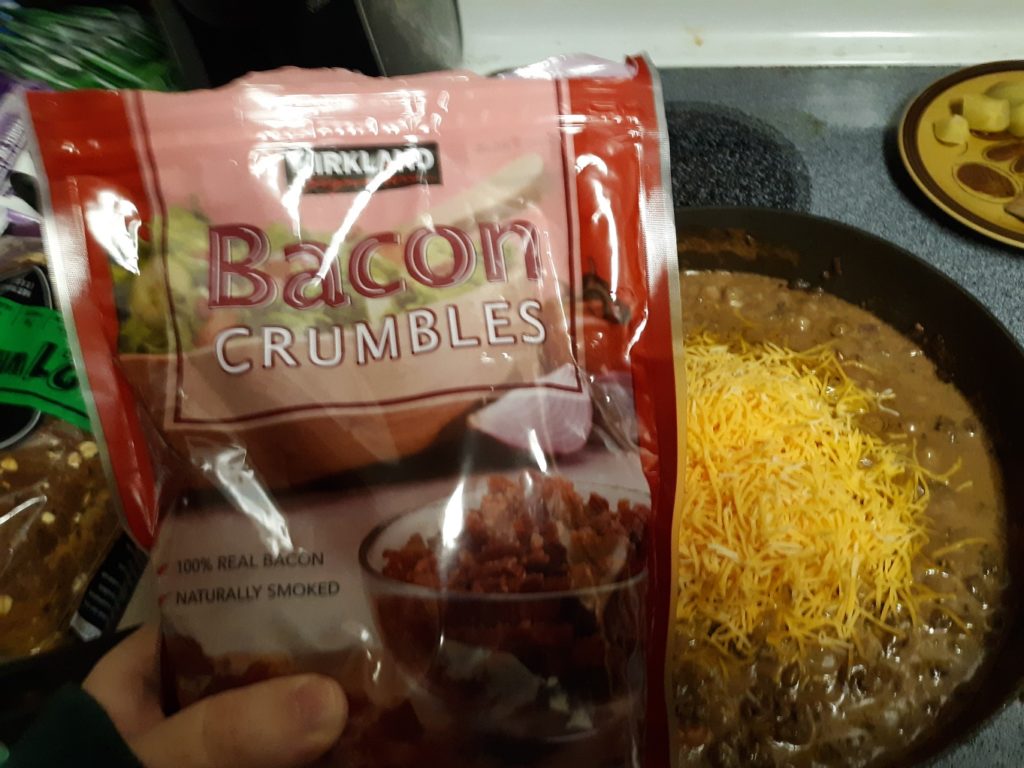 BAM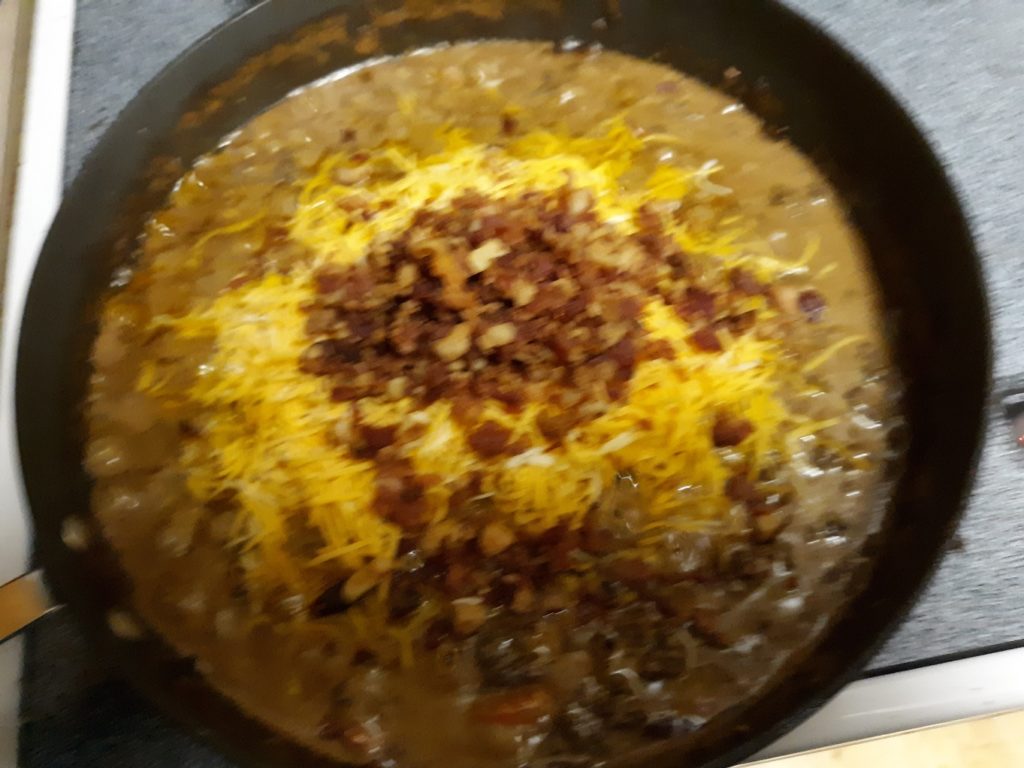 So now we're there and we're ready to stir all of this cheese and bacon into the Helper and let it simmer for another minute. Once we're done with that, we're FINALLY ready to add the pickles and, you know what also makes bacon cheeseburgers good? Some spicy brown mustard. The kind with the really big brown seeds.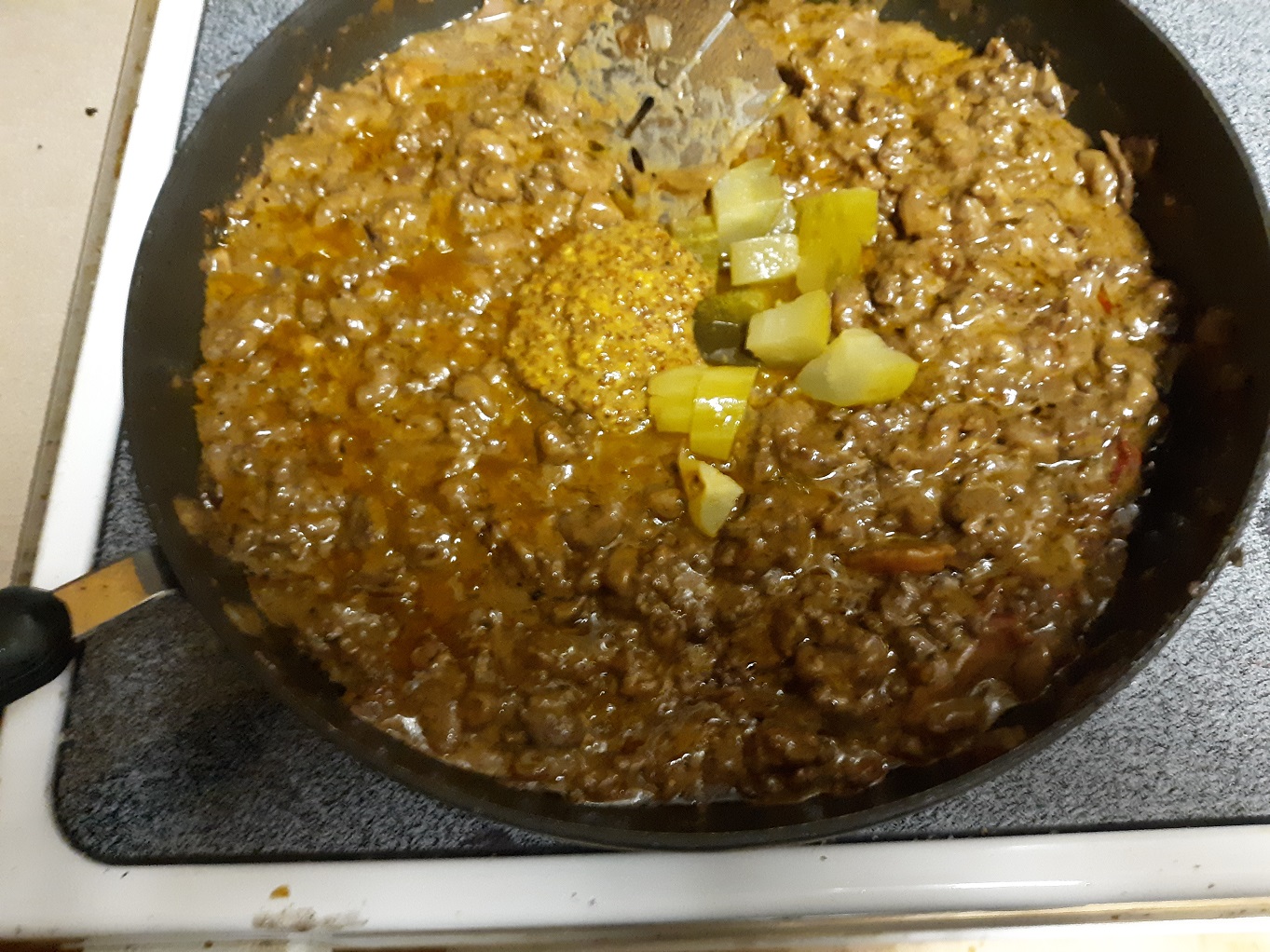 Just stir that in and make yourself a bowl of it. My suggestion would be to add a handful of those little baby tomatoes.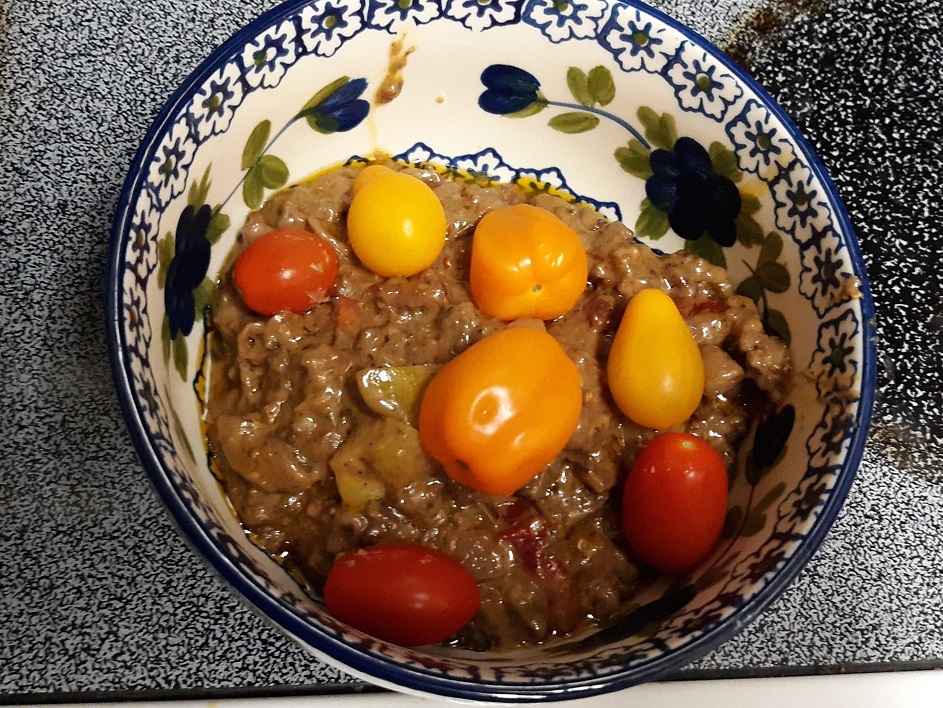 And, lemme tell ya, THAT BOWL OF HAMBURGER HELPER WAS SO GOOD. OH MY GOSH.
In the Mac&Cheese comments, Damon pointed out that, hey, you could do this with stuff you got off the shelf. You didn't need to use Kraft Dinner to make yourself some good, decadent, Mac&Cheese.
And you know what? He's right. Here's something else you could use instead of the box of Hamburger Helper: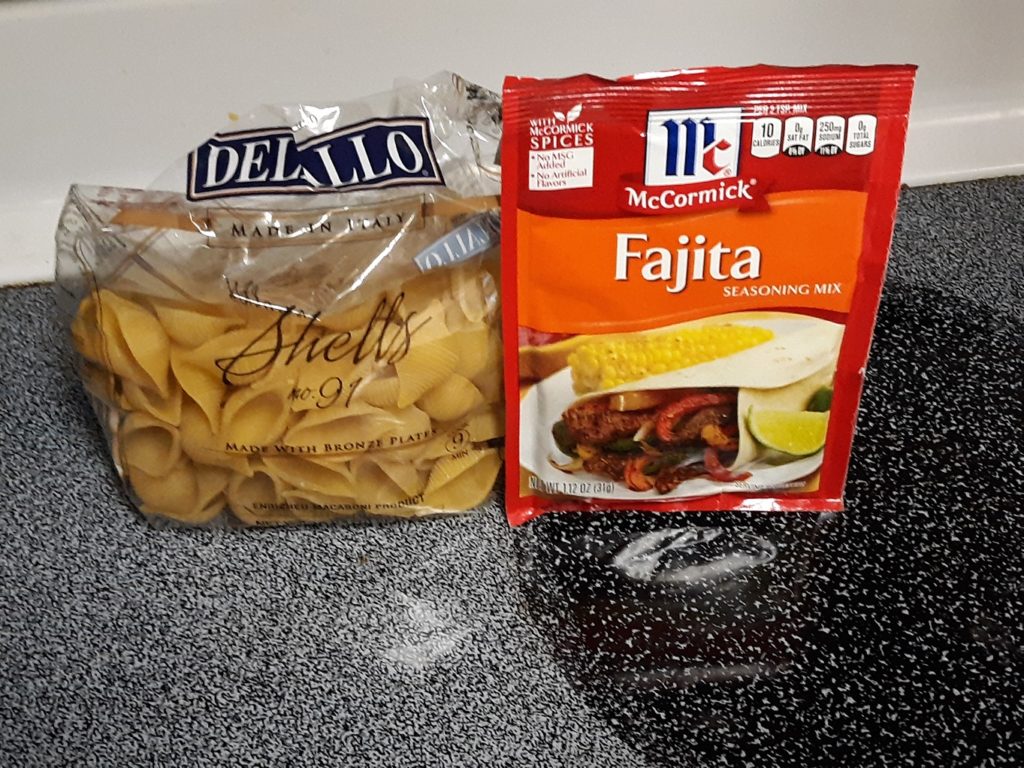 Or pick a seasoning mix you prefer. You like black pepper? Use Montreal Steak. You want something spicier? Get something spicier! You want something milder? Then do something milder. You don't want to buy a pack off the shelf but want to use something in your spice rack? Knock yourself out! I'm sure it'll be great. I've made Hamburger Helper maybe a half dozen times since I rediscovered it over Christmas break and, each time, I've made it differently than the last.
Sometimes I like getting bell peppers and adding those. Hey, a fresh jalapeño or two, diced up? Those add a nice flavorful kick to the dish. Button mushrooms are fun to bite into. They pop in your mouth! I've used different cheeses and different wines and I've swapped out the proportions of wine to cream (that one was by accident). Each time, the dish is good and solid and I'm surprised by how good it is for coming out of a box.
Especially given how little effort it takes.
So… what are you cooking?
(All pictures taken by the author)