Weekend Plans Post: Stay At Home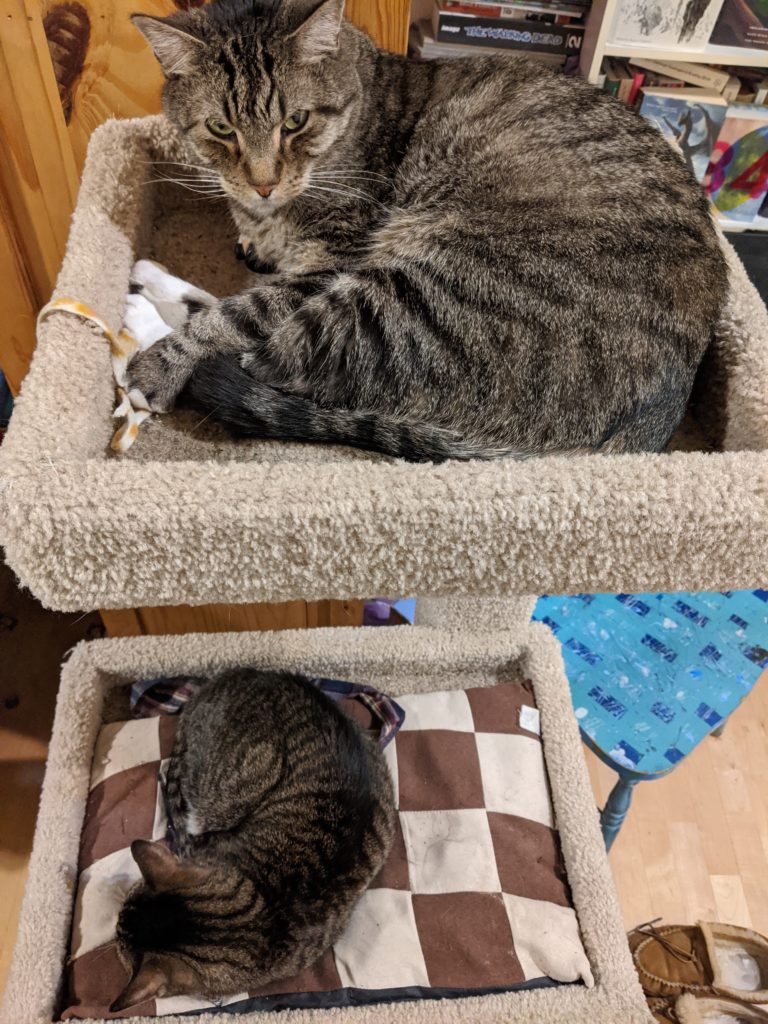 Well, the governor sent out the directive telling everybody to Stay At Home. We had been social distancing but the eggheads ran the numbers and Staying At Home seems to be the best play.
So, of course, I ran out to the grocery store because if I am going to be staying at home for 3 weeks, I'm going to need some this, some that, and DEFINITELY some Cheez-Its. I did my absolute best to Socially Distance at the store and Succeeded Mostly. Which means I Failed Intermittently. But I got home and unloaded and showered and now I'm constantly wondering if I can still smell stuff. Oh, there is an onion. Oh, Maribou is microwaving something. Oh, Tiger just used the litter box. Let's do a quick chore, I guess.
There are loopholes galore and grocery stores are on it. So I guess I didn't have to go out. Ah, well.
The stores were in a weird place where I was able to get everything I wanted if I were just willing to branch out from the brands that I was used to. One third of the store was like this: They didn't have the spaghetti I usually get. But they had the small-batch artisanal spaghetti AND the Generic Store Brand spaghetti. Land O'Lakes Butter? Fuggitabowdit. But I could get the Hand-Churned Irish butter or the Generic Store Brand butter. Another third of the store looked like nothing was going on at all. Want some crackers? We've got your crackers. What kind of cereal do you want? We've got that too. Looking for fresh ingredients to make spaghetti sauce? We've got everything you could possibly ask for. Oooh! Jalapeños! I need those for the Hamburger Helper! Wait, I should get some hamburger to help… huh. The kind I normally get is gone. They have buffalo, though. Any port in a storm, I guess.
And the last third of the store was similar to the Paper Products aisle. Just wind whistling down that one. And people taking selfies.
Other loopholes include "walking the dog" and "going to the weed store" and "jogging" so I don't know how "Stay-At-Home" the Stay-At-Home actually will end up being in practice, but the order came down and here we are.
So my weekend plans include: Staying At Home.
We do have a game night coming up on Saturday Night and we're going to be using discord and I am experimenting with Tabletop Simulator so we should have an 80% solution for our game nights going forward until everybody has taken the vaccine and waited the two weeks to make sure that it took. But… other than that?
Well, not a whole lot going on. Maybe I'll go jogging.
So… what's on your docket?
(Photos taken by the Author)