Election 2020 Chapter 2: The Big Dog Emerges Thanks To A Big Choke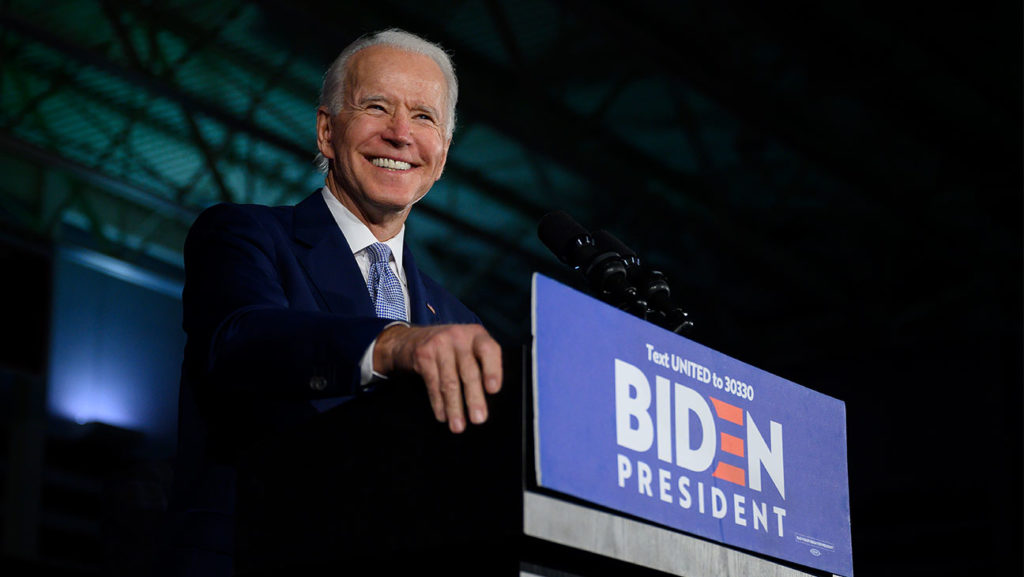 In the prologue to this series, I wrote about the events that have taken place over the last decade that lead to the perfect storm of things to shape the environment of the 2020 presidential election. In the first chapter, I analyzed and argued that President Trump would easily be re-nominated by Republicans while the Democratic primary would probably be won by former Vice President Biden. I fully expected to wait a few months until the primaries had played out before I then would begin to analyze the general election campaign, but something unexpected happened when my pick to be the likely nominee was staring at the campaign grim reaper just as South Carolina closed its polls. What followed after networks started to tabulate results in the palmetto state was the most amazing comeback in modern primary history thanks to the biggest choke in modern primary history. And thus I find myself writing about an unexpected chapter to an election that is already becoming one of the most unique in history…
Part 1: The Big Dog Is Choking
When doors opened for the 2020 Democratic Iowa caucuses there were eleven active campaigns for the nomination. Among those eleven, polls showed Former Vice President Biden in a tight race with Senator Sanders, Former South Bend, Indiana Mayor Pete Buttigieg, and Senator Warren. Most (including me) thought that Biden would probably come up short in the hawkeye state but finish a strong second or third. Biden's poor organizing and the caucus system meant his chance to put the race away early was likely not to be. When results came in things played out as expected with Sanders escaping with the close popular vote victory and Buttigieg barely winning the delegate haul. Biden on the other hand finished a distant fourth, performing far worse than some expected but Sanders' tight finish with Buttigieg kept things in perspective for him once the calendar shifted to more diverse states, and on the anti-Bernie front some were wondering if perhaps Buttigieg could end being the moderate lane's choice in the primary instead.
When things shifted to the New Hampshire primary however, that's when the red alert really began to sound for the former Vice President that I once nicknamed as "The Big Dog" almost a year ago when I made my case as to why he was the likely nominee. Sanders barely won New Hampshire over a strong second place finish by Buttigieg. Biden for his part  finished fifth and in single digits as he ran away on campaign night via a flight to South Carolina. Biden's campaign was looking done for already, with some comparing him to Jeb Bush. He wasn't favored to win Iowa or New Hampshire but his under-performance in each, his pathetic fundraising numbers, and what looked like the rise to the top moderate pick in Buttigieg seemed to be signaling the end was nigh for the man who was historically and statistically a favorite to be the nominee.
Then came the Nevada caucuses. Biden performed better there, finishing second – but a distant second. Sanders came away with a landslide win in a state he had lost four years prior, doing so by finishing strong with Latino voters and in time some polling suggested he had cut Joe Biden's lead in South Carolina to the single digit range as black voters began to give the Vermont socialist a serious look. Worse yet for Biden, the southern firewall he had been counting on was falling apart as both former New York City Mayor Mike Bloomberg and Businessman Tom Steyer began to cut into his support among minorities.
Biden looked like he was about to pull off what historically would have been an all-time chokejob., the very thing I warned could happen to him in my first piece on his campaign for the nomination. I thought it was unlikely at the time, but as South Carolina and Super Tuesday loomed I openly wondered on my social media accounts if Biden even wanted to win given his horrible fundraising and advertising numbers. The fact Biden never won a presidential primary or caucus became a twitter meme. A twitter friend of mine asked me if Biden was going to be what I referred to once as "The Big Choke". Some Democratic partisans I followed who were anti-Sanders began to start getting used to the idea of him being the nominee and I was starting to game a potential Trump V Sanders general election.
Then came one of the most perfect storms any Biden supporter could have hoped for…
Part 2: The Big Dog Comes Back
Before South Carolina, a rising Mayor Bloomberg had found himself on the debate stage as polls seemed to indicate he was rising in Super Tuesday contests. His performance that night sunk his campaign as Senator Warren decided to kamikaze her dying campaign to stop him, and Biden and his team began to go all in on South Carolina. Bloomberg's fall was followed by a stunning endorsement by South Carolina's Democratic icon in Jim Clyburn for Biden. Overnight Biden went from a moderate favorite in South Carolina to favored once again to get a landslide. On election night. Biden swept South Carolina in a massive landslide. He was still alive for Super Tuesday and the "can't win a primary" jokes went away.
Biden had three days to turn his South Carolina blowout into momentum for a Super Tuesday sweep and everything he needed to get that happened in those three days. Buttigieg and Klobuchar both dropped out of the race and endorsed him. Biden held a big rally in Texas before Super Tuesday and former nomination battle foes started lining up the stage to back him; the sight was so wild to me I almost expected Obama to pop out and do a "surprise" endorsement. The momentum was with "The Big Dog" and on Super Tuesday he pulled off massive landslides where he needed to in places like Alabama, Arkansas, North Carolina, Tennessee, and Virginia. He pulled off much needed competitive wins in Minnesota, Oklahoma, And Texas. But what really put the cherry on top were upset wins in Maine and Massachusetts alongside a better than expected showing in mail-vote rich California. In response to this Bloomberg bowed out and endorsed the former Vice President.
The following week, Biden pulled off landslides in states like Missouri and Mississippi, and pulled off another one in 2016 Bernie-voting Michigan. To make the sting worse for Sanders, Biden also pulled off a close upset in Washington. The next week after a one-on-one debate, Biden beat Sanders in Florida and Illinois via massive landslides and easily won Arizona. The only third wheel left in the race, the Sanders-friendly U.S House Representative Tulsi Gabbard, left the race and shockingly endorsed Biden. Now only he and a melting down Sanders remained.
Everything you just read happened in less than a month. Joe Biden went from a man being mocked and questioned, finishing fifth in New Hampshire and spending that election night in South Carolina visibly shaken by the results, to a man who was sweeping up the primaries as if he had swept the early states as well. Biden is on track to a bigger victory over Sanders than Clinton pulled off and Clinton actually won Iowa and Nevada; he's on track to get the nomination, no super delegates or contested convention needed. Per every forecast model he is a near 100% likely favorite to be the Democratic nominee. His lead is insurmountable in my mind. As I speculated almost a year ago, the big dog proved to be the nominee but he did so by pulling off the biggest comeback in modern primary history. Even Clinton in 1992 didn't have to pull off this kind of dramatic comeback this quick and this strong to become the nominee. My question I posed last year remains: Who Can Stop Biden?
So what happened? How did Bernie Sanders choke away an early nomination lead that even previous would-be nominees didn't enjoy? How did Joe Biden pull off such an amazing and strong comeback? Yes, the "establishment" quickly got behind Biden after his South Carolina win and sunk Sanders' limited coalition – you'll get no argument from me that was a major factor. But last year I pointed to the very real fundamental strengths Biden enjoyed going into the primaries and I believe they were just as important to his victory as the party "deciding" on him.
Part 3: Biden Was Always The Likely Nominee
Bernie Sanders won Iowa, New Hampshire, and Nevada; but he was, in hindsight, someone with a low ceiling. Biden's fundamental strengths and higher ceiling compared to Sanders' low ceiling and weak links were always present in the race. When I wrote twice before on Biden's strengths I always pointed to the major things that historically made him favored to be a nominee – electability image in a cycle where the out party must challenge a sitting incumbent, a national lead that historically was almost too big to overcome, his strong support with African Americans, his support among more likely to vote elder and more moderate voters, and endorsements that put him on track with past would-be nominees. These strengths never went away for Biden even after his early losses, even as his fundraising dwindled, and even as he looked like a dead campaign walking.
In comparison, Sanders's victories in Iowa and New Hampshire were much closer than he probably needed and he seemed to never get past a particular ceiling in the late twenties. His base, dominated by the youth, didn't show up in anywhere near the numbers his team was hoping for. His electability image got better as the campaign went along, but he could never surpass Biden on that question. He struggled to gain endorsements, and he made no efforts to reach out to the key African American vote though he was able to do well with Latinos.
Basically, where Biden had strengths that set up him up so that his ceiling was high enough for the party to coalesce around him, where he had strong support with the voters that would decide key southern states, and where he seemed like the most electable choice, Sanders was over-performing given his weak links in all those departments. Yes, the party establishment got behind Biden and allowed the broken up wings of the moderate lane to come together as one against Bernie's smaller base, but for that to happen Biden's strengths that I argued for almost a year would make him the most likely nominee had to exist.
I spent almost all of 2019 telling anti-Biden Democratic partisan friends of mine they needed to start tearing away at those strengths of him and even when they had him on the ropes, they never seemed to. When you step back and realize Biden lead national polls by significant margins throughout this whole campaign save for a few weeks during "Berniemania" and that Biden's path through South Carolina proved to never fade away, you can argue this amazing underdog-like comeback wasn't so much a comeback as it was perhaps somewhat inevitable. Joe Biden was always the likely Democratic nominee and he ended up the nominee. Things just ended up a little more interesting than many expected before he got the nomination.
One final note before I get to the next part. Biden's comeback is indeed historic and impressive but when you read the history books on the nomination stage of the presidential campaign, it's not out of the ordinary in hindsight. Back during the convention days candidates who seemed done for pulled off amazing come from behind wins as round after round of delegate voting continued – ask Abraham Lincoln himself. In the modern primary era, we've seen these all the time – from Reagan bouncing back after a tough Iowa loss to Clinton's "comeback kid" moment to Kerry being told to drop out in 2003 to McCain carrying his own bags to Romney having to prove himself in Florida after Iowa flipped to Santorum late and Gingrich rocked him in South Carolina. To win a primary you have to deal with the blows landed on you and bounce back off the mat. You can do that by winning over voters and expanding your ceiling as the primary calendar goes along. Biden did that. Sanders didn't.
Part 4: What Progressives Can Learn From Sanders' Defeat
Understandably, progressives and Sanders' biggest supporters have been beside themselves. Before South Carolina, they were on social media measuring drapes and demanding the party begin to coalesce around their candidate. They were (understandably) popping the champagne and ready to turn their attention to unseating President Trump. Since South Carolina polls closed they have watched with jaws agape as their candidate has melted down and lost state after state to the man they thought they had toppled.
Many Sanders supporters are threatening to throw their support to a protest candidate or not show up at all in November. That's their prerogative but we know through the data and history that a vast majority of them will vote for Biden and participate in more Democratic primaries to come. Progressives seemed to be so close but ended up so far. So what do they have to do to pull it off when they get another chance in 2024 or 2028? For one, they have to do what Sanders' couldn't do: expand their coalition.
The party has more of a moderate lane of voters and more elder voters than the youthful base of the progressive movement are sometimes willing to admit, and those voters actually turn out in bigger numbers to vote whether in a primary of general election. Progressives would be wise to remember these voters and find a way to get them to join the camp next time around. Likewise, African American voters are a key vote in these Democratic primaries and we have enough data that they think strategically in how they vote for a nominee, so finding a face to their movement that can come off as practical and electable would be a good way to get them on their side as well.
Furthermore, the party's establishment showed they can flex their muscles and decide on a party leader when need be. Progressives would be foolish to ignore getting these movers and shakers' approval. In 1980 Ronald Reagan was able to expand his coalition and get the party behind him, Barrack Obama did the same in 2008 – both men won their party's endorsements' battle and turned back more establishment friendly choices to become party nominees for President. Finding someone who can appeal to the progressive base and win over establishment endorsements is key.
Finally, I'd like to point out something I don't see a lot of people talking about. The Democratic party's coalition is changing. Sanders' relied on a lot of anti-Hillary votes among rural places where Democrats are becoming Republicans in 2016; those voters this time backed Biden. But just as importantly, Biden won over suburban hot spots where Republicans are becoming Democrats and some Romney to Clinton voters are joining the blue team's coalition. These are more electable minded voters that Sanders has struggled convincing. Finding a progressive who can be more palatable to this growing new base for the post-Trump era Democratic party is going to be very important for progressives who want to get over the hump that Sanders ultimately couldn't.
The longer progressives ignore growing their coalition past low turnout youth voters, refuse to reach out to black voters or establishment voices, or start to address the changing face of their party in the suburbs, the more the party will continue to decide on more Bidens and Clintons.
Part 5: On To The Conventions And A Real Chance To Unseat Trump
Meanwhile, as the drama of the Sanders' meltdown and the Biden comeback has played out over the last month, Trump has predictably been sweeping the Republican nomination battle. As of this writing he has officially clinched the nomination and won just under 94% of the popular vote, which is actually historically weak for an incumbent Republican president but about as good as expected for all incumbent presidents in general. With Biden's eventual (barring unforeseen circumstances which happen to seem more common this cycle) nomination, this sets up the 2020 Presidential Election to be the matchup that some believe it should have arguably been four years ago – Donald Trump V Joe Biden.
I will finally get to analyze this race in the next chapter to this series. President Trump was going to enter the race with a good economy at his back and an electoral college advantage, but former Vice President Biden had Trump's unpopularity and his seemingly wide appeal on his side. However as they say, "events dear boy, events." As I sit here writing this the economy and the stock market are collapsing at Great Depression-like rates, thanks to a virus pandemic of the likes not seen in a century.
When I sat down in early January and gamed this matchup, I found a tossup with a very slight lean towards Biden. However as of today I see the chance for Biden's favored status to grow thanks to economic troubles and the electoral battleground perhaps showing signs of expanding with formerly red Arizona now seemingly leaning his way. The President is enjoying moderate support for his response to the virus and remains competitive, but his unpopularity and lagging campaign polling remains with his chances for re-election dropping in models that favored him in 2016. I'll expound on all of this in the next chapter but the President is legitimately beatable and Democrats may have arguably nominated their strongest contender to defeat him with an environment that come November might be the perfect recipe for a change election. But we'll have to see, given how much in the world and our lives has changed since I wrote the last chapter to this series, its not inconceivable to see the President's fortunes start to get better by the time I write the next one.
Whatever happens from here on out though I am sure of this: just like in the primaries, Joe Biden is not going to be an easy out. The President will have to work for his second term and "The Big Dog" has a real shot to enter the history books just like the last "comeback kid" did the last time a sitting GOP President saw everything collapse under him during a re-election campaign. Doubting Joe Biden, after all, is becoming a more and more risky gamble in 2020.