How to Make Truly Decadent Mac & Cheese from a Box
Let me get this out of the way: If you know how to make Kraft Dinner, this post might not be for you.
If you haven't made Kraft Dinner since you were a kid, maybe this will give you a bit of nostalgia. If you are someone who never (or only rarely) cooks for yourself and it's more of a "throw it in the microwave" or "turn the oven to 400 and set the timer to what the box says", well, this post might help you figure out how to use the top of the stove. And if you're one of those always-eats-at-a-restaurant pinky-extended kinda people and you find yourself with ingredients but a sinking feeling that you'd rather be eating something decadent, then you are exactly the person that this is for. (Additionally: if you make Mac&Cheese all the time and want to see how someone else does it and get some ideas (or feel smug about how they're doing it wrong), then this is also a post for you.)
First off, we're going to be making a bunch. Two boxes at once. (This will allow us to grab a spoonful or three from the container throughout the week and heat it up in the microwave and get some food fast without thinking about it. Under non-quarantine circumstances, we'd be able to put an individual serving into multiple little containers for easy transport for lunch at work.)
So start by boiling some water and looking at the instructions:
Hrm… 6 cups of water, half a stick of butter, and a quarter cup of milk. Okay, first off, I'm not going to use milk. And since we're making two boxes, we want to double that, right? Wrong. We want to use 6 cups of water for two boxes. (Seriously, it'll be okay.)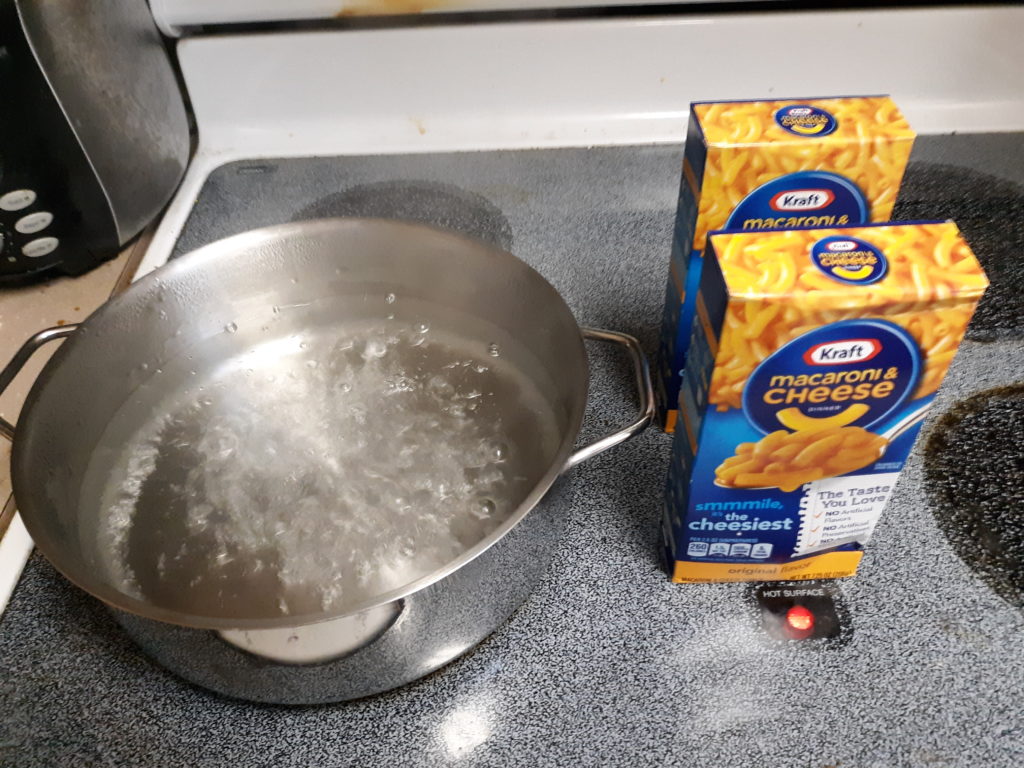 So get your water to a nice slow rolling boil and open your boxes and remove the cheese packets and dump your macaroni in there. Give it a stir. It's going to want to stick to the bottom of the pot, so stir it and unstick all of the little macarons.
Now get a pyrex measuring cup and a colander.
We're going to save some of the delicious carby water for after the pasta is cooked.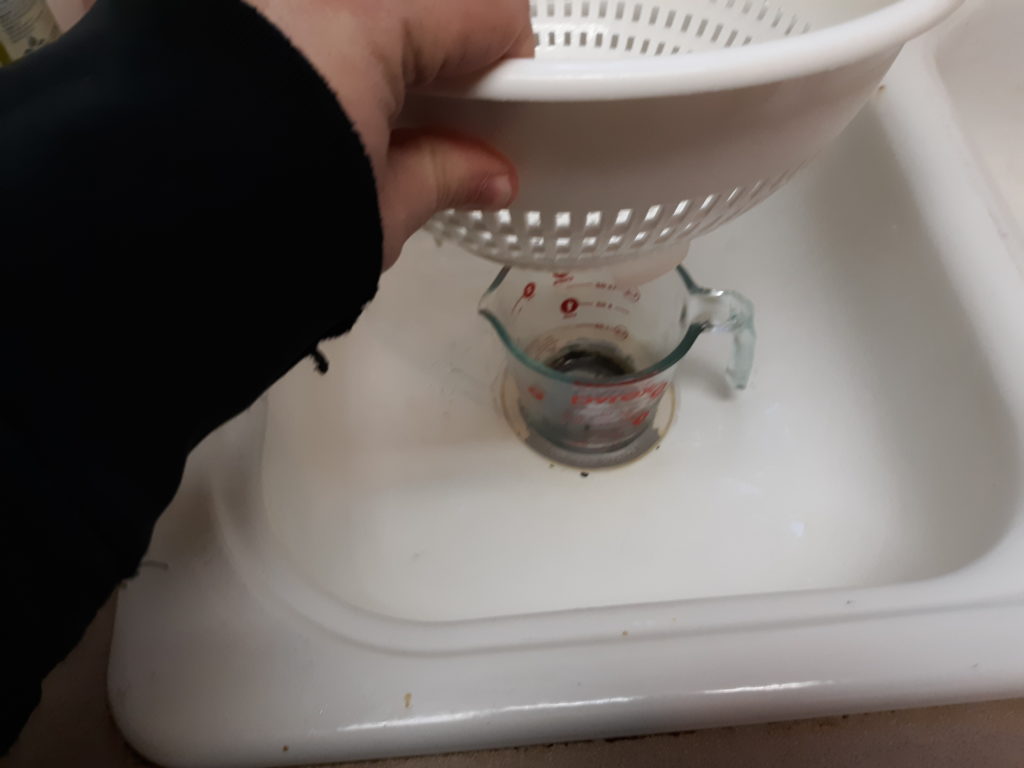 Put the pyrex in the drain then put the colander on top of the pyrex.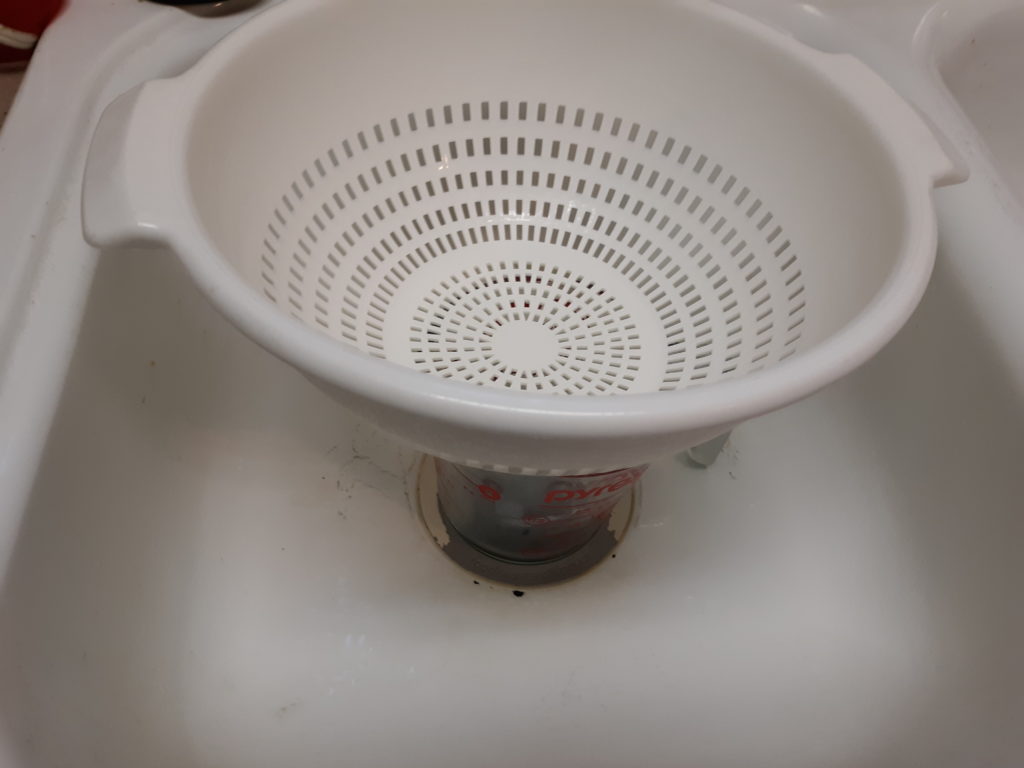 Now we just have to wait. Oh, and stir the pasta every minute or so. Some people prefer it a little al dente, some people want it done until it's squishy. You know how you prefer your pasta. Let it get to maybe just a hair under where you think it's perfect.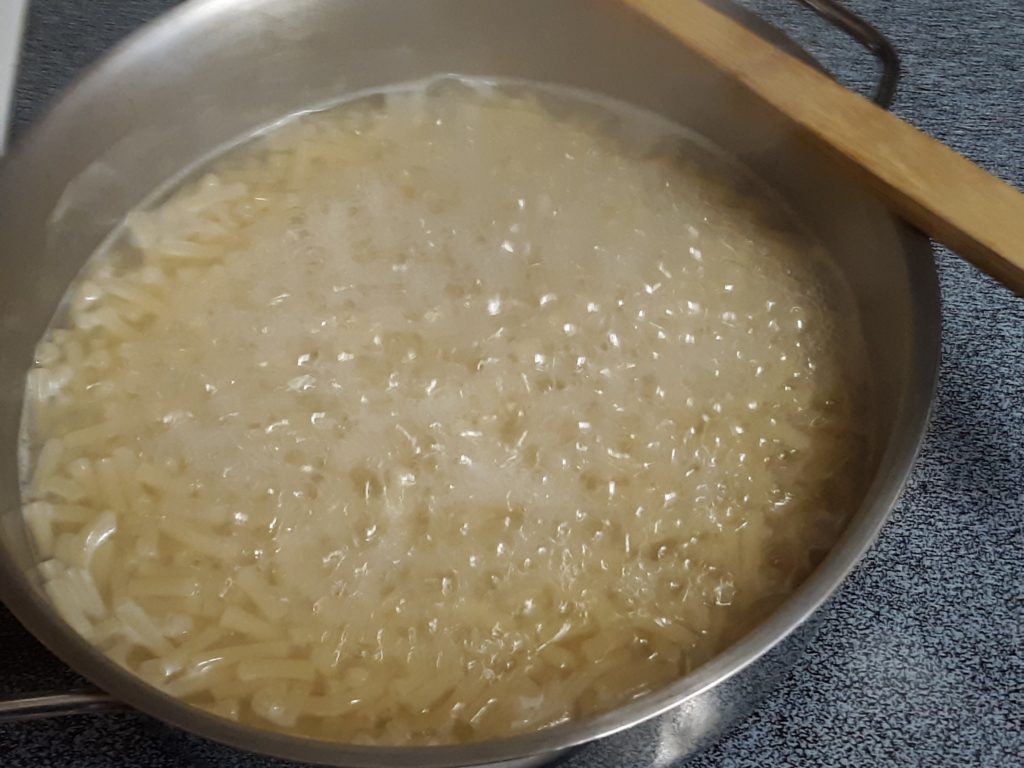 Now that that's done, let's look back at the instructions. 4 tablespoons of butter per box… wait. That means we're going to throw a whole stick of butter in there! (We have a butter ribbon tool that squeezes out a ribbon instead forcing you to use a knife like some medieval peasant. $15 from Amazon. Watch out: if you get this, you're going to use a lot more butter than you used to.)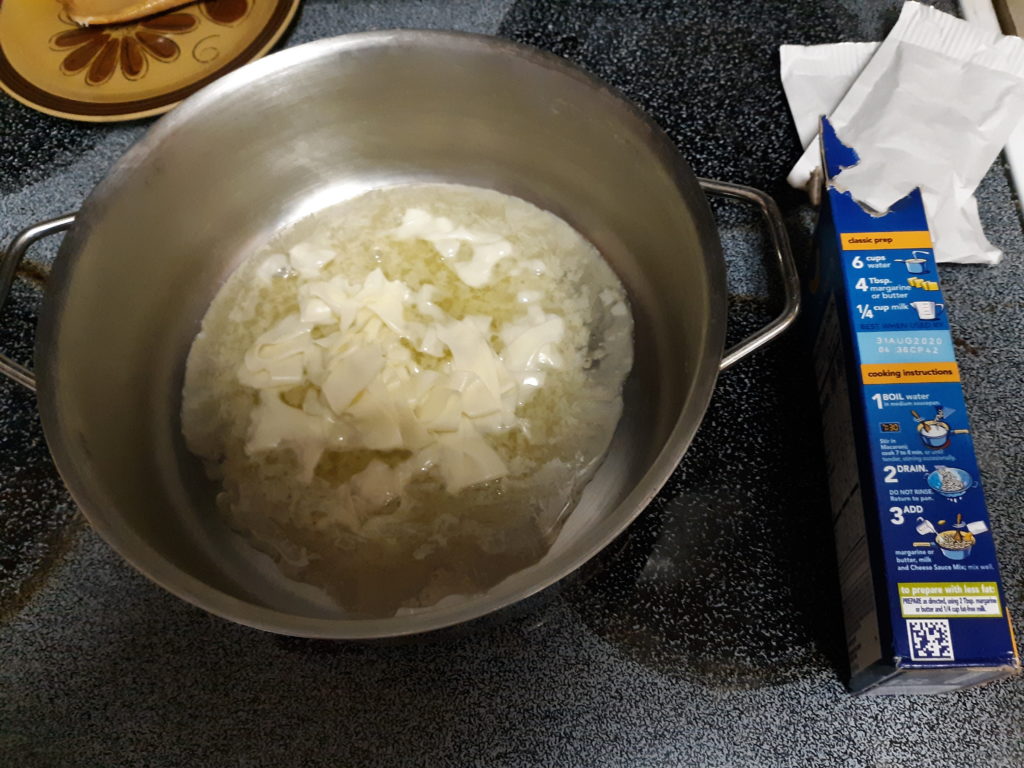 Now dump the pasta into the butter and collect that carby water. Oh, look at it! Look at those delicious carbs! Seriously, when you make pasta you probably use too much water and you probably just dump the water down the sink when you're done. You shouldn't. This stuff is liquid gold for sauces. Rich flavor, good body, and calories.
For what we're doing here, you only need about a cup's worth. Dump out the rest without guilt.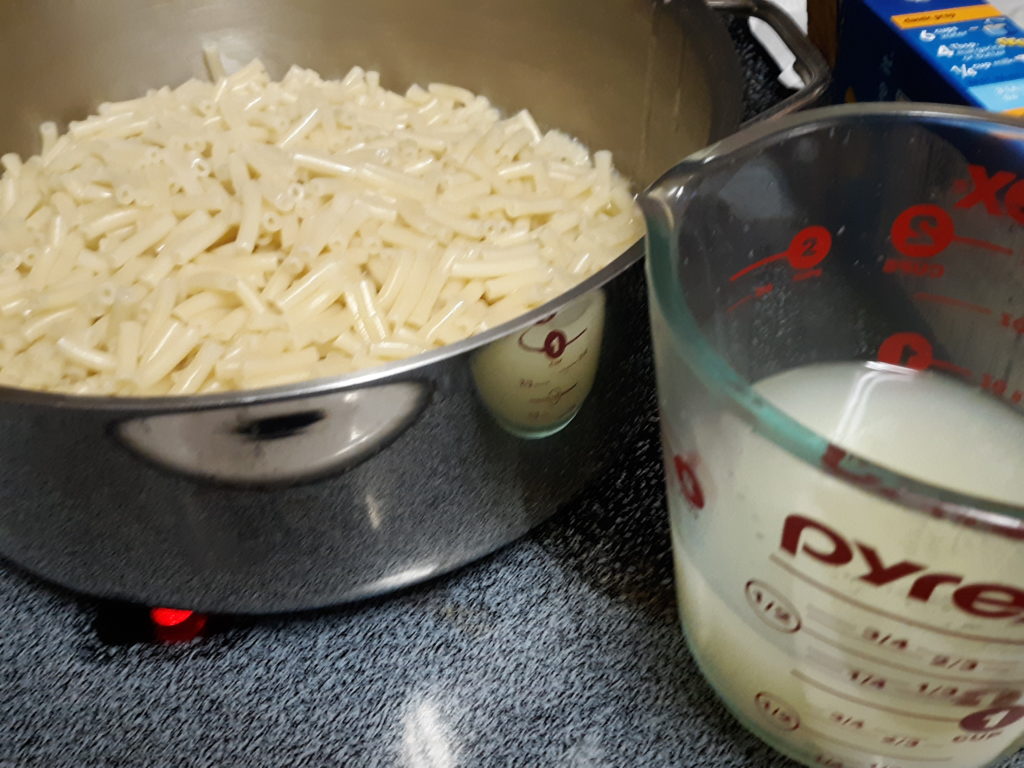 Now dump the cheese packet into the macaroni…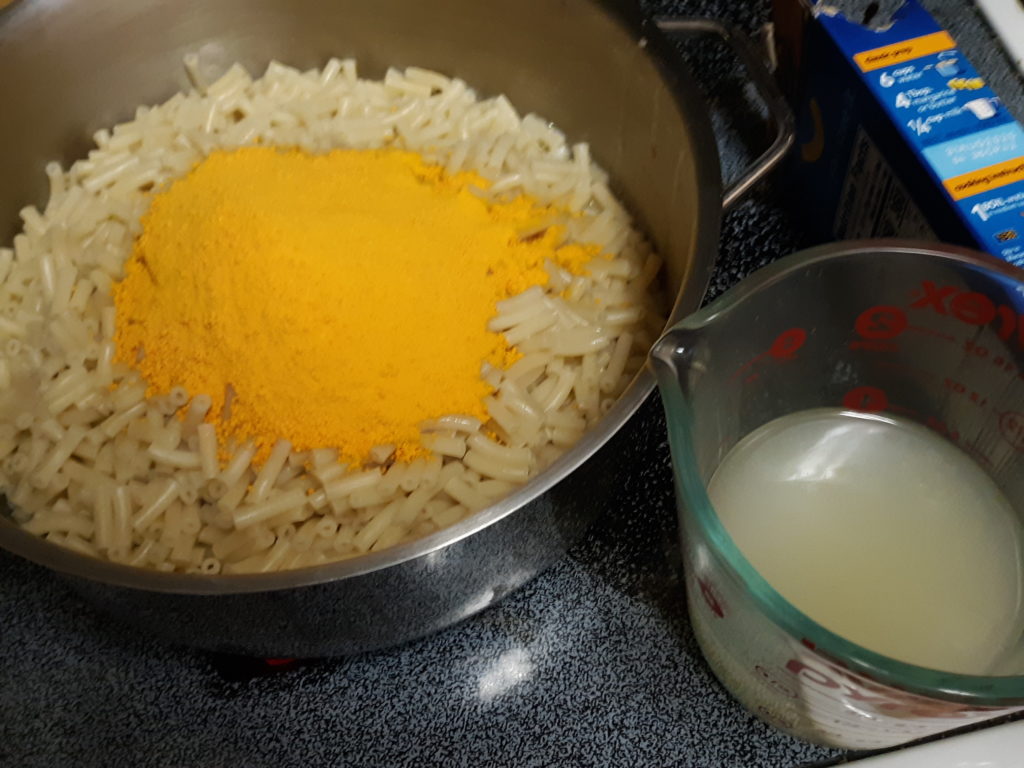 And pour the cup, yes, the cup of carby water into the cheese.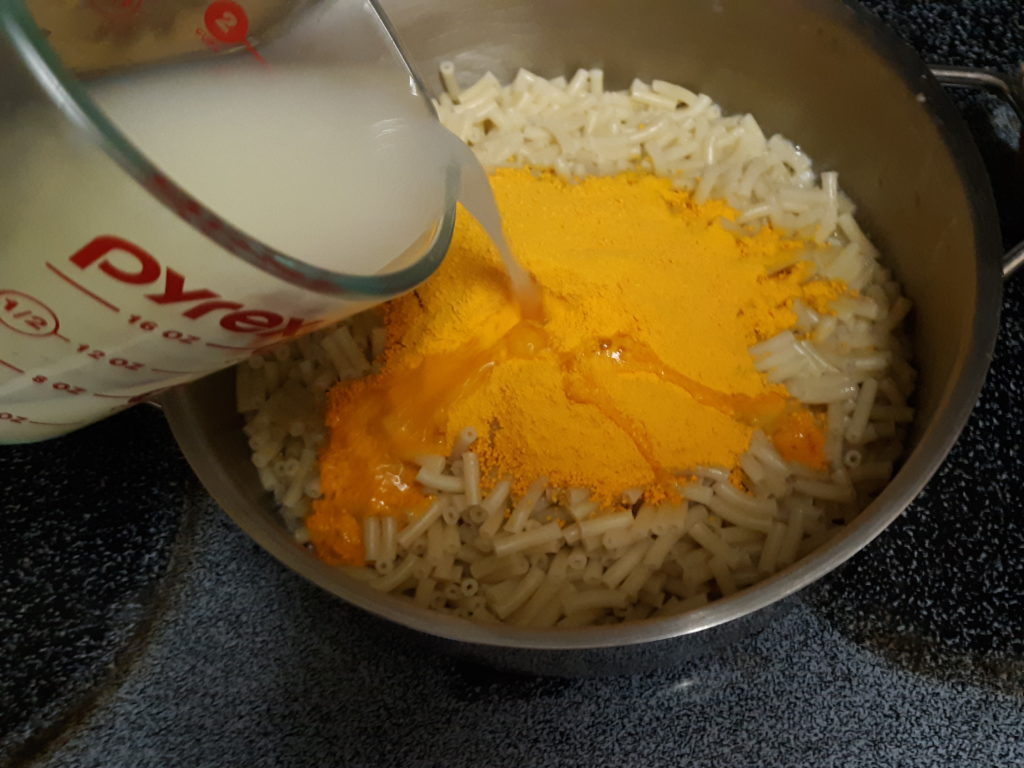 Stir it around and put it back on the (now cooling) burner for making this stuff really, really good:
It doesn't have to be the 4 Cheese Blend. It can be your personal favorite kind of shredded cheese. Mild cheddar if you don't want it to be too spicy, the spicy habanero cheese if you do, you know the shredded cheese that you like. Well, dump it in there and start stirring. You want it to get melty.
Okay, once that's done, realize that it needs a little something: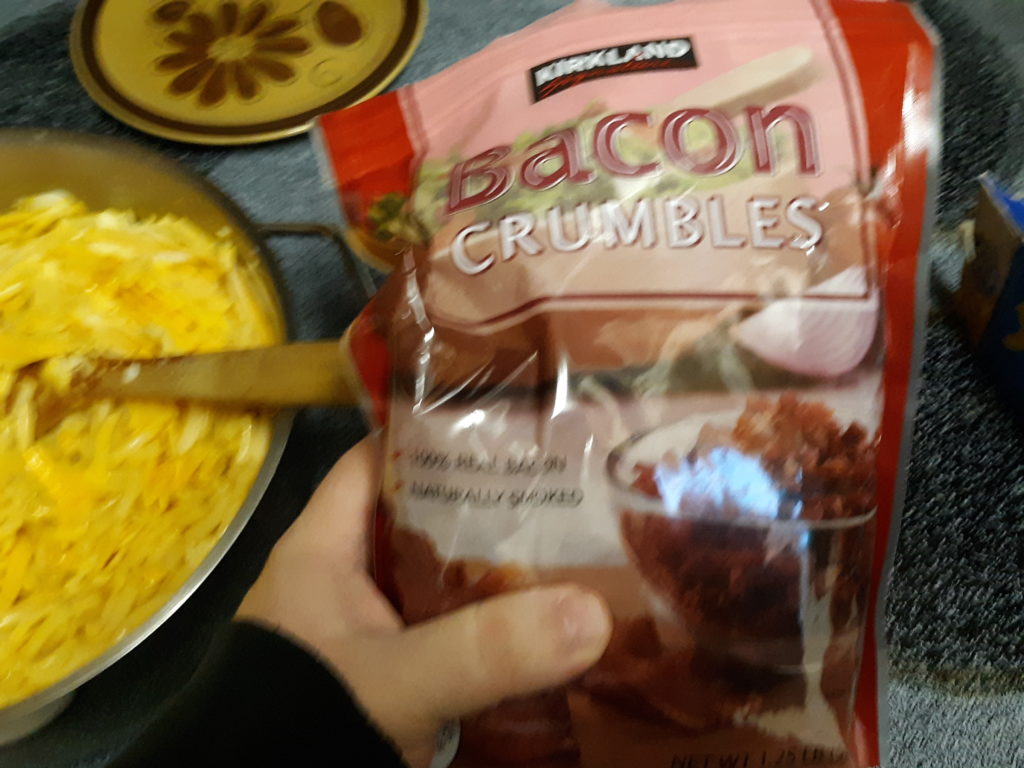 Throw a handful of bacon crumbles in there: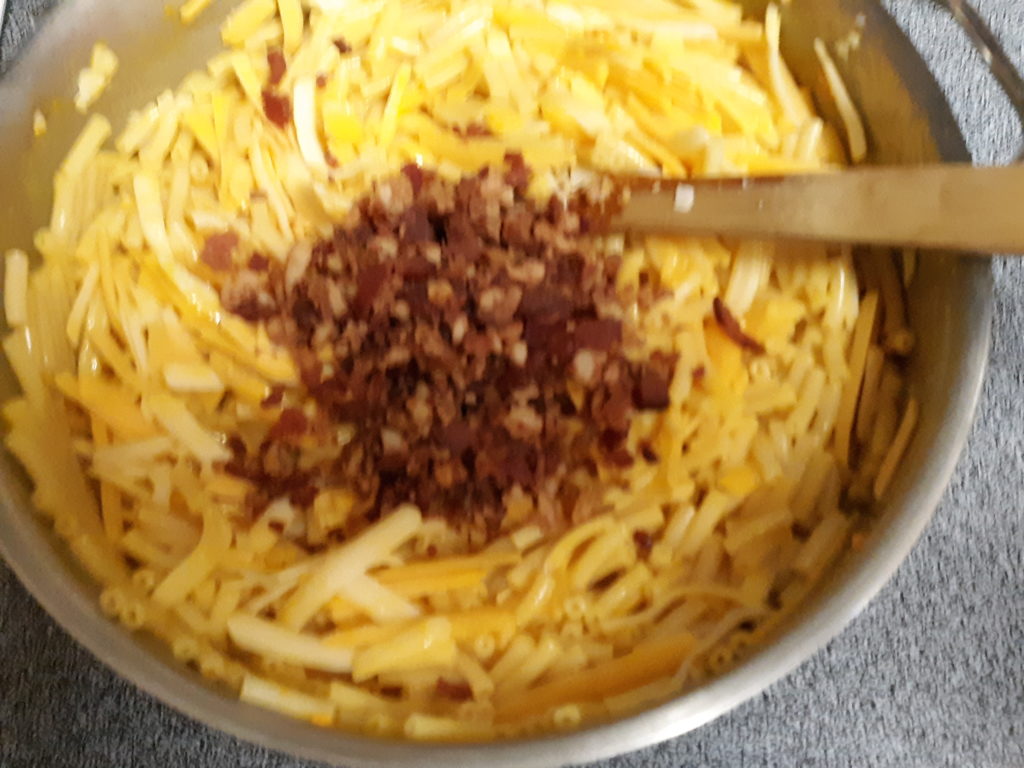 Once you've stirred that in, remember that you've got some garlic/herb goat cheese left over from a snack the other day: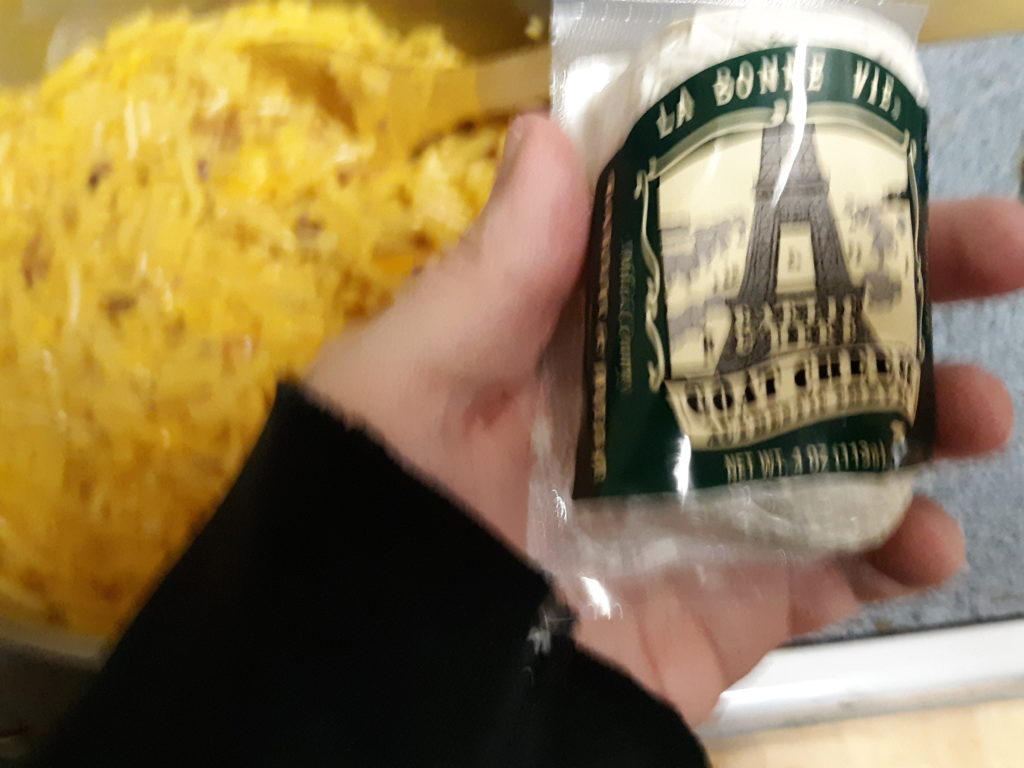 And now stir THAT in: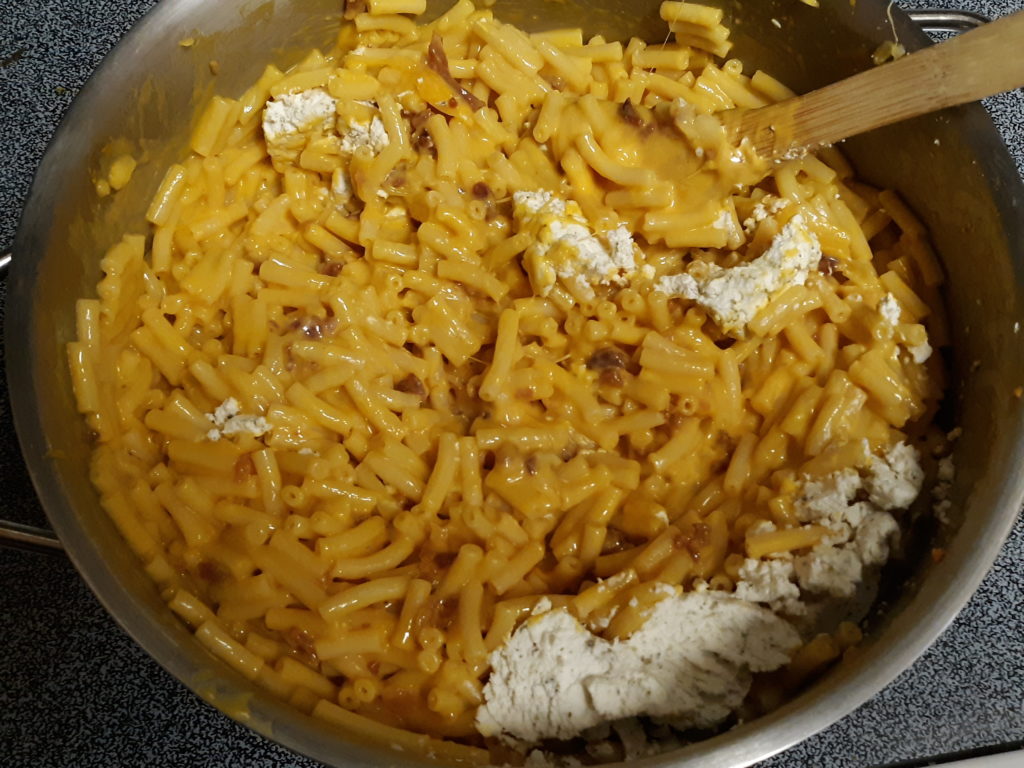 And stir and stir and the carby water and the cheese should all start getting a really nice texture that can only be improved by one thing: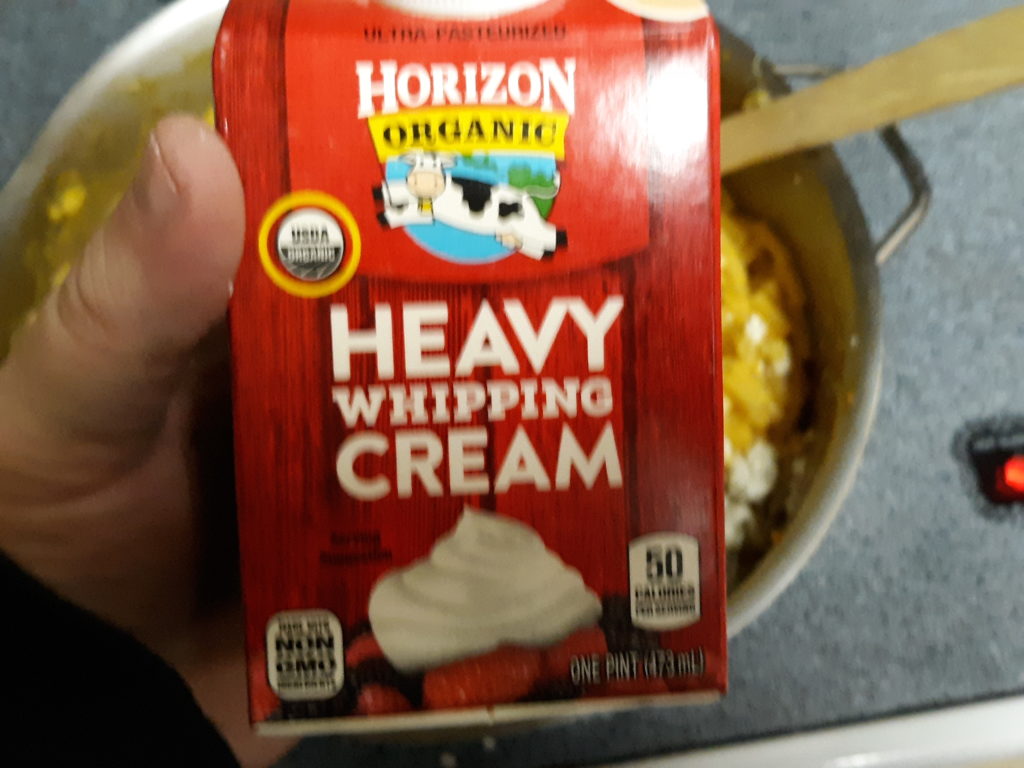 Now, you don't need a quarter cup or anything. Just put a splash in there to even everything out and give it a good color and good texture.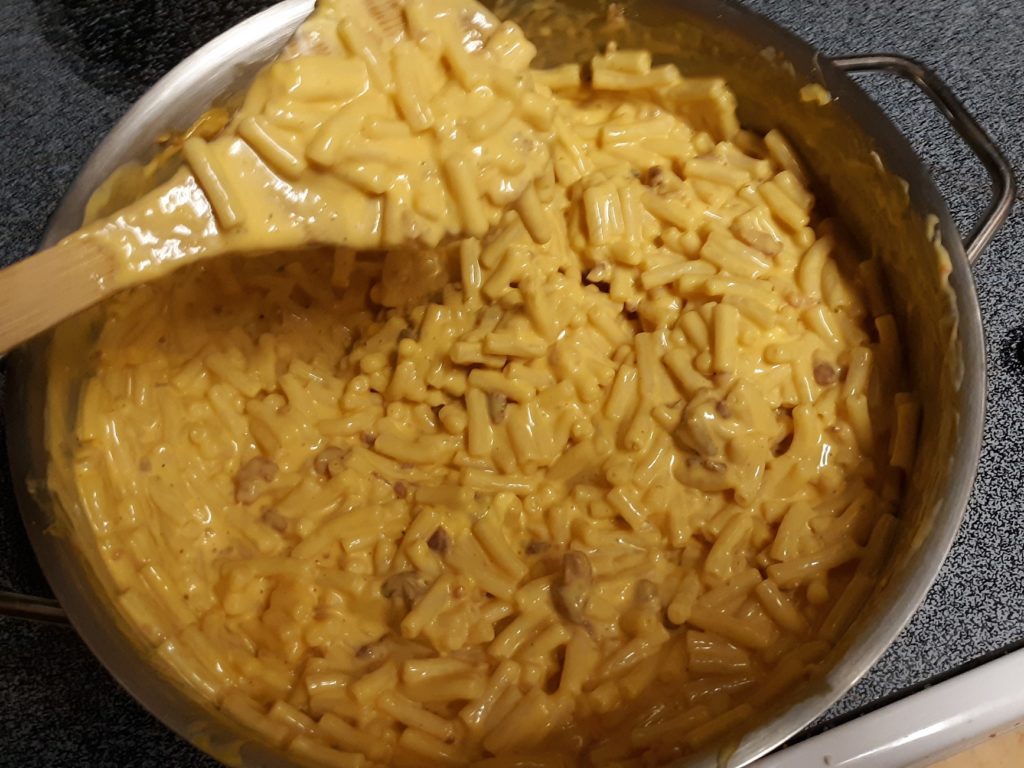 I have been told by reliable sources that the texture is like Velveeta rather than ordinary from the box Kraft Dinner.
Now, this stuff will stick to your ribs and we've turned a meal that might feed six into a meal that might now feed 10. So fix up a bowl for tonight and put the rest in a container for the rest of the week to spoon out as needed and watch out because your cat will want to lick the bowl: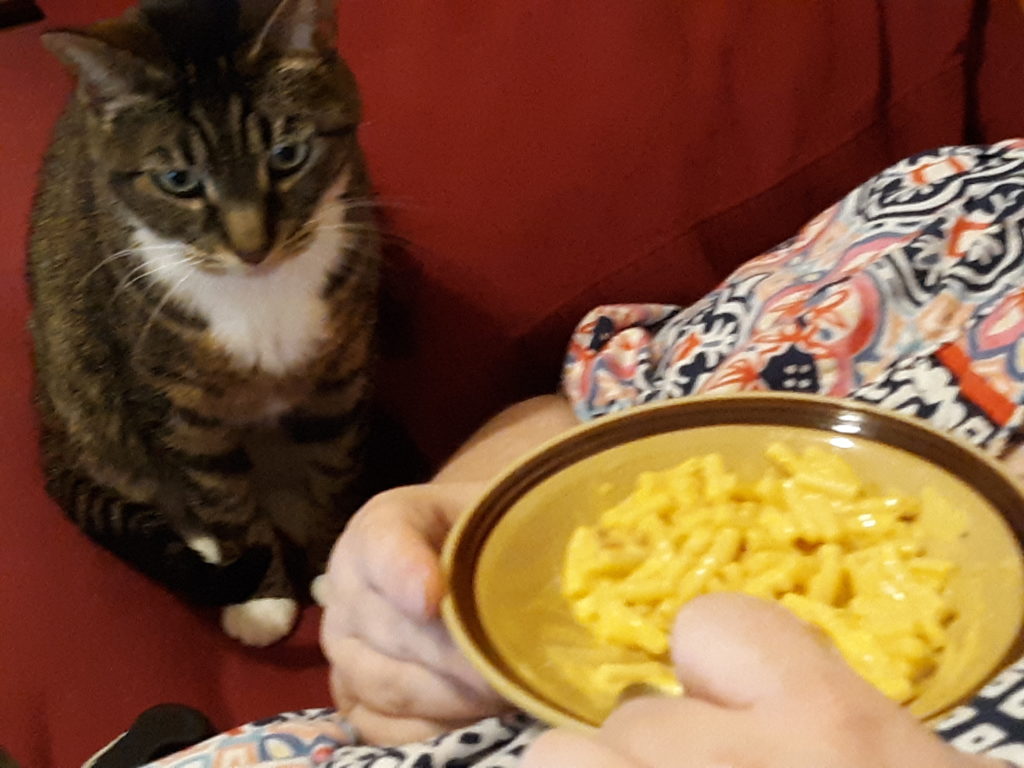 There are a handful of other things you could do, of course. Add salsa "to taste" (I like adding a half cup of Pace Picante Hot). Instead of adding bacon, warm up a pack of hot dogs and cut them up and dump the wienies in there instead. You know what you like. (And be careful with the salsa. It's easier to add more than to unadd more.)
But that stuff? The stuff I made tonight? It's not tough to make, and you can make it and it turns it from a vaguely depressing Bachelor Chow (Now With Flavor!) into something that will stick to your ribs and feel like luxury and keep morale high. And give you a little bit of nostalgia to boot.
So… what are you cooking?
(All pictures taken by the author.)