Saturday Spins: Evil Empire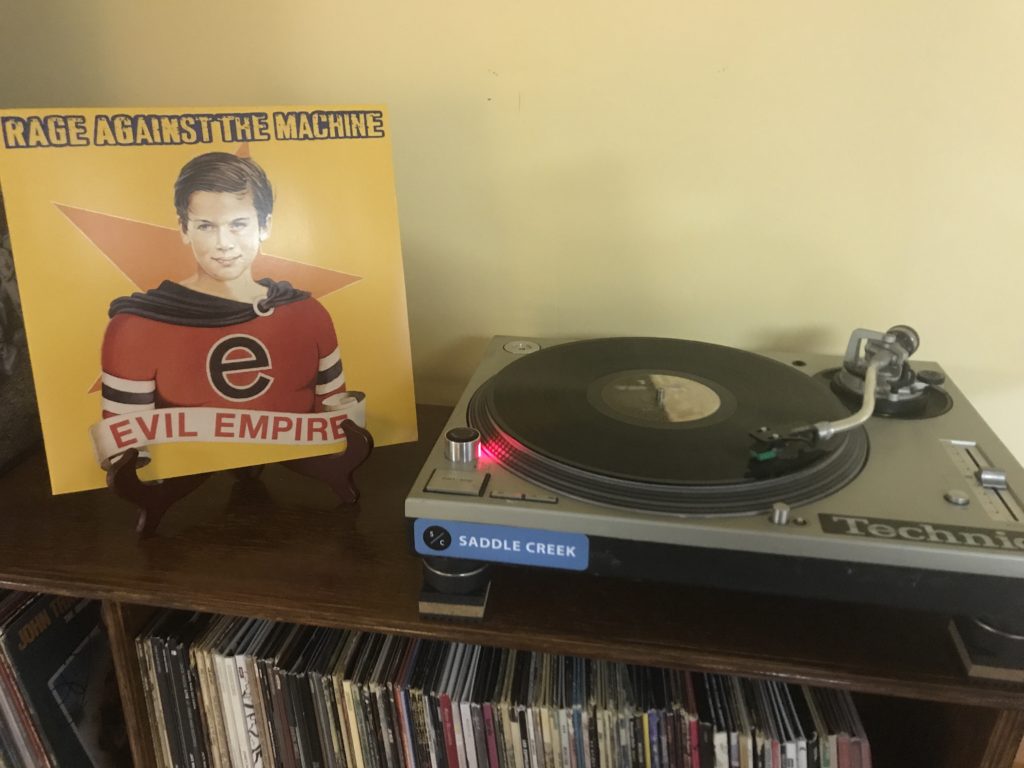 Last week we took a tour through a "classic rock" radio staple, Steve Miller Band, with his ninth studio album, Fly Like an Eagle. When that adventure concluded, I gave the readership the option to try and select the next Saturday Spin. Well, I was only able to garner around six entries across the internet, but they were quality entries.
I also spouted some nonsense about a random number generator, but since the entries were light, I left it to my three year old.1She did not disappoint y'all, using her Unicorn pointer, she selected an album that features an early photo of former Presidential candidate, Pete Buttigieg.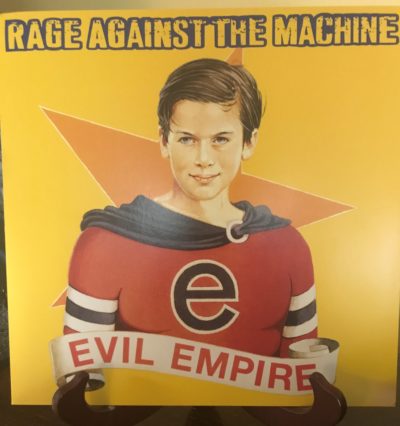 Rage Against the Machine
Evil Empire
1996
Commentary
I love Rage Against the Machine (RATM). I used to jam along to a lot of the classic riffs that Tom Morello crafted. I even modeled my first pedal board after his. I had to save a ton of money to get the DigiTech Whammy pedal. The best part about RATM is of course their overt political messaging. This album is RATM's second studio LP.
The version I have is a recent reissue, but is pressed on 180-gram vinyl. No special colors or anything like that, just straight music. I did a little digging and found out that the cover does NOT depict an early image of Pete Buttigieg, but is an altered version of a comic book character from the mid-20th century.
The inner sleeve is a collage of books that no doubt will spur you into a revolutionary furor whilst jamming to some rap metal. I mean there is something for everyone there including, Che, Walden, Newton, Malcom X, Marx, and Howard Zinn.
A lot of the music here is influenced by Led Zeppelin. I'll let you all in on a little secret, if you go listen to "Bulls on Parade," the riff is a backwards version of "The Immigrant Song." "Vietnow" has shades of "The Wonton Song" in the chorus.
Tracks I Think Are Great
Obviously the aforementioned tracks are high up there. "Bulls on Parade" is particularly timely, since it was a song written 25 years ago discussing, you guessed it, the situation at the US-Mexico border.
[youtube https://www.youtube.com/watch?v=3L4YrGaR8E4]
"Vietnow" is a direct broadside against conservative talk radio shows, which are as big a problem today as they were 25 years ago. Targeting weak-minded individuals with fear-mongering. Rinse and repeat.
"Tire Me" somehow won a Grammy despite not being an official single or receiving any radio play. Still a great song, though. "People of the Sun" is a commentary that ranges from the Aztec empire's fall to the Spanish to the modern day struggle of the indigenous people of the Mexican state of Chiapas.2 "Without a Face" continues the themes regarding the immigrant experience in America.
"Down Rodeo" is probably the one of the most badass songs to drive to. The first time I heard the lyrics, "These people ain't seen a brown skinned man since their grandparents bought one," about made my brain explode. Finally, "Year of tha Boomerang" continues to explore minority struggles with racism and lack of equality. So, again, RATM is an overt political band, and always has been. I recognize that there are some people that are just in it for the music, but to me it would be awfully hard to separate the music from the message(s).
Choose the Next Spin Postscript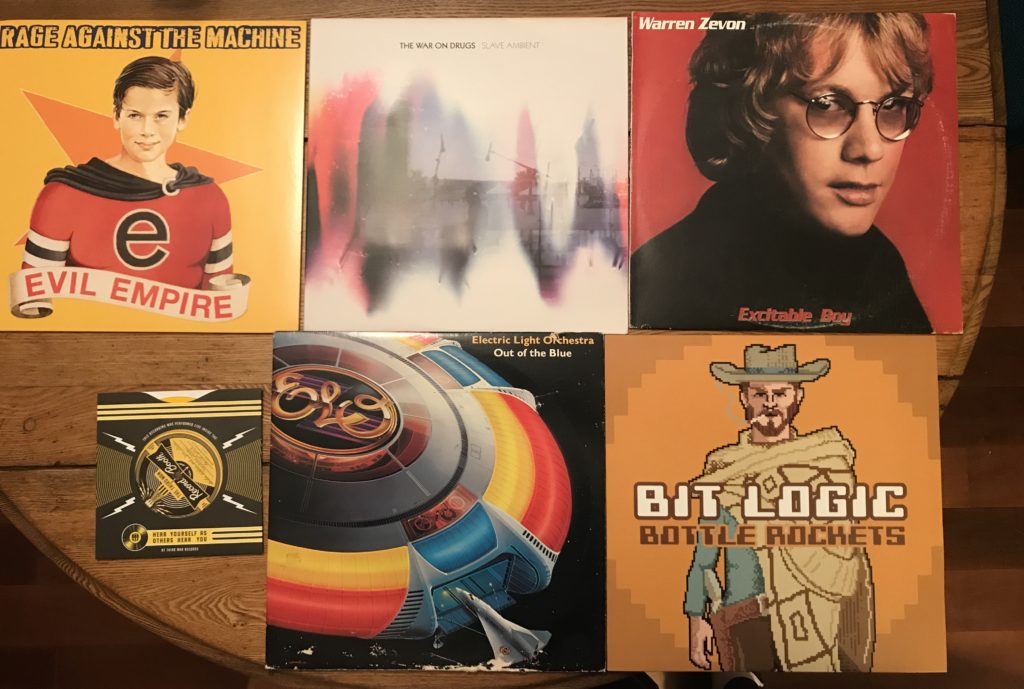 I asked for submissions, and here they are.  Ordinary Times Commenter, "Adam" picked the winning spin, located in the top right in the above picture. The entries were:
Evil Empire-Rage Against the Machine
Slave Ambient-The War on Drugs
Excitable Boy-Warren Zevon
Red Headed Stranger-Willie Nelson3
Out of the Blue-Electric Light Orchestra
Bit Logic-Bottle Rockets
Pictured here on the left is my toddler using her "Unicorn pointer" to select this week's spin. A lot easier than a random number generator!
I think, despite the lack of entries this time around, I will continue to take requests here, and elsewhere(twitter, etc.). I can start a running list to cover here. Here is a link to my collection. There is something there for everyone!
---
One of my major research papers in college was on the Zapatistas. Interesting little mini revolution which resulted in many concessions from the Mexican Government, including a quasi-autonomous state for the indigenous people of Chiapas.