Serving Up a Recession
In the current environment, it is hard to see how the United States can avoid a recession.
We may want to consider the experience with previous American recessions in thinking  about how this one may go.  However, this recession will be different in at least one way from previous recessions.
In most recessions, services are basically acyclical, falling little even during economic turndowns. The one exception is the Great Depression, as we can see in Figure 1 below. However, the decline in investment is much more severe, as is the upward swing in the recovery. Services just don't fall that much, even in the Depression.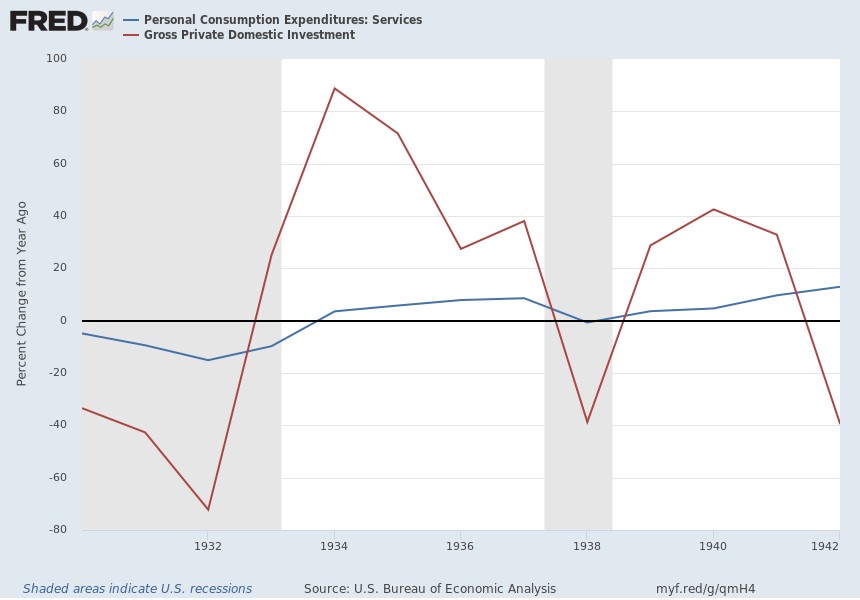 However, this decline in the Depression is related to the deflation of the early 1930s. This is a nominal series, in dollar terms. If we control for changes in inflation by dividing the nominal services consumption series by the PCE price deflator, we can see that the real series is even more acyclical, as shown in the figure below: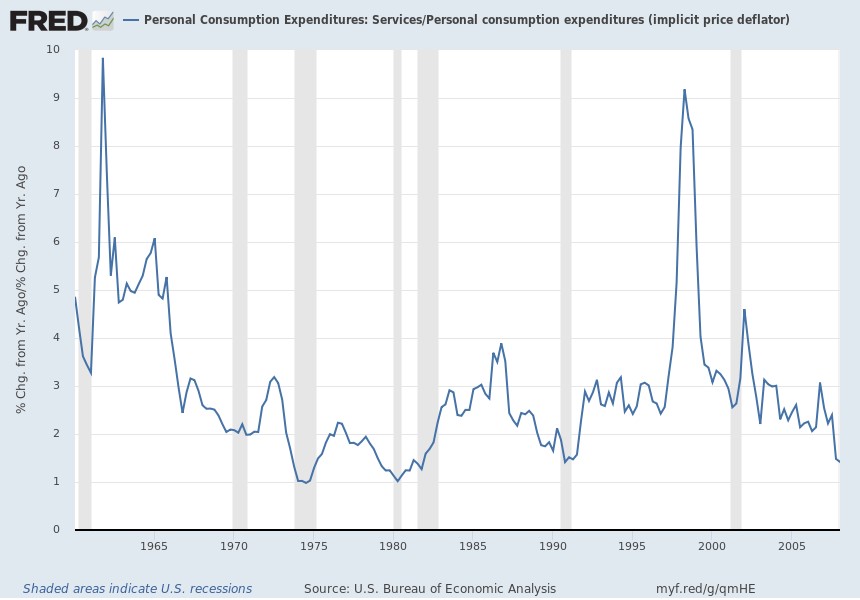 Real service purchases basically fall little or not at all during recessions. Why are services so acyclical? One reason is that services cannot be stored and so to consume services during a recession, services must be purchased during a recession. You can drive that old car a little longer, but your hair keeps growing. There are furloughs of auto manufacturing workers during every recession, but barbers have not been furloughed- until now.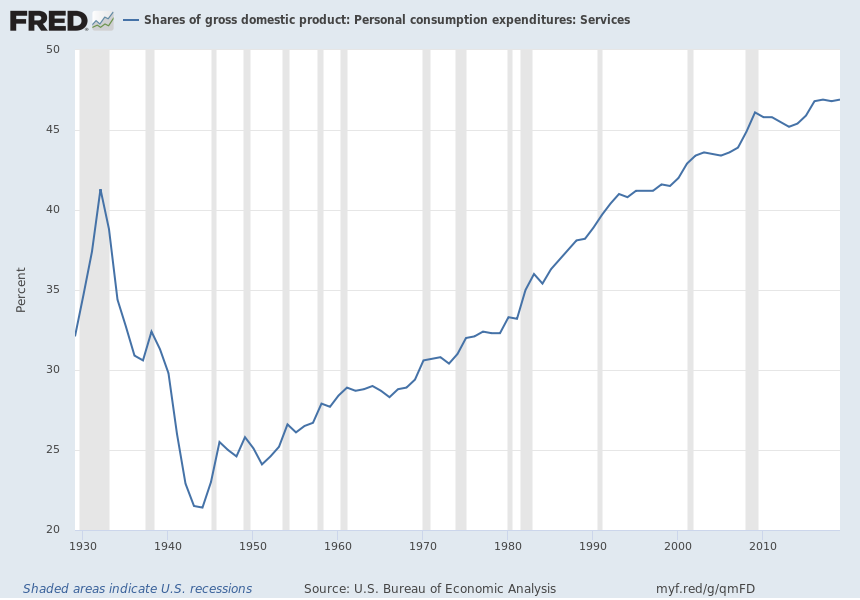 Services make up a bit less than half of the economy now, as we can see in the above figure. In general, services go up as a share of the economy in recessions (given by the shaded bars) as other parts of the economy shrink faster. Services, by their very nature, largely involve human interaction. In a pandemic, unlike in other recessions, that will mean sales in the service sector will collapse due to social distancing. Unlike with goods, the output of the service sector cannot be stored. That means that layoffs will have to start very soon as businesses adjust their employment downward. While people's hair will continue to grow, we may see many bankruptcies among barbershops and hairdressers as people cut their own hair to avoid infection. This is very different than what we have seen in basically any recession in modern experience.
Retail employment peaked just below 16 million employees and is down closer to 15.5 million now. The retail sector is already hurting, and the closure of malls is unfortunately likely to accelerate. The restaurant industry employs over 12 million workers. The layoffs in this industry will be painful as more people make meals at home. Total nonfarm employment is about 150 million. In February 2020, the retail and restaurant industries combined were over 18% of total US nonfarm employees. Almost one in 5 US nonfarm workers works in these two sectors alone. If we take the over 130 million workers in the overall service sector, they make up 86% of total nonfarm employment. Starting the shock in a sector with a much larger share of workers can only accelerate job losses relative to a recession that starts in goods-producing industries. One can imagine how devastating job losses could get given the large number of employees in the labor-intensive service sector.
As Americans see the prospect of unemployment looming over them, they will cut back further, beyond the spending which is just no longer occurring due to social distancing and people staying home more.  This will then spread the downturn to the goods producing sector as people delay purchases of consumer durables and other consumer goods (basically the usual dynamics in a recession). Even people who might spend will be stuck at home. Firm investment cannot but fall as firms are much more capacity than they need to make sales. As demand for air travel (another service) collapses, it's hard to see when new airplane purchases will next be made given that coronavirus appears to be here to stay in some form. Boeing has a lot of cash and has many side businesses, but their profitability will be impaired significantly in 2020 in the wake of a wave of order cancellations related to the 737 MAX.
The coronavirus epidemic has the prospect to be one of the biggest economic shocks ever experienced, eclipsing the shocks of 1929 and even 9/11. However, the response to a sectoral shock like this one initially should not be to stop GDP from contracting, as social distancing is necessary to control the virus. The focus should be on allowing business to continue operation without massive layoffs in a way that's not a big giveaway to business, expansion of unemployment insurance and extension of the eligible duration of collecting unemployment.  There will be few job openings and job search is not optimal. We want to ensure the unemployed do not cut back on necessities and can continue to pay their bills. There should be a payment to all Americans as well to ensure that spending doesn't contract too much and so people can purchase necessities. Once the epidemic recedes then the standard stimulus measures can be applied. At the same time, monetary policy is constrained by being close to the effective lower bound to interest rates at or near zero.  Federal debt levels are perceived to be high, limiting the fiscal response, which was already disappointing in the last recession. This one could be very long and painful.
---
SOURCES:
All Employees, Retail Trade https://fred.stlouisfed.org/series/USTRADE
All Employees, Total Nonfarm https://fred.stlouisfed.org/series/PAYEMS
All Employees, Food Services and Drinking Places https://fred.stlouisfed.org/series/CES7072200001
Personal Consumption Expenditures: Services https://fred.stlouisfed.org/series/PCESVA
Gross Private Domestic Investment (GPDIA) https://fred.stlouisfed.org/series/GPDIA
Personal consumption expenditures (implicit price deflator) https://fred.stlouisfed.org/series/DPCERD3Q086SBEA
Shares of gross domestic product: Personal consumption expenditures: Services https://fred.stlouisfed.org/series/DSERRE1A156NBEA
All Employees, Service-Providing https://fred.stlouisfed.org/series/SRVPRD