Saturday Spins: Steve Miller Band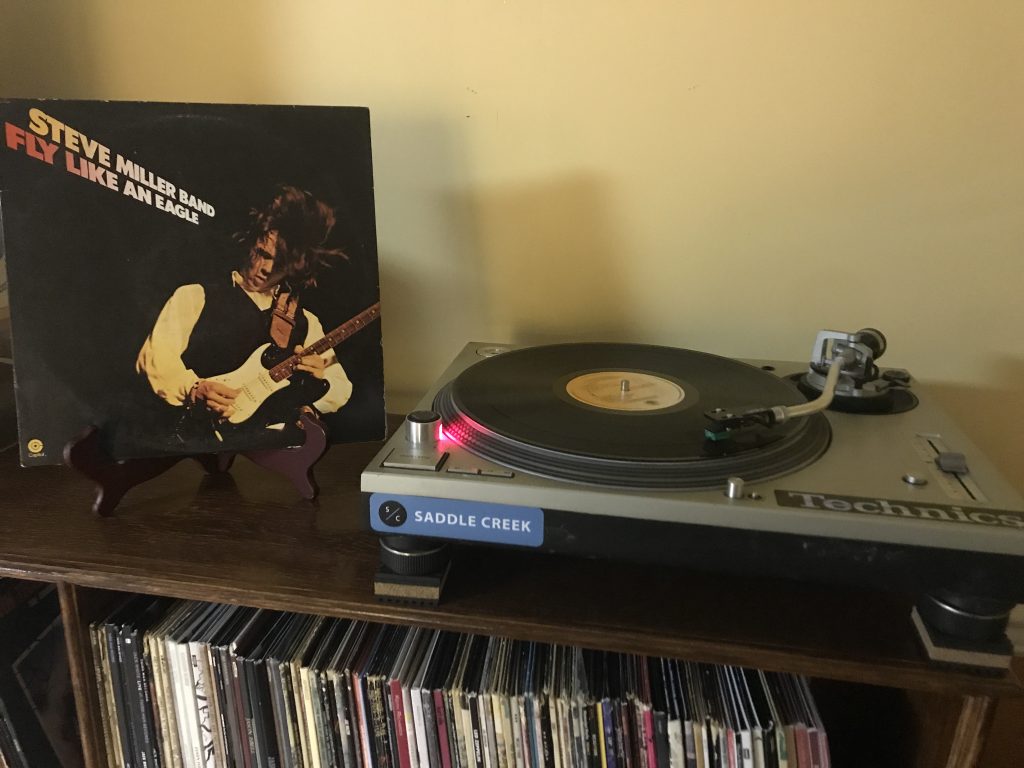 Last time we covered another effort by dad rock titans, Wilco. This week, we will be covering something that your dad probably listened to a whole lot.1 Also, there were no Saturday Spins last week  because I am in this weird scheduling flux where I do not get sleep (baby) busy at work (lawyer), and I almost never know what day it actually is. This band is categorized pretty generally as "American Rock," and can be heard on any classic rock station throughout the nation at any given time of day. Can you think of another band more ubiquitous on classic rock radio?2 Originally more of a psychedelic rock band, they never truly left those roots.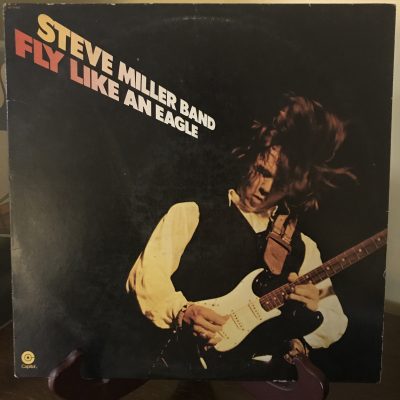 Steve Miller Band
Fly Like an Eagle
1976
Commentary
The randomizer brought forth another timeless classic from my collection. Truth be told, this is actually Steve Miller Band's ninth studio album, and it should have been called "Constant Hitmaker." It is also the second album where they left behind the psychedelic sound for a more straightforward blues rock. It is the opinion of me, your hero, that there is still a tinge of psychedelia in many of these songs, but the full on white boy blues3 sound is definitely dominant.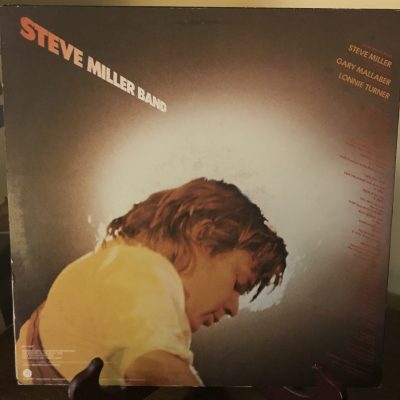 As you can see from the pictures, my copy has a well-worn jacket featuring ring wear, and is an original pressing. It does not hold any particular value, for those of you/us that care about such things, but the wax itself plays without any snap, crack, or pop. There is a slight hiss, but that is endemic to the collecting and playing of LPs. The artwork is the man, Steve Miller, in an action shot shredding on his black (left-handed) strat. It is true, this album is one that me, and most other guitarists, have played along to A LOT.
There aren't a whole lot of oddities or fun facts about this album, so le'ts get to the part where I use my subjectivity to rank songs from best to worst.
First to Worst
1. Take the Money and Run
One of Steve Miller's most popular tracks, and in my extremely educated opinion, the best on this LP. I love the driving guitar and back beat, and of course, who doesn't love the story behind this song? It's amazing how much tone he got from a strat  with very little overdrive on this song, hard to replicate!
2. Space Intro/Fly Like an Eagle
This one is a two for one deal because the so-called "Space Intro" is really just a prelude that leads into the title track, Fly Like an Eagle. Remember when I mentioned psychedelia earlier? Well you can hear a lot of early Steve Miller Band influence on these two (which are really one) song(s).
3. Serenade
If I were to conduct a poll of the most underrated Steve Miller Band songs, I am reasonably certain this one would come in first past the post. Another one that contains that signature guitar tone. This is one that I always get excited to hear when it comes on the radio or at random on my shuffle.
4. Dance, Dance, Dance
You all can tell, from previous iterations of Saturday Spins, that I do love me some country and Americana and the various sub genres thereof. This song eschews both the blues rock and psychedelia for a foot stompin' country diddy. The only thing that is missing from this song is some banjo.
5. Mercury Blues
You wanna talk about the blues, well this one was written by one of the greats, K.C. Douglas.
[youtube https://www.youtube.com/watch?v=QsTfCITzISM]Not bad for a song about a now defunct car brand. Of course, Steve Miller Band injected a bit of rock n roll into their version, which is just as good, well, good enough to make my top 5.
[youtube https://www.youtube.com/watch?v=ZJJvyPXPssg]
6. Rock'n Me
OK, I know what you are probably thinking, why is this ranked so low? Well, I ranked it middle of the pack because, again, this is my expert4 opinion. Maybe it is because it is overplayed, or maybe it is because it is the most pop-rock song on the album, I just cannot justify ranking it in my top 5. Although it does have a very pop-rock sound, that signature guitar tone is still there.
7. Wild Mountain Honey
Here's a track that puts the shrooms in psychedelic. While it may seem out of place among most Steve Miller Band songs, I will reiterate that this is their 9th studio album. Before this and before The Joker, Steve Miller was all about the flower power. I would rank this song higher if this LP didn't already contain a lot of really good songs. This is one of my favorite songs to listen to as played through the hi fi system in a quiet, dark, room.
8. The Window
This song is extremely underrated for the fact that it is unique. Not many bands can fuse psychedelia with blues like Steve Miller Band.5
9. Blue Odyssey/Sweet Maree
Another lyric less sonic venture that leads into a blues rock track. Kind of meh for me, but definitely not a song where I automatically hit the 'ol "skip" button. Or in this format, "lift the needle" and then "drop the needle" onto another song.
10. Send Me
Sam Cooke was the original artist and did it better. What makes this version worse is the weird sampling of Cheech & Chong.
Choose the Next Saturday Spin!
Rather than attempt to dig up fun facts! about this album, of which there are none, I want to try something a little different with Saturday Spins. I want you, the reader, to go to my collection and either look through all 600+ LPs and pick one that you'd like me to cover OR hit the randomizer and pick one that way. Leave your selection in the comments and using a random number generator, I will select one lucky winner (or loser, depending on your perspective). Let's say you have until Thursday, March 19 at 7 P.M. EST. to comment with your selection.