In Case You Missed It, It Isn't 2009: Pandemics Then and Now
Fear is a stinky cologne, blame is a lazy man's wages, and both put together inside a health crisis and mixed with politics is just reality in the Year of Our Lord 2020 in America as the coronavirus unfolds.
Media and social media is spending a good chunk of their time on comparing and contrasting the current COVID-19/coronavirus to the  H1N1/swine flu pandemic of 2009-2010. Supporters of the president are quoting the statistics from that outbreak — 60.8 million cases (range: 43.3-89.3 million), 274,304 hospitalizations (range: 195,086-402,719), and 12,469 deaths (range: 8868-18,306) in the United States — as a stark contrast to the current numbers for coronavirus. Others are pointing out that those are final numbers whereas we are currently in the early stages of the just declared COVID-19 pandemic. The right is decrying that then-President Obama didn't get blame for the crisis because "the media" shielded him from such unpleasantness, the left is decrying that piece of groupthink whataboutism as a deflection from the current President Trump's performance thus far. The more extreme voices insist this is all a plot to make the president look bad, while others are fearful of an out-of-control pandemic with poor leadership to blunt it.
The only thing everyone agrees on is that this current crisis proves out all their priors about everything. Just kidding, there isn't even agreement over that.
The numbers of H1N1/Swine Flu from 2009-2010 are a stark contrast considering in America we don't know how this is going to go yet, and are just now starting to really test. Also, there are all sorts of differences between the two, such as who it affects (H1N1 was worse for youth, COVID-19 is worse for elderly), how it spreads, where it originated, and a dozen other things. Yes, President Obama presided over the country when all those illnesses and deaths occurred. Sure the media treated him differently than they do President Trump, for myriad reasons too long to detail here. No, we don't know what course this outbreak will take, nor the toll it will extract, or for how long. Anyone claiming different is selling you something and should be avoided. We are not even entirely sure about the medical aspects of this illness yet, though we will know in time. Nobody knows, because we have never done this before, even though there are lessons to be learned and some parallels from other events. Things that are different are not the same.
But the president being different, and the media acting different, and the reaction to this current pandemic compared to the last one, aren't the primary variables in the current situation.
We are. Us, the American people.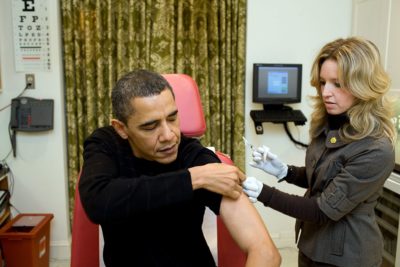 The American culture and society as a whole has changed tremendously in the 10 plus years since President Obama publicly got his flu shot and embarked on his own strategies to quell health concerns to various results. Even using the nebulous "the media" isn't the same because of the changes not just in consumption and coverage, but in how media is geared toward the audience. By the time President Obama took the needle in December to assure the country, the crisis was already past its second wave. The vaccine developed for H1N1 only became available in November of that year, too late for most of the 60 million cases in the United States from April, 2009 to April, 2010.
Many using H1N1 in 2009 are quick on social media to point out folks don't remember widespread panic or mass closings, and the current cancelling of all sorts of things is going to surpass 2009, but that's also somewhat the product of not correctly remembering, or distorting, or at least not Googling before you hit send. More than 700 schools saw closures from various H1N1 protocols, cruise ships were quarantined, commerce interrupted, and other things changed to adapt to the pandemic. While it is now apparent disruptions to everyday life are going to be more widespread this time, it just isn't true there was no impact last time.
But there were other changes profoundly affecting the difference in how this current pandemic is playing out than in 2009.
2009 was a different world from 2020, especially social media wise. When 2009 started, Facebook and Myspace were neck and neck in users. Twitter was coming off a 2008 in which tech folks were laughing at it for constant server failures that would follow the platform into 2009. YouTube was a little over a year into its experiment with overlaid video ads, an attempt to answer questions as to how the media platform based on uploaded content would ever make any money. By the time the White House nurse inoculated the president for the benefit of the cameras at the end of the year, Facebook had gone from 59 million users to 350 million and was well on the way to social media dominance. Twitter found footing by fixing the server issues, introducing the built-in re-tweet, and by the end of the year had become the bridge between celebrity and common folks, news consumers and newsmakers. YouTube carved a place in the interwebs and exploded in content, passing 100 million views for the first time in March of 2009, and in April of that year the Vevo service debuted. Also in April, a kid named Justin Bieber was introduced to the platform for the first time. You might laugh at that, but 820 million views of his "Baby" song was an example of the impact of such media on YouTube and how it is now used as a platform to launch folks from home computer to international stardom.
Today, in 2020, 73% of US Adults use YouTube, 69% use Facebook, and Twitter is the bedrock of both news breaking, news making, and news consuming from the President down to the Twitter rando, far more than even just ten years ago. How we get information, consume it, and share it with each other has changed dramatically. For comparison, less than 50% of people now get their news primarily from television, and that number is falling. Network news is more sensitive to social media now than the other way around. We can all joke about "Twitter ain't real life" and "it's just a post on Facebook" but the fact of the matter is those things influence greatly. Most people get their initial information of events from friends and family, mostly through social media, and then seek out traditional news outlets for more information, not the other way around. There isn't a run on toilet paper because of an expose on CNN, but because folks see other folks doing it through social media postings and adjust, or in this case overreact, accordingly. Social media means we are not just watching the story, but can be part of it, and no one wants to be left out. Coronavirus and the societal reactions to it will be a shared, ongoing event, horrible as it is for those directly suffering.
Before we just blame the usual suspects of politicians and media and conspiracy theories for the heightened fear and loathing over coronavirus, maybe we need to consider ourselves.
In the last decade social media went from hot new trend to inculcated methodology of living our lives. Coronavirus 2020 is going to be a shared experience, despite quarantines self-imposed and otherwise, because that is how many folks do everything now. Sewing circles, social clubs, and the telephone have been supplanted as the primary conduit for gossip by Facebook. TV shows are not just watched, they are discussed online, live tweeted, and reax'd over and over after they are done. Major events like the Super Bowl, presidential elections, and holidays are not just celebrated, but choreographed to put forth the best possible face on folks' social media profiles.
So when breaking, worldwide events occur, all that learned and repetitive behavior is the dominant trait whether we think of it or not. That seeking out news sourcing AFTER hearing about things through the social media gossip tree means folks bring their first impression biases to even breaking news. Since social media is mostly curated to taste, those initial biases are going to be heavily weighed to the individual's priors. Add in the interconnected cliques of like-minded folks, and you have groups of people cocooned from outside information in short order.
No wonder you get folks who spend every waking minute on presidential politics immediately filtering a health scare through the ongoing election. Not that those heavily invested in those elections mind that. While there are malicious bad faith actors that intentionally stoke such things, there are wide swaths of people who aren't actually trying to do damage, but have fed themselves a steady diet of only what they want to hear for years on end and couldn't tell the difference between drinking water and drinking sand in their information desert if they wanted to.
Technology has made it to where we have the entire depth and breadth of human knowledge in the palm of our hands with a simple search engine query. We live in a time where we can speak knowledge into existence by simply asking Siri, Alexa, or Google to tell it to us. Social media can be a profoundly useful and powerful tool in spreading information, connecting people, and jointly sharing a world otherwise divided. It's also filled with flawed human beings with their true selves cranked to 11 with the false courage of keyboard immunity.
Social media can be good medicine for those needing to expand their world. It can also be the spoon on which troubled folks heat up all the hate, misery, and wickedness that can be found online before shooting it into their veins as a daily dose of addictive self loathing about how awful the world is. The latter is a self-fulfilling prophecy. The former can save the world, or at least make you a friend or two online.
We as a people are not the same as 2009, and not just because of who is president, or how the media covers things, or how things work out in the wider world. We have more tools and information now than we had then to decide whether we are going to be greater than or less than in our response to this current challenge of outbreak.
Rising above and overcoming can not be found at the store, among the empty aisles of hand sanitizer and toilet paper. But it could be found online, among our social media friends, if we put our minds to it. It's up to us. No one else to blame if we don't. The president, the media, the CDC, nor anyone else controls what you do now for your friends, family, neighbors, and social circles both online and in real life.
Remember, crises like viruses come and go, but the internet is forever. Be mindful what we do with it, since it will all be online for folks to look back on and judge.